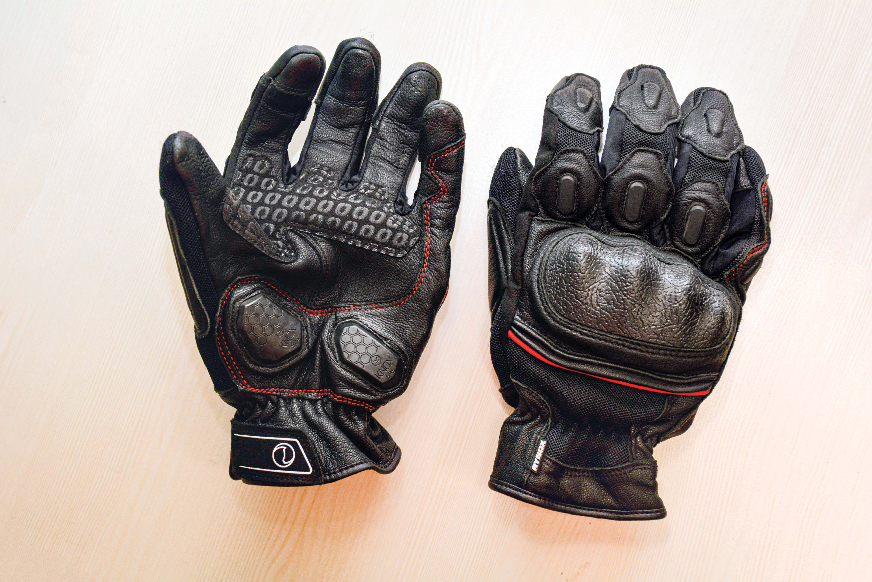 The Tornado 3 is an evolution of Rynox's earlier Shield Pro 2 gloves and it aims to offer the convenience of a short cuff glove without sacrificing much on the protection you'd expect from a proper sporty full gauntlet glove. By virtue of design, the cuff ends just behind your wrist and the gloves are secured in place by a single velcro patch. While these miss out on the more secure closure you'd find in a full gauntlet glove, Rynox has tried to add in some extra security by adding a bit of stretch in the wrist area. This makes them slightly more tedious to get on and off, but should help reduce the chances of the gloves being ripped off your hand in a crash.
These are primarily leather gloves, but there is some use of fabric mesh panels on the upper side of the glove, in the fingers as well as behind the knuckles. The palm area is full leather, along with a patch of synthetic suede with small silicon circles to help improve grip. The tops of the fingers get small TPU inserts, which won't function as sliders, but should add some minimal protection. The knuckle guard is a large and tough feeling item that also fits comfortably against the hand. However, the star of the protection scheme is the Knox Scaphoid Protection system and it's great to have this vital bit of armour in a glove at this price.
Comfort wise, the gloves didn't need much of a break in and fit is quite good. You can feel the internal seams against your fingers when you pull them on and this would be a red flag if they were intrusive while riding. However, Rynox has done well to ensure the seams stay out of way when it comes to the key contact points between your hands and the handlebar. Beyond that, the gloves feel decently soft against the skin, but I still think the long-cuff Storm Evo Gloves are even more comfy on the hands.
At Rs 3,250, the price is good for what these gloves offer and they're a good option if you're averse to the idea of full length gloves, but still want good level of protection.