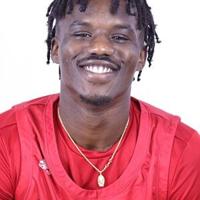 Nicholls men's basketball senior guard Ty Gordon continues to rack up hardware thanks to his strong start to the season.
Gordon was named Southland Conference Men's Basketball Player of the Week this past week, as announced on Monday. The Southland's weekly awards are presented by GEICO.
Gordon has virtually owned the award this season. This is the fourth-straight week he takes home the honor – the first-ever student-athlete in league history to win the honor that many times in a row.
Gordon has scored 20 or more points in 7-straight games, including a career-high 29 points in Nicholls' 104-90 loss at No. 3 Purdue last week. Gordon made 9 3-pointers in that game, setting a record at Purdue's Mackey Arena for a Boilermaker opponent.
Gordon also had 5 assists and 2 rebounds in the game.
The senior guard has been dominant in recent games, averaging 25.7 points per game on 49.2% shooting in Nicholls' past 7 games. He is shooting nearly 50% from behind the 3-point line in those games.
This is Gordon's 7th-ever Southland Player of the Week honor, and the 5th of the season. Both of those are conference records.
Gordon will look to clinch another Southland honor this week at the Southland Tip-Off event in Katy, Texas.