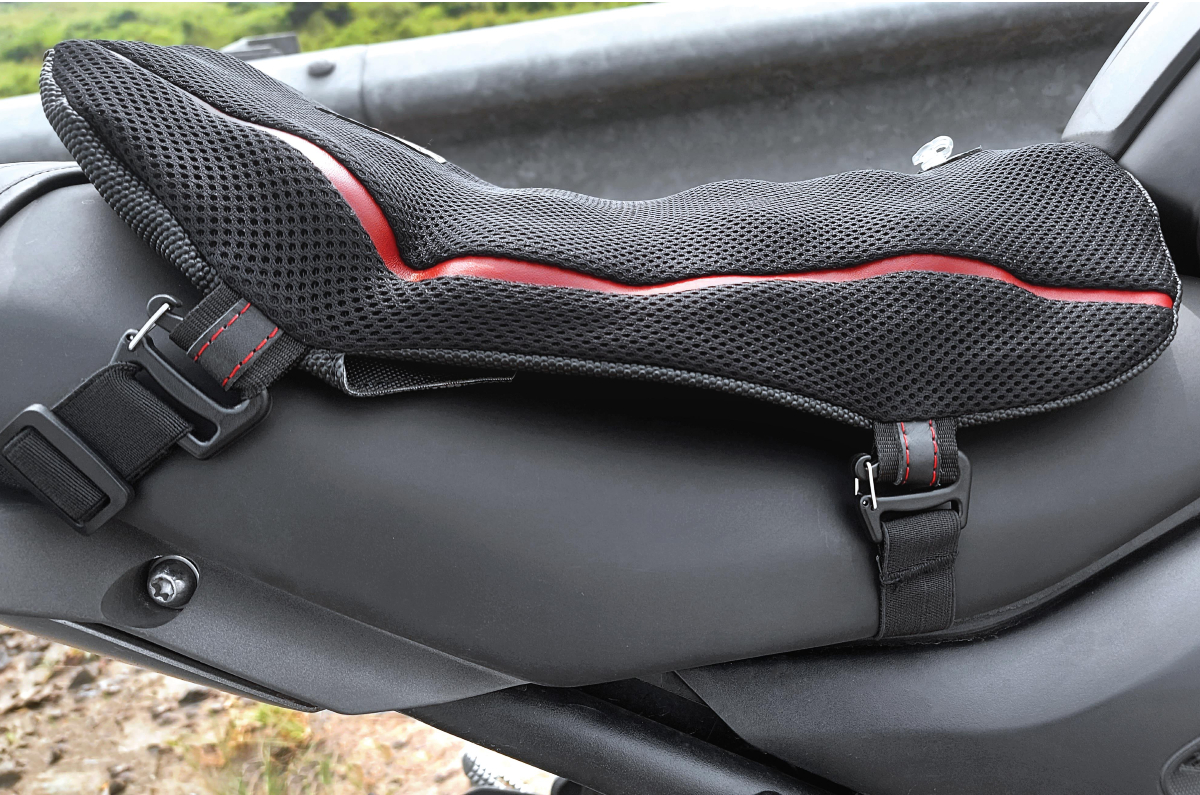 Air cushion designed to take the pain out of your motorcycle seat.
When you think of sports bikes and their seats, comfort isn't the first word that comes to mind, right? Sure, they are comfortable enough for probably an hour or so but not beyond that. The Fego Sail Sport claims to add a layer of comfort and support to such a seat by means of an air cushion. Here's what it was like after spending a few hundred kilometres seated on it.
The 30x40cm seat consists of an inflatable air bladder made of rubberised PVC, divided into squares that the company calls air cells. The volume of air inside these cells can be increased by using the supplied hand operated pump via a dedicated valve – the cushion works best when inflated to about half of its capacity. This bladder is placed inside a leather and mesh cover with a velcroed opening for easy access.
Air valve makes it easy to inflate the bladder using the supplied air pump.
The air seat is attached by means of adjustable elastic straps that run under the rider's seat and slide into hooks with snap-on clips to keep them securely fastened. It will raise the seat height by a noticeable amount, but the mechanism works well and prevents the seat from sliding forward. That, however, isn't the case with the rider. You see, while the mesh panel that you're seated on is great for ventilation there's not much grip on offer. This along with a sportbike seat's canted forward orientation causes you to keep sliding into the tank, especially while braking hard. The feeling of not being securely connected to the bike is compounded by the fact that the air cushion feels squishy, as you'd expect, and this takes some getting used to. Personally, I didn't like the sensation on my KTM 790 Duke or the Triumph Trident 660, the two 'sporty' motorcycles that I tried this cushion on and would rather save it for bikes with flat seats that don't slope into the fuel tank. There is a photo on the company's website that claims it can be attached to sportbikes at the race track, but we absolutely wouldn't recommend that.
In terms of actual cushioning and support, it definitely helps with bikes that have painful seats and we found it nicer to use than the fatter Fego Float air cushion that's also available from the company. Its added comfort is something you'll appreciate on long rides that involve many hours in the saddle and the Sail Sport is a good alternative for those who don't want to mess around with modifying their stock seats. Another reason that makes it preferable for long rides rather than regular use is that it can be stolen quite easily if you plan to keep the bike parked unattended.
Where: fegoinnovations.com
Price: Rs 1,899