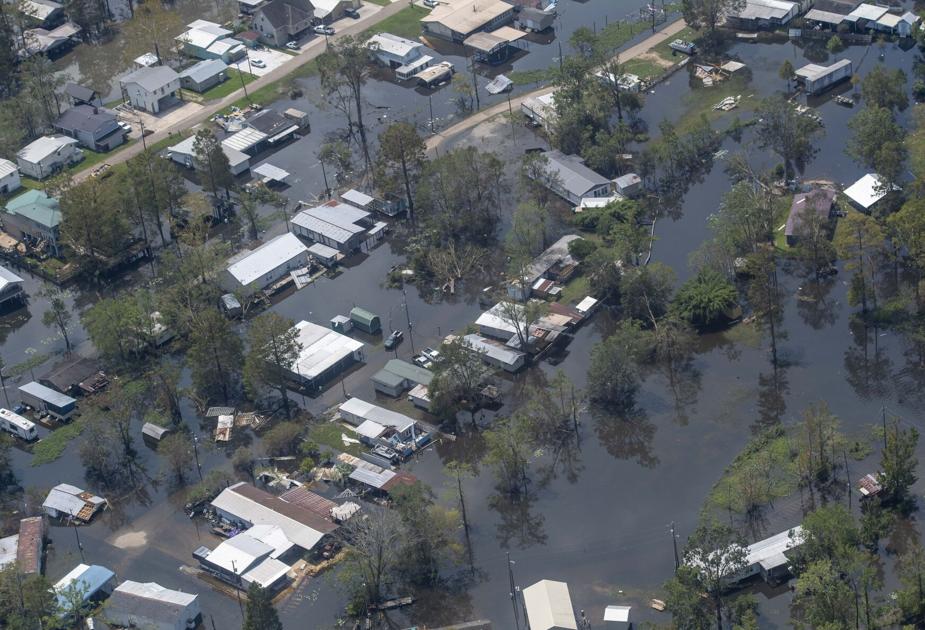 Louisiana's insurer of last resort expects nearly half a billion dollars in losses as a result of property damage from Hurricane Ida, though it will only be on the hook for $35 million in payments thanks to its reinsurance coverage.
Two months after Ida made landfall, 13,600 claims have been filed with Louisiana Citizens Property Insurance Corp., which covers homes and businesses, primarily in coastal communities, that no other insurer will. It's anticipating another one thousand claims to roll in over the next few months.
Altogether, Citizens is projecting its Ida-related losses to reach $461 million, and all but $35 million of that will be paid for by its reinsurers, which provide insurance for insurance companies.
Created by the Legislature, Citizens provides coverage to homeowners and small businesses unable to purchase property insurance in the private market. It's currently responsible for more than 38,600 policies in Louisiana and controls 0.28% of the state's homeowner's insurance market.
But its influence in Louisiana's insurance marketplace could soon balloon.
In 2008, Citizens was Louisiana's third-largest insurer, with 174,000 homeowners policies, or nearly 10% of the market. Over time, the state-sponsored insurer whittled down its risk through a process known as depopulation, in which it handed off policies to private insurers.
However, at least one of those insurers, Access Home Insurance Co., which took on thousands of Citizens' policies over the last decade, is headed toward insolvency as a result of Hurricane Ida. On Wednesday, Insurance Commissioner Jim Donelon sued to take over the firm and potentially liquidate its assets.
Donelon hopes those policyholders can find another insurer in the private marketplace, but if not, they'll likely turn to Citizens for coverage. And that switch-over comes with a cost: Citizens is required, by state law, to charge 10 percent more than the highest private homeowners rates in a parish.
Citizens anticipates picking up around 5,000 new policies in 2022, according to documents distributed at its board meeting Wednesday. It also expects to depopulate 100 policies next year.
For the first time since 2013, Citizens' board on Wednesday agreed to expand its commercial insurance limits.
The new limits are $10 million on an individual building, $3.2 million for contents and $20 million in the aggregate; that's an increase from the previous limits of $5.5 million on an individual building, $2.2 million for contents and $11 million in the aggregate.
Citizens CEO Richard Newberry said "Big I" – or the Independent Insurance Agents & Brokers of America, Inc. – recommended upping the limits.
"We were advised that some surplus lines companies are moving very quickly to non-renew as well as cancel existing policies with and without damage," a board handout read.
During discussion of the measure, Donelon said he had a friend in Lake Charles who was part of an ownership group for multiple apartment complexes that got non-renewed by their insurer. They went to the market for coverage and the only coverage they were offered was an 800% rate increase by a surplus writer, Donelon said.
Shannon Johnson, owner of Flower Insurance Agency and a board member appointed by Gov. John Bel Edwards, said if renewal occurs while you have an open claim, you're not able to get coverage through your original insurer. So, you have to go to Citizens for coverage. But the existing limits need to be raised to accommodate those policyholders, she said.
It's unclear how many new policies the increased limits will attract. A market analysis hasn't been conducted. Donelon said Citizens is effectively "rolling the dice" on how many people will sign up.
Newberry said Citizens will manage the additional risk through the facultative reinsurance market, which allows insurers to purchase reinsurance for individual policies. Those reinsurance quotes take about three weeks to process, so in the interim, Citizens as a whole would take on the risk.
Eric Berger, another board member appointed by Edwards, said they were dealing with a lot of unknowns and, in some ways, "betting on the come."
"We don't know the number of policies we're talking about. We don't know the appetite of the facultative reinsurance market. We don't know what the cost of the facultative coverage would be," said Berger, a partner at Lobman Carnahan.
Newberry said if the increased limits result in Citizens taking on too much risk, it can revise the policy at a future board meeting. The proposal was ultimately approved by the board with a two-year sunset.