Berkshire Hathaway, the conglomerate run by billionaire investor Warren Buffett, has reported a sharp decrease in earnings in the third quarter, reflecting the turbulent financial markets as well as a slowdown in the US economic recovery with a spike in COVID-19 cases.
Profits fell by one-third to $US10 billion ($13.4 billion), down from $30 billion ($40.2 billion) in the same three months of 2020, when the economy was still in the process of reopening from pandemic shutdowns.
Berkshire's bottom line was dragged down by its giant investment portfolio, which fell 85 per cent from a year ago. But profits at Berkshire's operating businesses, which include a railroad as well as a variety of manufacturing and retail businesses that mirror the broader US economy, also disappointed. Income there rose just 18 per cent from a year ago. That was much less than the 40 per cent jump that some analysts had predicted and slower than the 21 per cent increase in profits those operating businesses had in the second quarter.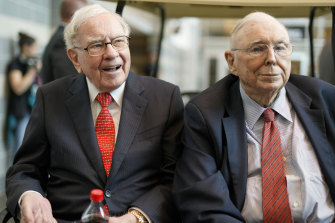 In addition, Berkshire recorded nearly $US800 million in losses from insurance underwriting, as claims from bad weather, including Hurricane Ida, increased. And while the income from premiums at its popular car brand Geico rose in the quarter, its losses from accident claims rose even more as drivers returned to the roads. It also noted that the average claims were higher because of "the increase in the valuation of used vehicles."
In its railroad business, Berkshire said shipping volumes rose 4.4 per cent in the third quarter, showing the economy's continued growth. But fuel costs rose nearly 80 per cent, muting profits.
Overall, Berkshire said its businesses were affected by "ongoing global supply chain disruptions" as well as higher prices for raw materials. "While consumer demand for products remained high, earnings in the third quarter of 2021 were sequentially lower than the second quarter," Berkshire wrote in its filing. "Several of our businesses experienced higher material, freight and other input costs attributable to ongoing disruptions in global supply chains."
As expected, Berkshire's results showed that it hadn't made any significant acquisitions in the third quarter. Buffett has been under pressure to do something with his conglomerate's growing cash reserves, which at the end of the third quarter had grown to just more than $US149 billion, higher than at any point in the company's history. At Berkshire's annual meeting earlier this year, Buffett said that a boom in the financing of special purpose acquisition companies, SPACs, had pushed up the price of potential deals. "Frankly, we're not competitive with that," Buffett said.
Berkshire's largest investment in the quarter was in its own stock. Berkshire repurchased $US7.6 billion of its own shares from the end of June to the end of September. That was on top of the $US12.6 billion in shares that Berkshire bought in first half of the year.