This crispy, delicious Fried Modak is an easy sweet that you can make for the Ganesh Chaturthi Festival. Modak is sweet dumpling made during Vinayaka Chaturthi Festival. Fried modak as the name implies is a variation of the much popular steamed modak. It is made with an outer crispy wheat flour crust and a tasty sweet stuffing of coconut, jaggery, sesame seeds and cardamom. Fried modak is much easier to make than the traditional steamed version.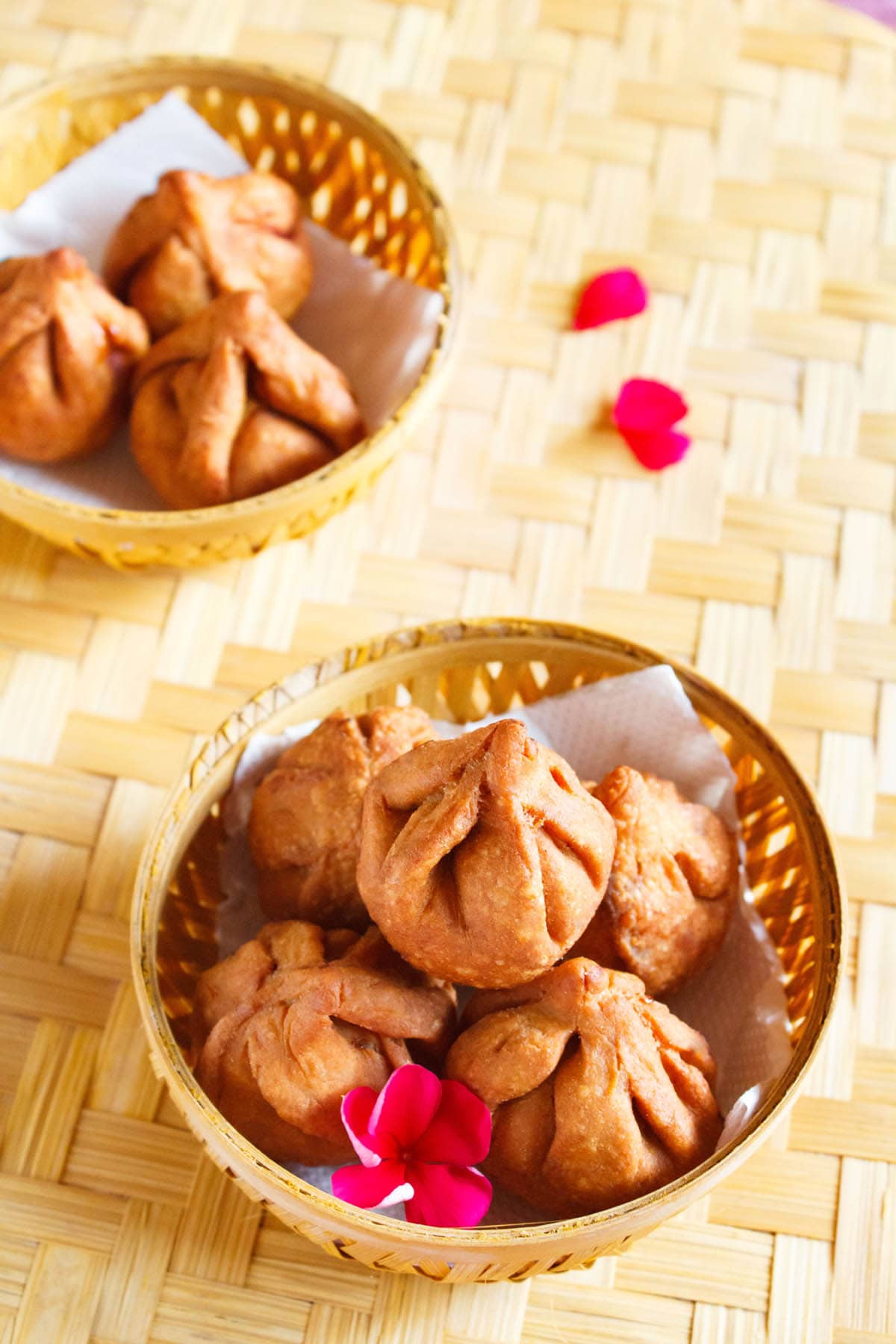 About Fried Modak
Modak are dumpling like sweets that are Bhagwan Ganesha's favorite. While the steamed modak made with rice flour (also known as ukadiche modak) is the most popularly made sweet during the festival, there are also many other variations.
Everyear, during the festival, I make steamed modak or Patholi (Stuffed Rice Sweet) or the easy to make sweet, Suji Halwa or any laddu like Rava Ladoo or Besan Ladoo.
Even though fried modak is comparatively simpler and easier to make, my personal preference is the steamed modak made in the traditional way. Fried modak are also called talniche modak in Marathi language.
For the fried modak, the outer covering of the dumpling is made from whole wheat flour or all-purpose flour (maida). My recipe features whole wheat flour and thus it is a bit dense as compared to the fried modak made from all-purpose flour which will have a lighter texture.
I have also used desiccated coconut instead of fresh coconut. If using desiccated coconut, then follow the recipe as is. If using fresh coconut, then do not add water to the filling. Make sure to use finely grated desiccated coconut instead of longer or thick shreds.
This recipe of the outer cover is from my mom's recipe of Karanji. But I have made them with whole wheat flour instead of all purpose flour.
For the festival, if you are wondering what to make, then do check this list of about 88 Ganesh Chaturthi Recipes. This year Ganesh Chaturthi is starting on 10 September 2021.
Step-by-Step Guide
How to make Fried Modak
Make Dough
1: Sieve 2 cups whole wheat flour (atta) with ½ teaspoon salt or as required in a mixing bowl. Then heat 2 tablespoons of oil until warm or lightly hot in a small bowl or small pan and add this warm oil to the sifted flour.
If you prefer, you can use 1 cup of whole wheat flour and 1 cup of all-purpose flour. Instead of oil you can also use ghee.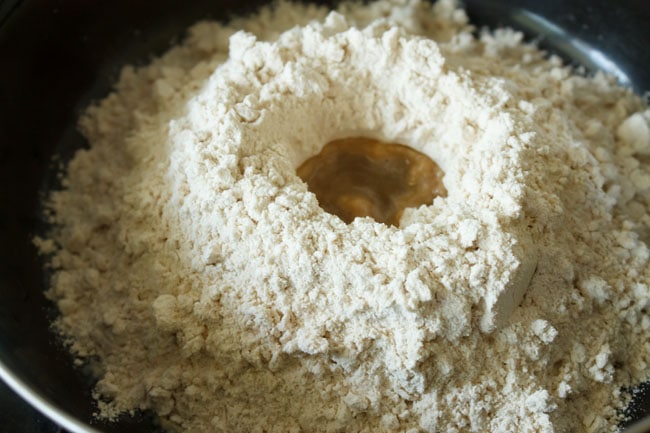 2: Add water as required in parts and knead to a smooth but firm dough. Do not make the dough soft like a roti or chapati dough.
It should be firm and stiff dough. A soft dough will make the crust soft and not crispy or crunchy.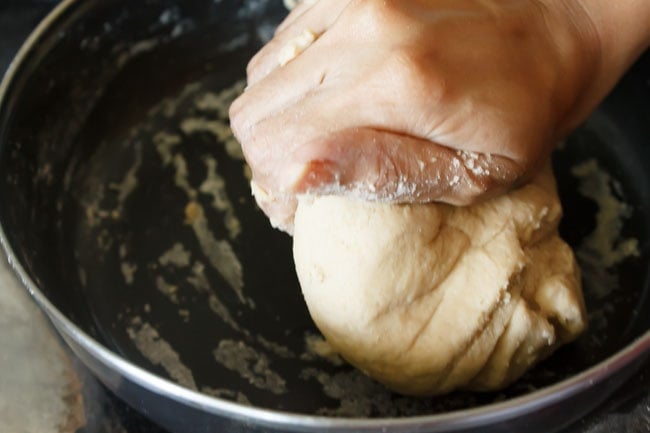 3: Once the dough is kneaded, keep it covered for 20 to 30 minutes.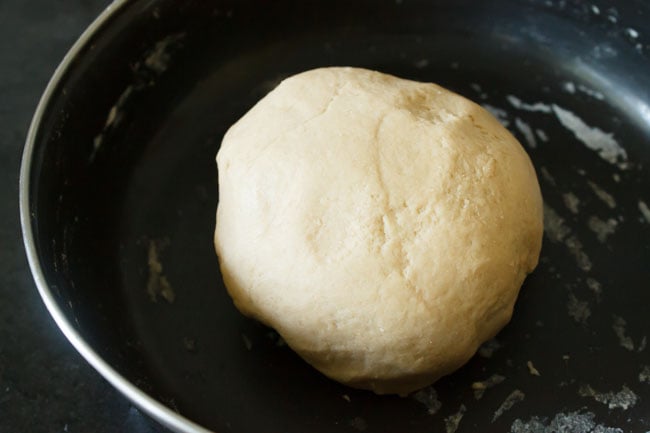 Make Sweet Stuffing
4: In a thick bottomed kadai or pan take the following ingredients to make the sweet stuffing:
1.5 cups desiccated coconut
1.5 cups jaggery powder
1 to 2 tablespoons roasted white sesame seeds
1 to 1.5 teaspoons cardamom powder
1 to 2 pinches of nutmeg powder
NOTE: If you use fresh coconut, then do not add water as shown in step 6 below.
TIP: Use finely grated desiccated coconut having a finer texture instead of longer or thick shreds.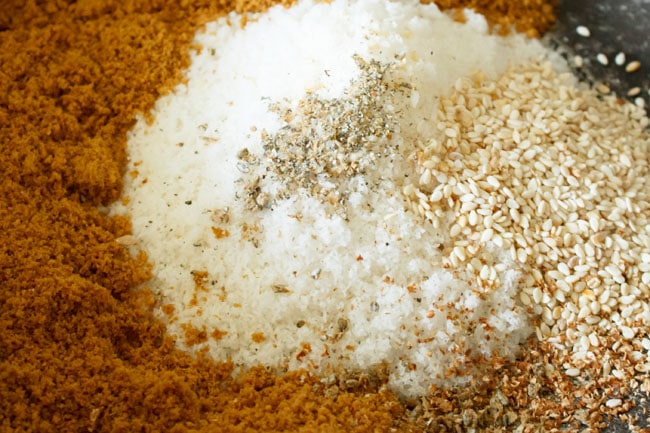 5: Mix them all with a spoon.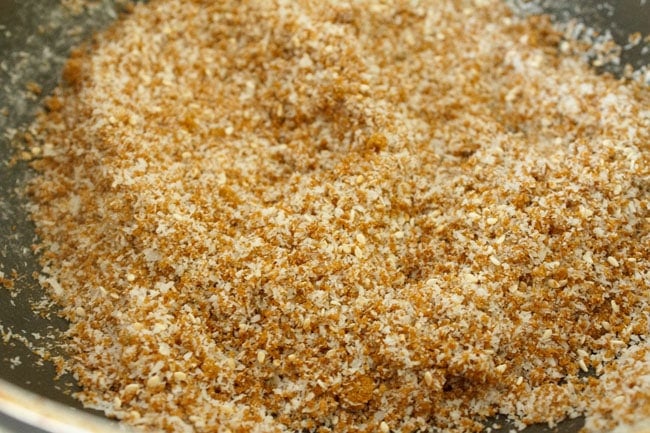 6: Add ½ cup water.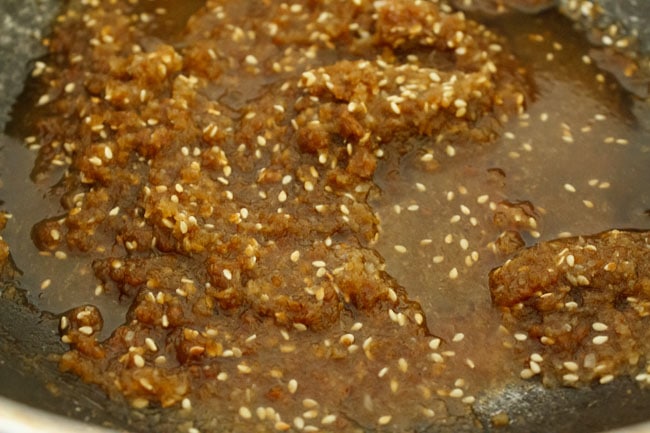 7: Cook the whole filling mixture on a low or medium heat stirring from time to time.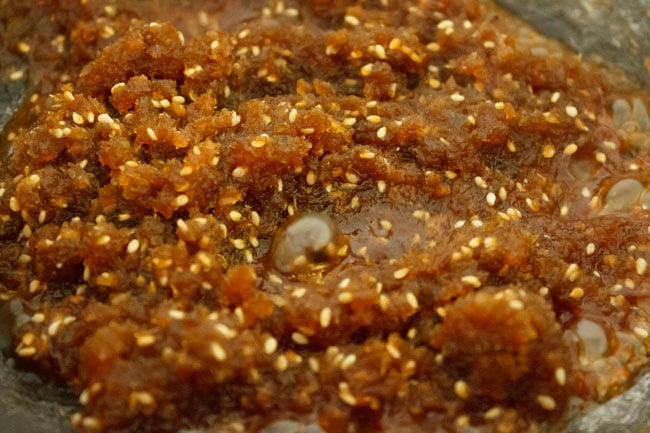 8: Stir and cook for some 8 to 10 minutes until the jaggery melts, the water dries up and mixture looks soft with some moistness in it. There should not be any water or any liquids in this stuffing mixture.
Keep the filling aside to cool at room temperature.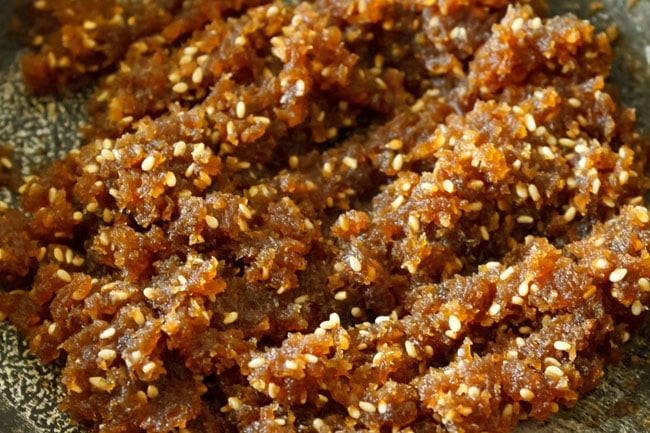 Assemble and Shape
9: Pinch a small sized ball from the dough and roll it in your palms to form a smooth neat ball. Place it on a dusted board and dust lightly with some flour on top.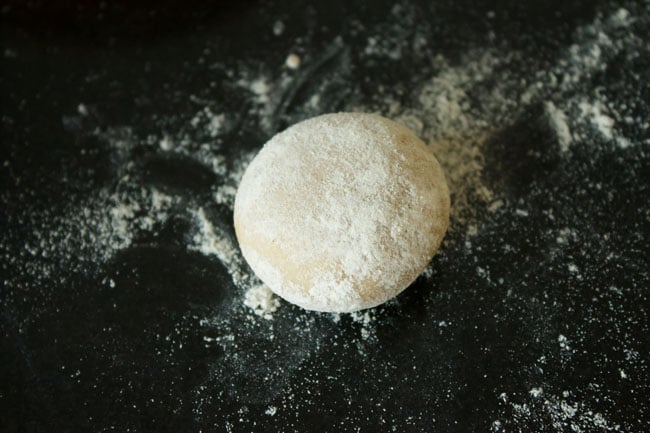 10: With a rolling pin gently make a thin round dusting the surface or the dough ball with some dry flour. Roll to about 3 to 4.5 inches diameter. Please remember to roll the dough thin or medium-thin but not thick.
While rolling the center can be a little thick but the edges have to be thin as when you bring together the edges the thickness increases and on frying it becomes pretty dense and hard.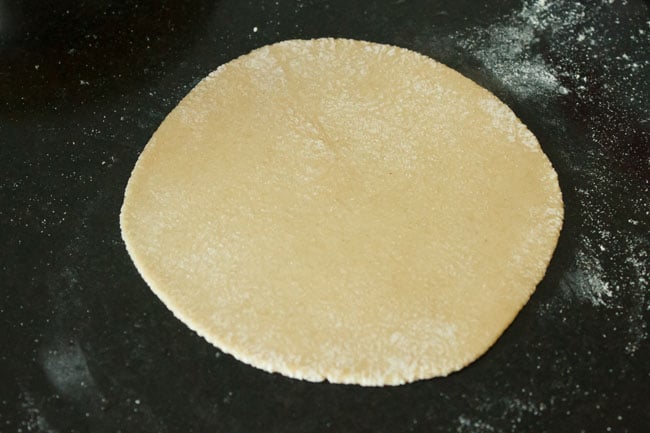 11: Take the rolled dough circle on your palm add 2 to 3 tablespoons of the filling in the center of the thin round.
This is an optional step – with a brush or with your finger tip, apply water on the circular edge. Keep a small bowl of water on your work surface.

13: Now start folding and pinching the edges of the dough one by one. This comes from practice.

14: Bring all the pinched ends together, join them and taper the center.
Ensure that the modak are sealed well and there is no opening or gap. Otherwise the filling will come out while frying. Some of it will get stuck on the crust and get caramelized or browned while the remaining will get burnt in the oil.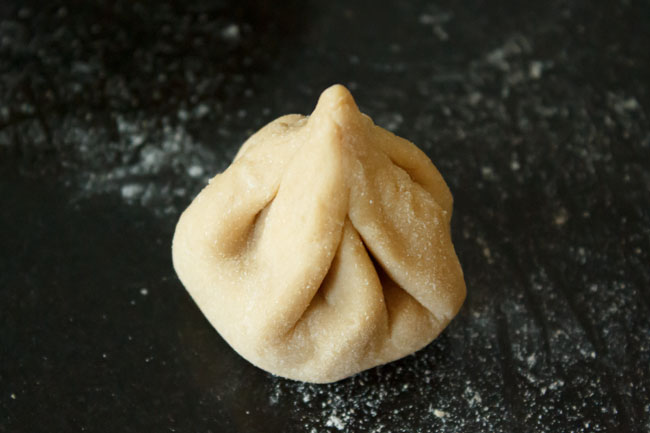 15: After stuffing and shaping, keep aside the prepared wheat modaks. Cover with a cloth so that the dough does not dry out.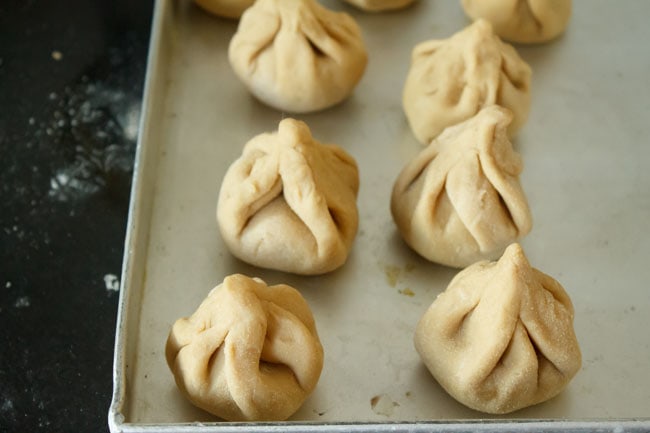 Make Fried Modak
16: Heat oil as needed in a kadai or wok. Carefully, place the prepared wheat modak in medium hot oil.
When the outer crust has become light golden, turn over gently with a slotted spoon and continue to fry. This way turn over each wheat modak as needed a few times and fry them till they look crispy and golden.
The oil has to be medium hot while frying. Do not have a low temperature or a very hot temperature of the oil.
Frying in a oil which is not hot, will make the fried modak absorb more oil. A very hot oil, will keep the center and the insides of the crust undercooked.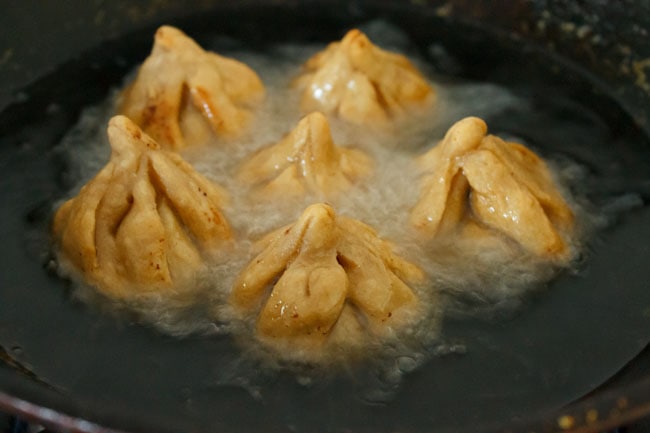 17: Place the fried wheat modak on clean kitchen paper towels. Offer to Bhagwan Ganesha during pooja. You can also serve them as a sweet snack.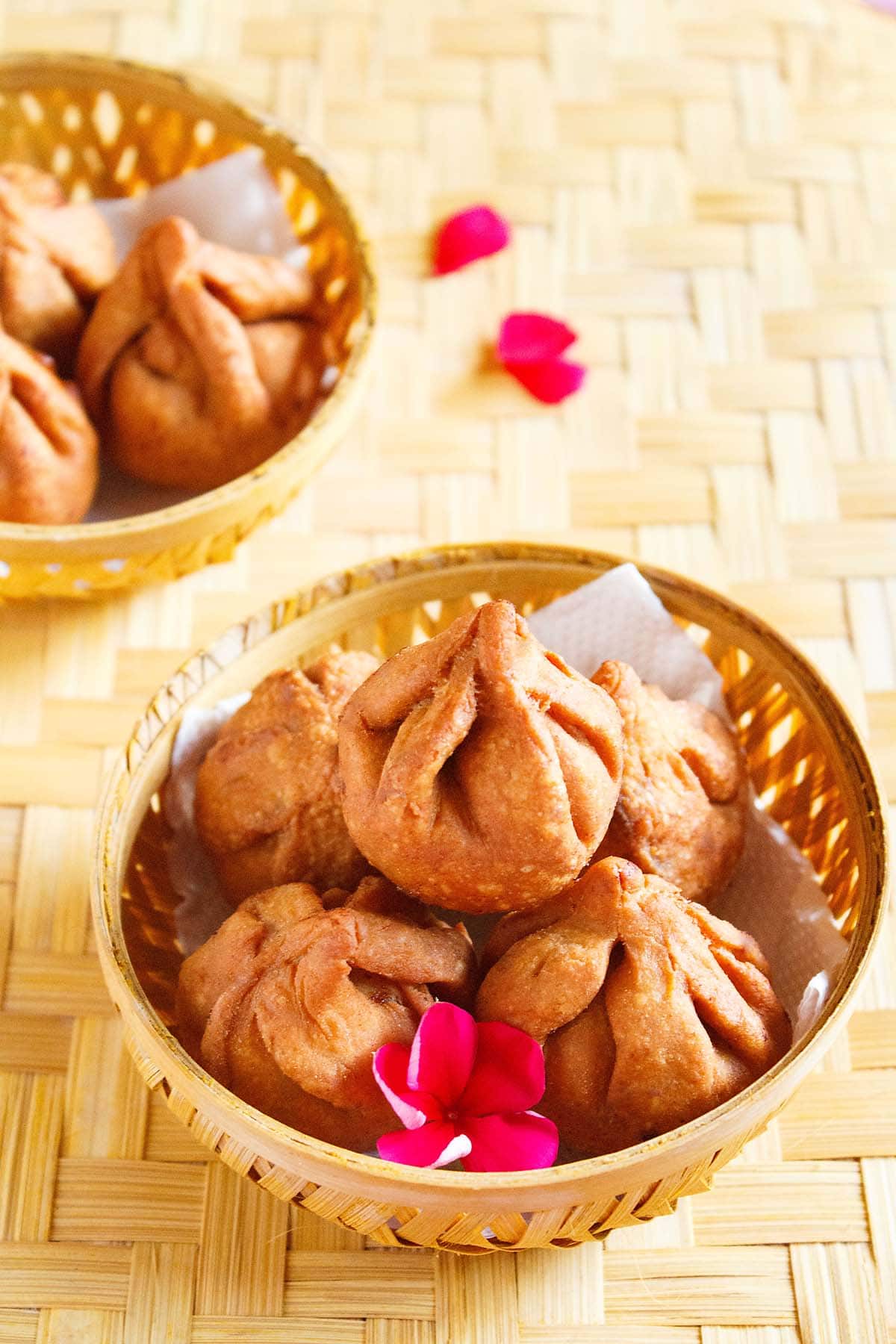 More Sweets Try For Ganesh Chaturthi
If you made this recipe, please be sure to rate it in the recipe card below. Sign Up for my email newsletter or you can follow me on Instagram, Facebook, Youtube, Pinterest or Twitter for more vegetarian inspirations.
By
Dassana Amit
Fried modak is a delicious and popular modak variety made during the Ganesh Chaturthi festival and offered to Bhagwan Ganesha. This recipe has the crust made of whole wheat flour with a sweet stuffing.
Prep Time 30 mins
Cook Time 30 mins
Total Time 1 hr
---
---
Servings 12 fried modak
For the outer crust
For the sweet stuffing
Other Ingredient
Preparing the dough
With the ingredients mentioned "for the outer crust", make a smooth but stiff and firm dough. It should not be soft like a roti or bread dough.

Cover and keep the dough aside for 20 to 30 minutes.
Making stuffing for Fried Modak
Assembling and Shaping
Take a small ball from the dough and roll it in your palms to form a neat ball.

Lightly dust with flour and roll to a thin or medium-thin circle of about 3 to 4.5 inches diameter.

Gently take this circle of the rolled dough on your palm or place it on the rolling board.

Now add 2 to 3 tablespoons of the sweet filling in the center.

Brush some water on the edges.

Join and pinch the edges one by one.

Bring together all the pinched folds in the center and join them well.

Keep in mind to seal the modak very well. Any small opening will lead to the filling being released in the oil while frying.

Heat oil in a kadai or pan until medium hot. Once the oil becomes hot, carefully and gently add the prepared wheat modak.

When they become light golden turn over them gently with a slotted spoon and continue to fry.

This way turning few times as needed fry them until the crust becomes golden and crisp.

You can shallow or deep fry them as per your preference.

Once done remove the fried wheat modak with a slotted spoon draining as much oil as possible in the pan or kadai. Then place them on kitchen paper towels to absorb extra oil.

This way fry the remaining wheat modak in batches.

Offer to Bhagwan Ganesha during the pooja. You can also serve them as a sweet snack.
Instead of whole wheat flour, you can also use all purpose flour (maida) or half-half of both.
Make sure you seal the dumplings well. Any small opening will lead to the filling being drained in the oil while frying.
If you want to bake then brush the dumplings with some oil or ghee. Bake in a preheated oven at 180 degree celsius. Bake till the crust becomes golden and crisp.
This recipe makes for about 12 medium-sized modak. But you can half the recipe to make 6 fried modak or double to make 24 wheat modak.
Nutrition Facts
Fried Modak
Amount Per Serving
Calories 275 Calories from Fat 99
% Daily Value*
Fat 11g17%
Saturated Fat 7g44%
Polyunsaturated Fat 1g
Monounsaturated Fat 3g
Sodium 102mg4%
Potassium 136mg4%
Carbohydrates 43g14%
Fiber 4g17%
Sugar 26g29%
Protein 4g8%
Vitamin A 2IU0%
Vitamin B1 (Thiamine) 1mg67%
Vitamin B2 (Riboflavin) 1mg59%
Vitamin B3 (Niacin) 1mg5%
Vitamin B6 1mg50%
Vitamin C 1mg1%
Vitamin E 1mg7%
Vitamin K 1µg1%
Calcium 26mg3%
Vitamin B9 (Folate) 10µg3%
Iron 1mg6%
Magnesium 40mg10%
Phosphorus 98mg10%
Zinc 1mg7%
* Percent Daily Values are based on a 2000 calorie diet.
Like our videos? Then do follow and subscribe to us on youtube to get the latest Recipe Video updates.
All our content & photos are copyright protected. Please do not copy. As a blogger, if you you want to adapt this recipe or make a youtube video, then please write the recipe in your own words and give a clickable link back to the recipe on this url.
This Fried Modak post from the blog archives first published in September 2012 has been republished and updated on 2nd September 2021.