Skip to content
Spinach soup or Palak soup is a wonderfully flavorful, comforting, and healthy dish. It's made with simple, wholesome ingredients for a highly nutritious soup. Here you'll find step-by-step instructions with photos (and video) for how to make my easy one-pot palak soup.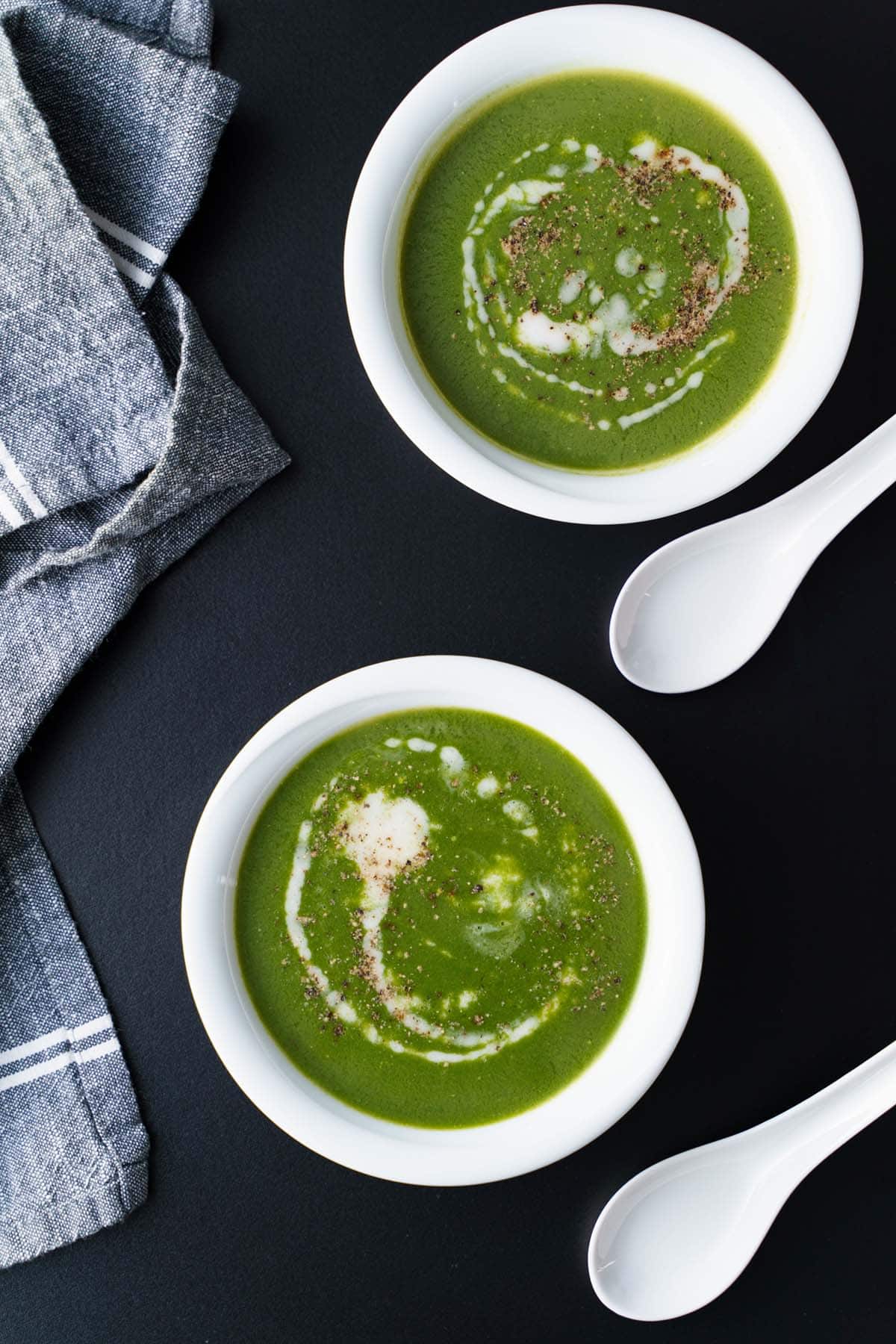 About This Spinach Soup
Spinach (palak) has long been known as an incredibly healthy "supergreen" ingredient. Raw spinach is a low-calorie food packed with essential nutrients like iron, calcium, and vitamin K.
But although spinach is healthful, not everyone is fond of its flavor. However, if cooked properly and seasoned well these nutritious greens really can make a fan of even the staunchest spinach critics.
This spinach soup, for example, is an easy and delicious way to include leafy greens in your diet. Flavorful aromatics are sauteed with fresh spinach, then made faintly thick and mildly sweet with chickpea/gram flour. The soup is seasoned beautifully so that every spoonful has a wonderful – and not overwhelming – taste of earthy, savory spinach.
I use an immersion blender to get the palak soup perfectly creamy, and the recipe is therefore a one-pot dish as well! Consider topping the soup with some coconut cream like I have done to make it an even healthier vegan spinach soup.
I love to make various Soup Recipes and they are so comforting and healthier during colder days. Sipping a mug of steaming hot soup is like a warm hug during winters.
Continue reading for the full recipe and video for how to make my favorite, ridiculously simple, bright and flavorful spinach soup from scratch!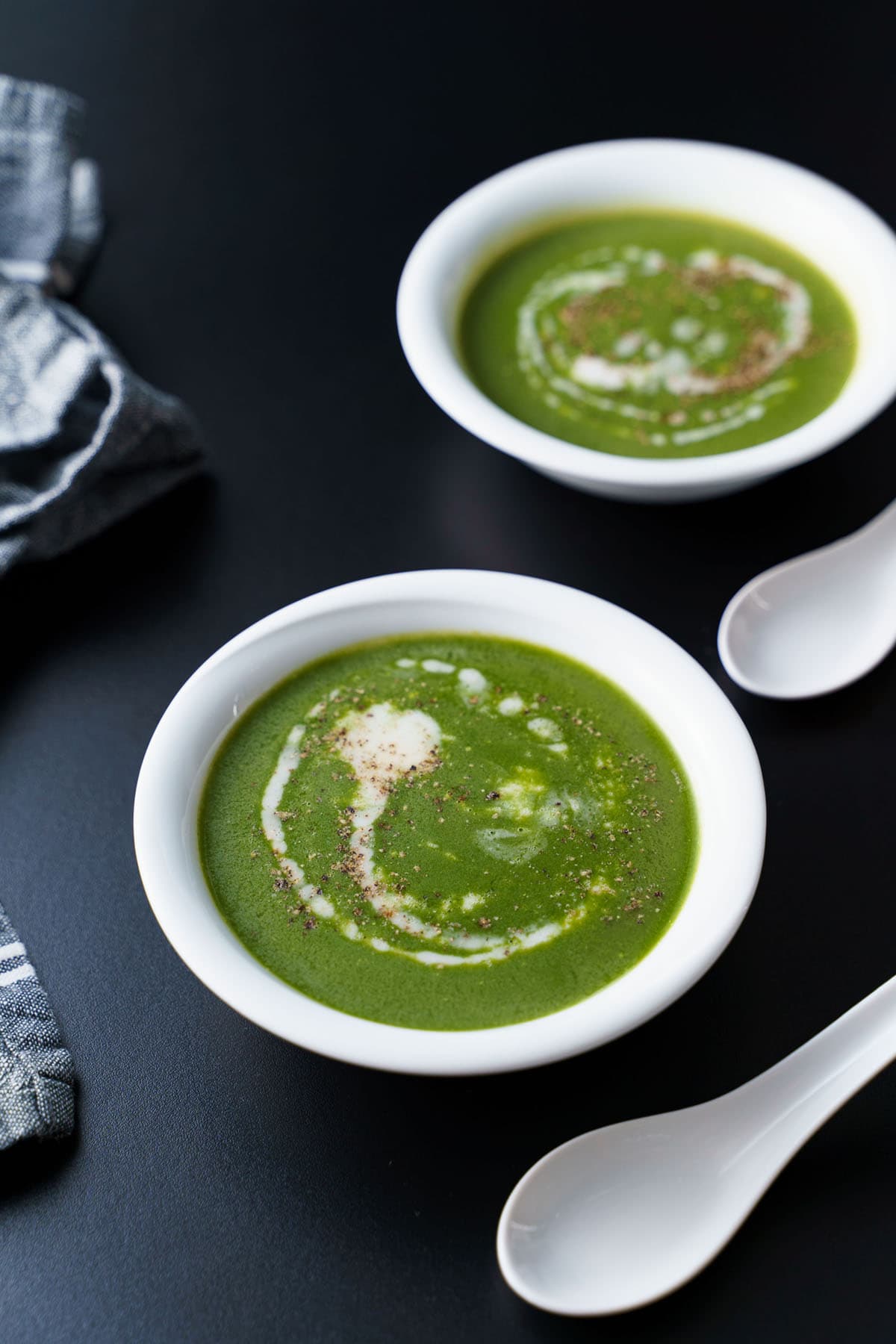 Step-by-Step Guide
How to Make Palak Soup (Spinach Soup)
Prepping Spinach
1. First rinse some spinach leaves (palak) very well in water. Drain all the water.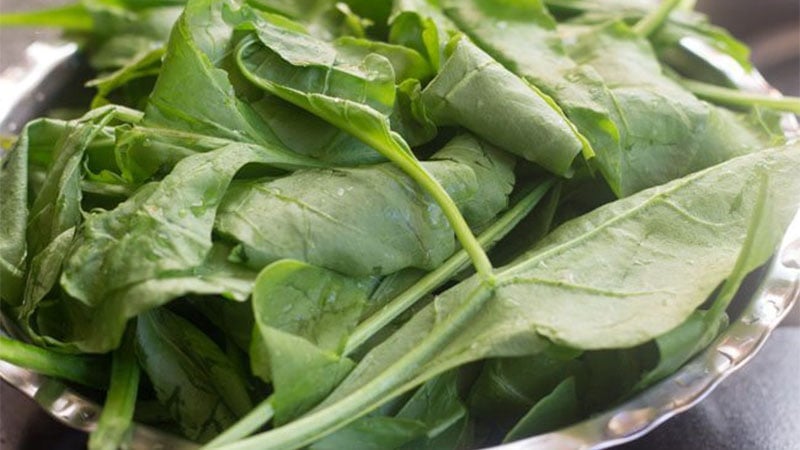 2. Then chop and set them aside. Measure and you will need 2 cups of chopped spinach.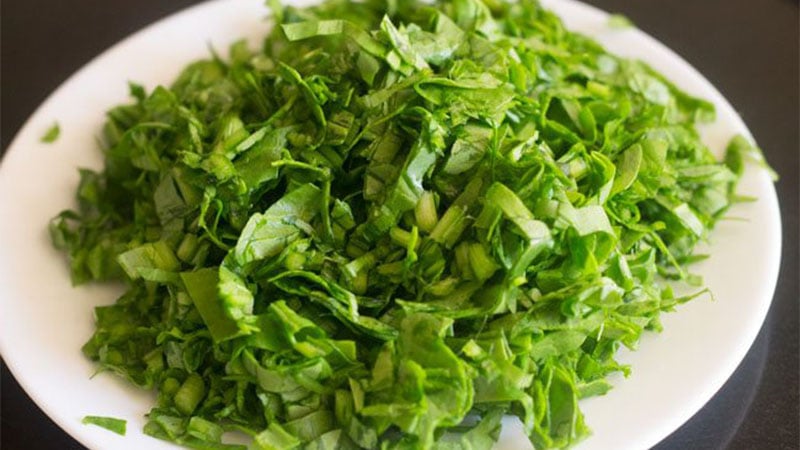 Sautéing Aromatics
3. Heat 1 to 1.5 tablespoons of oil in a saucepan or kadai. Add bay leaf and sauté for 2 to 3 seconds.
Note that instead of bay leaf you can also use tej patta (Indian bay leaf).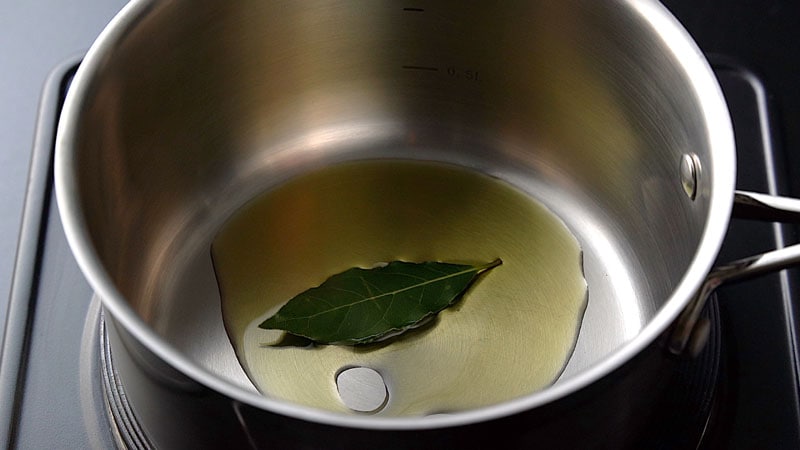 4. Then add ¼ teaspoon of chopped garlic cloves. Saute on low heat until the garlic is lightly browned. Be careful to not burn the garlic or it will taste bitter.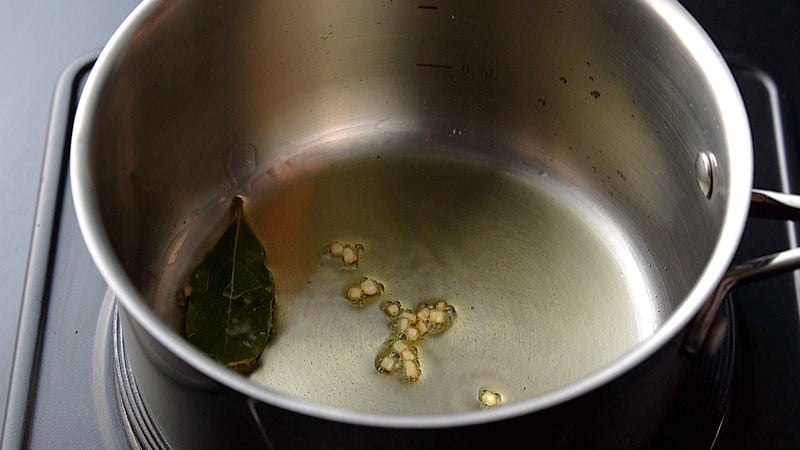 5. Then add ¼ cup chopped onions. Sauté stirring often until the onions are softened.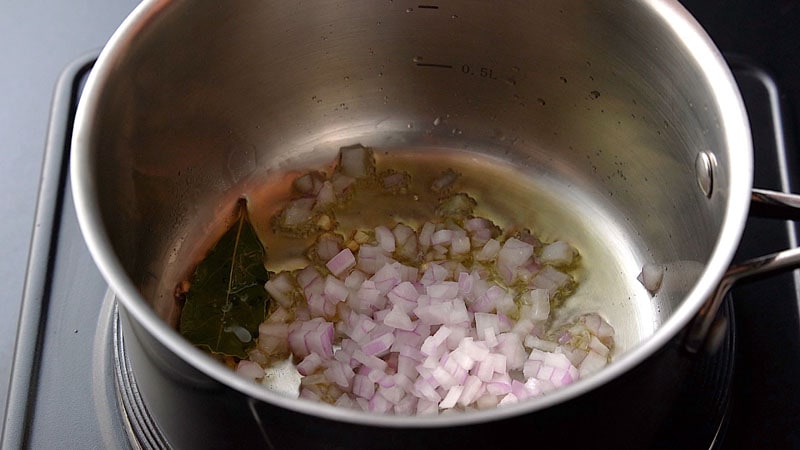 6. Add the chopped spinach, about 2 cups. Stir, and season with ¼ teaspoon black pepper and salt to taste.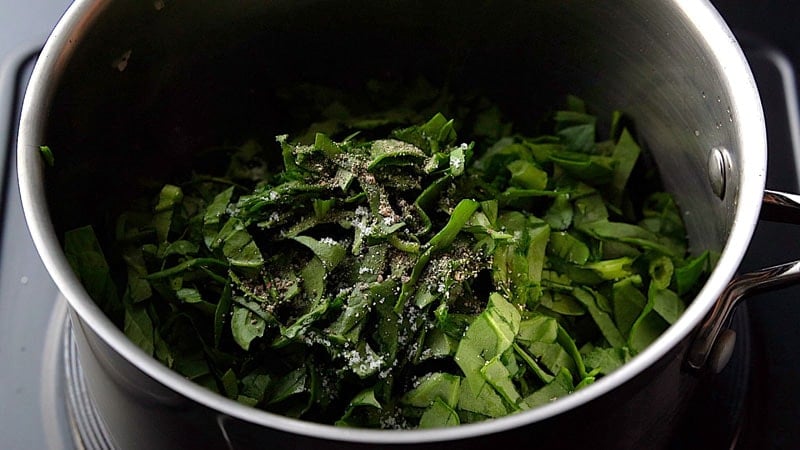 7. Now add 1 tablespoon besan or gram flour. You can also use chickpea flour or all-purpose flour or cornmeal instead.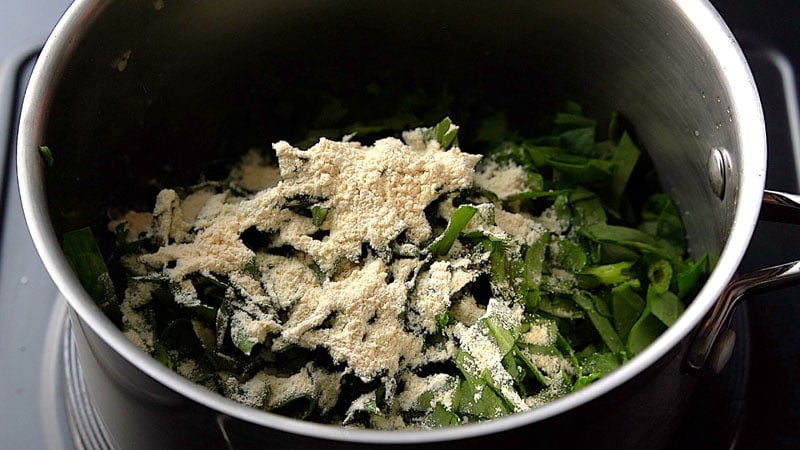 8. Combine and stir to mix well.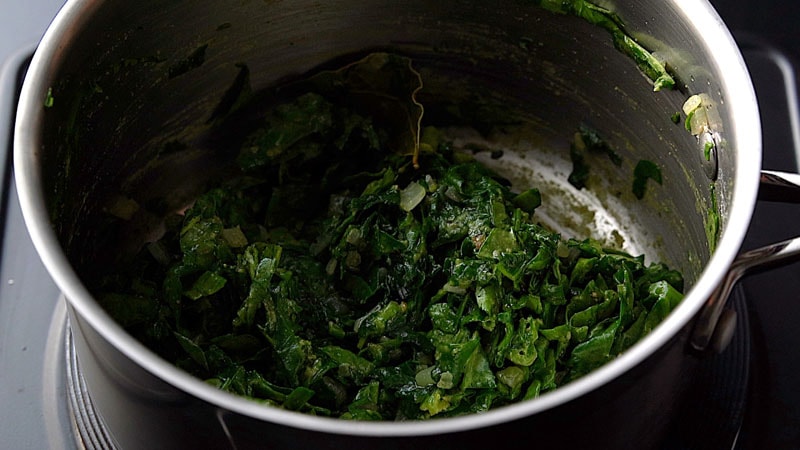 Cooking Palak Soup Mixture
9. Next pour 2 cups of water into the pot. For a more flavorful soup opt to add vegetable stock instead of water.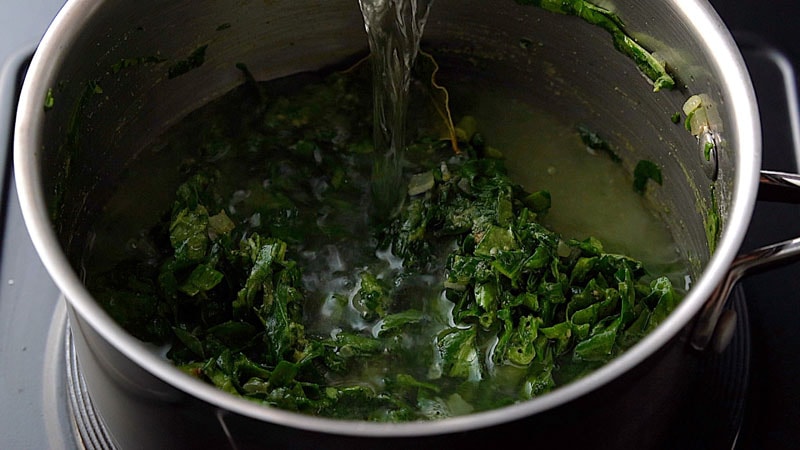 10. Bring the mixture to a boil over medium-low to medium heat.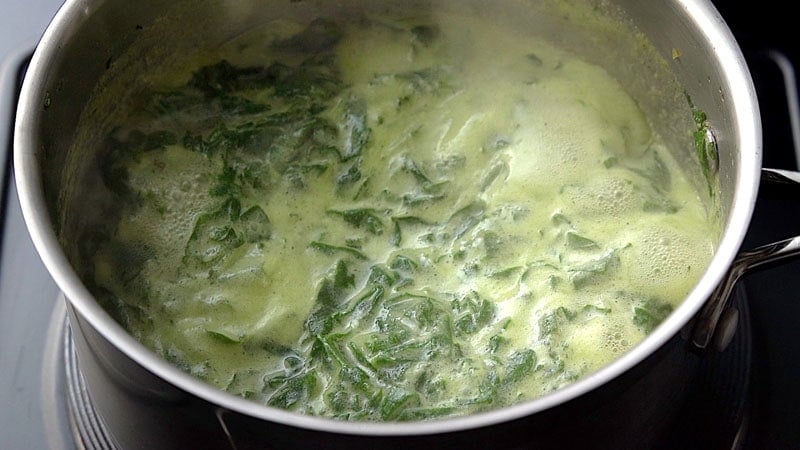 11. After the soup mixture comes to a boil, simmer for 3 to 4 minutes on low to medium-low heat.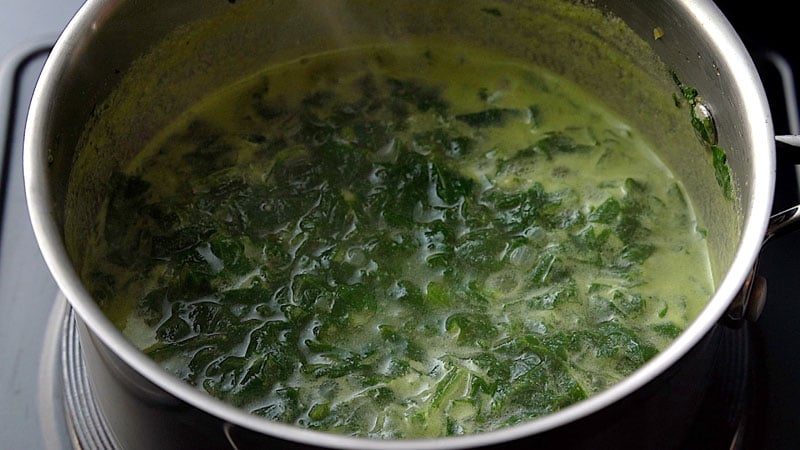 12. Add ¼ teaspoon of ground cumin powder. Mix again.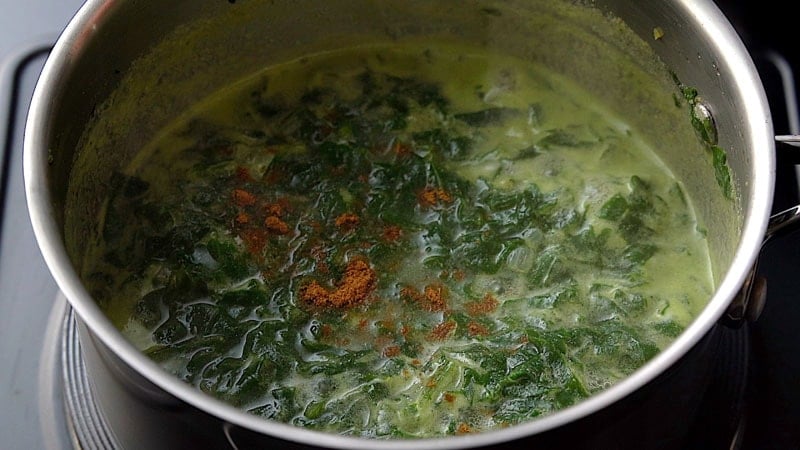 13. Switch off the heat and remove the pot from the burner, and let the soup mixture cool slightly.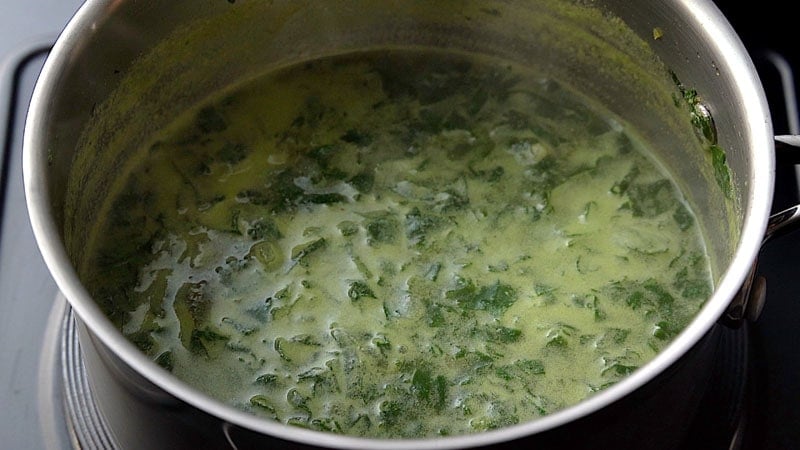 14. Before blending remove the bay leaf from the soup mixture.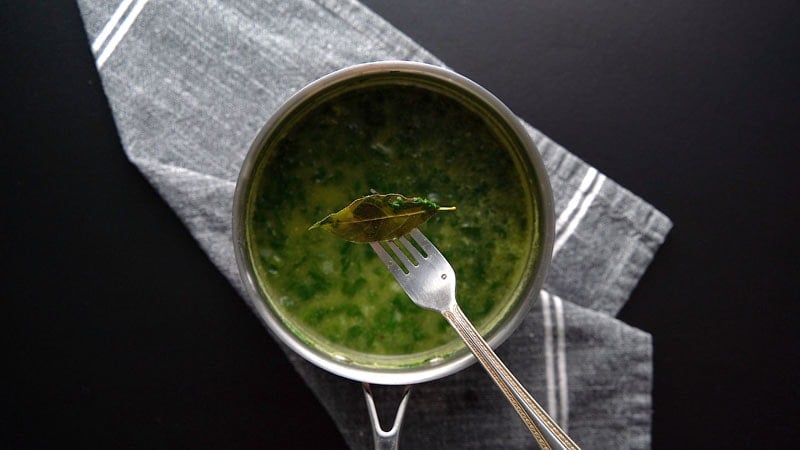 Making Spinach Soup
15. Once the soup has cooled, use either an immersion blender or hand blender to blend until smooth. You can also use a standing blender or mixer-grinder and work in batches if needed. Just be sure the soup has dropped to a temperature that's safe for whatever equipment you use.
If the soup looks a bit thick, then add ¼ cup water and stir. The consistency should be smooth, and slightly thin.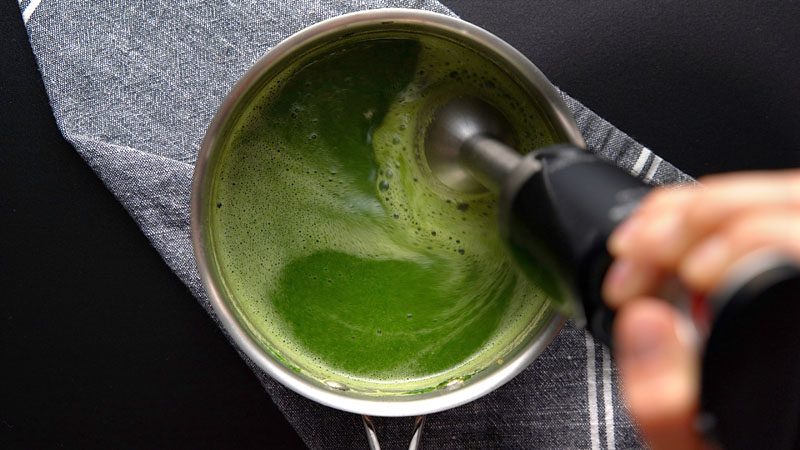 16. Turn the stovetop heat back on to medium, and bring the palak soup to a gentle simmer. Cook for another 2 to 3 minutes.
Before serving check the seasonings. Add more salt and pepper if needed.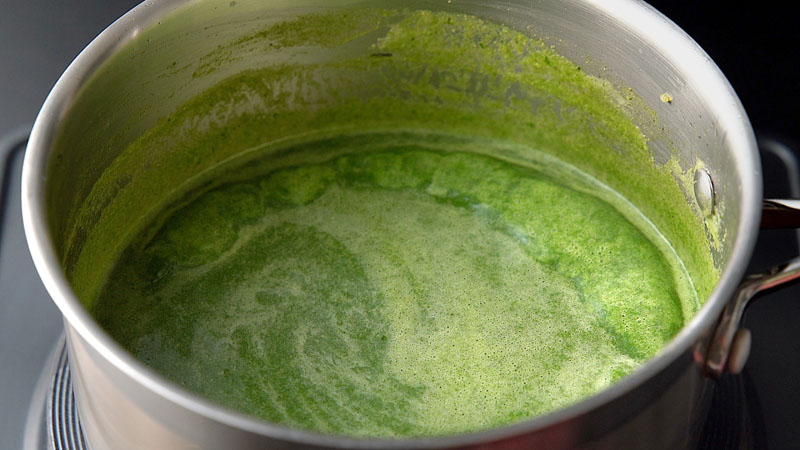 17. Pour in soup bowls and drizzle with 1 tablespoon of coconut cream. Sprinkle some crushed black pepper if needed. A topping of bread croutons also tastes good with this soup.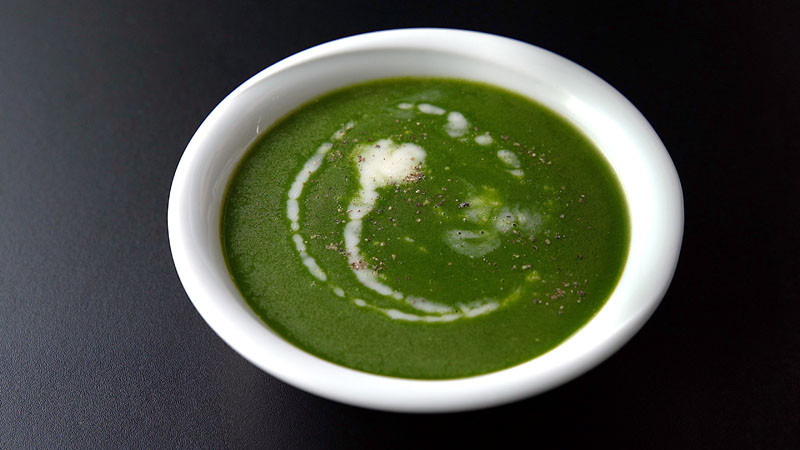 18. Serve Spinach soup hot or warm as a starter or as a light dinner with a side of any vegetable salad. You can also serve this soup as an entree with a main course of any baked dish or pasta or simple rice-based dish like pulao or pilaf.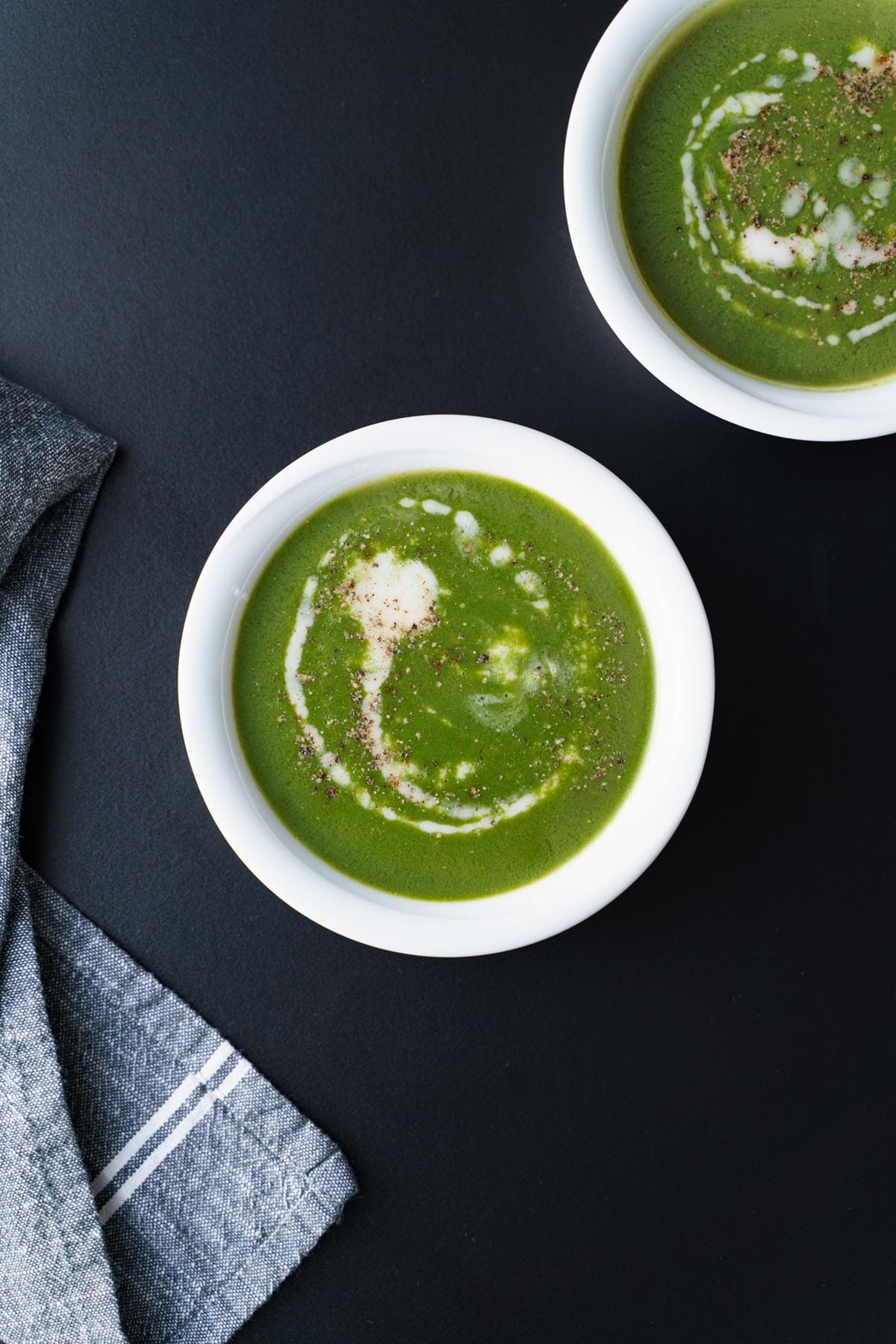 FAQs
How should I garnish spinach soup?
Add freshly cracked pepper, or a pinch of crushed red pepper for some heat. For a non-vegan version you can also grate on some paneer or other cheese, or add a dollop of low-fat cream before serving. Make this a heartier soup by adding cooked macaroni.
What should I serve with palak soup?
Enjoy a warm bowl of this soup with crusty bread or crackers for dipping. It's great to serve with a fresh green salad for lunch or a light dinner.
Can this recipe be doubled?
Yes, this soup is easy to prepare in larger quantities! As-is this will serve 2 people. Double or even triple the recipe for however many servings you need.
How long do leftovers keep well?
Stored in an airtight container leftover spinach soup without the coconut cream will keep well for up to 2 days.
More Soups For You To Try
If you made this recipe, please be sure to rate it in the recipe card below. Sign Up for my email newsletter or you can follow me on Instagram, Facebook, Youtube, Pinterest or Twitter for more vegetarian inspirations.
By
Dassana Amit
Spinach soup is a wonderfully flavorful, comforting, and healthy dish. It's made with simple, wholesome ingredients for a highly nutritious soup.
Prep Time 15 mins
Cook Time 15 mins
Total Time 30 mins
---
---
Servings 2
Units
Preparation
First rinse the spinach leaves very well in water a few times. Then drain all the water.

Chop the spinach leaves and keep aside. If the stems are tender, you can use these too.
Sautéing and cooking spinach soup mixture
Heat oil in a sauce pan. Add the bay leaf and sauté for 2 to 3 seconds

Now add the chopped garlic and sauté till the garlic is light browned or browned. Don't burn the garlic.

Sauté the garlic on a low heat. Add chopped onions and sauté till the onions are softened.

Add the chopped spinach. Stir and season with black pepper and salt.

Now add the besan or gram flour. Mix well.

Pour 2 cups water and mix again.

Bring the mixture to a boil and then simmer for 3 to 4 minutes.

Add ground cumin and stir well.

Switch off the heat and let the soup mixture cool a bit.
Making spinach soup
When the soup mixture's heat has reduced or has become warm, then blend with a hand blender or in a blender until smooth.

Remove the bay leaf while blending.

Check the seasonings and add some more salt or pepper if required.

If the soup looks thick, then add about ¼ cup water and stir.

Keep the well blended soup back on the stove for simmering for 2 to 3 minutes.

Serve spinach soup hot sprinkled with some freshly crushed black pepper and coconut cream.
Use tender, fresh spinach. You can also use baby spinach or frozen spinach. For frozen spinach thaw the leaves first. Once the leaves are thawed press and squeeze all of the water from the leaves.
If the stems are tender, you can use these. But if they are fibrous or stringy, then discard the stems and use the leaves only.
For the oil you can use any neutral tasting oil and even olive oil. For a vegetarian spinach soup, you can add butter.
This is a thin light soup. To thicken the soup you need to add some form of starch in it. Add some chopped potatoes – about ¼ to ⅓ cup to the soup mixture. First add potatoes and water. Cook until potatoes are almost done. Then add the spinach leaves and simmer until the leaves are wilted. You can also add some carrots to the soup but with carrots, the soup will have a sweet taste.
This recipe is for two servings. But can be easily scaled up to make a big batch.
The soup stays good for 1 to 2 days in the fridge. You can also freeze for a few weeks without the coconut cream.
A topping of bread croutons also tastes good with this palak soup.
Nutrition Facts
Spinach Soup (Palak Soup)
Amount Per Serving
Calories 238 Calories from Fat 207
% Daily Value*
Fat 23g35%
Saturated Fat 7g44%
Polyunsaturated Fat 2g
Monounsaturated Fat 13g
Sodium 622mg27%
Potassium 300mg9%
Carbohydrates 7g2%
Fiber 2g8%
Sugar 1g1%
Protein 3g6%
Vitamin A 2828IU57%
Vitamin B1 (Thiamine) 1mg67%
Vitamin B2 (Riboflavin) 1mg59%
Vitamin B3 (Niacin) 1mg5%
Vitamin B6 1mg50%
Vitamin C 10mg12%
Vitamin E 3mg20%
Vitamin K 158µg150%
Calcium 54mg5%
Vitamin B9 (Folate) 82µg21%
Iron 2mg11%
Magnesium 42mg11%
Phosphorus 55mg6%
Zinc 1mg7%
* Percent Daily Values are based on a 2000 calorie diet.
Like our videos? Then do follow and subscribe to us on youtube to get the latest Recipe Video updates.
All our content & photos are copyright protected. Please do not copy. As a blogger, if you you want to adapt this recipe or make a youtube video, then please write the recipe in your own words and give a clickable link back to the recipe on this url.
This spinach soup recipe from the blog archives first published in July 2013 has been updated with better photos and video on 12 August 2021.