Snapchat is one of the most popular social networks in the world.
It boasts nearly 200 million daily active users.
That's a ton of people sharing and engaging with content on a daily basis.
On top of a huge user base, the engagement levels are off the charts: people use the application 25+ times per day, with 60%+ creating content daily.
It's no question that Snapchat has potential in numbers and engagement.
[embedded content]
But that's for natural, organic content. Something that Snapchat is literally built upon and thrives with.
The cornerstone of Snapchat is different from any other platform. Content is often natural and unedited, showing behind-the-scenes footage or real-life activities that remain unfiltered.
So, is it really meant for paid advertising? Do people even engage with brands on Snapchat, let alone paid ads?
That's what we're here to find out.
Are Snapchat paid ads worth your time and money? Here's how you can find out today.
What are Snapchat ads?
Anyone that has used Snapchat knows one thing:
Snapchat has incredibly diverse features that you can't find on any other platform.
Things like augmented reality, fun and engaging filters, face swap and more.
And all of these features can be capitalized on by advertisers looking to bring in sales or brand awareness.
Currently, Snapchat offers three different types of ad formats. Each ad format has multiple sub-formats as well, giving advertisers a few different choices and ways to hit multiple objectives.
Let's take a look at the three formats and how they're currently used:
Snap Ads
Snap Ads are full-screen ads on Snapchat that come in video format. They always play with sound on and are 100% viewable in-frame:
With Snap Ads, you currently have three different types of ads that you can run:
Web viewing, application install, and long-form video content.
For web viewing, your ad will play in video format, prompting people to swipe up to visit your website.
Using Snapchat's Auto-Fill feature, you can use this ad type to collect leads using emails with just the tap of a button.
This works to reduce conversion friction from having to type out your email while viewing the ad.
Now, users can just tap a button and link their account email directly to your form.
The web view ad format is great for collecting new leads.
A second popular ad type within Snap Ads is targeted for mobile application installs.
App installs are exactly what they sound like: you can display short video ads that prompt users with an "Install Now" CTA at the bottom.
When users swipe up, they can download your application without having to go to the app store or even leave the Snapchat app.
Once again, Snapchat provides incredible conversion friction-reducing technology for easy conversions.
The last format is long-form video: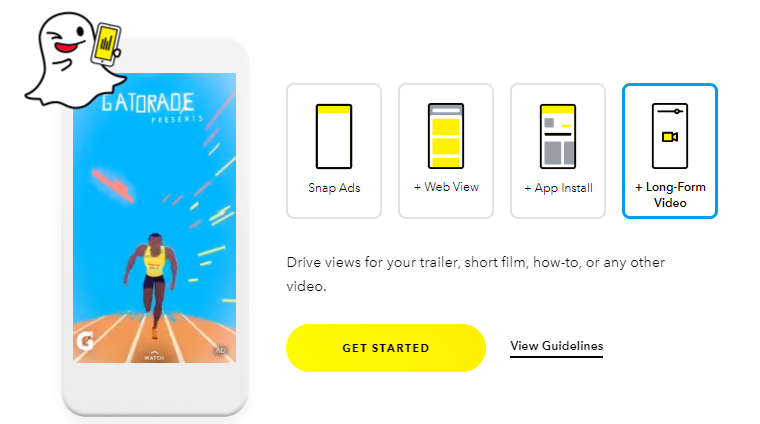 Long-form video is focused on driving traffic to a trailer, film or long piece of video like a how-to.
It's often used more by big brands looking to promote movie trailers but has its place for business explainers too.
Filters
Filters on Snapchat are the bread-and-butter of selfie-taking.
You can make your face look like a dog, cat or anything that Snapchat has at the time.
New updates constantly come out, making it one of the most enjoyable experiences on the app.
Now, Snapchat has opened the floodgates for advertisers to create filters based on where the user is in the real world.
For example, let's say that you attend a hockey game. When you open Snapchat and take a picture, swiping through the filters, you'll likely see a sponsored filter for that game:
This ad format is generally reserved for businesses with a brick-and-mortar location and companies looking to drive more brand awareness.
There isn't a way to leverage filters into links to your site, though.
Lenses
The last ad type you can use with Snapchat is a unique lens for your company.
Lenses are the filters that you see when you take a selfie. They can alter your facial appearance or put dynamic, augmented reality features on your photo:
Companies have been taking advantage of them to drive brand awareness on a large scale.
For example, in the picture above, Red Bull, NBA, and Michael Kors use their own custom filters to create engagement and awareness.
Once again, this ad format is likely to appeal more to huge brands that sell products to massive target markets.
If you're in the B2B space or a niche-focused industry, this ad type likely won't do much for you.
Let's recap each ad type before looking at some data on their performance:
Snap Ads: Snap Ads appeal to the widest range of advertisers. They come in three forms. Long-form video, website traffic, and app installs.
Filters: Filters show up when you take photos on the app. They are meant more for brick-and-mortar locations or huge live events like sports.
Lenses: Like filters, lenses show up on selfie shots and are best reserved for wide-spread brand-awareness campaigns.
So, how do these ad types perform with real Snapchat users? Let's look at the data.
The latest data on Snapchat Ad performance
Now you know the top Snapchat Ad types that you can run.
And while a few of them are best for brand-awareness campaigns, standard video content driving web visits or app installs can be used by anyone.
But, what does the data say?
Do people engage with Snapchat Ads or do they simply ignore them?
Let's take a look.
According to eMarketer, when compared to the ad revenues of Facebook and Google, Snapchat is struggling big time.
While Facebook and Google have been around longer and have larger user bases which makes them more compelling, the difference is staggering.
Snapchat simply can't compare when it comes to display ads.
On top of a sub-par display ad revenue, Snapchat isn't high up on the list of leading platforms for influencer marketing campaigns:
Even generic "Blogs" are a more-used platform for influencer marketing. Currently, Instagram is dominating the competition.
With this data, we can infer a few major things:
Snapchat has a smaller user base, accounting for less reach and therefore less desire for advertisers to use the platform.
Snapchat doesn't provide enough incentive to use their ads. With two formats focusing on solely brand awareness, most companies can't afford that, or simply don't have brick-and-mortar stores.
So, while Snapchat may have lots of active users, it doesn't have as many in comparison to platforms like Google, Facebook, and Instagram.
But that doesn't mean you can't find success.
With that said, let's look at a recent study on Snapchat's ad performance to compare that with their revenue.
Fluent recently studied Snapchat by surveying over 3,000 American adults. The results were pretty shocking:
48% of people surveyed said Snapchat was just a fad.
62% of current Snapchat users believed an alternative would be created that they would be willing to switch to. That's a big hit for brand loyalty.
69% of Snapchat users skip ads on Snapchat "always" or "often."
Most people don't follow or engage with traditional media outlets like CNN, NYT and more.
With all of this negative data, I have some concerns of my own regarding the efficacy of the data:
Methodology. The methodology is a key factor in the results of any study.
Using the wrong methodology could produce significantly different results. Let me explain:
This study references a survey on 3,000 "American adults."
That is heavily generic. What was the age range of the study? What is the defined age of an American adult?
In my own research, I've heard of segmented adult groups from "young adult" to "elderly adult."
Often, a young adult can be in their early twenties or even approaching their thirties.
This concerns me for one primary reason: the demographics of Snapchat users are dominated by people under 25.
Almost ¾ of the users on Snapchat are under 25.
So, while this study can give us some great insights into how users interact with Snapchat Ads, it shouldn't make or break your decision to run ads on the platform.
Until we know the age range of respondents in the survey, we can't be sure that young adults are interacting poorly with ads on Snapchat.
Despite almost 70% of people skipping ads often or always, that still leaves 30% engaging with the ads.
And as we know with most ad formats, you can't expect conversion rates to be sky-high.
On Snapchat's Inspiration page, you can see that tons of businesses have found massive success with Snap Ads:

So before ruling out Snapchat, I suggest running a few tests to see if your target market uses Snapchat.
Assess if your target market uses Snapchat
Like any new study that comes out, you can't take it as gospel truth.
Just because news organizations don't find success on Snapchat doesn't mean you will fail.
Sometimes, scrutiny and testing on your own are the best measures of truth for your business.
What works for one business may not work for another. That's why I always recommend small budget tests to see if your success on a platform is possible (or impossible).
Another precautionary measure you can take is assessing your own target market and comparing it to demographics on Snapchat.
When it comes to demographics, Snapchat is dominated by younger users.
But according to eMarketer, 6.4% of Snapchat users are going to be between the ages of 45 and 54 which is up more than 2% from the previous year.
And according to the data above, 70% of users are women. 71% are under the age of 25, and 38% have an income over $50,000.
Compare this data to your own demographic data on current customers. Using a tool like Facebook Insights, you can locate plenty of information on current customers:
Analyze the age, gender and lifestyle demographics of your current audiences.
Using the Household tab, you can see household income and compare that directly to Snapchat demographics:
Another key factor you can locate is hidden at the bottom of the "Purchase" tab:
Scroll down to the bottom of the page and see what your current audience's retail spending habits are:
If you have an audience that spends tons on retail, it's likely that Snapchat will be a good place for you to test the waters.
Another great method to see if your target market is on Snapchat is to simply survey followers on Twitter and Facebook using polls.
If you have a decent amount of followers on each platform, you can ask a simple question to your customer base to see if they engage on Snapchat.
On Twitter, simply conduct a yes or no poll like this:
Do you use Snapchat often? That's the only question you need to ask.
Assess what responses you get and consider comparing the demographic data of your Twitter users back to Snapchat to ensure they line up.
Repeat the same poll on your branded company Facebook page:
Use these poll results to inform the commitment or budget levels that you'll use for Snapchat.
How does the Snapchat Ad Manager work?
Snapchat's Ad Manager is one of the best advertising platforms I've used.
It reminds me of Facebook's platform with its diverse features from audience targeting to building ads directly on-site.
Since ads are video-based, Snapchat provides a platform on their site for creating and editing video ads.
Meaning you don't need much (if any) outside or third-party editing services to get the job done.
To create an account, head to Snapchat's Business site and click "Get Started:"
If you already have a Snapchat account, you can sign in and transition it from a personal to a business account.
You need to have a linked business account to take advantage of advertising.
Once you've done that, you can enter your credit card information and start creating ads immediately.
When creating new ads, the platform will feel similar to Facebook in that you choose a primary objective before creating your ads.
This works to sort different options and tools based on your goals.
Currently, you can pick between driving traffic to your website, application installs, remarketing audiences, video views or simply growing brand awareness.
One of the great features is being able to run ads on a timeline. For example, you could run holiday sales campaigns that drive website traffic, limiting their dates to a specific week.
Next, you can start to build your ad sets. This includes delivery time, status and creative type:
Creative type is simply the ad type that you want to use corresponding to the objective you chose in the campaign-setup stage.
The creative type can be a filter, website, long-form video or a simple snap.
After choosing your creative type, you can start to customize targeting factors for your audience:
Similarly to Facebook, Snapchat packs a powerhouse of data on its users. You can target by interest, lifestyles, shopping behavior and more.
Plus, you can optimize what device you want to target. For example, if you run applications only on the iOS app store, you can ensure that you only show ads for Apple users.
For simple demographics, you can target age ranges, genders and specific locations:
Custom audiences are key to success on Snapchat's platform.
You can easily get started by targeting existing customers using a customer list: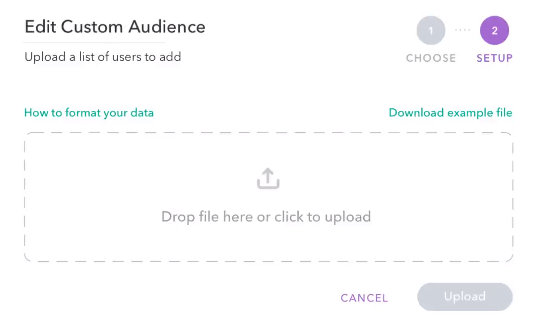 Simply download an example and format your list correctly. Next, upload your list and wait for Snapchat to match your customer list to current accounts.
If you want to target new audiences, create a lookalike audience based on your current customers:
Like Facebook, you can choose audience sizes and specific countries to target. The smaller the audience size, the more specific your lookalike users will be to current customer groups.
After selecting or creating an audience, you will edit your creative: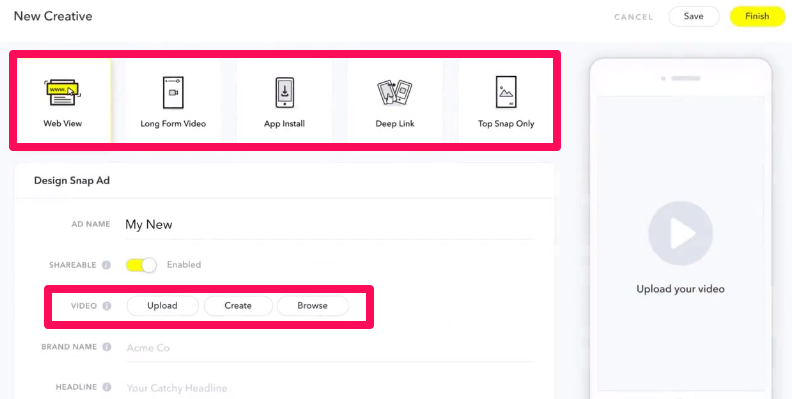 You can choose from content type and design your Snap Ad directly on their platform.
You can either upload a video, create one, or choose from templated videos that you can add text and graphics to.
And with Snapchat analytics, you can measure the performance and results of your campaigns in seconds:
Overall, using the Snapchat Ad Platform is easy. If you're used to using other platforms for PPC or social media advertising, you won't have any issues.
The audience targeting is on point, giving you in-depth data on reaching the right people.
Create your account today and get started. Try running a few ads by setting up a spending limit to see if you can land sales.
The top brands on Snapchat finding success
If there is anything we can learn about finding success on Snapchat, we can learn it from experience.
There are multiple brands using Snapchat that are finding massive conversion rates and increases in sales on-site and for their mobile apps.
Peak, the popular brain game application drove 1.7 million app installs in two months on Snapchat. They averaged a 72% month-over-month increase in application installs.
The best part? Their costs were 50% less than advertising on other platforms.
The native integrations that Snapchat provides can be a big success for mobile apps.
When a user swipes up on the ad, it pulls up their app-store link: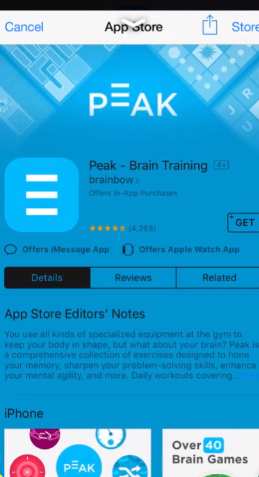 Without leaving Snapchat, interested users can download the application for easy access.
This encourages more downloads because users don't have to interrupt their current browsing experience. It eliminates steps that could kill conversion momentum.
Fallout 4, a popular video game, also used Snapchat to reach 26 million new users.
Using a nationwide filter, they were able to total 82 million views, a 31% increase in purchase intent and a 17pt increase in ad recall.
With all these examples of success, I've noticed a trend:
Mostly B2C companies with big budgets are succeeding.
So how much can you expect to pay with Snapchat? Let's take a peek.
Bottom line: how much you can expect to spend
With diverse ad types, it can be confusing when it comes to how much you'll pay to reach users.
According to Hootsuite, filter-based Snapchat Ads will be as low as $5. That price increases depending on the size of reach you choose, though.
For example, selecting a neighborhood vs. an entire city will have dramatically different prices.
Hootsuite found that an entire city cost $3,000 for them, while the immediate area around their office was only $13 for two days.
What about sponsored lenses? You can expect to pay a fortune. They're reserved for the biggest brands because they reach audiences of massive sizes.
Sponsored lenses cost anywhere from $600,000 to $750,000 for a single day. Yikes.
Lastly, for standard video content, averages are seen at $40 to $60 to reach 1,000 users.
Compared to other platforms like Facebook, that's a huge CPM:
Facebook's CPM has increased since 2012, but it still isn't anywhere near the price of Snapchat.
Bottom line:
Snapchat is expensive for most options. But, if you want to reach a smaller amount of people in your immediate location or test the waters with video ads, you can. And it won't break the bank.
Give it a shot with a few hundred dollars of your marketing budget and see what the results are.
If you can spare the extra budget, try it!
Conclusion
Snapchat may have declined in user base size and loyalty since it's peak of growth, but it's still a dominant force in the world of social media.
Nearly 200 million people use the platform daily. Engagement is massive, with people opening the app at least 25 times each day.
Snapchat has the potential for any business to find success.
But what about paid success? Do Snapchat users respond to paid ads like they do organic content?
According to the latest data on Snapchat Ads, the mass majority of users skip them. But that data could be flawed due to the age range of respondents compared to typical user demographics.
While Snapchat doesn't dominate ad revenue, company case studies show impressive performance.
Before ruling it out, run a few tests on your own target market with demographic data and analytical reports.
Next, survey your Twitter and Facebook fans to see if they would interact on Snapchat.
Lastly, just give it a shot. If you can afford the budget, go for it.
You won't know with 100% certainty until you test, test, test.
How do you get the most out of your Snapchat Ad investment?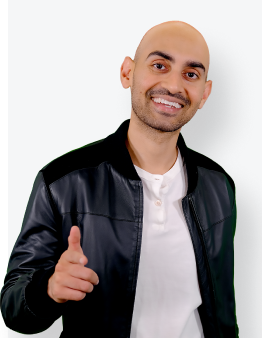 See How My Agency Can Drive Massive Amounts of Traffic to Your Website
SEO – unlock massive amounts of SEO traffic. See real results.
Content Marketing – our team creates epic content that will get shared, get links, and attract traffic.
Paid Media – effective paid strategies with clear ROI.