Mirch Pakoda or Mirchi Bhajiya are deep-fried fritters made with a bigger sized variety of green chillies, gram flour, herbs and spices. They can be made stuffed or plain. I share an easy version to make this piquant and delicious snack. It can also be served as a side dish with any Indian meal like lentils, curries or any dry vegetable dish.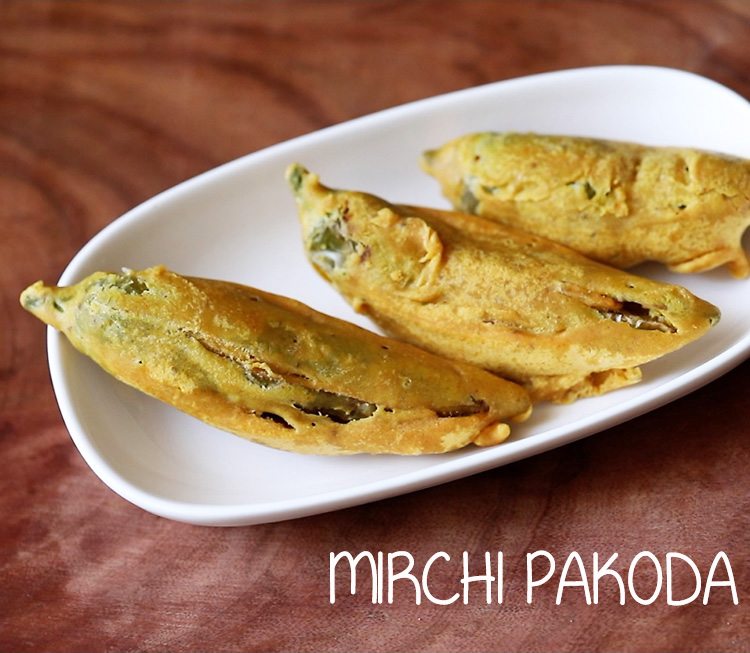 The recipe is quick, simple and easy to make as I have made it plain and not stuffed the green chillies with potatoes or paneer or any other stuffing. But you can stuff them with a stuffing of your choice. Two more popular stuffed variations which are also a street food are:
Mirchi Vada – These are spicy crispy stuffed chili cutlet from the Rajasthani cuisine having a stuffing of savory spiced mashed potatoes.
Andhra Mirchi Bajji – A speciality from the Andhra cuisine are these spicy mirapakaya bajji where the chillies are stuffed twice with spices first and later with a tangy mixture of aromatics.
In Mumbai, when you purchase an assorted platter of vegetable pakora, you will also get mirchi pakora in it. Most sweet shops sell mix veggie pakora in Mumbai. Apart from these, you also get other pakora varieties in Mumbai like:
While writing this post, I remember having mirchi pakoda in Goa. We liked it so much, that we used to visit this place every alternate day or so, just to have the Mirchi Bhajiya.
They served the bhajiya with pav (bread rolls) and with coconut chutney as an accompaniment. In Maharashtra and Goa, pakoras are known as Bhajji or bhajiya.
In this recipe, the green chillies that are used are the larger variety of chillies and they are not spicy as their smaller counterparts. One can use small green chillies also, but they would turn out to be too hot and spicy.
These green chillies have a light green color and are known as bhaji or bhajji or bhajiya chillies. You can also use Indian variety of Bhavnagri chilies or Picador chili. If you are craving something more spicy then you can use Jalapeño chili peppers.
To make it more yummy and filling, you can opt to stuff the chilies with grated paneer or any mashed vegetable filling.