Skip to content
This Bhindi Do Pyaza is a simple family recipe packed with lot of flavors. It includes lots of okra sautéed with fragrant onions and seasonings, but is mild enough to be kid-friendly and perfect to pair with nearly any main dish. Try this Bhindi Do Pyaza recipe for a vegan and gluten-free side dish that's sure to please the entire family. Follow my easy step-by-step instructions with photos for making bhindi do pyaza in less than 40 minutes.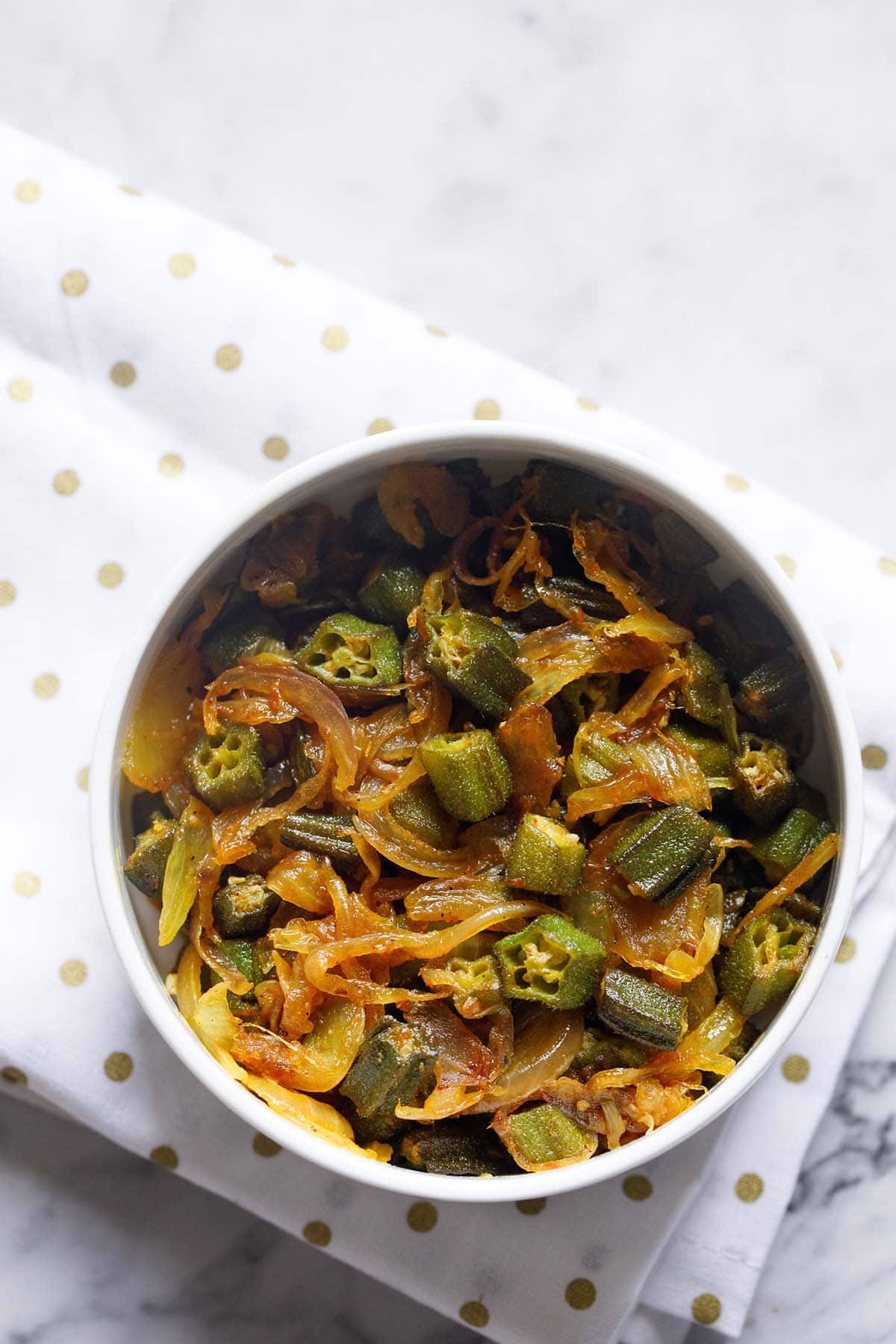 About Bhindi Do Pyaza
Bhindi Do Pyaza is a healthy and delicious side dish that gets its name from the Hindi words for okra "bhindi," and onion "pyaz."
The "do" means double or twice as much, and refers to the dish having lots of onions. In typical North Indian recipes, relatively speaking it means adding double the amount of onions or adding them twice during different stages of cooking.
There are many variations of making bhindi do pyaza in the North Indian cuisine. The dish can be dry sautéed or made with a gravy.
Pyaza is a common cooking style here, and once you try these dishes you'll see why! Do pyaza recipe variations are made with some more hero ingredients as well.
I have shared two more popular vegetarian do pyaza recipes:
Why This Recipe Works
My recipe is a simple, easy and non-fussy version of making this dish but packed with a lot of flavors. While, yes, there are lots of onions in this dish, but they keep a balance in the dish and give it a lovely light caramelized taste. Both the onions and okra shine through in this recipe.
I have learnt this gluten-free and vegan recipe from my mother-in-law. Recipes like these are what simple Indian home cooking is all about.
The okra is lightly sautéed with the onions and spices, so it is tender and slightly sweet but with deep, earthy flavors. And the bounty of onions are perfectly caramelized to add a wonderfully sweet taste that doesn't overpower the okra.
(Keep reading for tips on how to cook non-slimy okra!)
Bhindi do pyaza goes very well with Indian breads like paratha or roti, or as a side dish with steamed rice and lentils mains.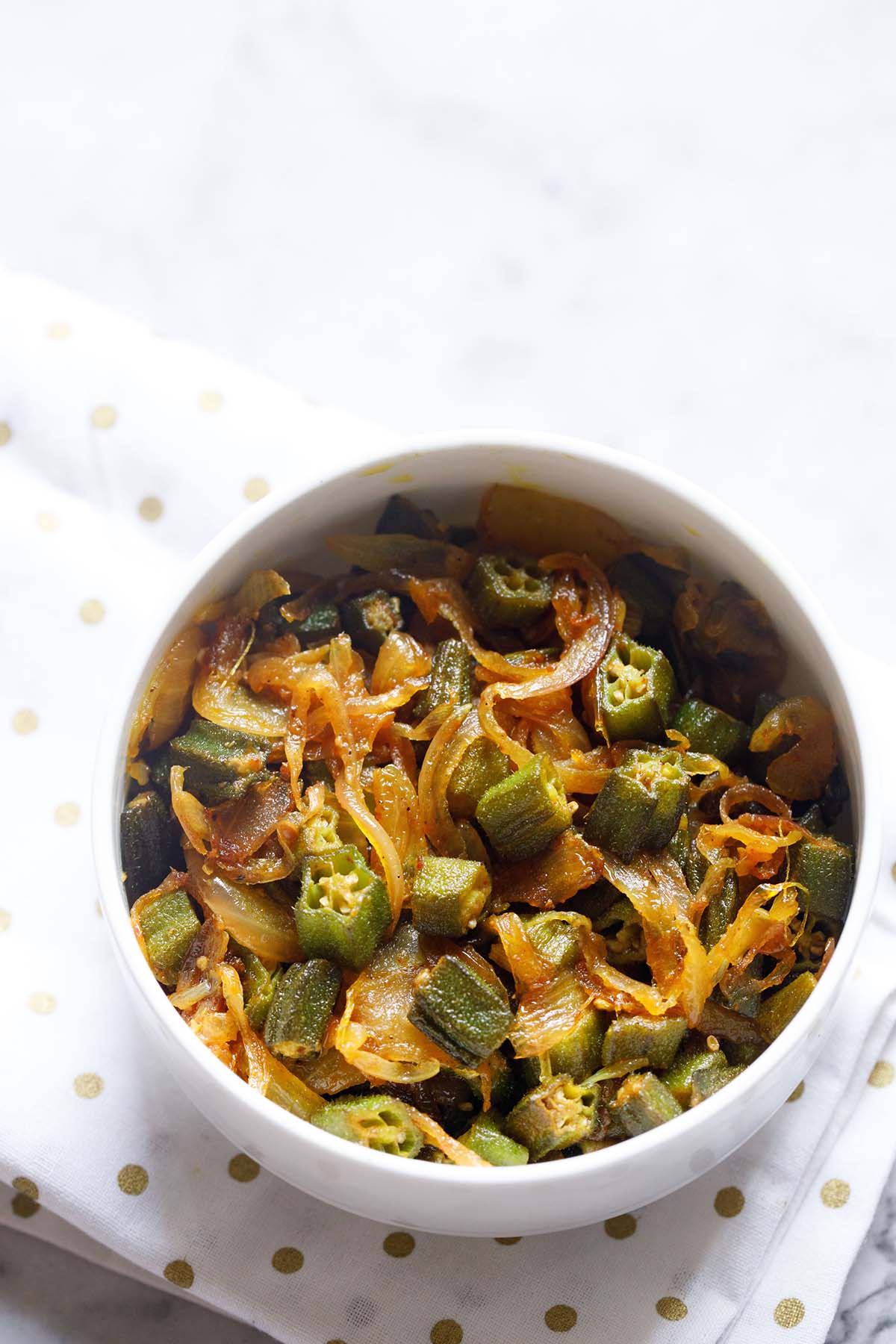 Step-by-Step Guide
How to make Bhindi Do Pyaza
Prep and Sauté Bhindi (Okra)
1. Firstly, rinse 500 grams of okra pods in running water. Then wipe them completely dry with a kitchen napkin or just spread them on a large tray or plate and allow to dry naturally. Now chop the okra into ¼ inch slices, like in the picture below.
Ensure that there should not be any moisture or water droplets on the okra prior to chopping them. They should be completely dry.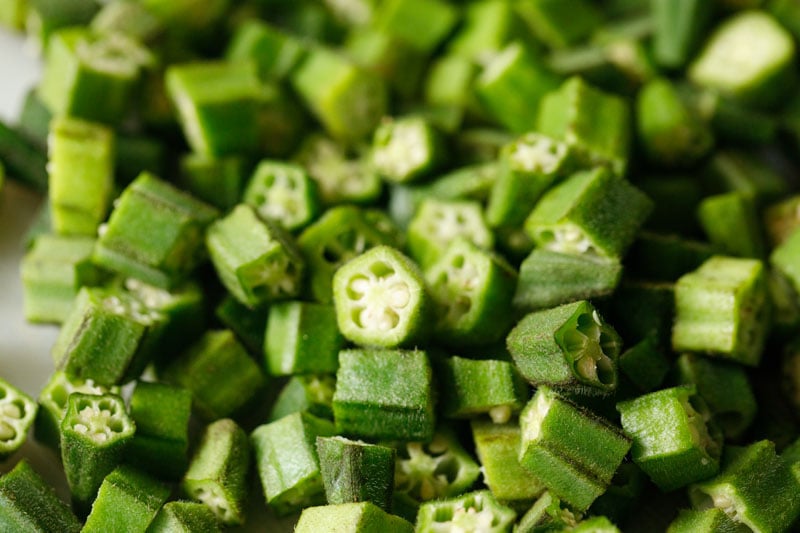 2. Next, peel and thinly slice about 2 large onions. You will be needing 2 heaped cups of thinly sliced onions.
In a thick bottomed and heavy pan or wok over low heat, add oil or ghee. Then add the chopped bhindi.
Mix them with the oil and begin to sauté them on low to medium-low heat.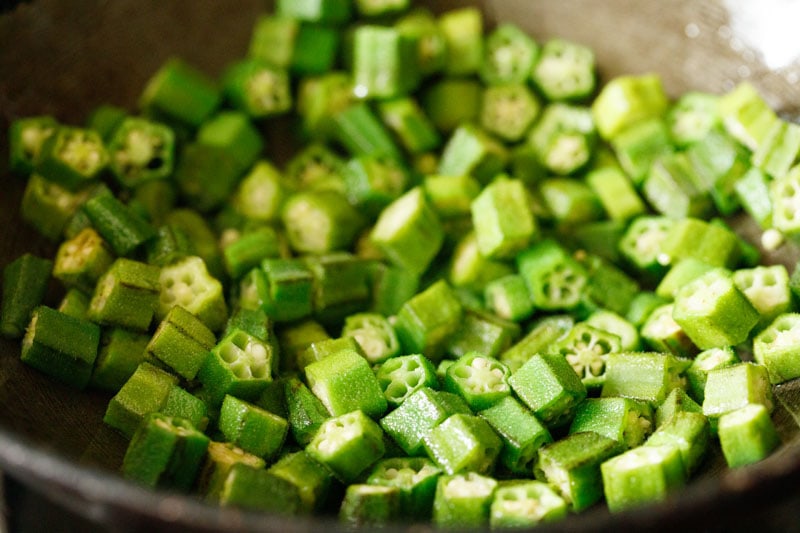 3. Sauté them on a low to medium heat, stirring often, until the okra become slightly tender and partially cooked but not browned. This typically takes about 4 to 5 minutes on a low to medium-low heat.
But keep in mind that the cooking time will vary with the thickness and size of the pan, quality of the okra and also the intensity of the flame.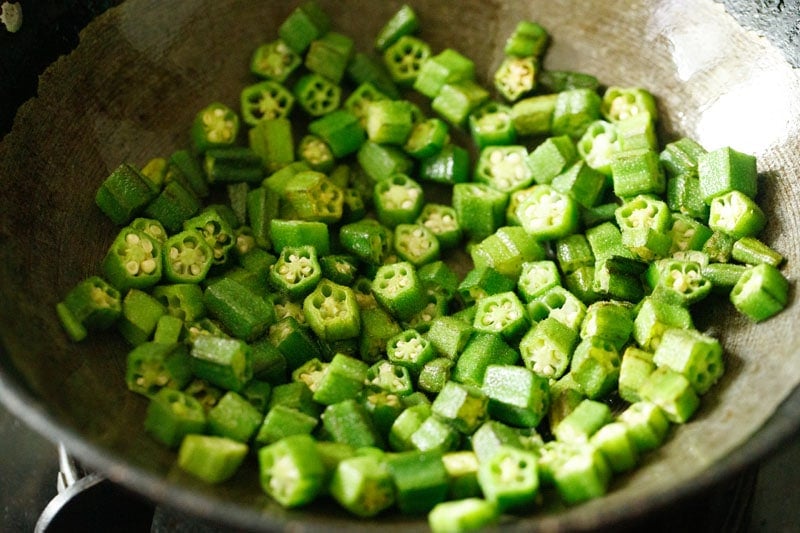 Sauté Onions (Pyaz)
4. Next add the sliced onions.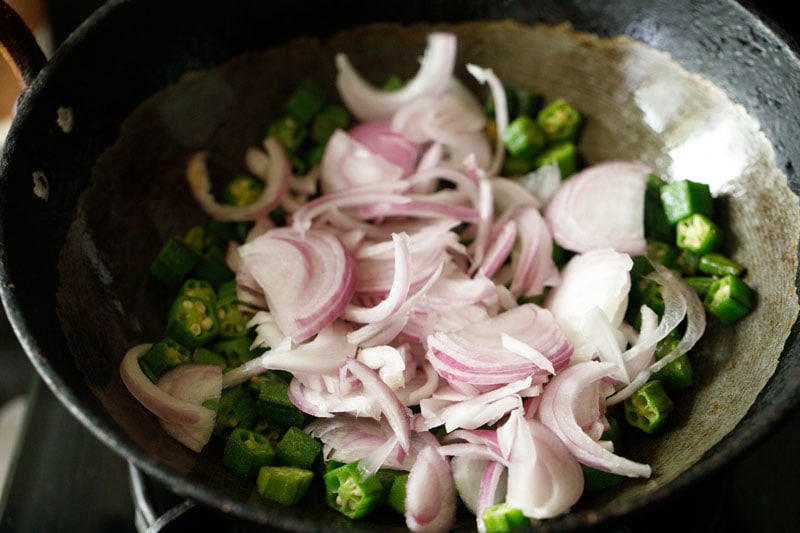 5. Then add seasonings to the pan: ½ teaspoon of turmeric powder, 1 teaspoon of red chili powder, and salt to taste.
6. Stir to combine the seasonings with the bhindi and onions.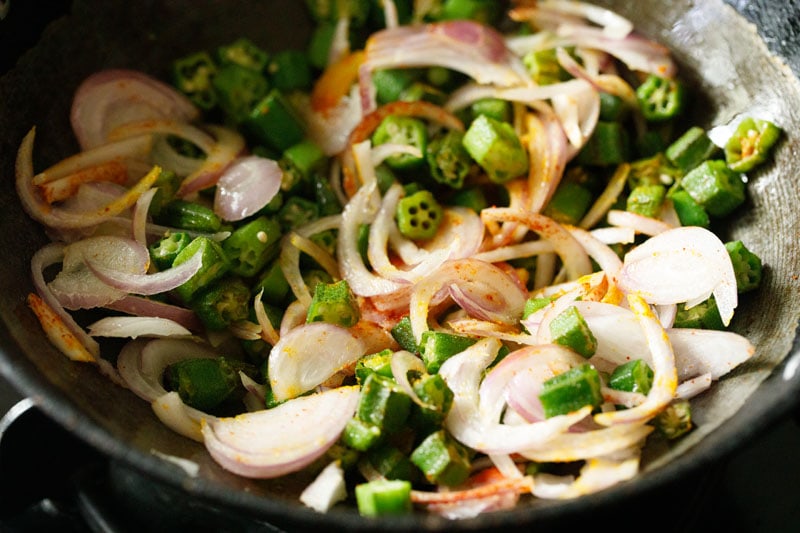 7. Continue to sauté over low to medium-low heat.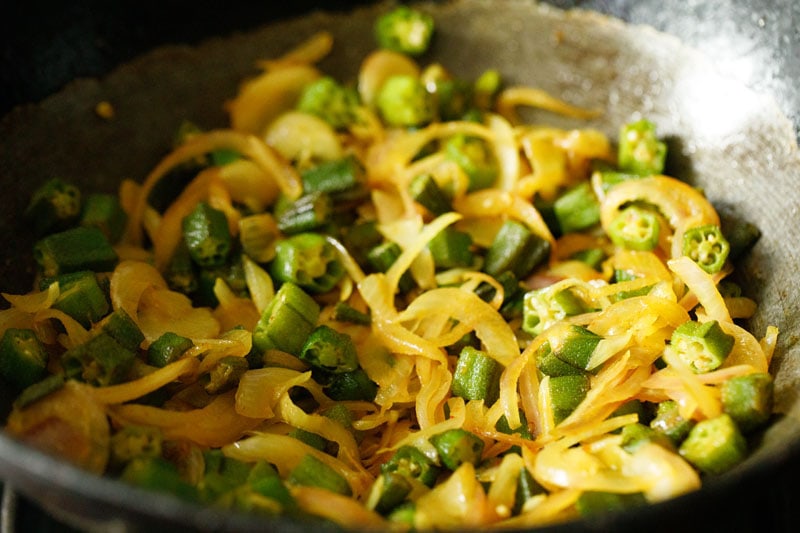 8. First the onions will soften but you have to continue to sauté them stirring after every 2 to 3 minutes.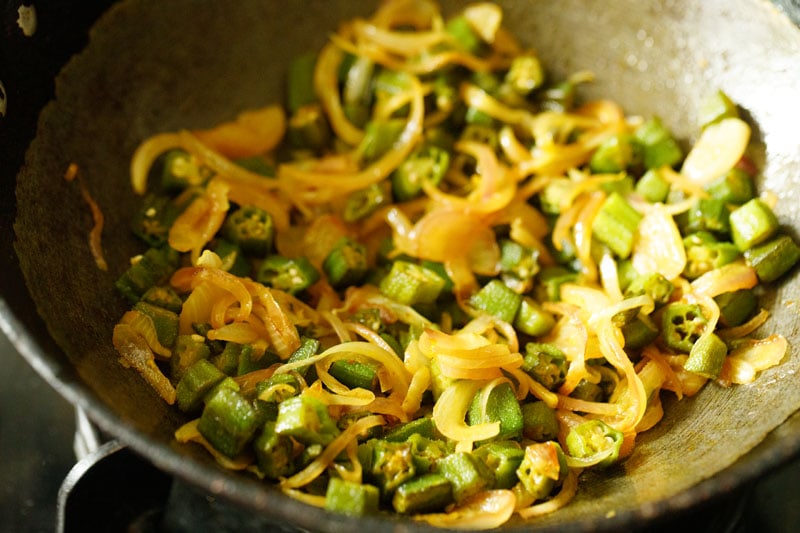 Make Bhindi Do Pyaza
9. Continue sautéing over low to medium-low heat until the onions become ligthtly caramelized or light golden. By this time the okra also become perfectly tender. Be careful to not overcook the bhindi, otherwise it might get mushy. Stir frequently.
Cooking the onions until they lightly caramelize, takes about 15 to 20 minutes on a low to medium-low heat. Again the timing will vary depending upon the thickness of the pan and intensity of the flame.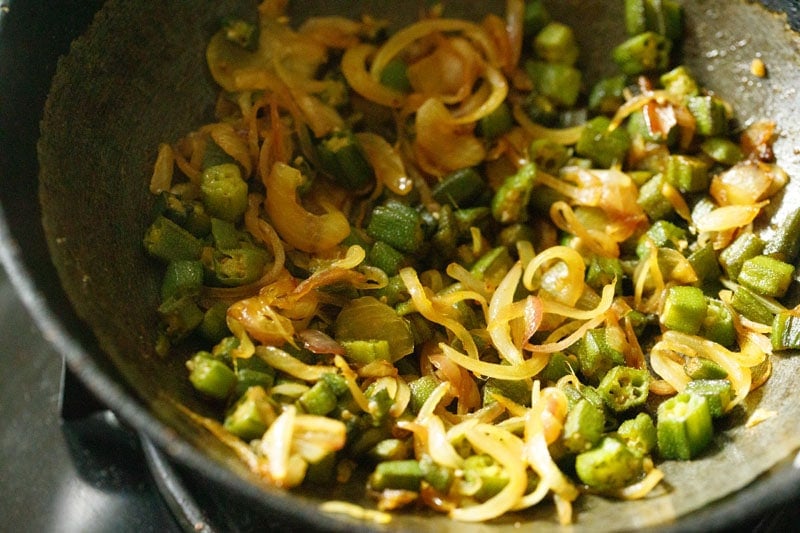 10. Lastly, add 1 teaspoon of dried mango powder (amchur powder) and 1 teaspoon of garam masala powder. For a more tangy taste, add a bit more of the dry mango powder.
Swap dry mango powder with ½ teaspoon lemon juice for some tang and brightness.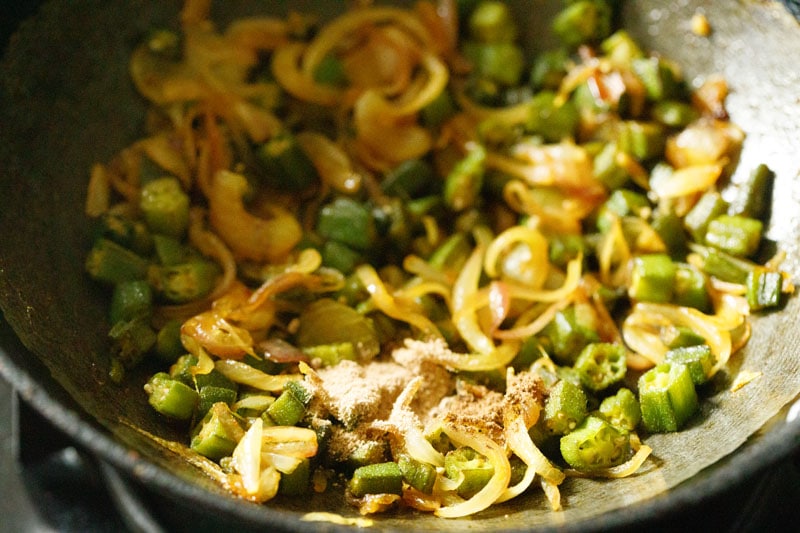 11. Mix well.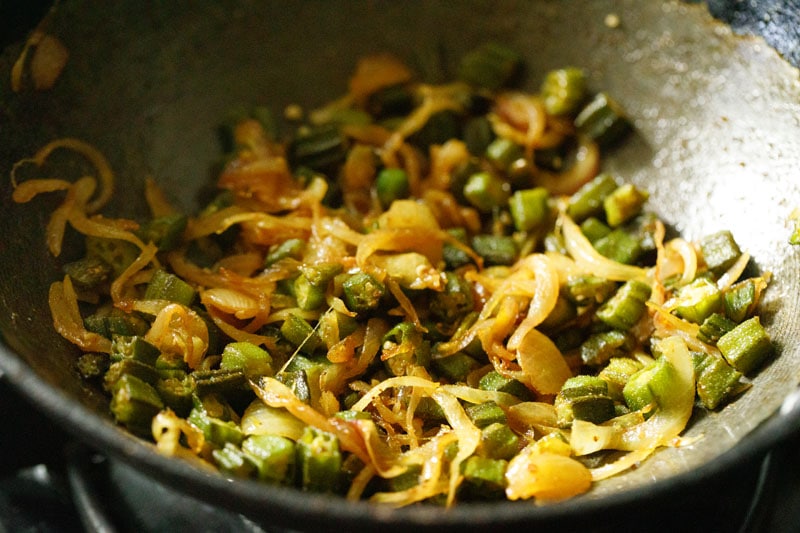 12. Serve Bhindi Do Pyaza warm as a main or side dish with roti or paratha. It can also be served as a side dish with a North Indian meal.
It can also be packed for lunch box with a side of roti or paratha.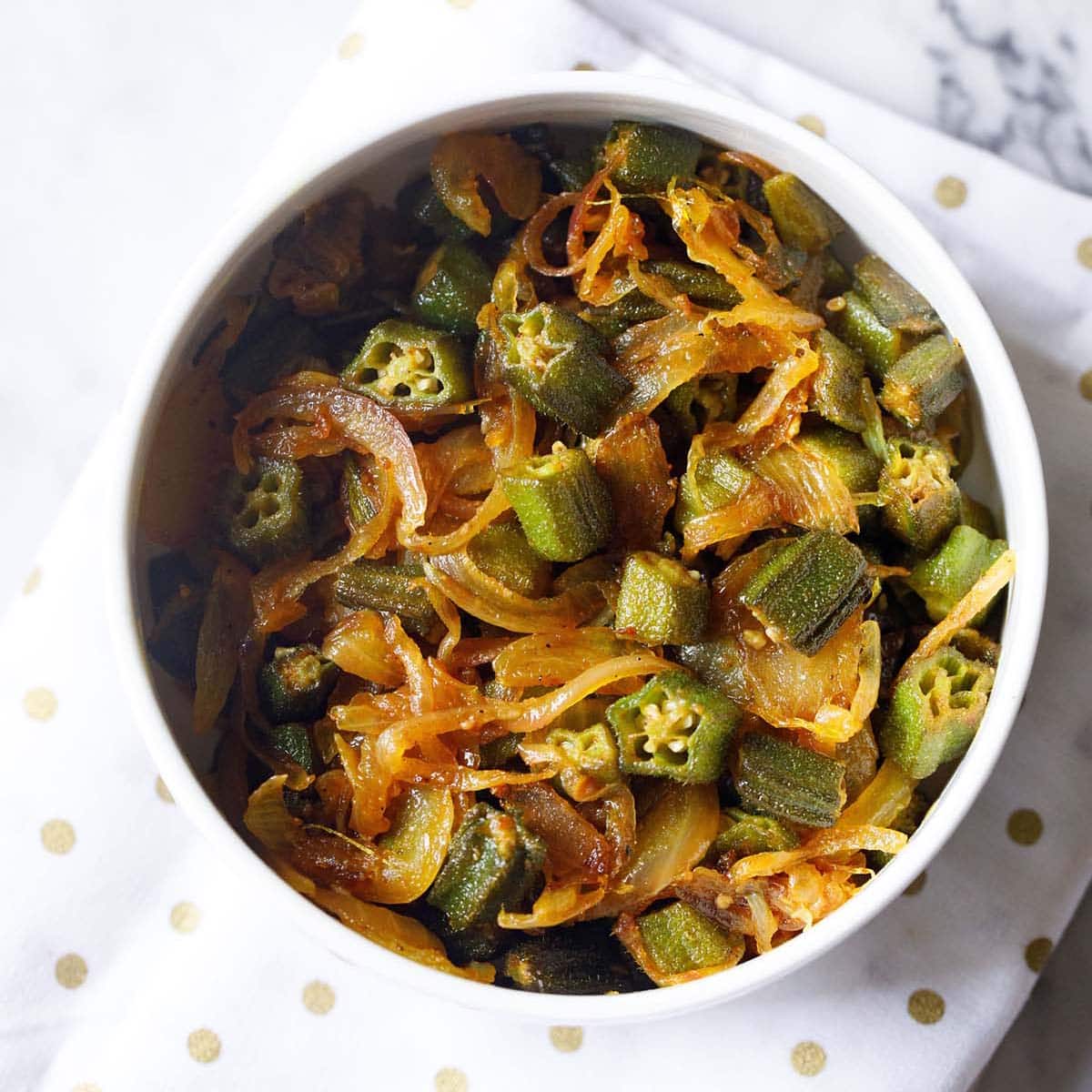 FAQs
How can I keep my bhindi (okra) from being slimy or mushy?
Slimy okra is usually a result of moisture getting into the bhindi. Be sure to thoroughly dry the rinsed okra before slicing. While cutting the okra, frequently wipe off the blade of the knife.
I do not recommend that you add any water to this dish while cooking. This "dry" saute method helps to keep the okra tender, and cuts down on sliminess and mushiness.
What should I serve with bhindi do pyaza?
I almost always serve this onion and okra dish with a side of roti or paratha. As a side dish it's great with steamed white rice and dishes like dal tadka or paneer curry.
How long will leftovers keep well?
You can store cooled leftovers in an airtight container and keep in the fridge for up to 1 day. However, bhindi do pyaza definitely tastes best when enjoyed freshly prepared. Reheated okra tends to lose its great texture. This dish will not freeze well.
More Indian Bhindi (Okra) Recipes To Try!
If you made this recipe, please be sure to rate it in the recipe card below. Sign Up for my email newsletter or you can follow me on Instagram, Facebook, Youtube, Pinterest or Twitter for more vegetarian inspirations.
By
Dassana Amit
Bhindi Do Pyaza is a North Indian dish made from Okra with double the amount of Onions. Try this Bhindi Do Pyaza recipe for a vegan and gluten-free side dish that you will like.
Prep Time 10 mins
Cook Time 25 mins
Total Time 35 mins
---
---
Servings 4
Preparation
Firstly wash the okra in running water. Then wipe them with a kitchen napkin. The okra pods should be completely dry before you chop them.

Now chop the okra into half to one inch pieces.

Slice the onions thinly.
Making Bhindi Do Pyaza
In a pan or wok, add oil or ghee. Then add the chopped okra. Saute them on a low to medium low heat for 4 to 5 minutes or till they become slightly tender.

Now add the sliced onions. Add all the dry masala powders except garam masala powder and dry mango powder and mix well.

Add salt too. Mix the okra well with the onions and ground spices .

Cook on a low to medium low heat till the onions are lightly golden and the okra has become tender and soft. Stir every 2 to 3 minutes when sauteing the onions. Don't overcook as the okra will get mushy.

Lastly, add the garam masala powder and dry mango powder.

Mix the garam masala powder and dry mango powder with the okra and onions.

Serve bhindi do pyaza with roti or phulka or paratha. It can also be served as a side dish with a North Indian meal. You can also pack it in the lunch box with a side of roti or paratha.
Always rinse the okra first and then wipe them dry and then chop them. If you just wash them and then chop them they become sticky, while chopping itself. Even while cooking them, they become slimy and mushy.
Avoid adding water when making a recipe exclusively with okra as they become too sticky and mushy. If your recipe uses water, then its better to first lightly shallow fry the okra and then use them in the recipe.
I have not covered the pan in this recipe as I do not want the bhindi do pyaza to be slimy and sticky.
Adding a sour ingredient like dry mango powder, tomato or tamarind paste reduces the sliminess of okra.
You can lemon juice with dry mango powder.
The recipe can be scaled to make a small batch that has 2 servings or a larger batch for 6 or more servings.
Nutrition Facts
Bhindi Do Pyaza
Amount Per Serving
Calories 196 Calories from Fat 135
% Daily Value*
Fat 15g23%
Saturated Fat 1g6%
Polyunsaturated Fat 1g
Monounsaturated Fat 12g
Sodium 310mg13%
Potassium 470mg13%
Carbohydrates 16g5%
Fiber 5g21%
Sugar 4g4%
Protein 3g6%
Vitamin A 1044IU21%
Vitamin B1 (Thiamine) 1mg67%
Vitamin B2 (Riboflavin) 1mg59%
Vitamin B3 (Niacin) 1mg5%
Vitamin B6 1mg50%
Vitamin C 33mg40%
Vitamin E 6mg40%
Vitamin K 41µg39%
Calcium 117mg12%
Vitamin B9 (Folate) 86µg22%
Iron 1mg6%
Magnesium 78mg20%
Phosphorus 94mg9%
Zinc 1mg7%
* Percent Daily Values are based on a 2000 calorie diet.
Like our videos? Then do follow and subscribe to us on youtube to get the latest Recipe Video updates.
All our content & photos are copyright protected. Please do not copy. As a blogger, if you you want to adapt this recipe or make a youtube video, then please write the recipe in your own words and give a clickable link back to the recipe on this url.
This Bhindi do Pyaza recipe post from the blog archives (first published in August 2009) has been updated and republished on 26 June 2021.