Skip to content
Schezwan fried rice is a zesty vegetarian and vegan stir-fried rice variant that features a bold and spicy homemade schezwan sauce loaded with healthy mix vegetables, aromatics and herbs. This popular but easy Indo Chinese recipe with step-by-step photos and video is simple to make from scratch using wholesome ingredients. I promise you'll love this delicious schezwan fried rice recipe even more than your favorite takeout!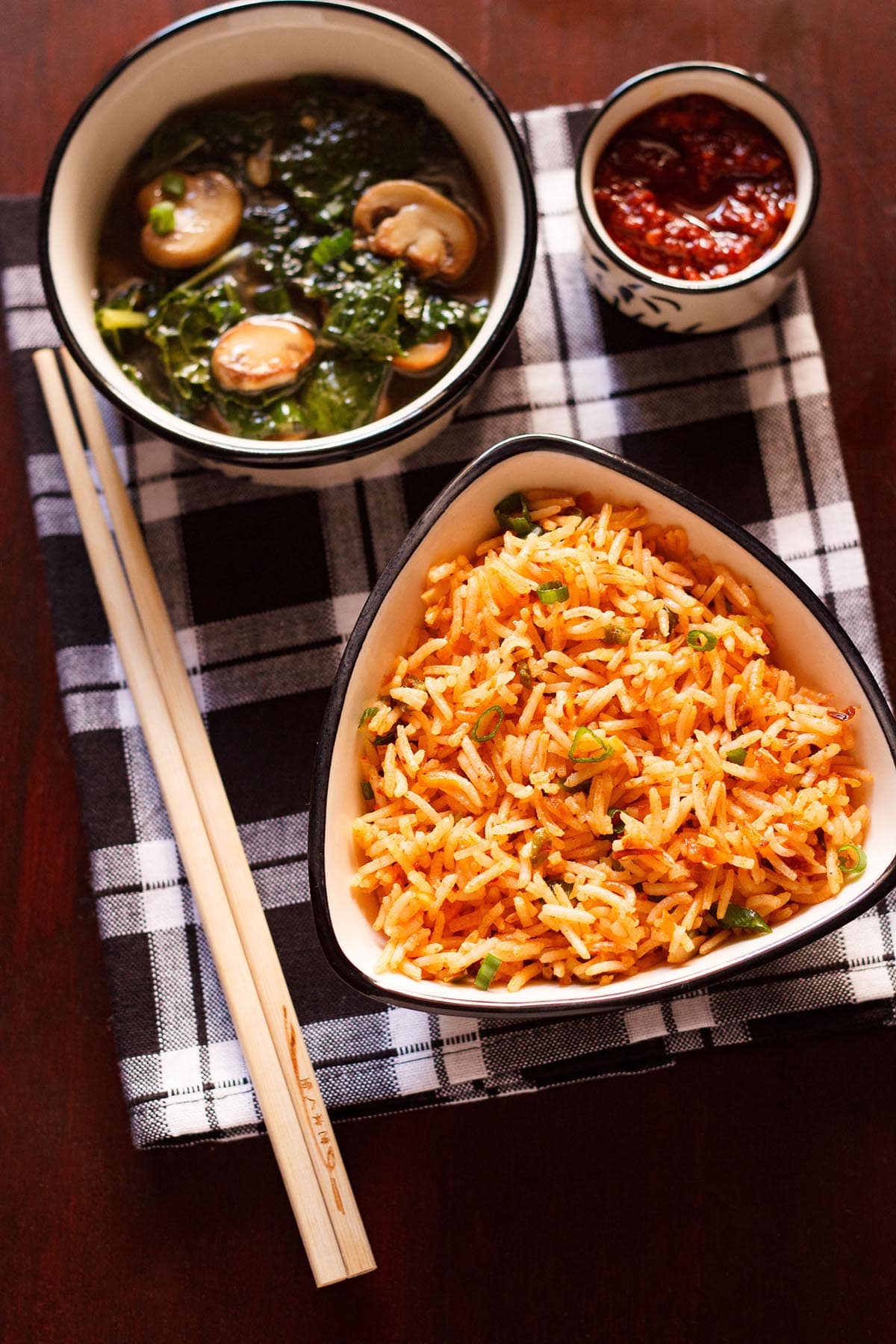 About This Recipe
Schezwan Fried Rice is a hearty, satisfying dish that is easy to make and customize to your preferences. It's a popular Chinese-based recipe that's been adapted around the world, and is made using a number of different ingredients and techniques.
Classic fried rice is homemade in a wok or large pan, so that everything gets a great crispy, slightly crunchy coating with a deep smoky flavor.
This schezwan fried rice recipe is completely vegetarian and vegan-friendly, and features lots of veggies and a homemade Schezwan Sauce. It can even be made gluten-free if you prepare your scratch-made schezwan sauce with GF soy sauce!
The spicy schezwan sauce is bursting with spicy and tangy flavors from dry chili peppers, garlic and vinegar.
Tip: Make the sauce up to 3 weeks ahead of using to help cut back on prep time for this fried rice recipe. Or use your favorite brand of sauce.
(Speaking of making ahead, you can even use leftover rice to prepare this dish!)
You can swap out vegetables, add different plant based proteins, use a wok or pan, include as spicy of a schezwan sauce as you like to prepare. Make absolutely the best schezwan fried rice recipe however you like!
Step-by-Step Guide
How to make Schezwan Fried Rice
Cook Rice
1. Rinse 1 cup of basmati rice or long grained rice, until the water runs clear of the starch. Then soak the rice in water covering the rice grains up-to 1 to 1.5 inches for 20 to 30 minutes. Drain all the water and set aside.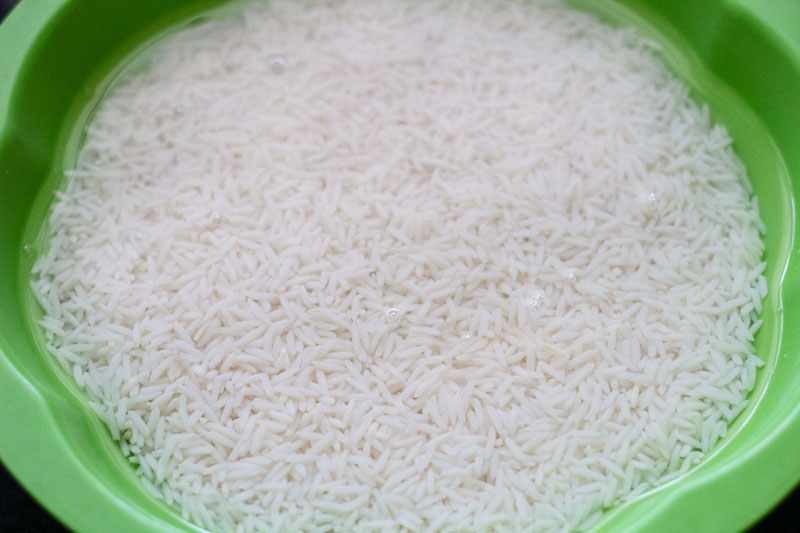 2. Bring 3.5 cups water, ½ teaspoon salt and ¼ teaspoon oil to a gentle boil. Use any neutral tasting oil.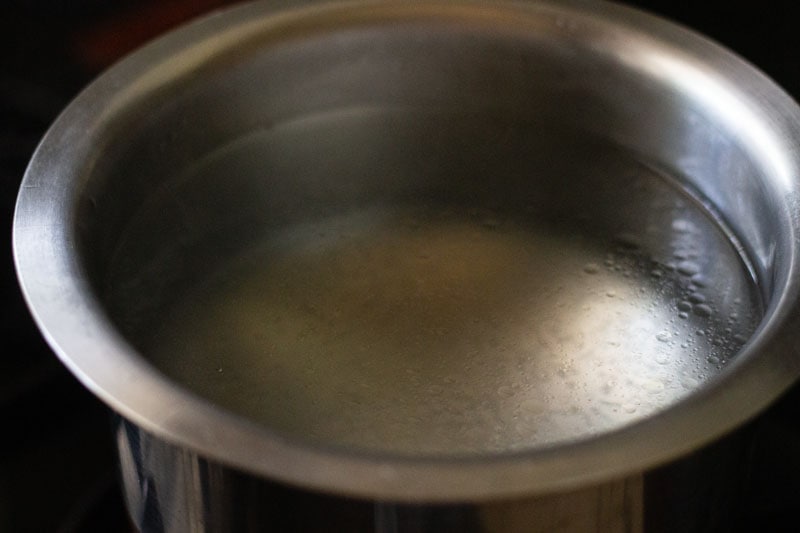 3. Add the drained soaked rice.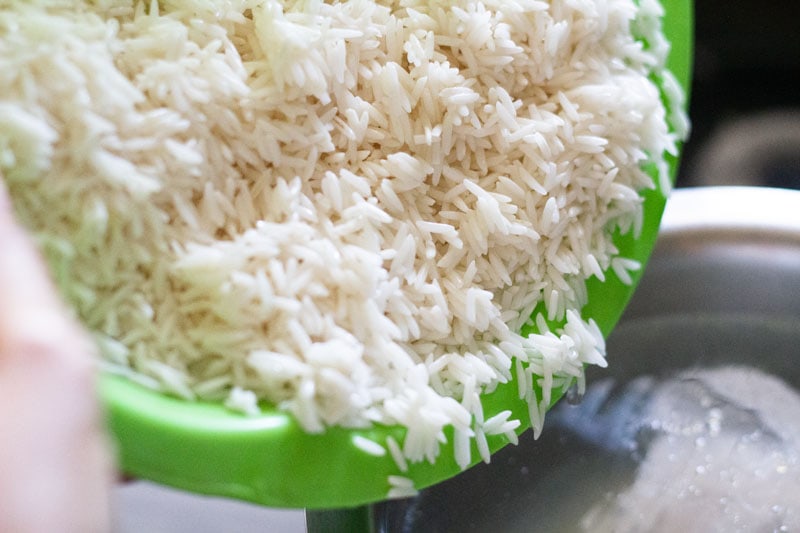 4. Simmer on a low to medium-low heat, until the rice grains are just cooked or al dente – meaning they should have a slight bite to them.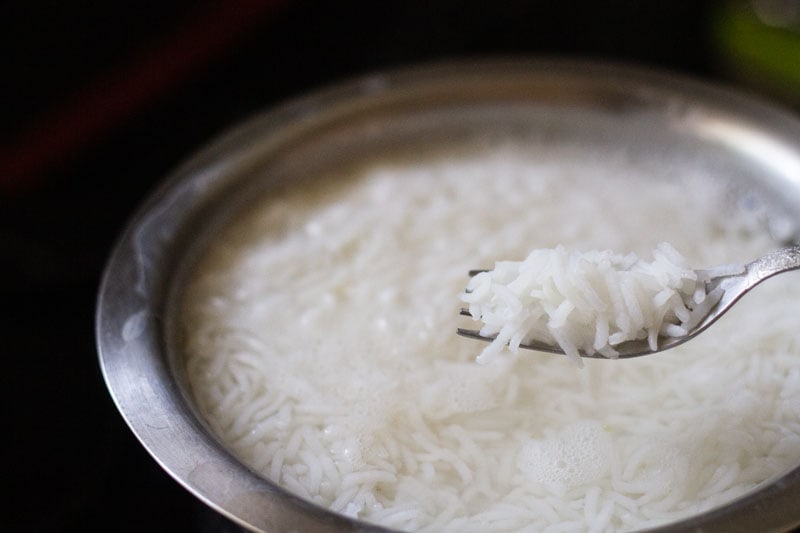 5. Strain the rice grains in a mesh strainer or colander. Then rinse them with water, while gently moving the grains with your fingers. Drain completely. This method stops the further cooking of rice grains and removes any extra starch.
Cover and set aside at room temperature to let the rice grains cool completely or refrigerate while you prep the veggies and other ingredients.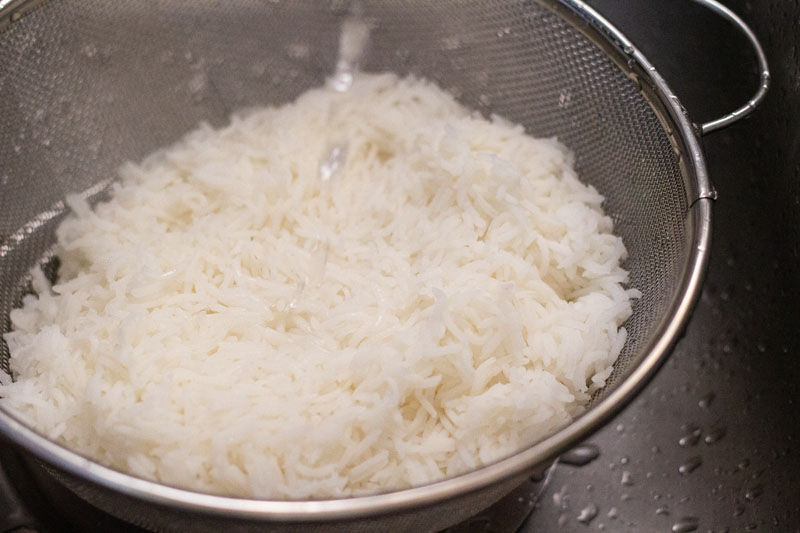 Prep and Stir Fry Veggies
6. Chop all the french beans, carrots, cabbage finely. If adding button mushrooms, then slice or chop them. Carrots and cabbage can also be shredded.
Remember to chop the french beans very finely as they take more time to cook than other veggies.
You can also blanch the green beans first and then stir-fry. Another option is to add the beans first while stir frying and later add the other vegetables.
7. Heat 2 tablespoons oil in a pan or a wok. Add ½ teaspoon finely chopped garlic and sauté for a few seconds.
You can use toasted sesame oil or any neutral tasting oil for stir frying.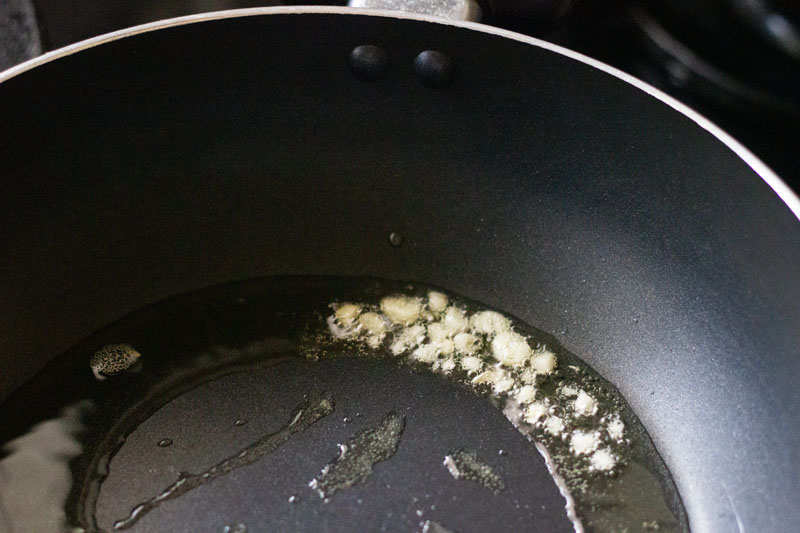 8. Now add all the vegetables listed below including the spring onions and celery.
⅓ cup finely chopped french beans
⅓ to ½ cup finely chopped carrots
½ cup finely chopped cabbage
⅓ cup finely chopped capsicum (green bell pepper)
1 cup chopped/finely chopped or sliced button mushrooms (or chopped cremini mushrooms)
⅓ cup chopped spring onion whites (scallion whites)
1 teaspoon finely chopped celery – optional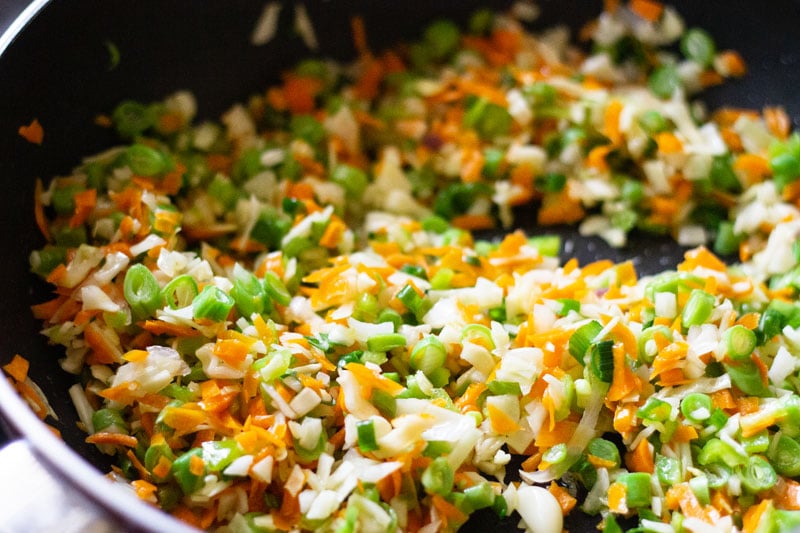 9. Increase the heat to medium-high or high and begin to stir-fry the veggies. Keep on stirring the veggies often, until they start getting lightly browned from the edges. It took about 9 minutes for the vegetables to cook.
Note that the time will vary with the pan thickness, pan size and the intensity of the flame or heat.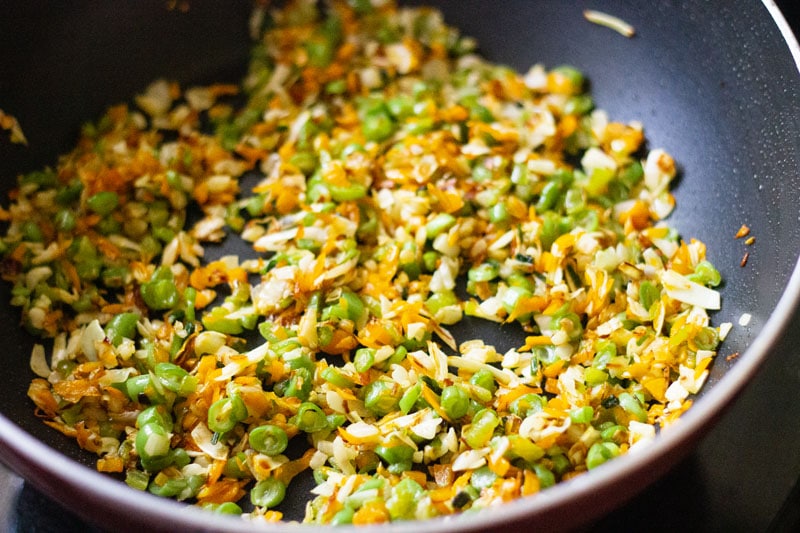 10. Now add 2 tablespoons of the schezwan sauce. You can use Homemade Schezwan Sauce or store brought sauce.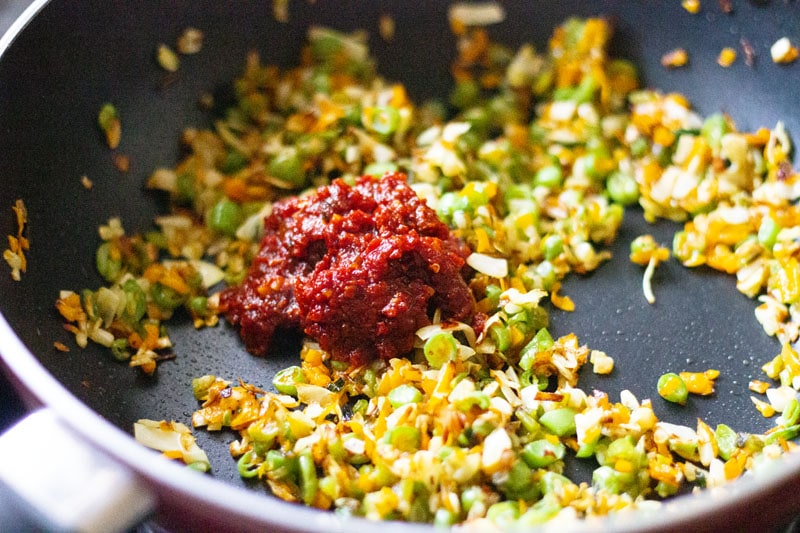 Make Schezwan Fried Rice
11. Combine and mix thoroughly.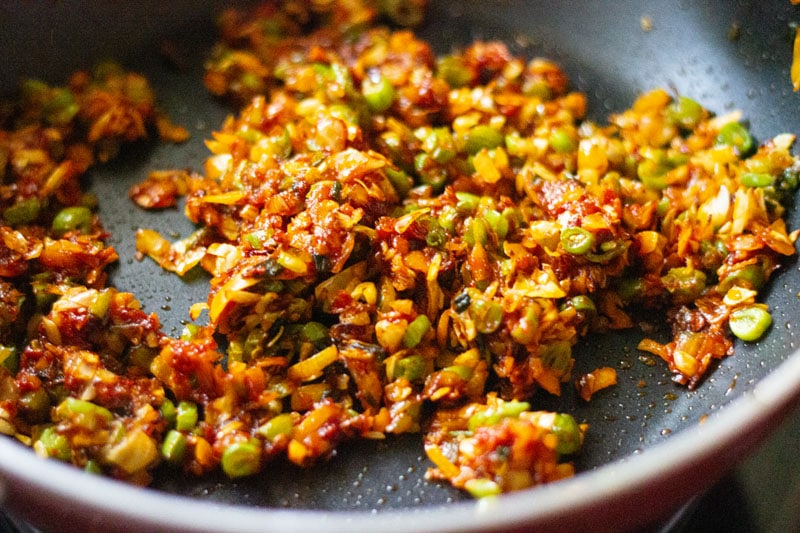 12. Add the rice in portions and gently keep on mixing and combining the rice grains with the veggie coated sauce mixture. Stir gently as you don't want the rice grains to break.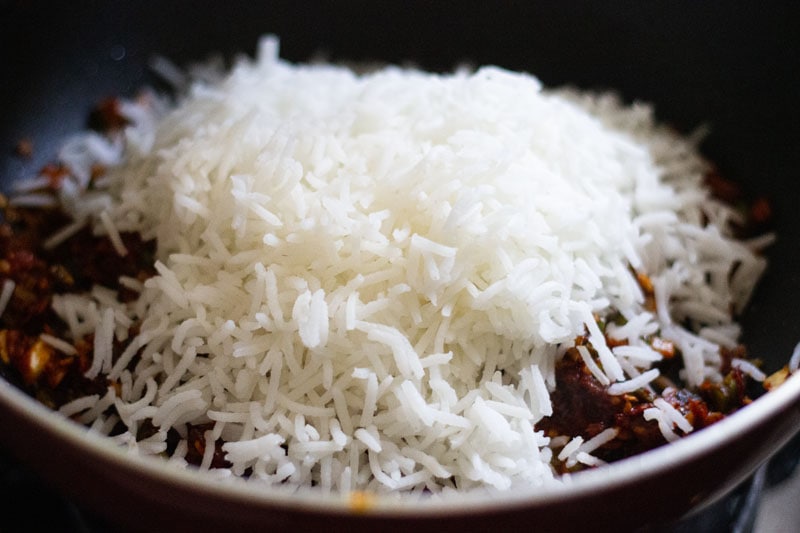 13. Season with salt as needed, ½ teaspoon crushed black pepper (or black pepper powder) and ½ teaspoon rice vinegar.
TIP: Swap apple cider vinegar, lemon juice or white vinegar with rice vinegar.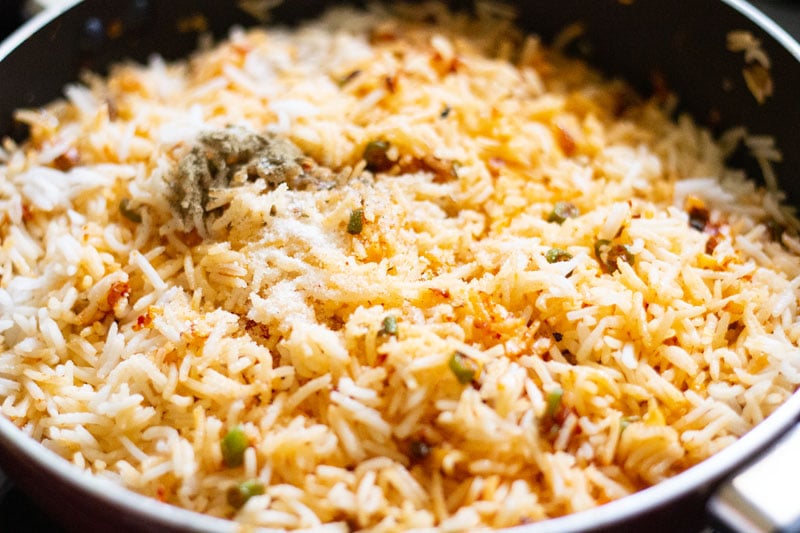 14. Mix and stir fry for 2 to 3 minutes tossing the rice so that the sauce coats each and every rice grain well. Check the taste and add more salt, pepper and schezwan sauce if needed.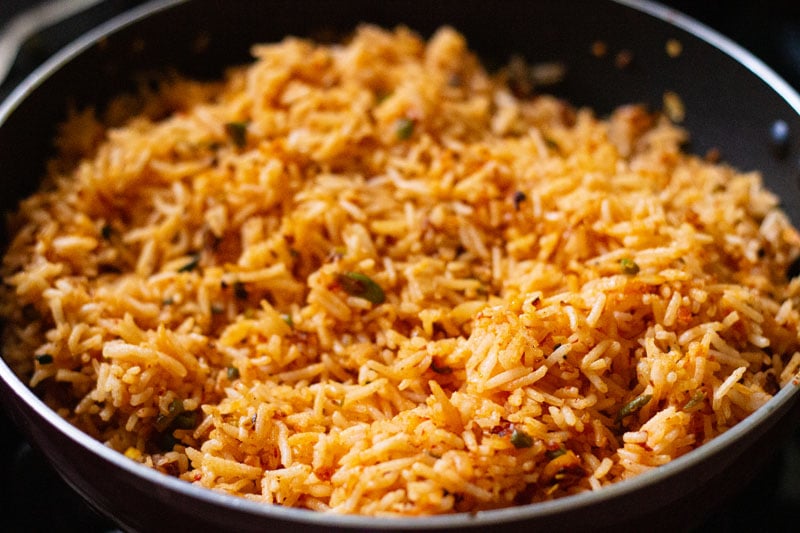 15. Garnish with 1 to 2 tablespoons of chopped spring onion greens and serve the schezwan fried rice hot.
Serving Suggestions
Schezwan fried rice is great served alongside any other saucy, spicy foods. Try these other delicious veggie dishes:
It is hearty enough to enjoy on it's own as a lunch or main dinner dish, with a salad or more vegetables on the side. I love to eat a large bowl of schezwan fried rice with simple sautéed kale and mushrooms or homemade crunchy Spring Rolls.
Tips
Expert Tips
Perfect Smoky Flavor: The key to any great stir-fried dish is the smoky flavor that comes from using the right stir-fry technique. This requires continuous stirring of ingredients as the dish is cooked over very high heat. The goal is to get a light brown sear on the rice and veggies, but to keep them moving so much that they don't actually burn. Preferably it is best to use a cast iron skillet or carbon steel wok as they retain heat.
Prepping: Be sure to have all your sauces and seasonings prepared before you begin the stir-fry process. You will need to work quickly and keep your eye constantly on the wok or pan as you stir fry, so having everything chopped, mixed, and ready to use is incredibly helpful.
Al Dente Rice: The tastiest fried rice dishes use rice that is just cooked and thoroughly cooled before adding to the hot wok. Over-steamed rice will become mushy in the pan, so originally cook the rice until it is al dente.
Schezwan Sauce: Prepare a tasty homemade schezwan sauce beforehand and have it ready to use in this schezwan fried rice recipe. If you do not have a sauce prepared, you can use a store brought one.
Leftovers: Store cooled leftover schezwan fried rice in a sealed container, and keep in the refrigerator for up to 1 day. Reheat in a microwave or a small sauce pot on the stove. You might want to add a teaspoon or so of water when reheating to get the rice a bit fluffy again.

Variations to this Schezwan Rice Recipe
Swap ingredients: Feel free to substitute or add veggies like zucchini, baby corn, bok choy, Chinese cabbage, kale, spinach, fresh shiitake mushrooms, carrots, french beans (green beans), steamed corn or canned corn. Whatever flavors you like! For more plant based protein you can even include canned garbanzo beans (chickpeas) or cubes of extra firm tofu.
Prep the veggies however you like: This can be shredded, julienned or chopped finely. Just try to prep all ingredients so that they are uniform in size so that everything stir fries evenly.
More or less spicy: The amount of schezwan sauce to be added depends on the spice level in the sauce and your taste buds so please add as per your own taste. I usually prefer my schezwan fried rice less spicy than what is typically served in Indo Chinese food takeaways and restaurants.
More Indian Chinese Rice Recipes
If you made this recipe, please be sure to rate it in the recipe card below. Sign Up for my email newsletter or you can follow me on Instagram, Facebook, Youtube, Pinterest or Twitter for more vegetarian inspirations.
By
Dassana Amit
Schezwan fried rice is a zesty, hearty vegetarian stir-fry dish that features a bold and spicy homemade schezwan sauce. Loaded with vegetables, this easy recipe is simple to make from scratch using wholesome ingredients.
Prep Time 20 mins
Cook Time 20 mins
Total Time 40 mins
---
---
Servings 3
For cooking rice
Other ingredients
Cooking rice
Rinse rice very well till the water runs clear of starch. Soak the rice in enough water for 20 to 30 minutes.

Drain all the water and keep the soaked rice aside.

In a pot, bring water to a gentle boil adding salt and oil.

Add the soaked and drained rice to the hot water.

On a low to medium-low heat cook the rice without the lid.

When the rice becomes al dente or just about cooked, remove the pot from fire and strain the rice.

Gently rinse the rice in water so that they stop cooking and don't stick to each other.

Cover the rice and set aside. You can even cover and refrigerate the rice while you prep the veggies and herbs.
Making schezwan fried rice
Finely chop all the vegetables. You can even shred the vegetables in a food processor.

Heat oil in a wok. Add garlic and sauté for a few seconds.

Add the onions, celery and all the vegetables.

Increase the heat and stir fry the vegetables on a medium-high to high heat.

More finely the vegetables are chopped, more faster they will cook.

Keep on stirring and tossing the vegetables continuously, so that they are equally browned and cooked.

When the edges of the veggies starts to become light brown, add schezwan sauce.

Stir and then add the cooked and cooled rice in portions. Mix and toss the rice with the veggies gently.

Season with salt, pepper and vinegar. Stir and toss well so that the sauce coats all the rice grains evenly.

Garnish with the spring onions greens.

Serve schezwan fried rice as it is or with a side of veg manchurian, mushroom manchurian or gobi manchurian.
Smoky Flavor: Stir frying at a very high heat and continuously stirring the ingredients in the wok aids in giving a smoky flavor to the dish.
Prepping: Be sure to have all your sauces and seasonings prepared before you begin the stir-frying.
Al dente rice: Another key point is to steam or cook the rice and let it cool completely. The rice has to be cooked al dente, meaning just about cooked.
Veggies: The veggies can be shredded, julienned or chopped finely. You can use a mix of veggies that you like.
Schezwan Sauce: Make your own homemade schezwan sauce or use a good brand. The amount of schezwan sauce to be added depends on the spice level in the sauce and your taste buds so add less or more according to your taste buds and preferences.
Nutrition Facts
Schezwan Fried Rice
Amount Per Serving
Calories 353 Calories from Fat 90
% Daily Value*
Fat 10g15%
Saturated Fat 2g13%
Polyunsaturated Fat 4g
Monounsaturated Fat 4g
Sodium 1367mg59%
Potassium 341mg10%
Carbohydrates 58g19%
Fiber 3g13%
Sugar 5g6%
Protein 6g12%
Vitamin A 2685IU54%
Vitamin B1 (Thiamine) 1mg67%
Vitamin B2 (Riboflavin) 1mg59%
Vitamin B3 (Niacin) 3mg15%
Vitamin B6 1mg50%
Vitamin B12 1µg17%
Vitamin C 23mg28%
Vitamin D 1µg7%
Vitamin E 1mg7%
Vitamin K 45µg43%
Calcium 55mg6%
Vitamin B9 (Folate) 34µg9%
Iron 1mg6%
Magnesium 32mg8%
Phosphorus 121mg12%
Zinc 1mg7%
* Percent Daily Values are based on a 2000 calorie diet.
Like our videos? Then do follow and subscribe to us on youtube to get the latest Recipe Video updates.
All our content & photos are copyright protected. Please do not copy. As a blogger, if you you want to adapt this recipe or make a youtube video, then please write the recipe in your own words and give a clickable link back to the recipe on this url.
This Schezwan Fried Rice recipe post from the archives (first published in June 2014) has been republished and updated on 14 June 2021.