Qubani ka Meetha also known as Khubani ka meetha is a popular sweet dish from Hyderabadi cuisine. This tangy sweet dessert is made from dried apricots, sugar and nuts having a compote like jammy consistency. Being warming to the body it is a perfect dessert for a cold winter night. A vegan and gluten-free sweet that you will love.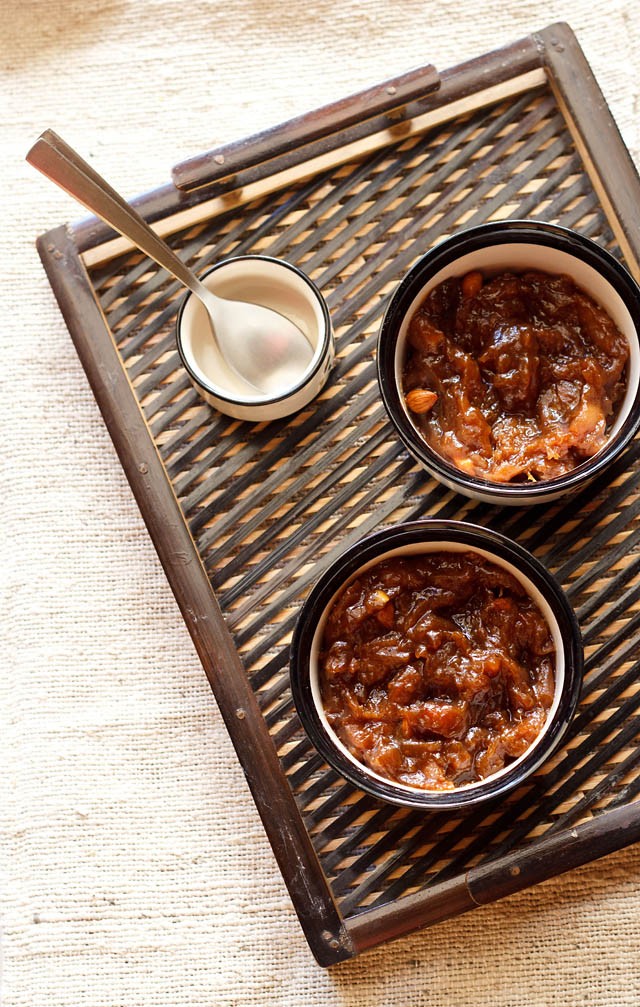 What is Khubani ka Meetha
Khubani is the Urdu term for Apricots. Meetha means sweet. So in English, Khubani ka Meetha translates to apricot sweet or sweet dish made from apricots.
This dessert is made by stewing and slow cooking apricots in water with a touch of sugar to a jam like consistency. The dried apricots are soaked in water overnight or for some hours prior to stewing them.
There are no additional flavors added in this dessert as the floral, warming, sweet-tangy flavor of the apricots is the star here. You really do not need to add any flavorings or spices in this one.
I first had Qubani ka meetha in Hyderabad itself. Most of the restaurants in Hyderabad serve this delicacy. In other Indian cities like Mumbai, Delhi etc you may or may not get Khubani ka Meetha unless the hotel or restaurant specializes in Hyderabadi cuisine.
I have been making this recipe for many years now adapting it from Vahchef's video on youtube.
You will be surprised that the recipe is so simple, quick and easy to prepare. It does not require a lot of effort and time like most Indian traditional sweets. Even a novice cook can easily make this delish sweet.
I usually make it during the winters as apricots have a warming nature. Perfect to make during winters or cold seasons. Don't you agree? So let's start cooking this lovely dessert.
Step-by-Step Guide
How to make Qubani ka Meetha
Prep Dried Apricots (Khubani)
1. Rinse a few times in fresh water and then soak 25 to 28 dried apricots overnight in 2 cups of water at room temperature or for 4 to 5 hours in 2 cups of warm water.
The next day the dried apricots will swell and become soft after having absorbed the water as you can see in the photo below.
You can use any variety of dried and pitted apricots but the taste will change slightly. I have used brown colored dried apricots which are not pitted.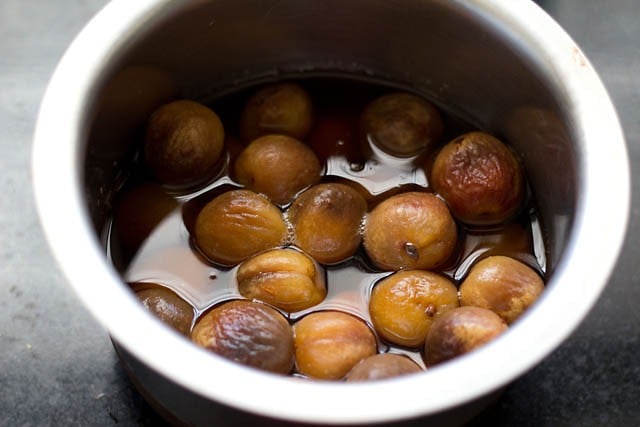 2. Remove the apricots with a slotted spoon and keep the water aside. We will be using this water to make the khubani ka meetha. Press the softened apricots with your fingers and remove the seeds. You can also chop them if you prefer. Keep the hard kernels aside too.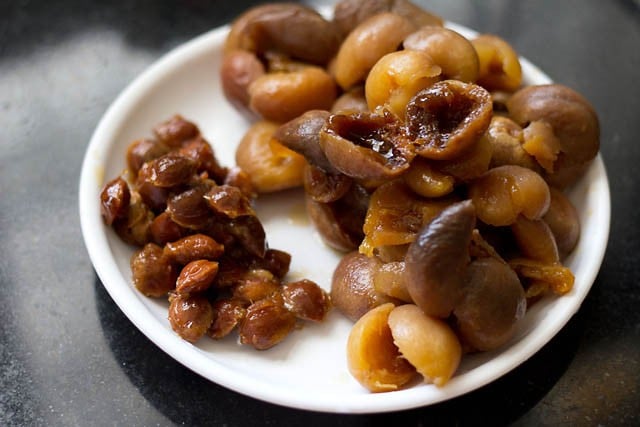 Cook Apricots
3. In a frying pan, add 1 cup of water which we have kept aside. The water has a beautiful golden color. You can use 1 cup fresh water if you prefer.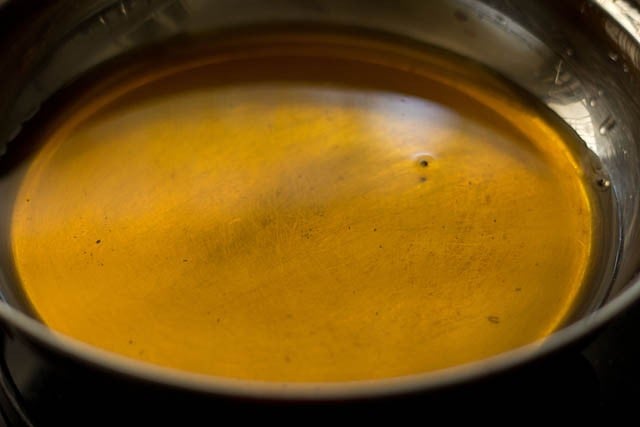 4. Add the apricots to the water and allow to cook on a low flame.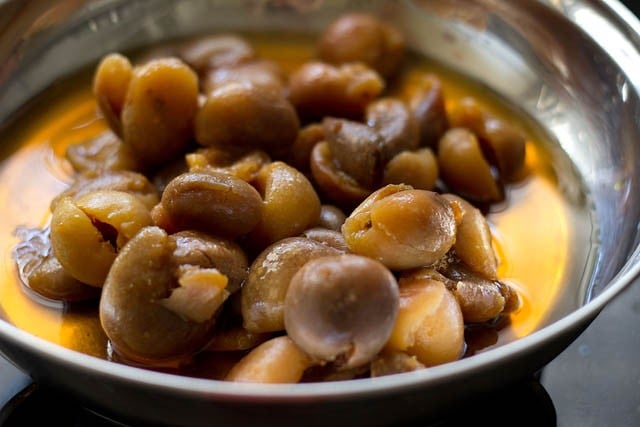 Crack the Apricot Kernels
5. Whilst the apricots are cooking, break the hard kernel. I used my stone pestle to do this. You can even use a nutcracker. When you break this kernel, you will find a nut similar in shape and color similar to almonds but smaller in size.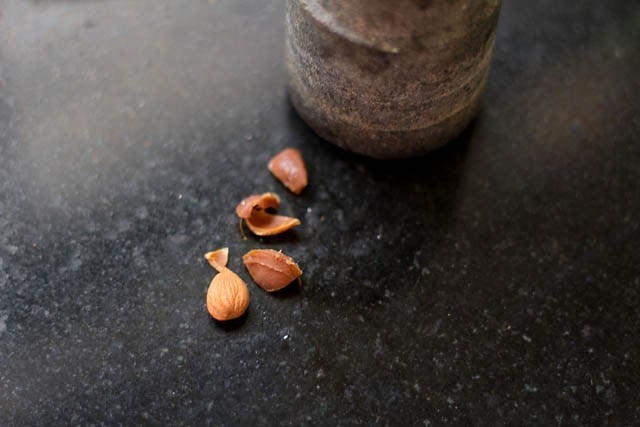 6. Throw away the hard kernel and reserve these almond-like nuts. You can keep them whole or chop them.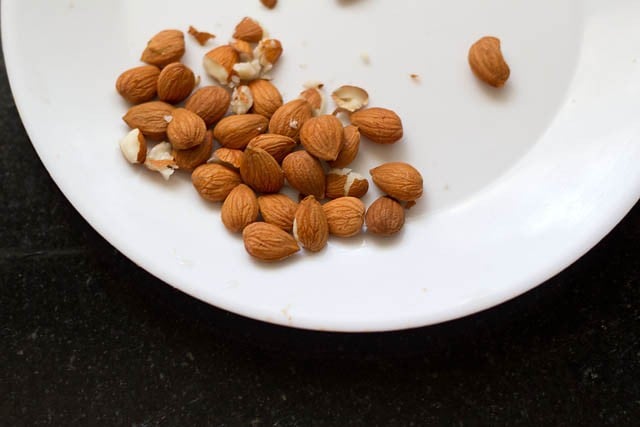 Stew Apricots
7. The apricots in the meantime have started becoming soft and changing color. Stir occasionally and keep an eye on the apricots whilst they slow cook.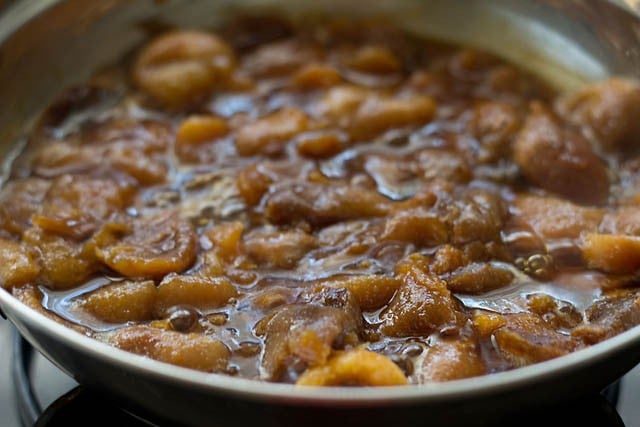 8. If the mixture looks dry, then you can add some more of the strained water if you have it or use fresh water.
You can mash the apricots while stirring. The apricots become soft and you can easily mash them with a spoon while it is being simmered.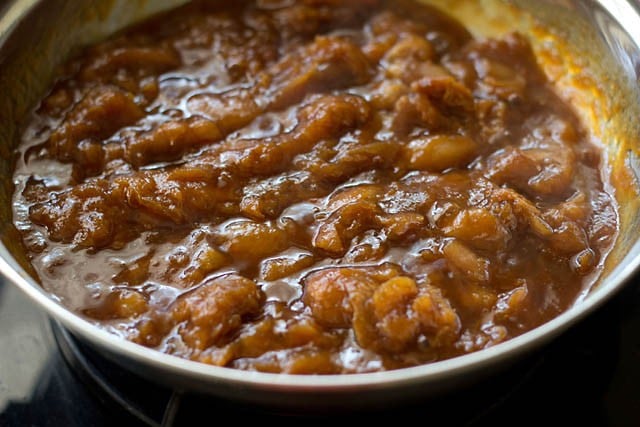 Make Khubani Ka Meetha
9. Add 2 to 3 teaspoons sugar or as needed after 22 to 25 minutes. Stir and continue to cook till the mixture thickens a bit, approx 5 to 6 minutes on a low flame.
The addition of sugar is optional. I like this dessert to be more on the sweeter side. But feel free to skip or reduce or increase the quantity of sugar if the apricots are tangy. Here I have used raw sugar. If you skip sugar then it becomes a guilt-free dessert!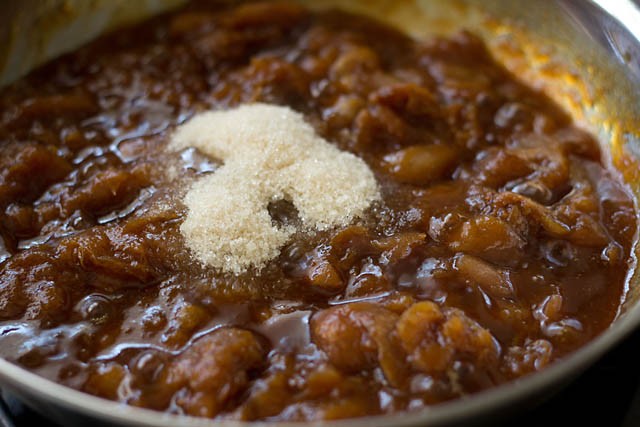 10. Lastly add the almond like nuts got from the hard kernels. Instead of these nuts from the kernels you can also garnish with sliced almonds that have been blanched, especially if you have used pitted apricots.
For a nut free dish you can skip adding any of the nuts.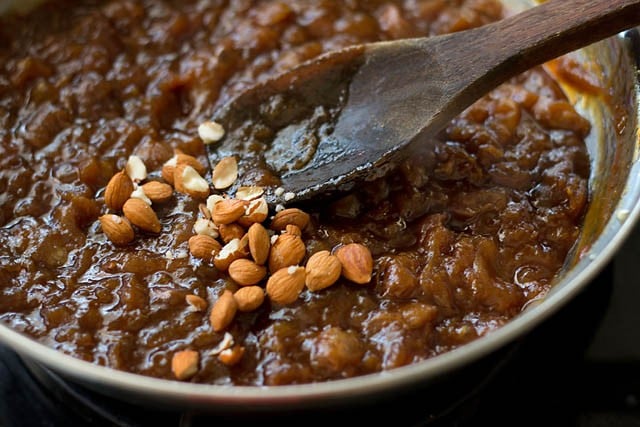 11. Mix well. The Khubani ka Meetha is ready now. The consistency is neither too dry nor too runny.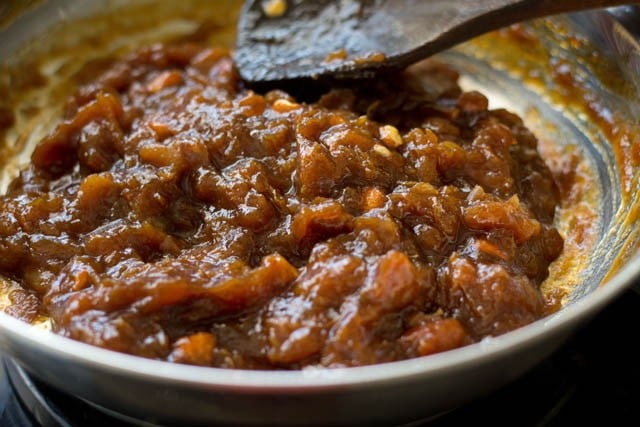 12. Serve Khubani ka Meetha, warm or chilled, plain or with some whipped cream.
You can also pair it with gulab jamun, ice cream, custard or serve it as a dessert after a hearty meal of biryani. In some restaurants, I have this dish being served vanilla ice cream or rabri or malai. For best taste either eat it hot or warm.
Store leftovers in a covered container in the refrigerator for a week.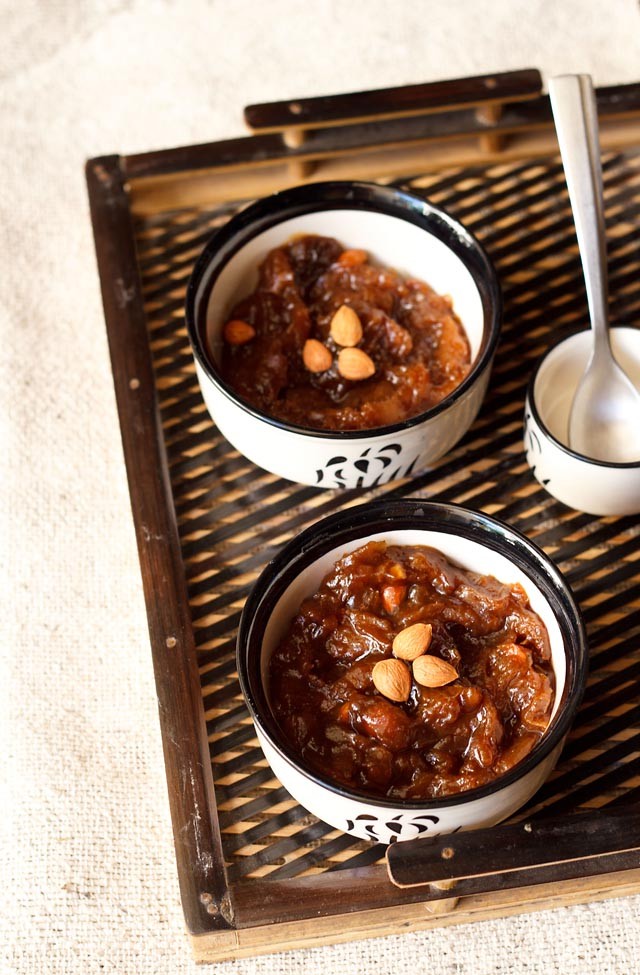 Few more sweets recipes for you!
If you made this recipe, please be sure to rate it in the recipe card below. Sign Up for my email newsletter or you can follow me on Instagram, Facebook, Youtube, Pinterest or Twitter for more vegetarian inspirations.
By
Dassana Amit
Qubani ka Meetha also known as Khubani ka meetha is a popular sweet dish from Hyderabadi cuisine. This tangy sweet dessert is made from dried apricots, sugar and nuts having a compote like jammy consistency.
Prep Time 10 mins
Cook Time 25 mins
Soaking Time 5 hrs
Total Time 5 hrs 35 mins
---
---
Servings 4
Units
Preparation
Rinse the apricots well in fresh water.

Then soak them overnight in 2 to 2.5 cups water or 4 to 5 hours in warm water.

Remove the apricots the next day and keep the water aside as we will be using it later.

Press the softened apricots with your fingers and remove the seeds. You can also chop them if you prefer. Keep the hard kernels aside and break the kernels with a pestle or nutcracker.

Throw away the hard covering and keep the almond like nuts aside.
Making khubani ka meetha
Add one cup of the strained water in the frying pan along with the chopped apricots.

You can also just mash the apricots with your hands and then add them to the pan.

Cook on a low flame for 22 to 25 minutes stirring occasionally. While cooking mash the apricots with a spoon.

If the mixture looks dry, add some of the reserved strained water.

Now add sugar according to taste and cook for 5 to 6 minutes more.

Lastly add the almond like seeds of the apricots.

Mix and stir and then serve khubani ka meetha hot or warm or cold.
Instead of apricot kernels you can also use sliced almonds that have blanched for garnishing.
You can alter the quantity of sugar according to your taste or skip it to make a naturally sweet guilt-free dessert.
The recipe can be scaled to make a big batch.
You can use any type of dried apricots. I have used the brown colored dried apricots.
For best taste serve this dish hot or warm. To make it more rich you can serve it with malai, whipped cream, custard, ice cream, gulab jamun or rabri.
Nutrition Facts
Qubani Ka Meetha | Khubani Ka Meetha
Amount Per Serving
Calories 128 Calories from Fat 9
% Daily Value*
Fat 1g2%
Saturated Fat 1g6%
Polyunsaturated Fat 1g
Monounsaturated Fat 1g
Sodium 8mg0%
Potassium 581mg17%
Carbohydrates 33g11%
Fiber 4g17%
Sugar 29g32%
Protein 2g4%
Vitamin A 1802IU36%
Vitamin B1 (Thiamine) 1mg67%
Vitamin B2 (Riboflavin) 1mg59%
Vitamin B3 (Niacin) 1mg5%
Vitamin B6 1mg50%
Vitamin C 1mg1%
Vitamin E 2mg13%
Vitamin K 2µg2%
Calcium 29mg3%
Vitamin B9 (Folate) 5µg1%
Iron 1mg6%
Magnesium 17mg4%
Phosphorus 36mg4%
Zinc 1mg7%
* Percent Daily Values are based on a 2000 calorie diet.
Like our videos? Then do follow and subscribe to us on youtube to get the latest Recipe Video updates.
All our content & photos are copyright protected. Please do not copy. As a blogger, if you you want to adapt this recipe or make a youtube video, then please write the recipe in your own words and give a clickable link back to the recipe on this url.
This Qubani ka meetha recipe post from the archives (first published in Feb 2010) has been republished and updated on 13 June 2021.