The Octavia is a car that defies convention. Despite the fact that it has a hatch at the rear, it isn't a typical hatchback; far from it. It isn't a sedan either, although in profile you'd swear it was. Then there's the fastback rear, the large rear overhang and the estate-like 600-litre boot, but it isn't a fastback or an estate either. What it is, is unique, and all the better for it.
Over the years, the Octavia has maintained these unique characteristics, along with other brand-defining features like the tough build, the high-quality feel, the fun-to-drive nature and the 'value luxury' positioning. In fact, the Octavia has made such a strong impression over the years, it's the car that comes to mind first when you say the word Skoda.
While this fourth-generation Octavia comes at a time when the executive sedan segment has all but collapsed, there's little doubt that this car, certainly in this gorgeous shade of blue, will have all eyeballs on it. The focal point is the new grille, now placed lower down, and the distinctive pair of LED headlights with their twin L-shaped DRL pattern, all of which are mounted flush with the bodywork now. As on its big sister, the Superb, skinning on the fenders, doors and flanks is tight, with plenty of attractive creases and cuts, and this makes the new Octavia looks lithe and muscular.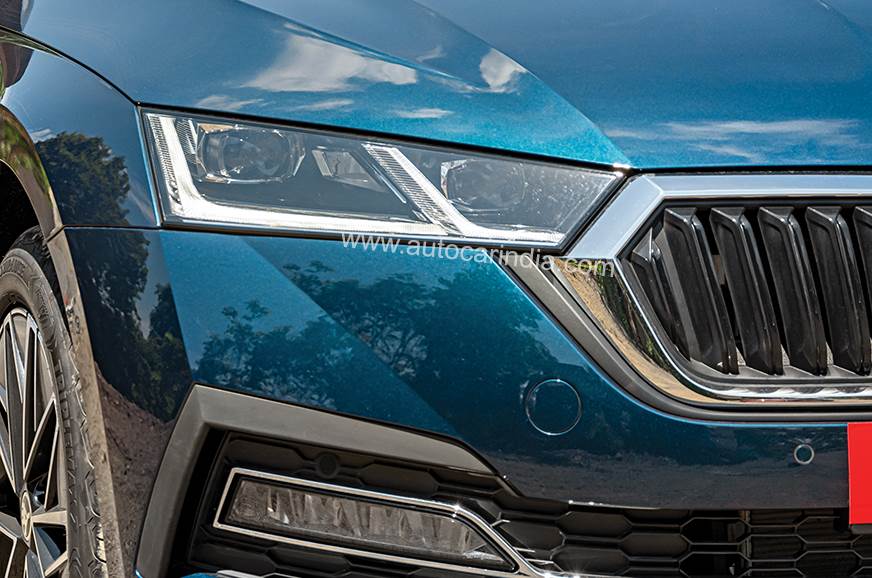 LED DRL pattern is a subtle link to quad-headlamp predecessor.
It is about the same size as the previous car, but the tucked-in waist and coupé-like roof make it look longer than it is, and the strong belt-line helps give it a more confident stance. Around the rear, the BMW-like upside-down L-shaped tail-lights add to the overall appeal too. However, some will find the blackened wheels, with their webbed detailing, a bit over the top.
L&K trim's wheels divide opinion. Raised ride height evident at wheels.
The new Octavia is also slipperier, with a drag coefficient of just 0.24. But because it has been raised for Indian roads, there's plenty of daylight between the wheels and wheel arches. And this, apart from spoiling the stance, is also likely to affect drag. Still, all in all, there's an appealing richness to the design and that really does make it stand out.
Czech Out The Cabin
The fresh new look carries on inside too, where you are greeted by a very modern cabin. Quality levels have also taken a big step forward and the build is tougher than on the previous car. You can feel it all over – on the dash, centre console, doorpads and even the seats. The doors shut with a solid thunk and there's a satisfying heft to how things function, and this feels just great.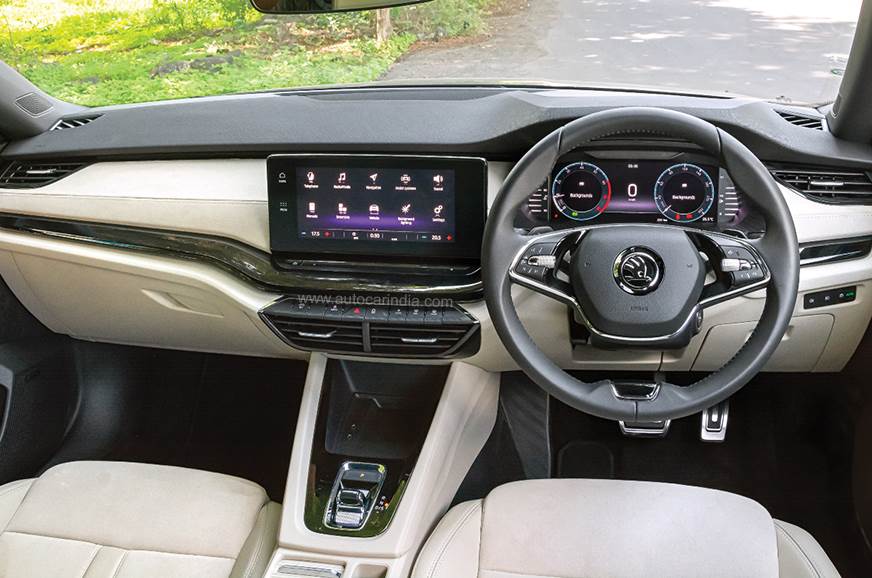 Horizontal middle element on dash designed to echo shape of front grille.
The cabin is now more sculpted and the three-dimensional design of the interiors adds to the elevated sense of occasion. Skoda has successfully managed to give the insides a rich feel. There are both, brushed metal and chrome inserts that brighten up the cabin, Alcantara has been used on top of the dash, the door pockets are felt lined and the 'floating', two-spoke steering wheel, with its metallic knurled controllers is beautifully built. Even the stubby gear selector that comes in place of a traditional gear lever is well crafted. Interestingly, the Octavia uses shift-by-wire tech, which means communication between the selector and gearbox is via electronic signals and not mechanical linkages.
Stubby gear selector sits in place of traditional gear lever.
The latest Octavia is well equipped too. Along with the 10-inch touchscreen, which is crisp and responds well to the lightest tap, there are physical shortcut buttons for the ESC, fatigue alert system, climate control and park assist. The climate control shortcut, however, doesn't work well, as it simply leads you back to the touchscreen, and there's no hard button for the fan speed either. This, of course, is quite fiddly, especially on the move. What's also a hit and miss is the volume control panel below the touchscreen. Swiping left/right increases/decreases the volume, but it's not as slick as you'd like it to be. A rotary volume controller would have done the job just fine.
10-inch touchscreen is good to use. Added physical shortcut buttons would help though.
You also get a fully digital instrument panel with configurable modes. The layouts are user friendly and what's nice is that the screen can also relay navigation instructions from Android Auto or Apple CarPlay, so drivers won't need to look away to the main touchscreen.
Other kit includes brilliantly done ambient lighting that bathes the cabin in soft colours of your choice, there's a powerful and crisp 600W Canton sound system with a subwoofer, LED reading lights that have proximity sensors, retractable sun shades on the rear windows, and wireless Apple CarPlay (it needs an app) and Android Auto. You get four USB-C slots, two up front and two at the rear, and the parking assist ably steers the Octy into a detected spot. Ventilated seats aren't part of the package, though a bigger miss for potential buyers is a sunroof; the latest Octavia isn't engineered for one.
Shapely front seats offer great support. Lumbar adjust aids comfort.
What occupants will appreciate, however, are the big, comfortable leather-Alcantara front seats. They're electrically adjustable, broad enough to keep even large occupants comfortable, serve up excellent back and thigh support, and even feature lumbar support adjustment and a memory function. They are, however, finished in a light colour and this might make them hard to keep clean.
Even big-built six footers will be comfy at the back. Space is good and the seat is well bolstered.
Comfort at the rear is excellent too, and the new Octavia is now even better suited to being used as a chauffeur-driven car. For one, there's plenty of space in the rear – a bit more than in the earlier car – there's good thigh support, the backrest is now set at a more comfortable angle, and the seats are better contoured for more lateral support. There's even a decent amount of space for the third passenger, but they will have to straddle the wide central tunnel; four-wheel-drive versions sold abroad have a propellor shaft in there. The fact that there's no sunroof and a dark headliner, however, mean it isn't as bright or airy here as it could have been.
True to tradition, the boot is cavernous Luggage capacity is 600 litres.
There's plenty of room for odds and ends, like a sunglass holder, a usable cooled glovebox, large bottle holders in the doors, and two cupholders near the gear selector that have rubberised dimples on the base. You really won't be short on space on outstation trips or airport runs either. The new Octavia gets a 600-litre boot with plenty of clever features packed in to make your life easier. The boot can be accessed through the rear armrest, the rear seats can be folded down electrically, you can open the hatch by 'kicking' under the boot if you have the key in your pocket (Skoda calls it virtual pedal), and a powered operation is included too. In true Skoda fashion, there are, as ever, plenty of smart hooks and fasteners to secure your luggage too, and though it has a spare tyre, it's only a space saver.
Flying Arrow
The last-gen Octavia bowed out of India in grand style, in full-blown RS245 avatar. The new Octy features the same 2.0 TSI turbo-petrol engine, albeit in a familiar 190hp and 320Nm state of tune. For reference, the earlier Octavia 1.8 TSI made 180hp and 250Nm. A 7-speed dual-clutch gearbox is standard fit and channels power to the front wheels. A lesser 1.5-litre petrol version is a possibility and Skoda has confirmed the new Octy RS will come to India in due time, but there won't be any diesels.
190hp, 2.0-litre TSI engine is refined and delivers strong performance.
Fire up the Octavia and it settles into a smooth and very refined idle. The car responds smartly to a tap on the throttle, and past 2,000rpm there's a strong tug that makes performance feel effortless. Between 2,000 and 4,000rpm, the engine is also extremely smooth and inaudible, making the new Octavia a very accomplished cruiser. Past 4,000rpm, power delivery gets even stronger, and the run to 6,000rpm is very energetic. Driving in this band is particularly pleasing when conditions allow (a few more revs would have added more spice), and what helps is the twin-clutch gearbox that is quick to dial up the next gear. It's super quick to respond to tugs at the paddles too. In town, however, the 7-speed DSG does get tripped up on occasion. Sudden changes in throttle input can elicit a slightly delayed reaction, though it's never too harsh.
Drivers with a sportier bent will miss drive modes, but you do get launch control. Put your foot down and launch it does, the engine pulling strongly as soon as you are off the line. 100kph comes up in 8 seconds flat, with 160 coming up in 18.9 seconds. As the table makes clear, there's really very little difference in terms of performance between Octavias old and new, and that's reflective of their near-identical power to weight ratios. The latest Octy makes 10hp more but also weighs 84kg more than its predecessor.
On its raised suspension, the Octavia also rides well. The 106mm laden ground clearance figure is worrying, but our fears proved unfounded as the Octy cleared large speed breakers with ease. The Skoda also rides through large potholes effortlessly, with no big deflection felt inside the cabin. Sharp-edged bumps, however, do catch it out, with a sharp 'thwack' heard inside the cabin on poor surfaces. The ride can be busy at times too, especially on concrete roads, where there is also a bit of tyre noise. Keep to a steady pace on the highway and you'll appreciate the Octavia for its solid and settled feel.
Like the earlier-gen car, this one too has a steering that's light, easy to twirl and accurate. This helps make the car feel smaller than it is from behind the wheel. Even nicer is that the steering remains pin-sharp and accurate even at higher speeds, and since the Octavia's front end has a fair amount of bite and it doesn't roll too much, agility is good. So it's no surprise that this neutral handler feels safe and composed even in fast corners. It's only when you push very hard into a corner that the 205/55 R17 tyres seem out of depth.
More, For More
Bigger, better and more accomplished, the new Octavia feels like a more upmarket and luxurious sedan. The cabin is extremely comfortable, quality levels have taken a clear step forward and apart from a few misses, Skoda has equipped the Octavia generously too. Then there's the solid build, the strong engine, the sorted dynamics and that simply massive boot.
Pricey but plush new Octavia is great to drive and be driven in.
If there is a hurdle, it could be the price. The new Octavia will be considerably more expensive entering showrooms at an estimated Rs 25-29 lakh and that could make some buyers baulk. But, once you get over the sticker shock and look closely at where your money goes, it's fair to say that with the Octavia's unimpeachable build quality, it's money well spent.
Also see:
2021 Skoda Octavia video review