Skip to content
Coconut Chutney is a delightful South Indian condiment that pairs beautifully with breakfast and snack dishes like Idli, Dosa, Uttapam and Medu Vada. Here I share two simple recipes – a classic coconut chutney recipe with spice tempering, as well as a quick, hotel-style recipe that skips tempering. Learn how to make this essential Indian side dish with my easy-to-follow step-by-step photos and a video!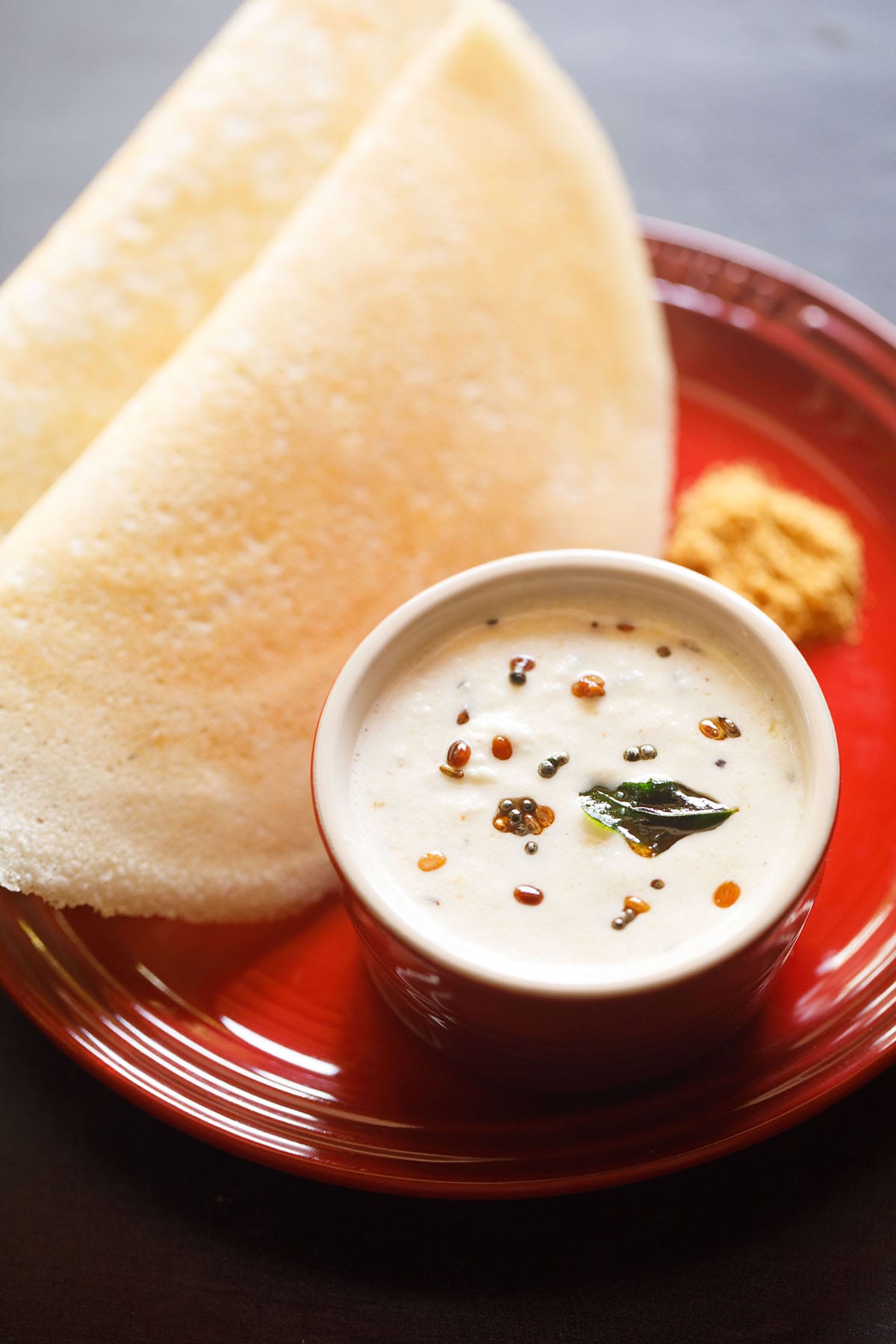 What is Coconut Chutney
Chutneys are a class of condiments that originated in India and can be made from a multitude of different ingredients. Just on this site, I have recipes for tomato, coriander, peanut, tamarind and onion chutneys, and that isn't even my full list! All of these delicious savory sauces and relishes are used to enhance the flavors of various meals.
Coconut chutney originated from the South Indian cuisine. It is most often served with breakfast or snack dishes. In its simplest form, it is made by finely grinding fresh white coconut meat with either green chilies or dry red chilies and salt added to it.
Chilies lend a bit of heat and spice in the chutney. Garlic or ginger can be added for more savory depth. A tempering of oil with crackled mustard seeds, fried urad dal (black gram), crisp curry leaves and asafoetida (hing) brings more flavor to otherwise plain coconut chutney.
Why This Recipe Works
I have been making this easy-peasy basic coconut chutney recipe for decades now, and it is still a favorite in our house. As someone who cooks very often, the fact that this coconut chutney makes regular appearances on our table should indicate just how delicious it is!
Made in the Tamil Nadu style, this particular recipe calls for roasted chana dal to be added. Also known as chana daria, these husked and split black chickpeas have a lovely rich and nutty taste.
While roasted chana dal are readily available for purchase in India, I know that they are not available everywhere. You can either opt to fry these lentils on your own at home, or simply skip it. Don't worry, the coconut chutney will still be delicious without it.
If fresh coconut is not available to you, simply swap in frozen coconut or unsweetened dessicated coconut flakes instead. This easy recipe will work with whatever you have on hand.
You can also adjust the basic recipe by adding different ingredients. For example, if you add some roasted sesame seeds, dry red chilles and a touch of tamarind, it makes a lovely sauce for serving with steamed rice!
One of my favorite things about coconut chutney is how versatile it is! Apart from serving with breakfast foods like idli, dosa and vada, you can also serve it with tons of South Indian snacks.
We like to put it on Upma, Mysore Bonda, Onion Pakoda, Semiya Upma, Pongal and so many other dishes. I have a feeling that once you try it, coconut chutney will become one of your favorite condiments, too. When paired with Idli Sambar, it is even more enticing.
My mom-in-law who is Punjabi absolutely LOVES South Indian food, and this coconut chutney is one of her favorites. If you, like her, love anything with coconut, then you're sure to love this traditional coconut sauce.
Step-by-Step Guide
How to make Coconut Chutney
Grinding Ingredients
1. Add ½ cup tightly packed freshly grated coconut in a chutney grinder jar or a small grinder jar.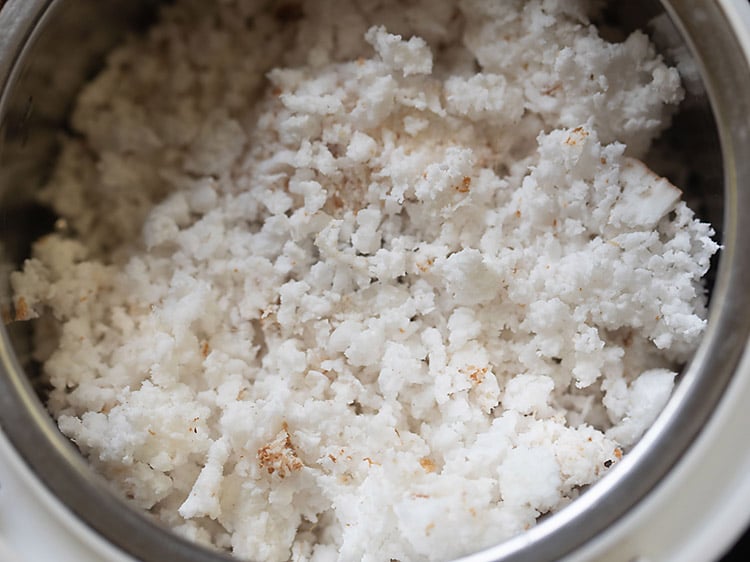 2. Add 1 to 2 chopped green chillies (depending on your heat preference), ½ inch chopped ginger (optional, can substitute with 2 small cloves of garlic) and 2 tablespoons roasted chana dal.
NOTE: 1 green chili will yield about ½ to 1 teaspoon of chopped chillies. I have used about ½ teaspoon of chopped green chillies. For a spicy coconut chutney, depending on the pungency of the chilies, consider to add 2 to 3 green chilies.
TIP: You can swap the Indian variety of green chillies with ½ teaspoon of Serrano or Anaheim peppers. If using Thai green chillies, add about ¼ teaspoon chopped as they are very spicy.
3. Add salt to taste. I suggest starting with less salt at first. Then, after grinding, check the taste and add some more salt if required. Remember, you can always add MORE salt, but you can't take it away once it has been added.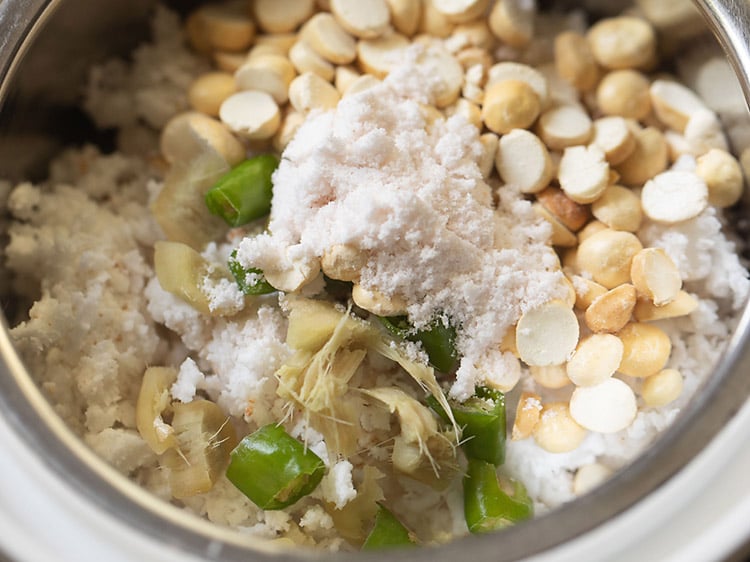 4. Add 3 to 4 tablespoons water. You can make this coconut chutney thicker by adding less water. You can skip roasted chana dal if you do not have it.
NOTE: Roasted chana dal is different from raw chana dal. Roasted chana dal is crunchy and directly edible, unlike raw chana dal.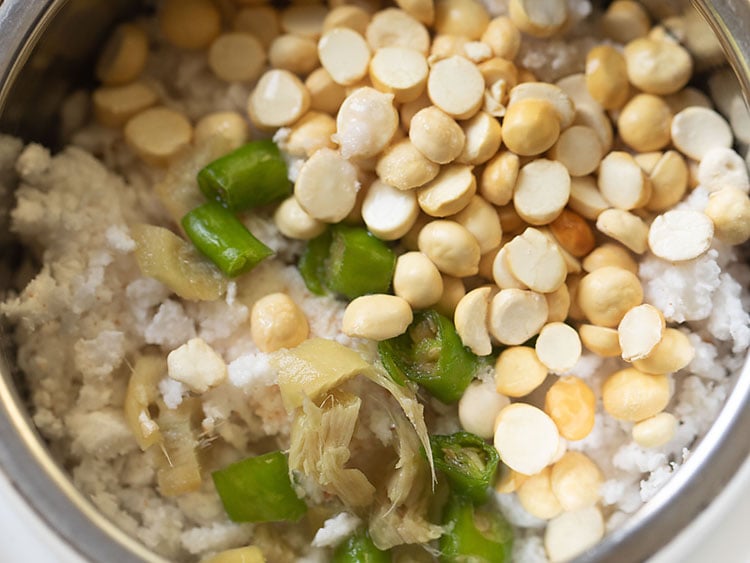 5. Grind to a smooth consistency. If the blade is unable to grind or the chutney looks thick, then you can add 1 to 2 tablespoons more water or as needed.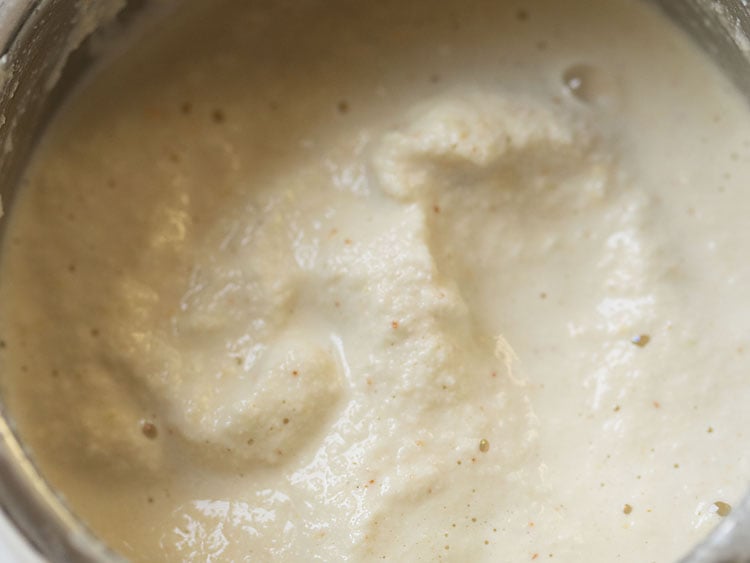 6. Remove the chutney with a spoon or spatula in a heat proof bowl (e.g. steel, pyrex or glass). Check the taste and add more salt if needed.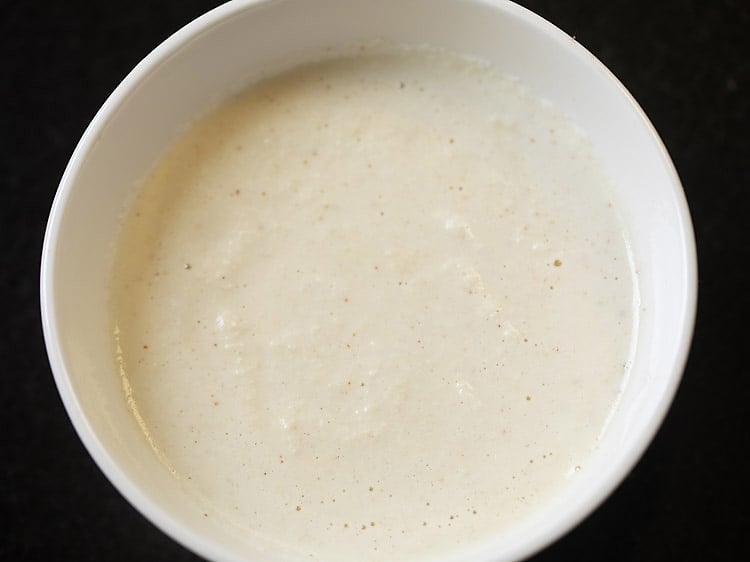 Tempering Coconut Chutney
7. In a small pan or a tadka pan, heat ½ tablespoon sesame oil (gingelly oil – made from raw sesame seeds) over low heat.
NOTE: You can also use sunflower oil, peanut oil, coconut oil or any neutral flavored oil.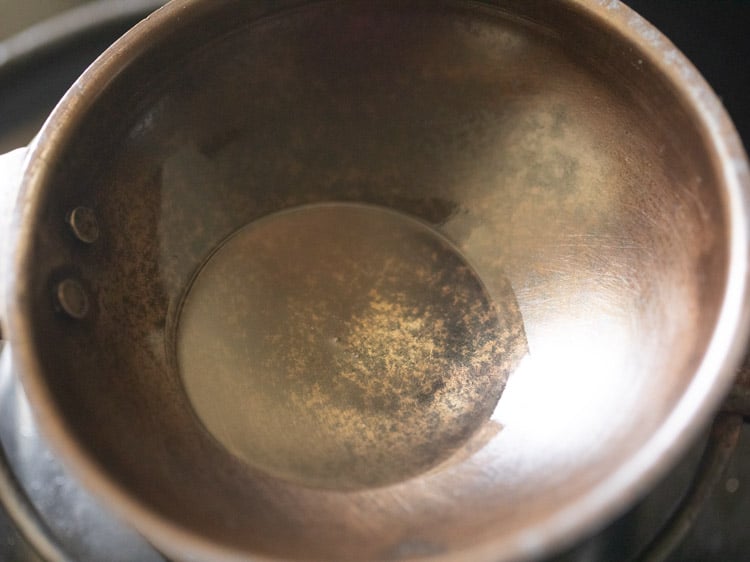 8. Add ½ teaspoon mustard seeds and let them begin to crackle.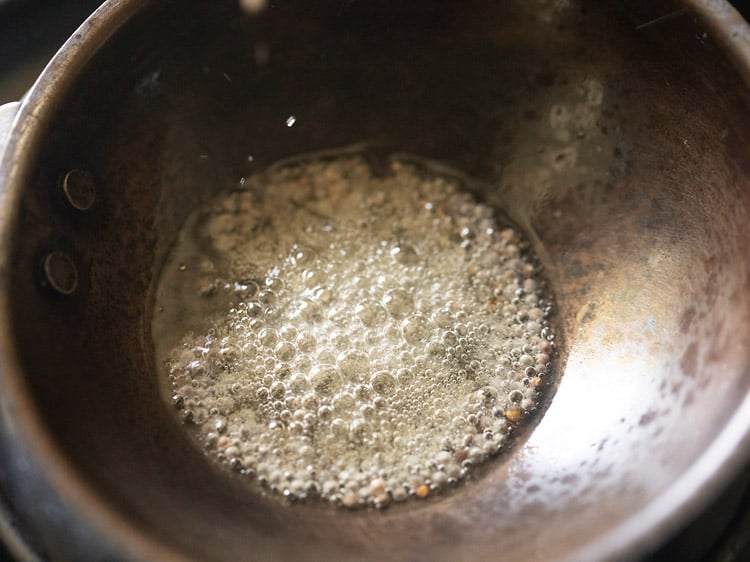 9. Once the mustard seeds begin to crackle, add ½ teaspoon urad dal (split and husked black gram).
NOTE: If you don't have urad dal then feel free to skip in the recipe.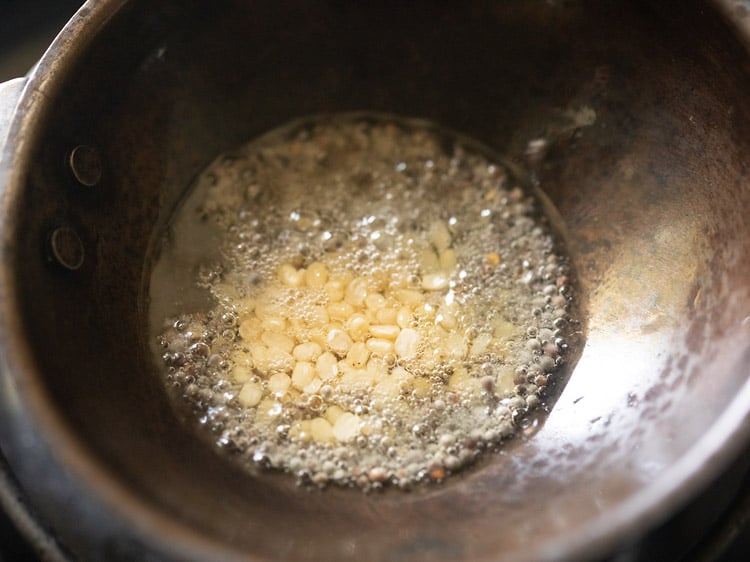 10. Next add ½ teaspoon cumin seeds. You can skip cumin seeds if you prefer.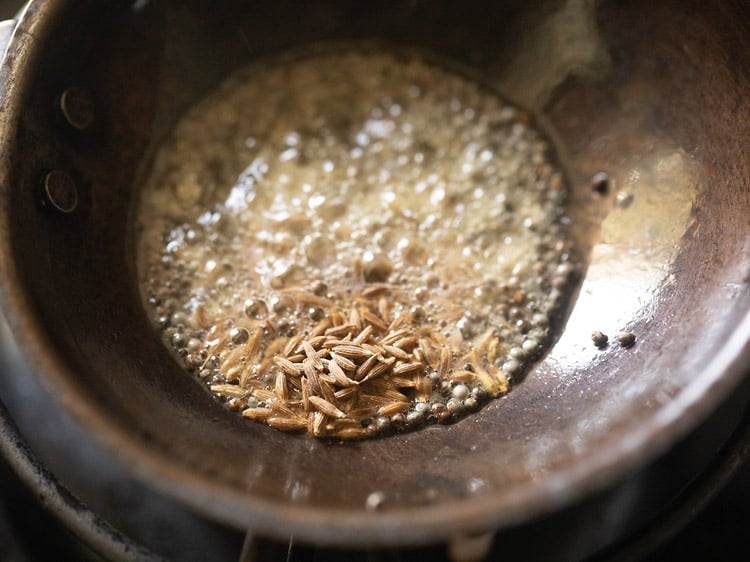 10. Stir often and fry keeping the flame to a low.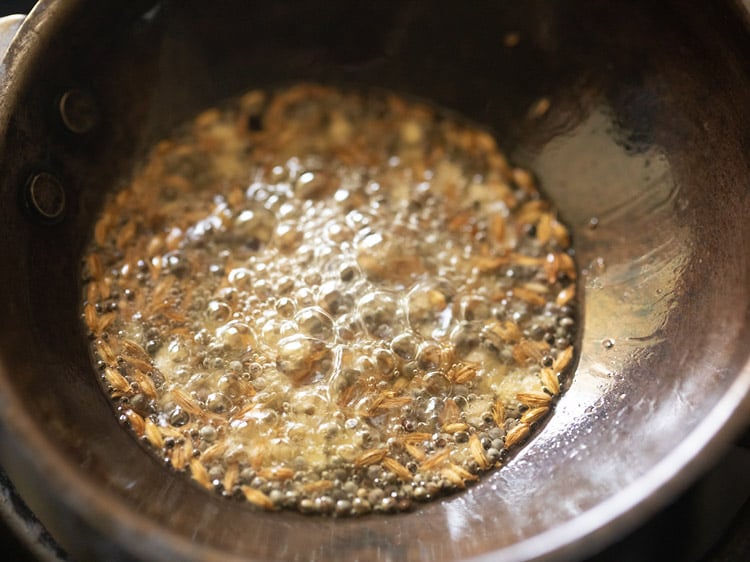 11. The urad dal should start becoming golden. The cumin seeds will also crackle and get browned.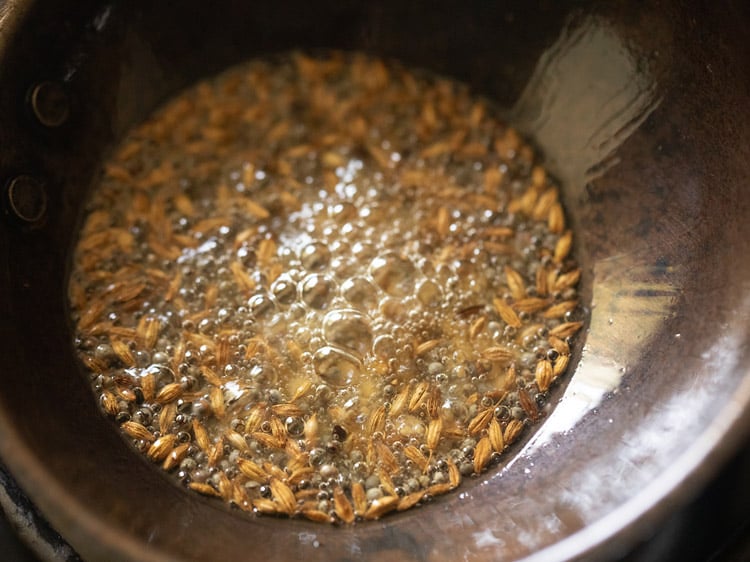 12. Once the urad dal begins to turn to a golden color, then add 1 dry red chilli (broken and seeds removed), 9 to 10 curry leaves and a pinch of asafoetida (hing). If the pan becomes very hot, then switch off the flame after adding the red chili, curry leaves and asafoetida.
Be careful as after adding the curry leaves the oil splutters.
NOTE: If you are gluten free, please be sure to check that your asafoetida is gluten free as many commercially available varieties are processed with wheat products.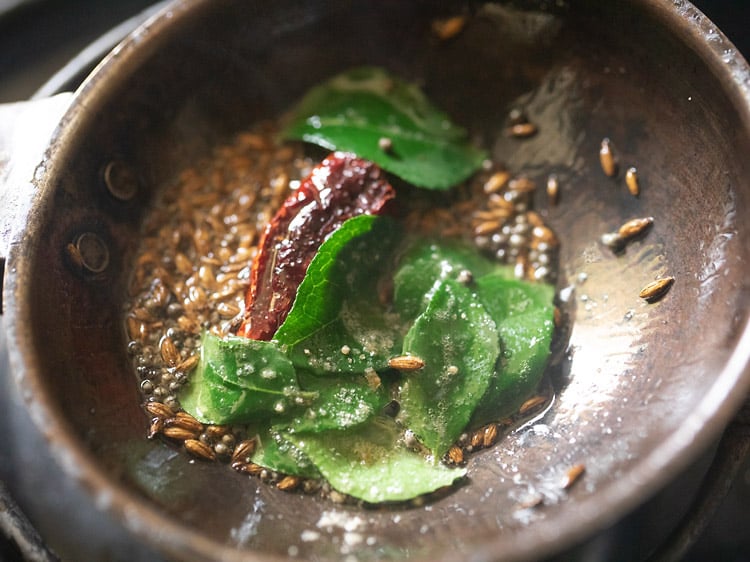 13. Stir and fry for a couple of seconds till the curry leaves become crisp and the red chilli changes color.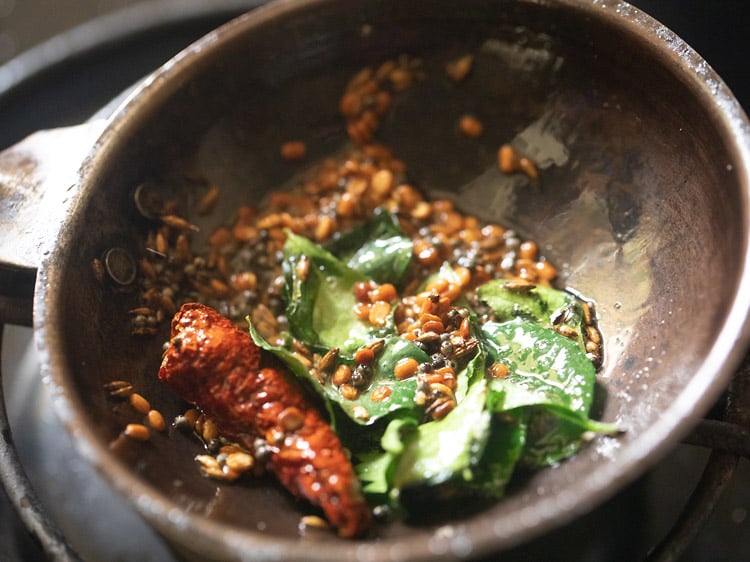 14. Switch off the flame and immediately pour the entire tempering together with the oil on the ground coconut chutney in the bowl.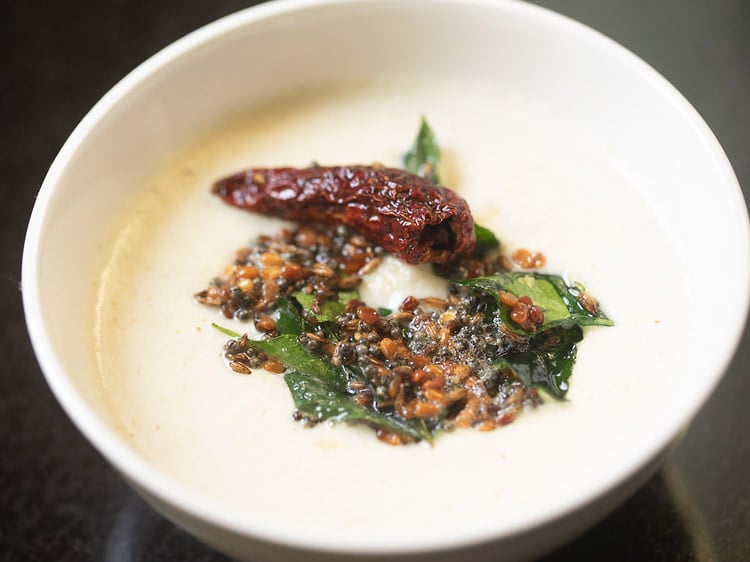 15. Mix very well.
16. Serve coconut chutney with idli, dosa, vada, pongal or pakoda of your choice.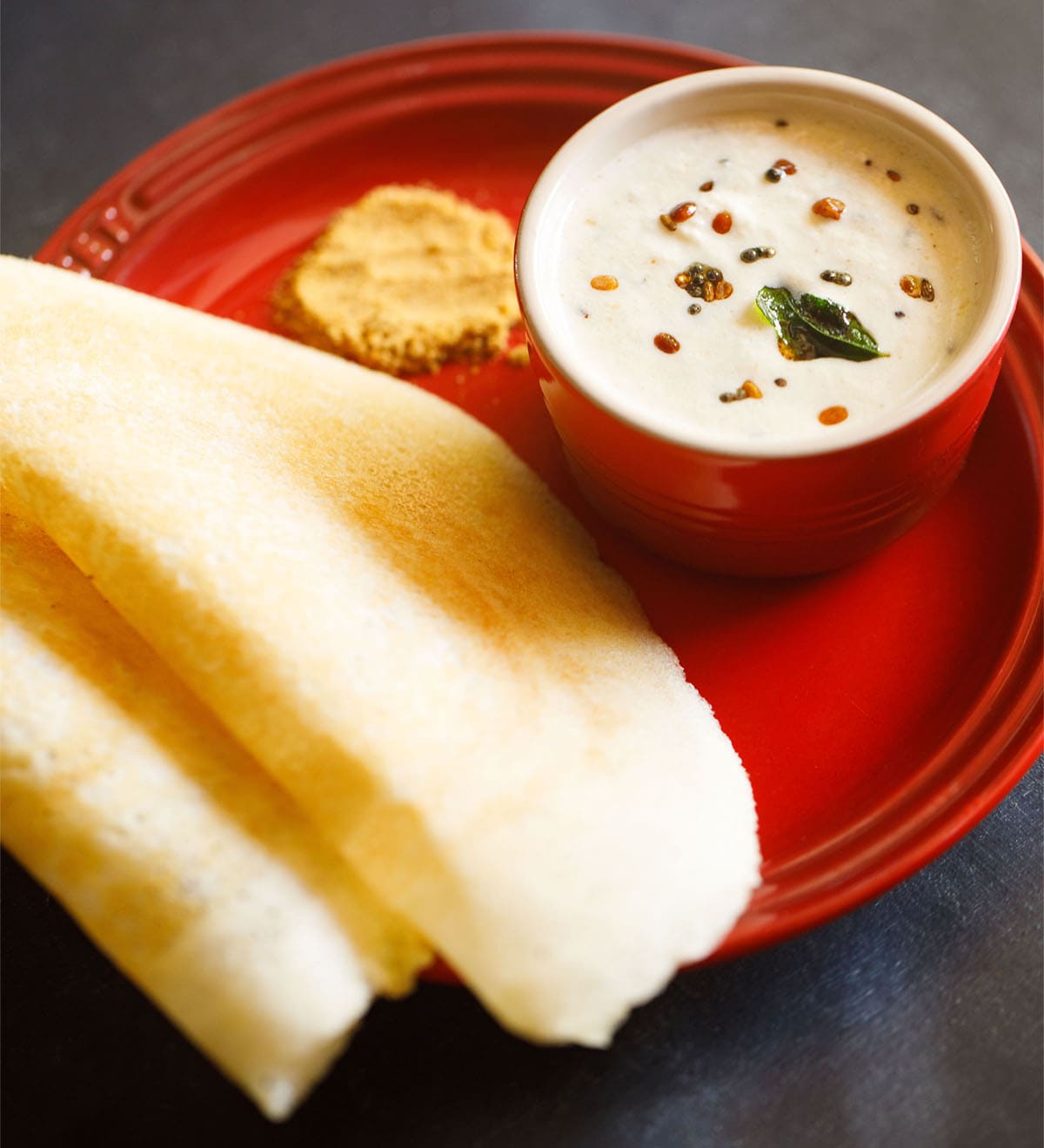 About Hotel Style Coconut Chutney
This is my quick coconut chutney recipe that also goes extremely well with idli, dosa, uttapam and medu vada. This vegan chutney also goes well with upma.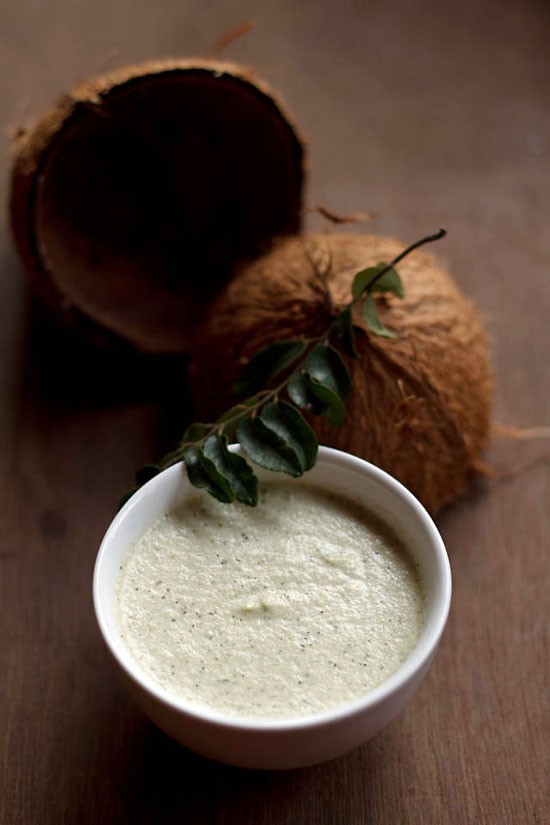 What contributes majorly to the earthy taste of this chutney is a good amount of roasted chana dal.
Here there is no tempering done but there is a bit of prep work which does not take much time. The curry leaves are fried and they get fried quickly releasing their fragrant flavors in the oil.
Thats what you need to do and then grind everything and the coconut chutney is ready to be served with dosa or idli or vada.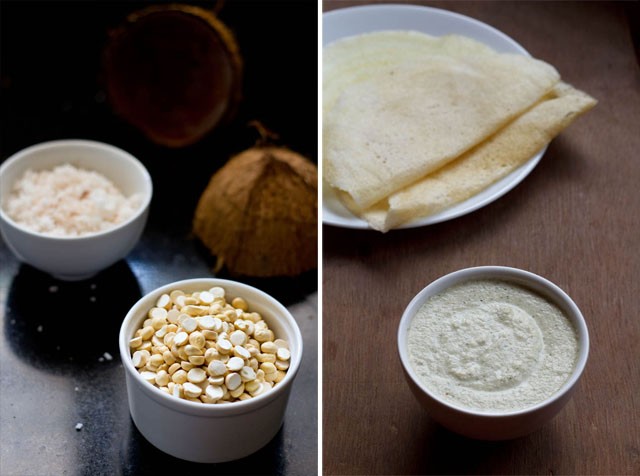 This coconut chutney recipe can be made with frozen or fresh coconut. To avoid grating coconut at the last minute, I usually grate the whole coconut and then freeze it.
When I want, I just take some of the frozen coconut and my work is easy whether it is making chutneys, sambar or vegetable stir-fries.
Step-by-Step Guide
How to make Hotel Style Coconut Chutney
Ingredients
½ cup grated fresh or frozen coconut
¼ cup roasted chana dal (roasted bengal gram)
½ inch ginger – chopped
1 to 2 green chilies – chopped
15 to 20 curry leaves
2 teaspoons oil (coconut oil or sunflower oil)
salt as required
¼ cup water or add as required
1. First heat 2 teaspoons oil (sunflower or coconut oil) in a frying pan. Keep the heat to a low. Then add 15 to 20 curry leaves.
Fry them stirring often till they become crisp and this takes just about 1 or 2 minutes. Remove the pan from the burner and set aside. Let this curry leaves and oil mixture cool.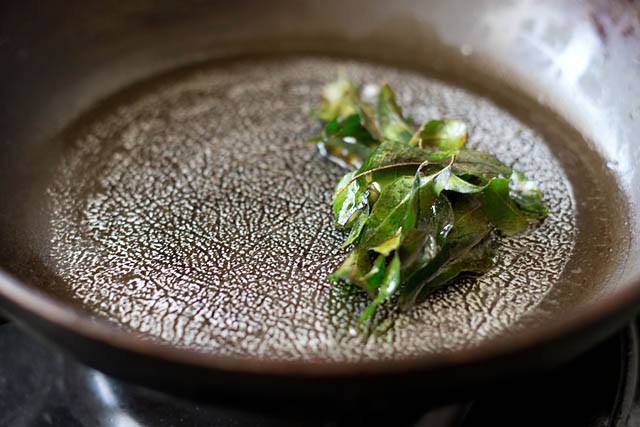 2. Put all the ingredients (½ cup grated fresh or frozen coconut, ¼ cup roasted chana dal, ½ inch chopped ginger, 1 to 2 green chillies and salt (as required) along with the curry leaves and the oil mixture in a chutney grinder or small blender.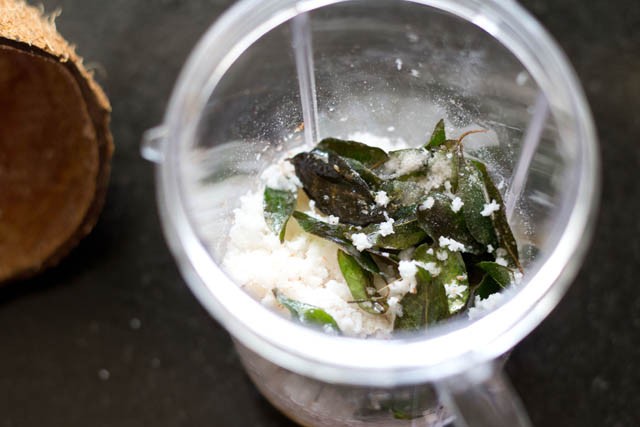 3. Add ¼ cup water or as required and grind to a smooth chutney. Do not add too much water. For a thicker consistency, add less water.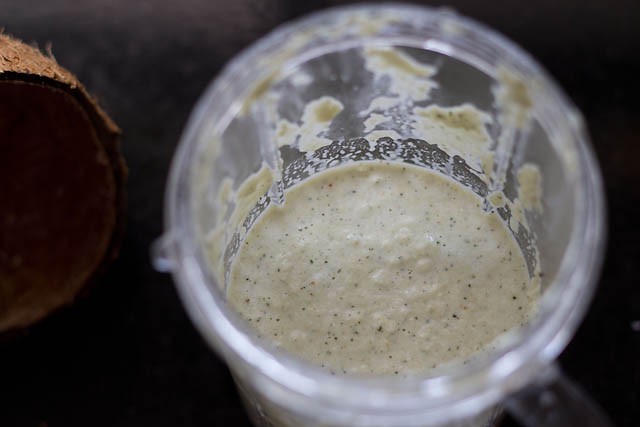 4: Serve the Hotel Style Coconut Chutney with plain dosa or rava dosa or rava idli or uttapam. Consume when fresh. At the most you can freeze the chutney and use it for a couple of days.
In cold temperatures, the chutney will stay longer for a few hours in the refrigerator than in warmer or hotter climate.
Coconut Chutney Variations
Myriad variations of coconut chutney can be made by adding extra ingredients like fresh mint leaves, coriander leaves, garlic, curd (yogurt), tamarind, tomatoes, onions, almonds, carrots, beetroot, unripe mangoes, peanuts, capsicum, and greens like spinach.
The ingredient(s) you add will change the flavor of the resulting coconut chutney – e.g. adding tamarind or tomatoes will impart a sour taste in the chutney, while adding fresh herbs like mint or coriander will add a bit of fresh, herb-y flavor to the final product.
I recommend that you experiment with different ideations of this delightful condiment because there are just so many to choose from! It is hard for me to pick my favorite.
Here are some of my most favorite coconut chutney recipes:
Expert Tips
For a tangier chutney: If you like a little sourness in your coconut chutney, you can add one or both of the following ingredients:

Tamarind: Take about ½ to 1 teaspoon of tamarind and grind it with the rest of the ingredients.
Curd (yogurt): When the chutney mixture is ground, then take it in a bowl. Mix it with 2 to 3 tablespoons fresh curd or yogurt. This has to be done before you temper the coconut chutney.

Serve immediately: Coconut chutney has to be consumed fresh. Avoid keeping the chutney at room temperature for very long. If you have to keep it for a few hours, then keep it in the freezer section of your refrigerator and consume the coconut chutney within a day.
Increasing shelf life: Adding tamarind to the chutney increases its shelf life a little more. You can freeze the chutney for up to 1 day if tamarind is added.
Using desiccated coconut: If you are using desiccated coconut or coconut powder, use warm water while grinding the chutney to get the right consistency.
Scaling: You can easily halve, double or triple the recipe per your needs.
FAQs
How do you eat chutney?
Chutney is basically a condiment used to enhance the flavors of different dishes. You can either dip your food into it, or drizzle or dollop it over your preferred dishes. This coconut chutney recipe is particularly good when paired with South Indian breakfast foods and snacks.
Can I make coconut chutney using frozen coconut?
Absolutely! If your coconut is already grated, there is no need to defrost it first. Also, please note that I recommend you use coconut that you have frozen for yourself, rather than opting for store bought packs.
Several readers have told me that the store-bought frozen coconut has separated for them when they go to grind it, resulting in a much different taste. To avoid this I recommend adding warm to slightly hot water while grinding the coconut.
You can also opt to use unsweetened desiccated coconut instead, which I have never had trouble with. Simply grind with warm water to get the right consistency in your coconut chutney recipe.
Can I use roasted husked kala channa instead of roasted channa dal?
Yes! You can also opt to omit the roasted channa dal if you do not have access.
Serve Coconut Chutney With:
If you made this recipe, please be sure to rate it in the recipe card below. Sign Up for my email newsletter or you can follow me on Instagram, Facebook, Youtube, Pinterest or Twitter for more vegetarian inspirations.
By
Dassana Amit
Coconut chutney is a side dish that is served with idli, dosa, vada and pongal. This coconut chutney recipe is an easy and simple recipe versatile enough to go with any Indian snack.
Prep Time 12 mins
Cook Time 3 mins
Total Time 15 mins
---
---
Servings 3
for grinding
for tempering
Grinding Ingredients
Take the freshly grated coconut in a chutney grinder jar or a small grinder jar.

Then add the green chili and ginger.

Next add the roasted chana dal. Also add salt as per taste. Add 3 to 4 tablespoons water.

Grind to a smooth consistency. If unable to grind or the chutney looks thick, then you can add 1 to 2 tablespoons more water.

Remove the chutney in a heatproof bowl like a steel bowl or a pyrex bowl.
Tempering
Heat oil in a small pan. Add the mustard seeds.

When the mustard seeds begin to splutter, add the cumin seeds and urad dal. Fry till the urad dal starts to become golden and aromatic.

Then add the curry leaves, red chili and asafoetida.

Fry for a couple of seconds till the curry leaves become crisp and the red chillies change color making sure that the curry leaves and chilies do not get burnt.

Switch off the heat and immediately pour the tempering on the chutney in the bowl.

Mix the tempering mixture very well.

Serve coconut chutney with idli, dosa, vada, pongal or pakoda of your choice.
Scaling: This coconut chutney recipe can be halved or doubled or tripled.
Spiciness: Add 2 to 3 green chillies for a spicy taste in the coconut chutney.
Herbs: Instead of ginger, you can add garlic. Ginger can be skipped completely. You can even add some fresh coriander leaves (cilantro) or mint leaves.
Dry Red Chillies: You can even add 2 to 3 dry Kashmiri red chillies or 1 to 2 dry red chillies and make a red coconut chutney. A bit of tamarind can be added if using dry red chillies to balance the pungency and heat of the chillies. Remove the seeds from the chillies before you grind them with the rest of the ingredients.
To Make White Coconut Chutney:

For a white coconut chutney, add less of the roasted chana dal or skip it entirely. So for this recipe add ½ tablespoon of roasted chana dal.
Also add less green chillies or you can skip them.
Do use only the white part of the coconut and not the brown part.
You can even add some nut milk or thin coconut milk instead of water while grinding.
Nutrition Facts
Coconut Chutney Recipe
Amount Per Serving
Calories 127 Calories from Fat 72
% Daily Value*
Fat 8g12%
Saturated Fat 4g25%
Polyunsaturated Fat 1g
Monounsaturated Fat 2g
Sodium 155mg7%
Potassium 69mg2%
Carbohydrates 13g4%
Fiber 6g25%
Sugar 3g3%
Protein 3g6%
Vitamin A 164IU3%
Vitamin B1 (Thiamine) 1mg67%
Vitamin B2 (Riboflavin) 1mg59%
Vitamin B3 (Niacin) 35mg175%
Vitamin B6 1mg50%
Vitamin C 66mg80%
Vitamin E 1mg7%
Vitamin K 1µg1%
Calcium 43mg4%
Vitamin B9 (Folate) 357µg89%
Iron 1mg6%
Magnesium 10mg3%
Phosphorus 23mg2%
Zinc 1mg7%
* Percent Daily Values are based on a 2000 calorie diet.
Like our videos? Then do follow and subscribe to us on youtube to get the latest Recipe Video updates.
All our content & photos are copyright protected. Please do not copy. As a blogger, if you you want to adapt this recipe or make a youtube video, then please write the recipe in your own words and give a clickable link back to the recipe on this url.
This coconut chutney recipe post from the archives (April 2014) has been republished and updated on 9 June 2021.