Make this quick, easy, and (mostly) raw coleslaw sandwich recipe with your favorite veggies. Just follow my step-by-step instructions with photos to prepare as a refreshing and tasty vegetarian snack or lunch.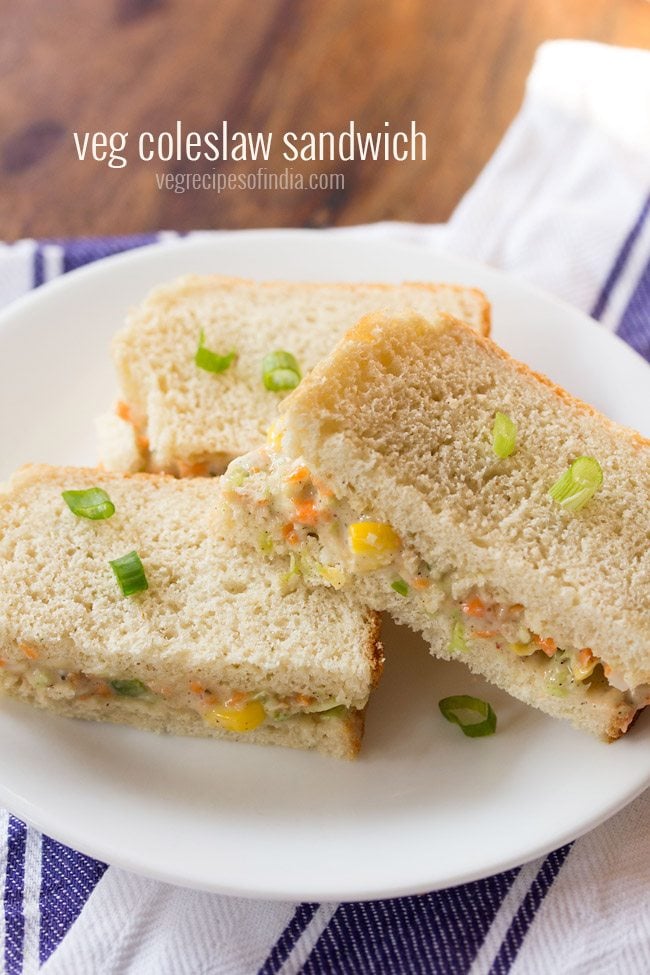 About This Recipe
There's nothing better than a fresh and crunchy cabbage coleslaw or mix veg coleslaw on sandwiches and burgers. Cool, crispy slaws add bright pops of flavor and texture that make these classic dishes seem extra special.
But a great coleslaw is actually very easy to make from scratch at home! All you really need is a simple food processor or handheld food chopper, and this coleslaw sandwich recipe is a breeze.
Not only is it easy to prepare, but you can also customize your coleslaw with nearly any preferred veggies. Here I use a mix of raw cabbage, carrots, capsicum (bell pepper), plus steamed corn kernels.
However, you can swap the corn or simply add green peas, add other veggies like celery, fresh herbs – whatever goodies you like!
This naturally gluten-free and vegan recipe includes Eggless Mayonnaise, but you can of course use your favorite mayo.
Delightfully creamy and crunchy these sandwiches are perfect to enjoy for a light breakfast, brunch, lunch or snack. Make as a last-minute meal for yourself, or serve as finger food at parties. They pair great with nearly any other dishes, and are terrific to share!
Step-by-Step Guide
How to make Coleslaw Sandwich
Make the coleslaw
1. First, rinse and finely chop all of the veggies in a food chopper or a food processor. You can also use a knife to finely dice the ingredients. For this recipe you need:
¼ cup finely chopped cabbage
¼ cup tightly packed finely chopped carrots
2 tablespoons finely chopped capsicum – any colored bell pepper
2 tablespoons finely chopped spring onions or onions
¼ cup boiled or steamed corn kernels (optional)
Add the finely chopped veggies and corn kernels to a mixing bowl.
Note that If you want you can blanch the cabbage leaves before finely chopping them. Remember to drain all the water very well prior to making the veg coleslaw stuffing.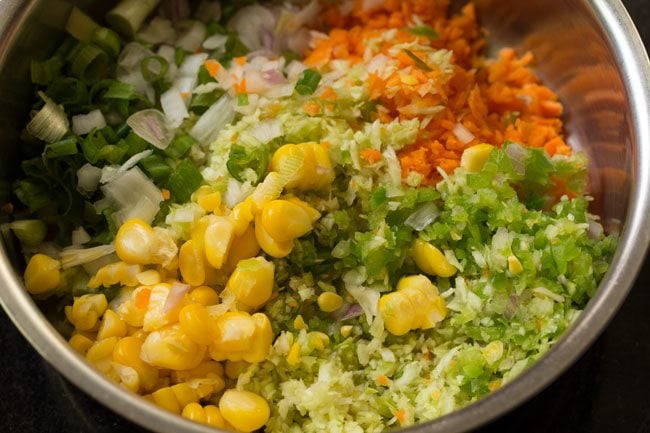 2. Mix the veggies well.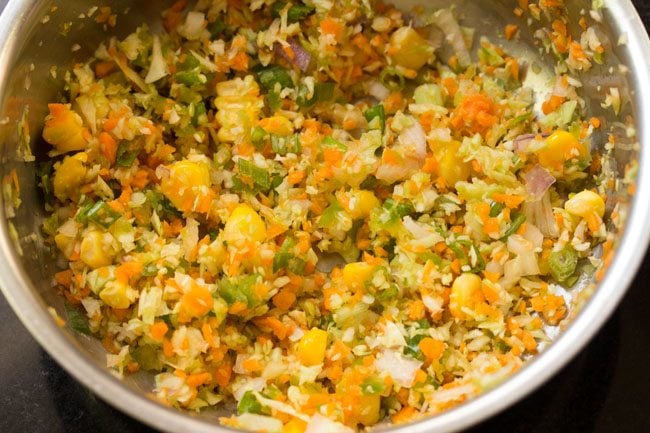 3. Then add ¼ cup of mayonnaise. You can use your favorite store bought mayo, or try my homemade Eggless Vegan Mayonnaise recipe.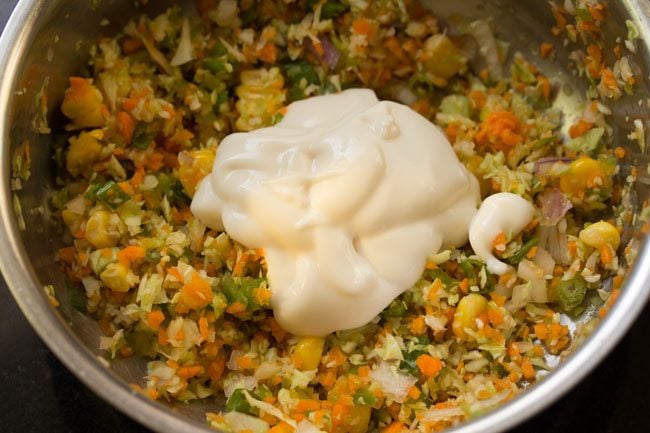 4. Now add ¼ to ½ teaspoon of ground black pepper, a pinch of salt and 1 teaspoon of sugar. I like my coleslaw sandwiches to be a bit on the sweeter side, but feel free to use less sugar or to skip altogether if you prefer.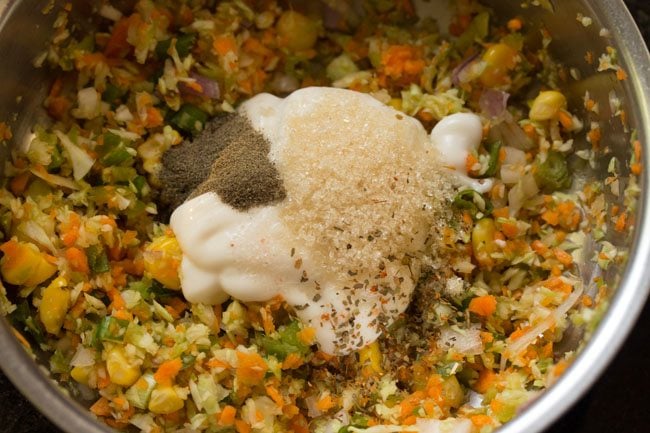 5. Next add ½ teaspoon of lemon juice for some bright tang.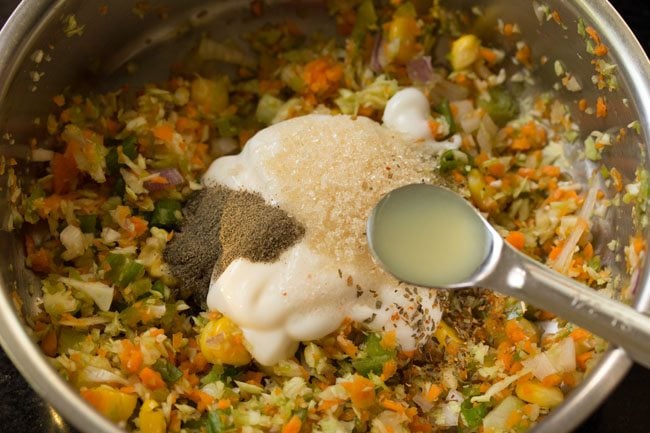 6. Mix everything together very well. Taste, and add more salt, sugar or black pepper as needed.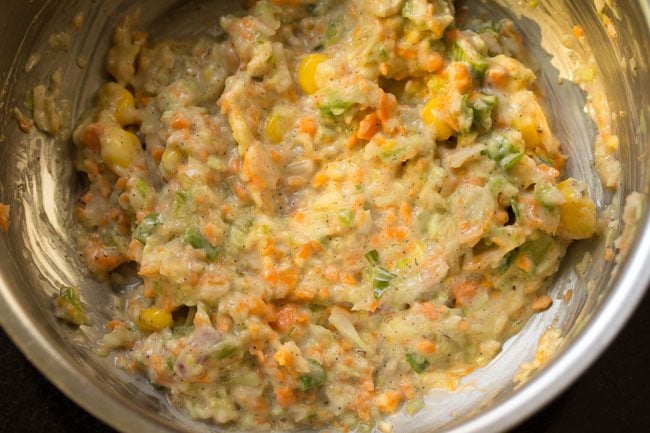 Assemble the coleslaw sandwiches
7. To make the best coleslaw sandwich, I recommend that you first lightly butter each piece of bread. You can use dairy or your favorite plant-based butter. This is an optional step, but it helps to keep the bread from getting soggy.
For bread, I have used my classic Whole Wheat Bread. However you can use any bread of your choice like brown bread or white bread or multi grain bread.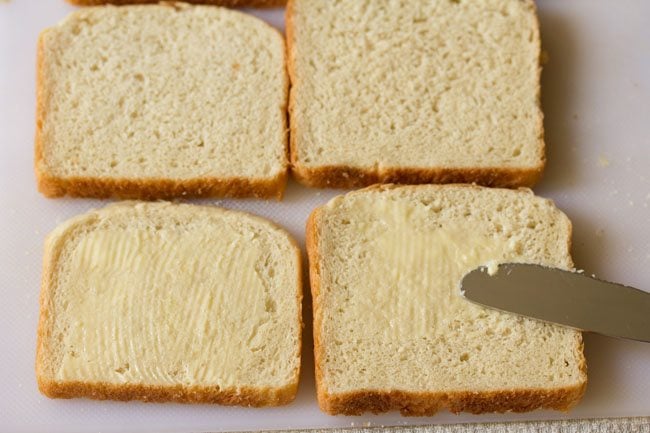 8. Now spread 2 to 3 generous tablespoons of the veg coleslaw on two bread slices.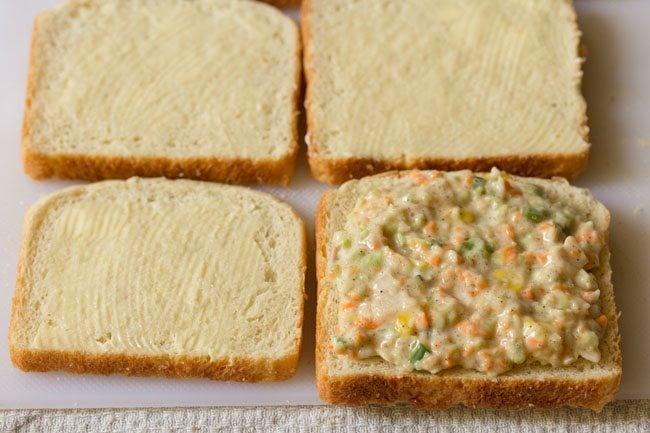 9. Top with the remaining buttered slice of bread, and slice the sandwiches into rectangles, triangles or small squares. If you want, you can even lightly toast or grill these sandwiches for a warm bit of extra crunch.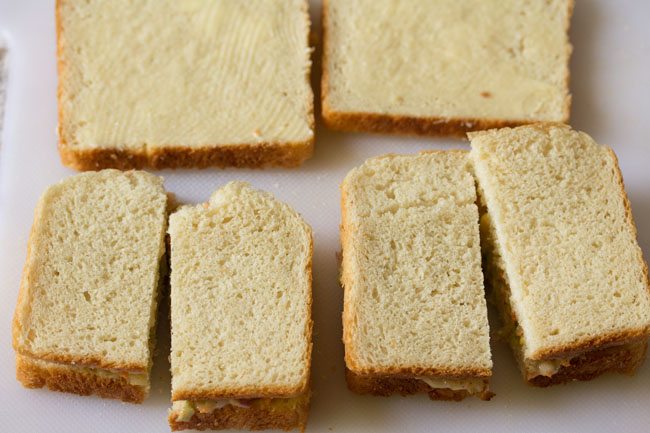 10. Serve the coleslaw sandwiches, or refrigerate for an hour or so until enjoying for lunch.
If you have toasted or grilled the sandwiches, I recommend that you eat right away without refrigerating at all.
They make for an good and healthy evening snack if made with whole grain bread. You can serve them with a side of milk, tea or coffee or any hot beverage of your choice.
You can enjoy them as is or serve with side of a mayo dip or cheese dip or tomato ketchup.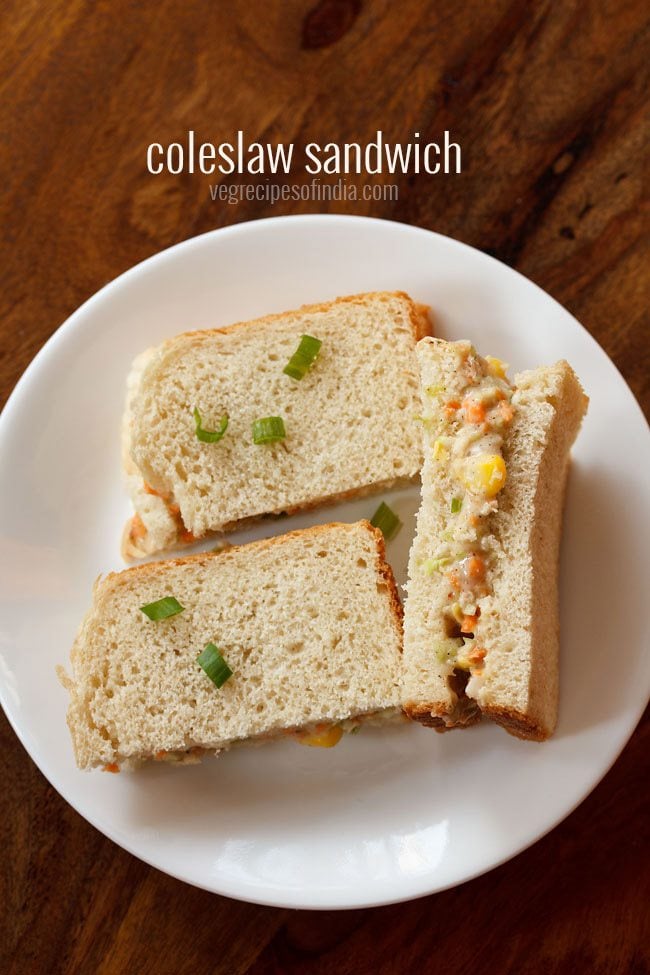 FAQs
Can this recipe be made ahead?
You can make the coleslaw a day or so ahead of time, and keep stored in a sealed container in the fridge. Assemble the sandwiches shortly before serving.
What other ingredients can I use to make this coleslaw sandwich recipe?
If you want, you can add some red chili flakes or some dried herbs like oregano, thyme, or basil. For a spicy taste, you can add 1 green chili (finely chopped). I have made these sandwiches with green chilies for myself and they taste very good.
You can also add other veggies and herbs like boiled potatoes, steamed green peas, parsley, mint, celery, cilantro, cucumbers, red cabbage, or nearly any crunchy produce you prefer.
If using watery veggies like cucumber or beets then eat the sandwich right away as soon they are prepared.
Here are more Sandwich recipes for you to try:
If you made this recipe, please be sure to rate it in the recipe card below. Sign Up for my email newsletter or you can follow me on Instagram, Facebook, Youtube, Pinterest or Twitter for more vegetarian inspirations.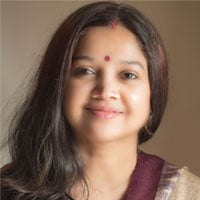 By
Dassana Amit
Creamy, crunchy, quick, easy, and (mostly) raw coleslaw sandwich made with a stuffing og mix vegetables, seasonings and eggless mayo.
Prep Time 15 mins
Cook Time 0 mins
Total Time 15 mins
---
---
Servings 3
First rinse and finely chop the veggies in a food chopper or a food processor or with a knife. If you want you can blanch the cabbage before chopping it. If blanching then remember to drain all the water very well.

In a bowl add the chopped veggies and steamed corn kernels. You can skip corn if you want.

Then add mayonnaise, black pepper powder, a pinch of salt and sugar.

Add sugar and black pepper powder as required.


Then add lemon juice for a tang. If you want, you can also add some red chili flakes or some dried herbs like oregano, thyme, basil.

Mix everything very well. Check the taste and add some more salt, sugar or black pepper if required.

Take the bread slices and spread some butter on them. This is an optional step.

Now spread veg mayonnaise stuffing on the bread slices.

Place on top the remaining buttered slices and slice the sandwiches.

Serve coleslaw sandwiches plain or accompanied with some french fries or potato wedges or dips like mayo dip, cheese dip or tomato ketchup.
If you prefer then you can blanch the cabbage leaves before using them. Then drain all the water and finely chop them.
The recipe can be scaled easily. Make a big batch for pot lucks and get-togethers.
Use your preferred mayonnaise.
You can add your choice of herbs or spices to make these sandwiches more flavorful.
Salad veggies like carrots, bell pepper, steamed green peas, steamed corn, boiled potatoes, cabbage, steamed or blanched french beans and herbs like celery, parsley, cilantro or mint can be used in the coleslaw stuffing. This will make the sandwiches more healthy and filling.
Note that if you use watery veggies like cucumber or beets then don't refrigerate the sandwiches. Eat them as soon as they are made.
Nutrition Facts
Veg Coleslaw Sandwich
Amount Per Serving
Calories 416 Calories from Fat 198
% Daily Value*
Fat 22g34%
Saturated Fat 7g44%
Cholesterol 20mg7%
Sodium 586mg25%
Potassium 198mg6%
Carbohydrates 44g15%
Fiber 4g17%
Sugar 7g8%
Protein 9g18%
Vitamin A 2161IU43%
Vitamin B1 (Thiamine) 1mg67%
Vitamin B2 (Riboflavin) 1mg59%
Vitamin B3 (Niacin) 5mg25%
Vitamin B6 1mg50%
Vitamin C 10mg12%
Vitamin D 1µg7%
Vitamin E 1mg7%
Vitamin K 19µg18%
Calcium 107mg11%
Vitamin B9 (Folate) 74µg19%
Iron 3mg17%
Magnesium 38mg10%
Phosphorus 128mg13%
Zinc 1mg7%
* Percent Daily Values are based on a 2000 calorie diet.
Like our videos? Then do follow and subscribe to us on youtube to get the latest Recipe Video updates.
All our content & photos are copyright protected. Please do not copy. As a blogger, if you you want to adapt this recipe or make a youtube video, then please write the recipe in your own words and give a clickable link back to the recipe on this url.
This Coleslaw Sandwich recipe post from the archives (Dec 2016) has been republished and updated on 4 June 2021.