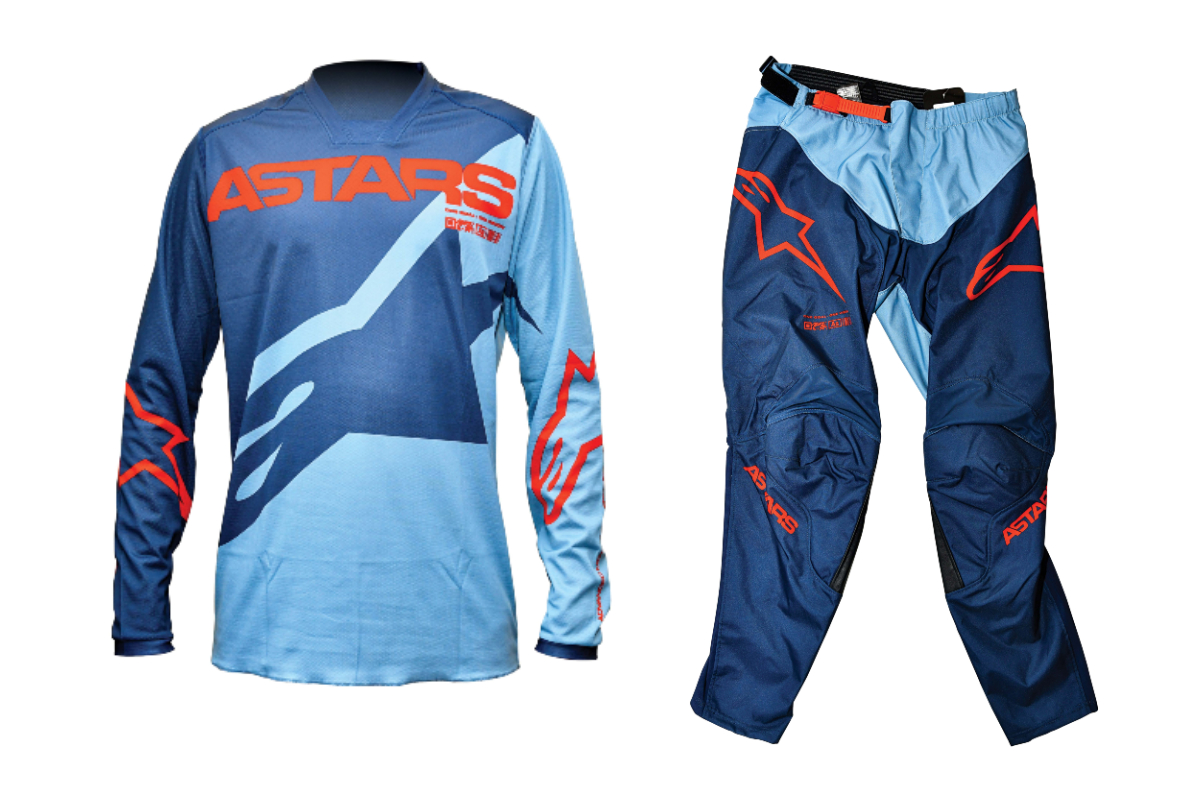 The idea with MX gear is simple – maximum protection with minimal intrusion. Since high-speed abrasion resistance is less of a concern in off-road riding, the armour is generally strapped onto the body and the rider wears relatively lightweight fabric on top. This ensures maximum breathability and as little intrusion on movement as possible.
Alpinestars is one of the masters of the off-road apparel world and its Racer pants and jersey come in a wide range of designs. These ones are called the Braap, and within this design, you can select from various colour options.
The MX jersey is a fairly straightforward bit of attire, with no real protective characteristics. You could say it it's quite similar to something like a football jersey, but with a few motorcycle relevant design features. These include wrist cuffs for a snugger fit and a long design with an extended back section for better coverage on the bike.
Leather inserts improve grip and heat resistance.
The Racer Braap pants are significantly more technical in their approach. These are constructed in a thicker and more durable feeling PU-coated material. Unlike traditional riding pants for the road, you won't find any in-built armour, although there is some thin foam padding around the knee area. The back of the legs are finished in a breathable, stretchy material that helps improve comfort. There's also a patch of leather on the inner side of each knee running half way down the calf. This is to improve heat resistance and to help the rider grip the bike better.
A ratched closure on the waist and two additional Velcro straps along the side ensure that you will be able to get a good fit once you select your size based on the Alpinestars size chart. A netted inner material ensures good comfort and the knee section is wide enough to comfortably accommodate knee guards or braces. What you won't find here is any pockets, apart from a tiny one inside the hip area, so it's worth having some other arrangement to carry essentials like a phone, wallet, sanitiser, etc.
As with all things Alpinestars, the quality is without fault, the style quotient is high and the price is premium. But as my first set of MX gear, the Racer Jersey and Pants haven't left me wanting more.
Where:
www.supermoto.co.in
Price:
Jersey: Rs 3,499
Pants: Rs 10,999