What makes a well-written text? First of all, it is your expertise and skill in creating clear, well-argued, useful, and interesting content. Apart from that, it should be error-free and easy to read. And don't forget about style. After all, it's so challenging to read a lifestyle blog written in academic and complex language. Mistakes, wrong style, poor word choices—they can make a reader abandon your articles, no matter how useful they are.
Grammar and spell checking tools can help you get rid of errors and create quality texts without much difficulty. They automate the process for all kinds of authors—from bloggers to academic writers. What's more important, they can be quite useful for SEO experts, too. You won't be able to get a #1 ranking on Google if you post poor-quality texts with lots of grammar, spelling, and punctuation errors.
So, before hitting the Publish button, check your text using one of these tools.
20 proven tools to check grammar, punctuation, and style.
1. LanguageTool
Checks: spelling, punctuation, style
Languages: 20 languages, including English
Availability: Free, 3 Premium plans with advanced features
LanguageTool helps users create great texts without any mistakes in spelling, grammar, and punctuation. The checker finds and shows errors as well as provides suggestions allowing you to improve the word choices and punctuation in a matter of seconds. Users can also add it to Chrome and Firefox to check their emails, blog posts, social media, etc. The tool automatically highlights errors and provides suggestions in real-time.

On top of that, it can also be integrated with MS Word and Google Docs. Note that this feature is available only to Premium members. Among the free features are finding basic grammar mistakes, punctuation errors, and style in texts (only up to 10,000 characters per piece of content).
2. Grammarly
Checks: spelling, style, punctuation, plagiarism
Languages: English
Availability: Free basic and Premium versions
Grammarly helps users write error-free texts in English. The suggestion tool allows finding mistakes and choosing the correct spelling of a particular word.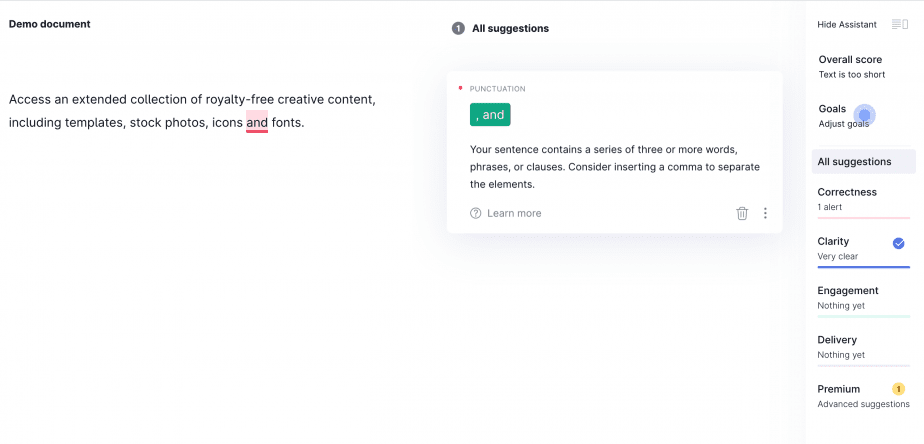 Grammarly is available online: you can work in a separate window or install an extension. With the extension, the tool will check the content you create everywhere online: from social media to emails. The best thing about it is that it finds all types of mistakes, whether it is an incorrectly used word or poor sentence structure. After signing up, you will be able to add words to your personal dictionary and choose the preferable dialect. Those who want to use all the features can buy the Premium version.
3. Hemingway App
Checks: spelling, style, punctuation
Languages: English
Availability: Free
Hemingway App may have fewer tools than Grammarly, but it has its own unique features and benefits. It also helps correct stylistic errors and suggests how to improve content overall.
The tool allows a user to write better and clearer texts by highlighting adverbs, passive voice, overused phrases, and lengthy sentences. There is also an advanced desktop version. You can use import and export features: just upload your offline docs and, after editing, export your content back to Word or PDF.
4. Word Online
Checks: spelling, punctuation, thesaurus
Languages: English and other languages
Availability: Free (authorization required) and Premium versions
This is an online version of Microsoft Word that also checks your spelling and grammar. If you upgrade to Premium, you can also see style suggestions.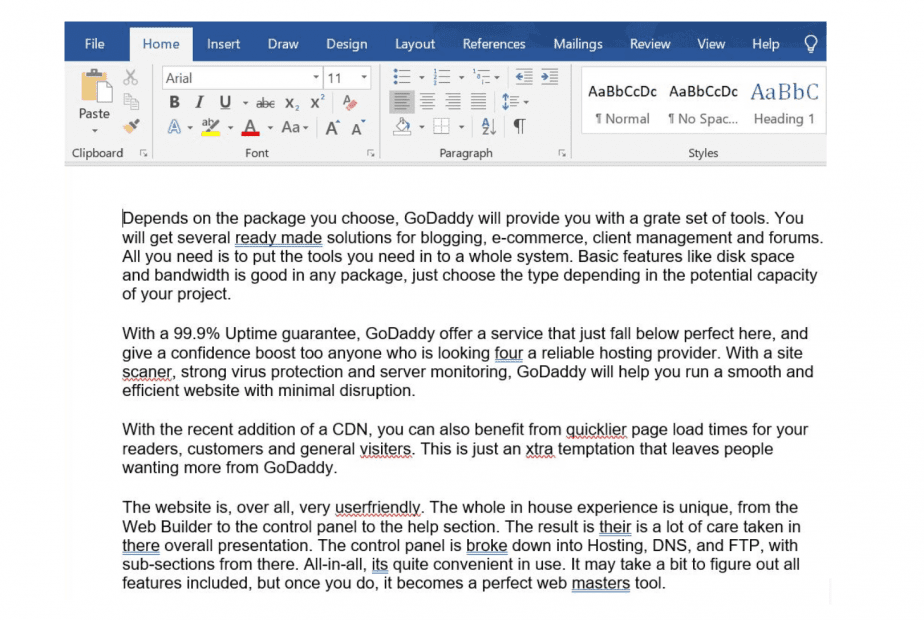 Spelling tools will use the available dictionaries automatically. Word Online can also offer synonyms for the highlighted words and analyze text readability.
To work offline and use advanced formatting, Microsoft offers family and personal subscriptions.
5. Google Docs
Checks: spelling
Languages: English and other languages
Availability: Free
Google Docs is one of the best word processing applications for individual and collaborative work. Besides, it can fix your grammar and spelling in documents, offer suggestions, and enable a feature that corrects typos automatically. Users can turn on Autocorrect that supports upper and lower case, link and quote detection. Autocorrect is available in German, Portuguese, French, English, and Spanish.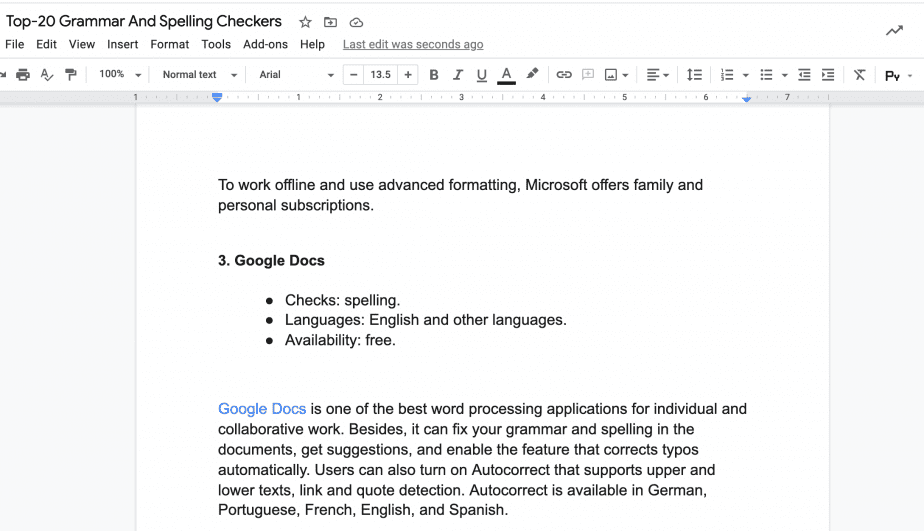 You can also integrate third-party tools like Grammarly: as you edit your text in Google Docs with Grammarly's extension turned on, you'll find words with red underlines that need to be fixed.
6. Scribens
Checks: spelling, grammar, style, punctuation
Language: English, French
Availability: Free and Premium plans
Scribens can find and correct over 250 types of mistakes in grammar, style, and spelling. It works with punctuation, typography, homonyms, prepositions, pronouns, and more.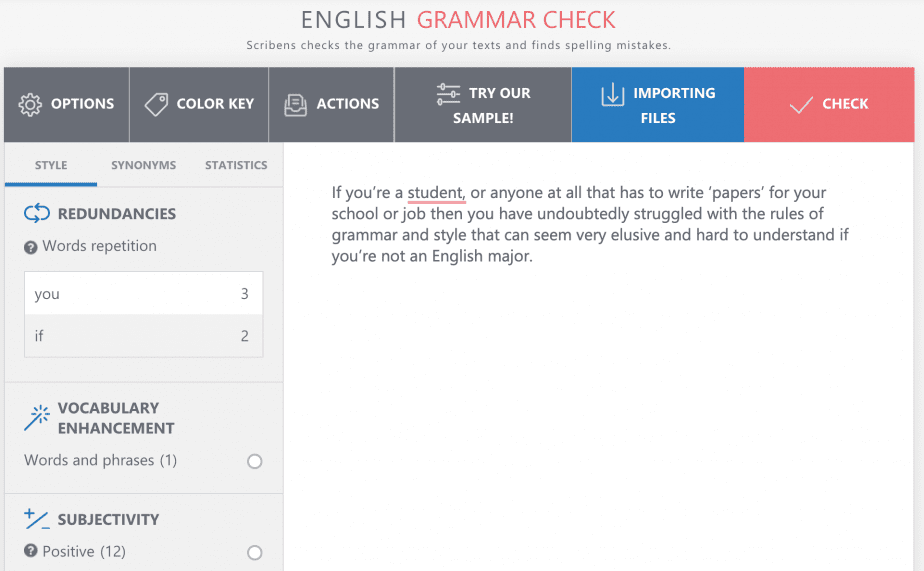 This tool corrects redundancies and provides synonyms to words. On top of that, it improves your English with rules explanations, corrects ten times more mistakes than Microsoft Word, and provides detailed statistics and explanations.
It can be integrated with MS Office and email. Users can also install Chrome and Firefox extensions and correct texts in real-time.
7. ReversoSpeller
Checks: spelling, punctuation
Languages: English, French
Availability: Free and Premium versions
ReversoSpeller can correct English and French texts. The tool uses artificial intelligence technologies to identify and correct grammar mistakes, verb tense errors, wrong prepositions, and typos.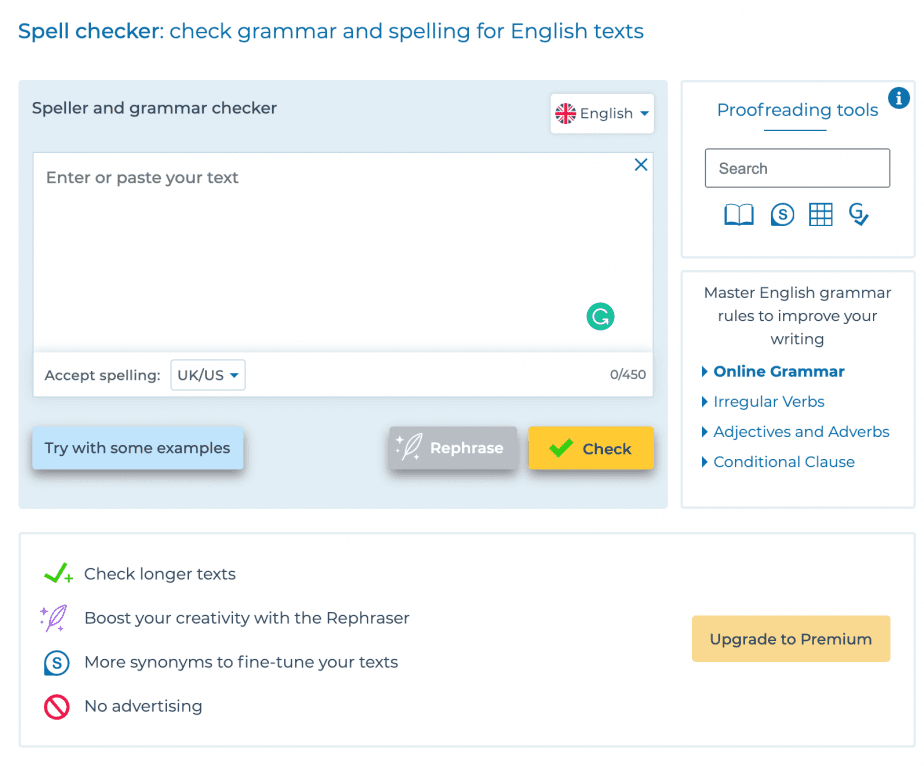 Mistakes are highlighted or corrected automatically depending on the type of error. When a user is typing, the system uses interactive corrections from Ginger Software. Reverso also provides style suggestions and synonyms for words. You can access this checker through a mobile, web browser, or extension making it a convenient online tool.
8. OnlineCorrection
Checks: spelling, punctuation
Languages: five English dialects
Availability: Free
OnlineCorrection.com checks spelling and provides suggestions highlighting mistakes. If there are two or more possible alternatives, you will be offered to choose one of them. The tool checks texts written in 5 different English variants, in particular, American English, British English, Australian English, New Zealand English, and South African English.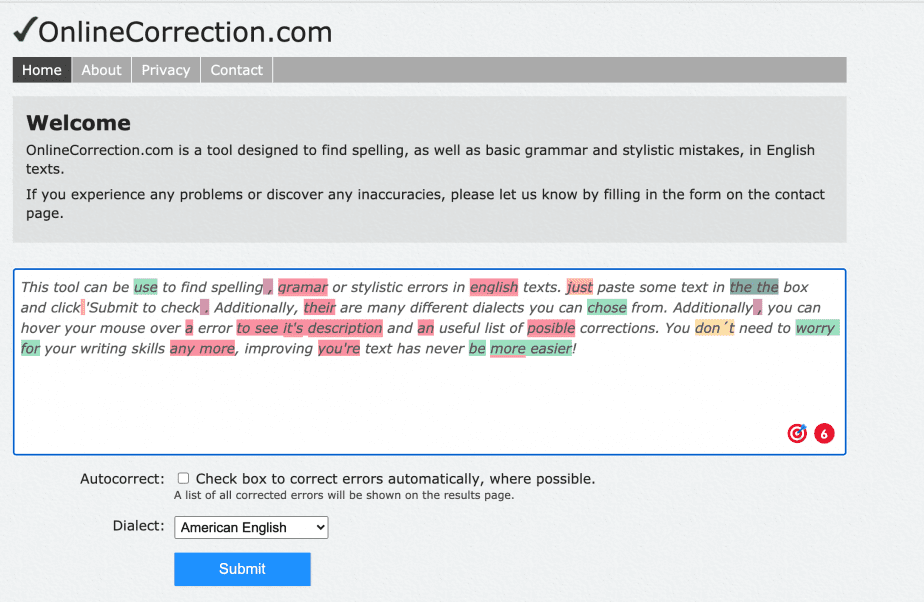 Overall, this is a good tool to find spelling, grammar, and style mistakes in English texts.
9. WhiteSmoke
Checks: grammar, style, punctuation
Languages: over 50 languages, including English
Availability: Paid subscription
WhiteSmoke is a great tool to correct simple spelling mistakes, find the right words in a particular context, fix punctuation errors, and find any stylistic mistakes. The content is analyzed with NLP artificial intelligence.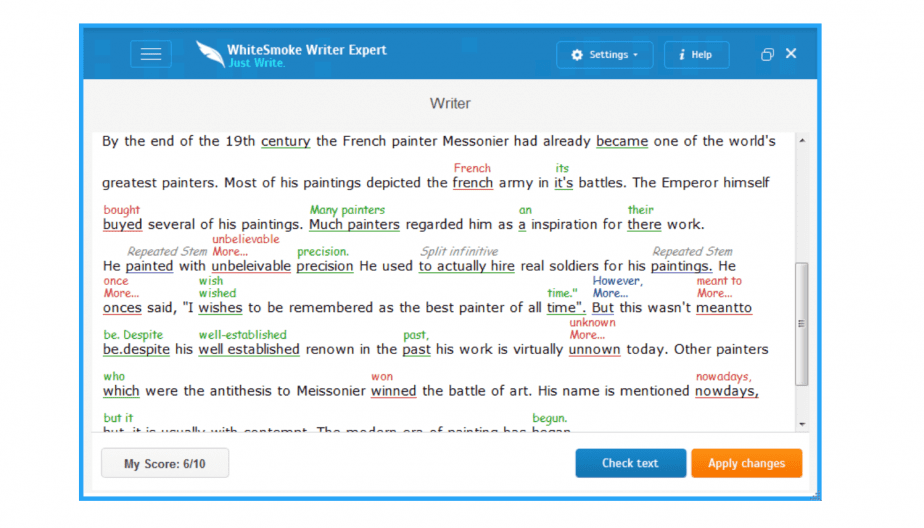 You can benefit from a built-in translation tool, as well as dictionaries that have over 50 languages. Besides, you can watch video lessons to improve grammar and check texts for plagiarism. The service is compatible with Windows, Mac OS, and available on all popular browsers.
10. Ginger
Checks: spelling, grammar, punctuation
Languages: over 60 languages, including English
Availability: Free and Premium versions
Ginger is a high-quality and intuitive spell-checking tool available both on Windows and Mac OS.
Various add-ons, extensions, and virtual keyboards make it much easier to use Ginger on mobile devices. You can also install the extension and add it right to your browser.
This tool is a pretty good alternative to Grammarly. On top of that, a special Personal Trainer feature lets you improve your English with an individual plan based on your own mistakes. That is another reason why so many people keep choosing it.
11. ProWritingAid
Checks: spelling, grammar, style, punctuation
Language: English.
Availability: Free and Premium versions
ProWritingAid has built-in grammar and style checking tools. Although it was designed to help users improve their writing style, the tool has great grammar and plagiarism checkers as well. For convenience, you can enable real-time checking to see grammar, spelling, and style suggestions as you type.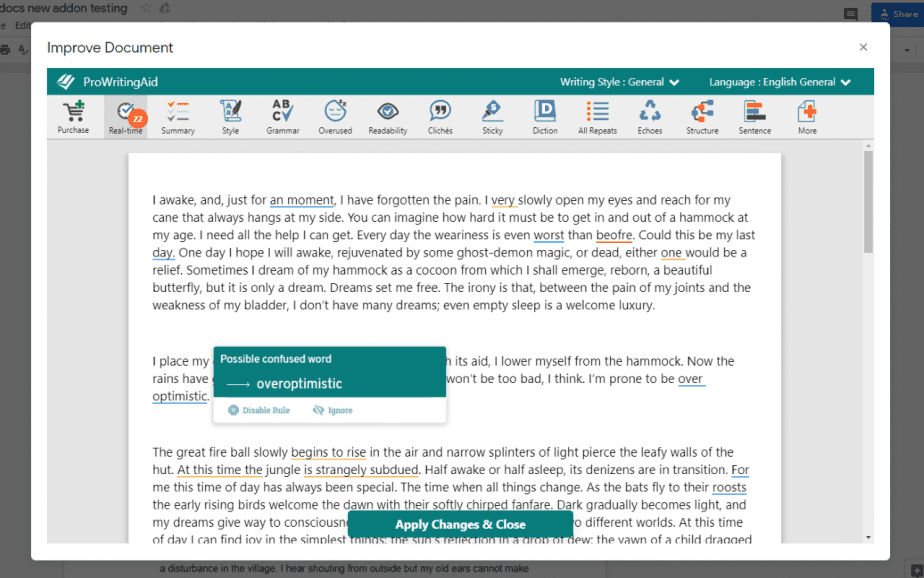 On top of that, there are ProWritingAid extensions that can integrate with other tools like Word, Google Docs, and WordPress. The desktop app is available for Mac OS and Windows users. In most cases, people use it to edit articles and books. Authors who write in English use it to proofread content to find better grammar solutions before publication.
12. Outwrite
Checks: spelling, punctuation, style, plagiarism
Languages: English
Availability: Free and Premium versions
Outwrite finds grammar and spelling mistakes and allows Pro users to scan content for plagiarism. This is an AI checker, so it has enhanced functionality that can help rephrase sentences, improve your vocabulary, and increase or decrease the word count.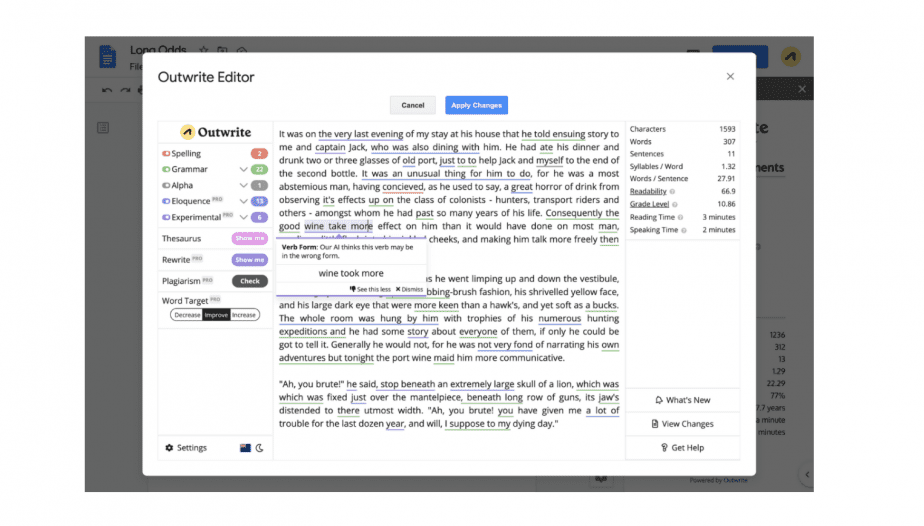 Outwrite is also available as a web extension, so you can use it on any browser, in Microsoft Word, and Google Docs. iOS users can also use a mobile app.
13. PaperRater
Checks: spelling, punctuation, style, plagiarism
Languages: English
Availability: Free and Premium plans
PaperRater is in great demand among students and professional writers. It can check any kinds of texts and accurately finds grammar mistakes with an automated algorithm. On top of that, it compares your content with similar texts and provides suggestions to improve it in seconds.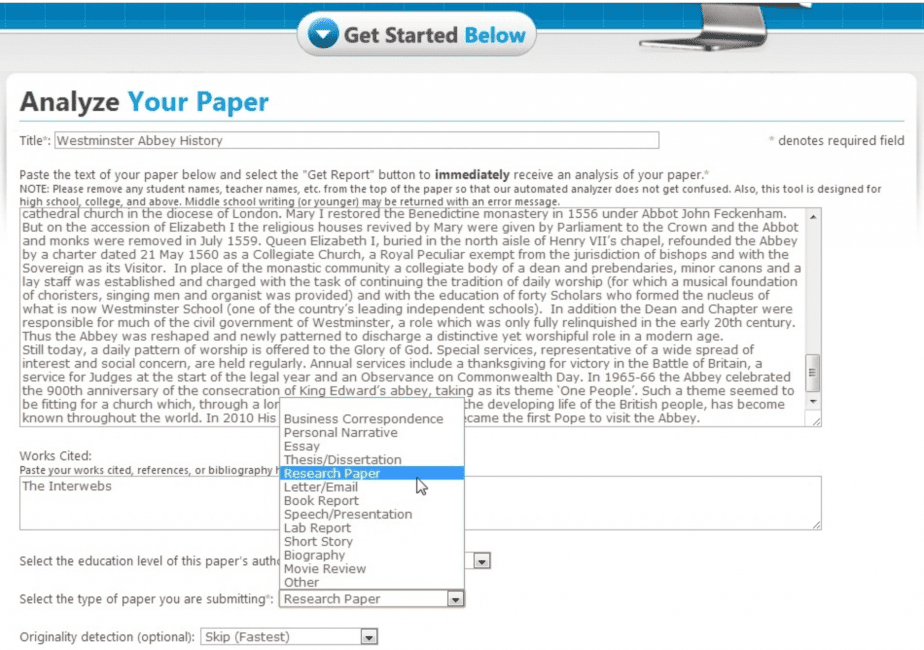 PaperRater analyzes and evaluates readability. You can also see the "grade" for your text. This tool allows checking texts for plagiarism—it scans over 10 billion docs and articles on Google and Bing.
PaperRater analyzes texts in real-time, so a user can see their grade in 5-15 seconds after they upload it. You can freely check your content even without signing up.
14. Writer
Checks: spelling, grammar, punctuation
Languages: English
Availability: Free and Premium plans
Unlike its competitors, Writer enables users to create their own rules for editing copy and content across platforms. It also checks content for readability, length, clarity, proper vocabulary, and style.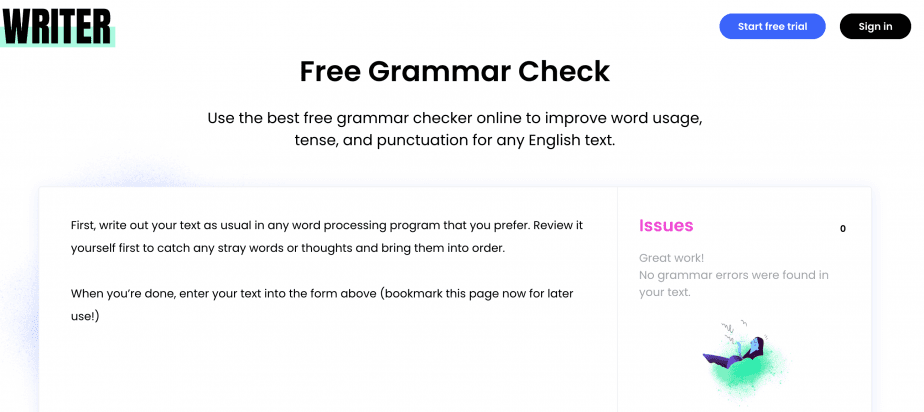 One of the main features is customization—just choose your business and indicate content, terms, and phrases that distinguish you from your competitors.
Writer is an AI tool that makes your content more useful, error-free, and easy to read. It scans text for all types of mistakes: from extra spaces to grammar errors, corrects improperly used verbs, and typos.
15. Slick Write
Checks: spelling, grammar, style
Languages: English
Availability: Free
Slick Write is a free tool designed to check spelling and grammar. Generally speaking, it is a very effective solution for those who want to create great mistake-free social media texts, blog posts, and website content. This tool is in high demand among SEO specialists, bloggers, writers, and marketers.

The platform lets you import the text you want to check or add it to the website window. You can customize the check according to your type of content. For example, if you are creating a CV and have specific guidelines, the tool will focus on your terminology.
16. Virtual Writing Tutor
Checks: spelling, grammar, punctuation
Languages: English
Availability: Free
Virtual Writing Tutor is a free website designed to help users check spelling, grammar, punctuation, structure of the text, and count words.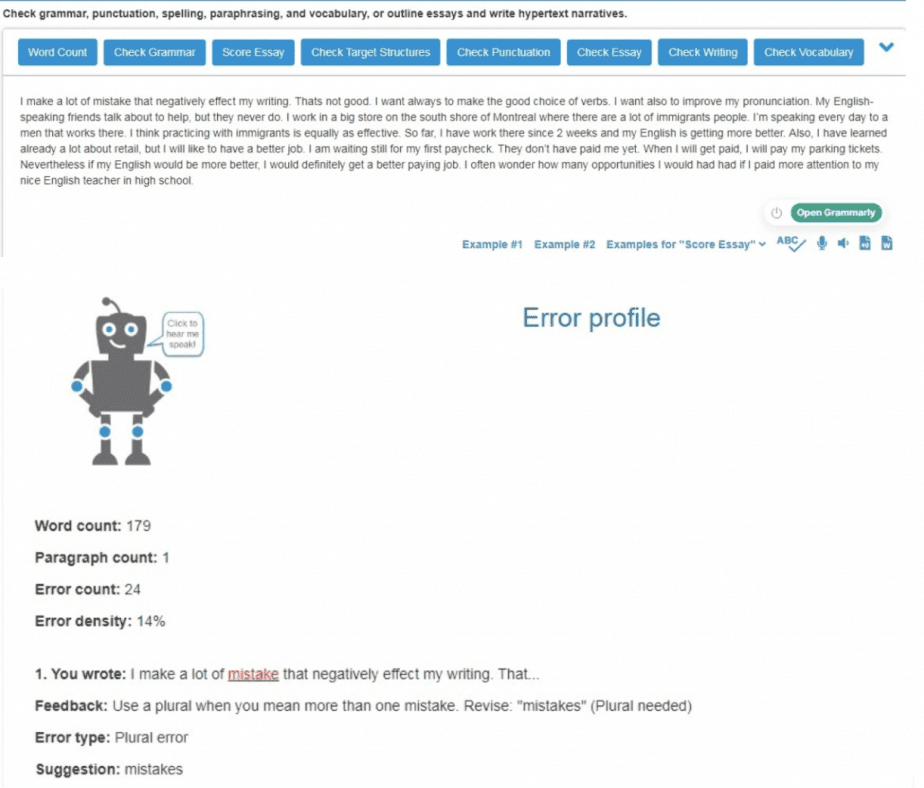 All the spelling mistakes are highlighted in red and can be fixed by left clicking on the word.
Virtual Writing Tutor also checks grammar—it finds double negatives, false cognates, missing auxiliary words, and spelling mistakes. The tool analyzes your vocabulary, style, and provides better options if something looks wrong. On top of that, it checks texts for plagiarism by scanning millions of articles online and showing the percentage of matching text.
17. Linguix
Checks: spelling, grammar, style, punctuation
Languages: English
Availability: 7-day free trial period and Premium plan
Linguix provides suggestions considering the context. It makes sentences grammatically correct and easier to read and understand.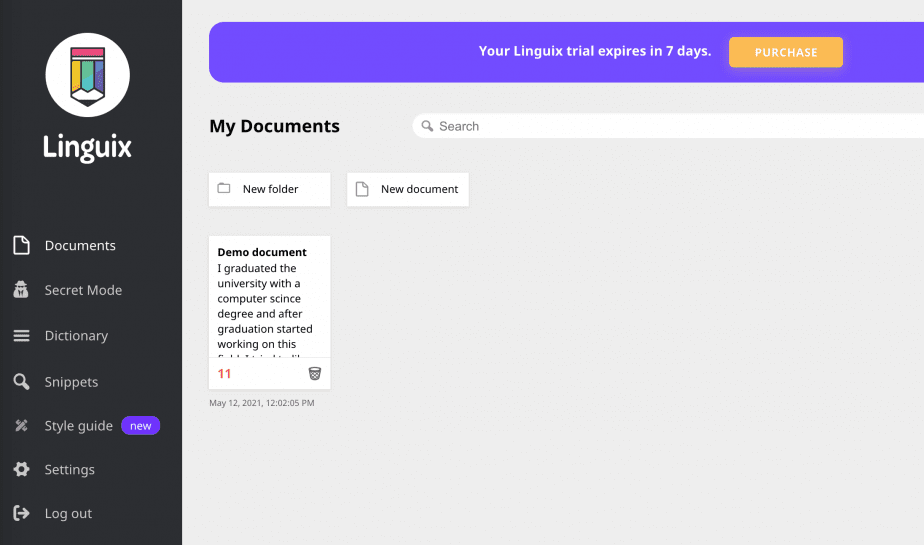 Linguix also explains your mistakes. People can use it online or install the extension to check texts when typing in real-time.
On top of that, Linguix sends reports to your email which contains detailed information on the most often made mistakes. This is a great feature for non-native speakers.
18. SpellCheckPlus
Checks: grammar, spelling, punctuation
Languages: English
Availability: Free and Pro versions
SpellCheckPlus is an online editing service that helps find, understand and edit grammar and spelling errors. There is also a Vocabulary feature available in Spanish, English, French, and Mandarin. Non-native speakers and those who are learning one of these languages can do vocabulary-building and entertaining exercises to improve their skills.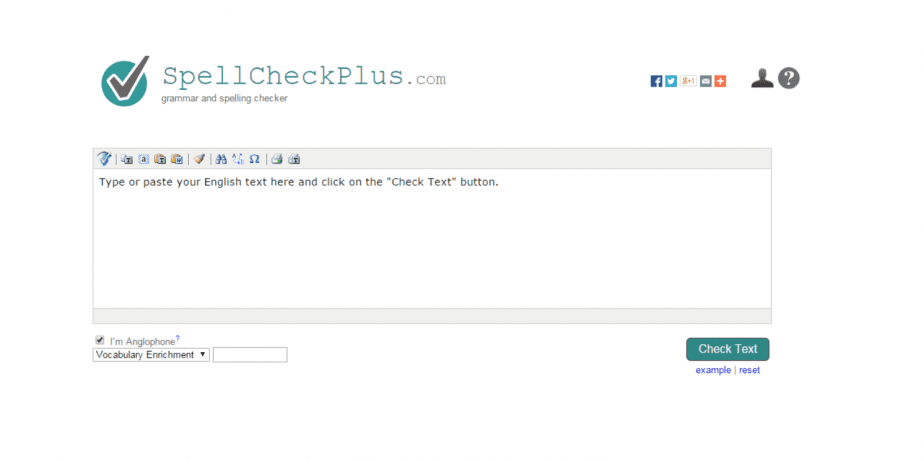 The tool is available for free, but users can upgrade to the Pro version, which allows having an ad-free, smoother experience, see reports, save texts, do grammar exercises, and more.
19. Nounplus
Checks: spelling, grammar, spelling
Languages: English, Korean, Chinese
Availability: Free
NOUNPLUS was designed as a free grammar and spell checking tool. All features are available for non-paying members. Users can check their texts online, as well as download an app that is compatible with both Android and iOS devices.
NOUNPLUS is a great tool for students, writers, and bloggers as it was created for professional and academic purposes, and it works for both native and non-native English speakers. There are also checking tools for those who write in Korean and Mandarin.
20. Writefull
Checks: spelling, grammar, punctuation
Languages: English
Availability: Free. Unlimited access available to Premium members
Writefull is a checking tool designed for students and publishers, but can also be used by bloggers, authors, and those who want their texts to be clear and error-free. It can be used in Microsoft Word, Overleaf code editor, and Revise. To start using it, you need to download software that is free of charge. However, to get unlimited access, see all the suggestions, and receive the reports, you need to upgrade to Premium.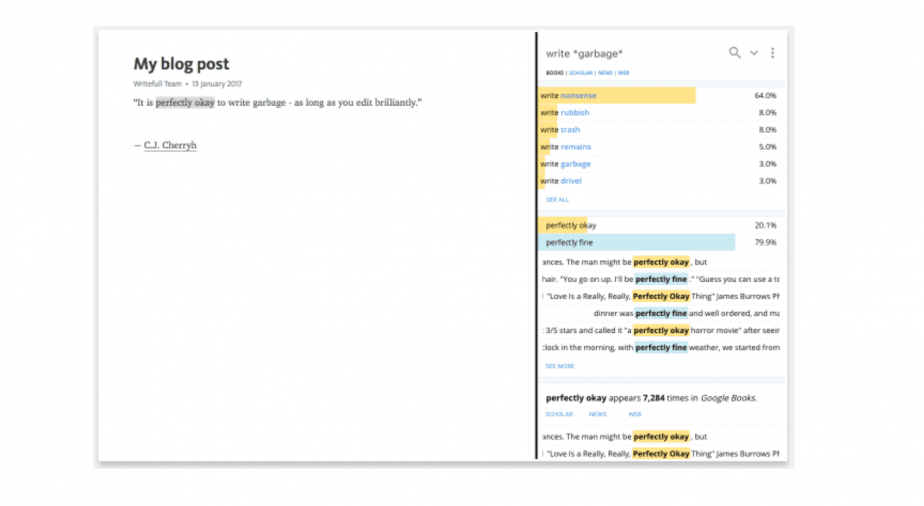 The software has some special features: you can hear your text pronounced, find synonyms of a particular word, and improve your writing in many academic disciplines from Medicine to Social Sciences.
Conclusion
There is always room for improving your writing and making it more consistent. That's why it is essential to use grammar checkers to keep your texts as professional and error-free as possible. Although these tools cannot replace manual proofreaders, they can help find and fix numerous errors quickly and many of them are for free.
Another great thing about such tools is that they do much more than correct spelling and punctuation mistakes. They also can:
scan content for plagiarism
prevent keyword stuffing and overused phrases
check style and tone of voice
count words
Even if your writing skills are nearly perfect, you can miss something and that can undermine it all. So, why not use tools to avoid such scenarios? By the way, Google also likes SEO-friendly and error-free content.