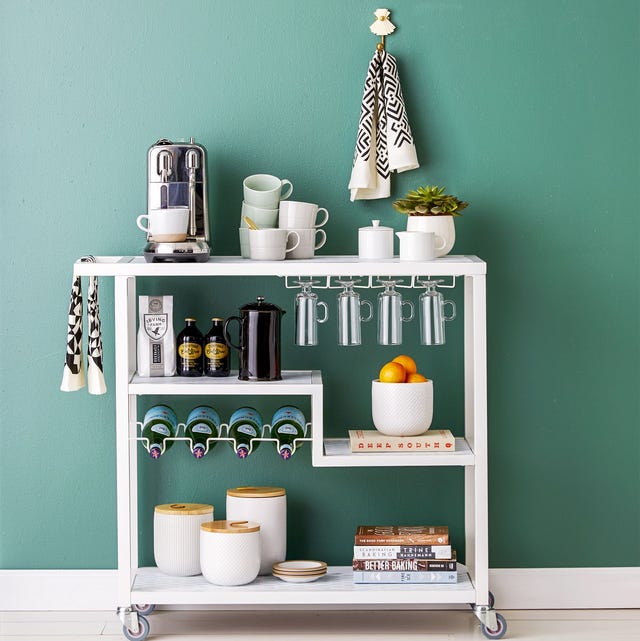 Mike Garten
A fresh cup of coffee never goes out of style, but kitchen cabinets cluttered with coffee pods, syrups and mugs certainly do. Streamline your morning routine by setting up any one of these coffee bar ideas. It's as simple as it sounds: Carve out a space in your home (think: a kitchen cabinet, countertop, pantry or bar cart) and fill it with everything you need to fix up the ultimate morning brew, afternoon pick-me-up or after-hours nightcap. Here, you'll find an easy DIY that fits your space, budget and overall decor style, ranging from a fully-stocked coffee bar tucked away in a built-in cabinet to space-saving coffee cart that you can move from room to room. Even if you're short on space, these easy DIYs will show you clever ways to make room for a coffee station in a small kitchen.
Sure, they're a functional addition to any coffee lover's home, but most of these coffee bars also make great statement pieces, no matter if your space embraces a modern, classic or farmhouse aesthetic. You can customize your coffee bar to fit your household's tastebuds, mixing in hot cocoa pouches, tea bags and other drinks for everyone else to sip on.
Advertisement – Continue Reading Below
1 Day-to-Night Drinks Cart
Keep the drinks — caffeinated or otherwise — going from morning to night. This day-to-night cart is big enough to store the ingredients and accessories for morning brews, nightcaps and everything in between.
RELATED: More Unique Bar Cart Ideas
2 Closet Coffee Bar
Turn a spare closet into a stylish coffee bar by covering the wall with a bold temporary wallpaper and dotting the shelves with decorative accents.
3 Built-in Coffee Bar
Built-in cabinets offer unlimited opportunities: Display coffee mugs on shelves, stick syrups and shelf-stable creamers in the interior cabinet doors, and place your machines on the counter.
4 Simple and Chic Coffee Bar
5 Modern Farmhouse Coffee Bar
6 Sleek Coffee Corner
To avoid a cluttered countertop, keep all of your coffee essentials tucked away in a cabinet. Stick your sugars, syrups and coffee pods on a ceramic lazy Susan for easy access.
7 Space-Saving Coffee Bar
Save valuable counter space by affixing this navy and copper display to the wall. You can store up to 12 coffee mugs on the metal hooks and add a few extras on top!
8 Refreshed Antique Coffee Bar
For a true trash-to-treasure DIY, coat an antique buffet with a glossy finish to give it a more modern feel. Cover any imperfections with baskets, jars, and an assortment on monochromatic mugs.
9 Well-Stocked Coffee Cabinet
Work with what you've already got by transforming a slim cabinet into a makeshift coffee station. Stash all the basics on the shelves, starting with your most-used items on the bottom.
12 Mobile Coffee Cart
Roll a bar cart from room to room to keep the coffee, tea and hot cocoa flowing. To make drinks party-ready, brew them ahead of time and stick them in pitchers right before the guests arrive.
14 Coffee Bar Cart
Balance out the industrial look of this brass and wood cart by incorporating bright white accents, including an acrylic catchall tray.
15 Tiered Wall Shelving
Think vertical by hanging shelves of different shapes and sizes to perfectly fit mugs, coffee spoons and other accessories.
16 Minimalist Coffee Cart
For a more uniform look, keep everything — coffee maker, sugar bowl and mugs — in the same color. Then dress up the coffee station with faux flowers and a framed sign.
17 Rolling Coffee Cart
If you prefer making your morning brew with a pour-over and French press, then a mobile coffee cart is your best bet, especially since you don't have to worry about keeping it near an outlet.
18 Tea and Coffee Cabinet
19 Repurposed Bar Cart
Keep the coffee maker and other essentials on the top shelf and fragile items (think: mugs) on the lower shelf to lessen the impact.
20 Narrow Coffee Cabinet
Make the most of the narrow cabinets in your kitchen by using them to store glass jars full of K-Cups, tea bags and coffee beans.
This content is created and maintained by a third party, and imported onto this page to help users provide their email addresses. You may be able to find more information about this and similar content at piano.io
Advertisement – Continue Reading Below