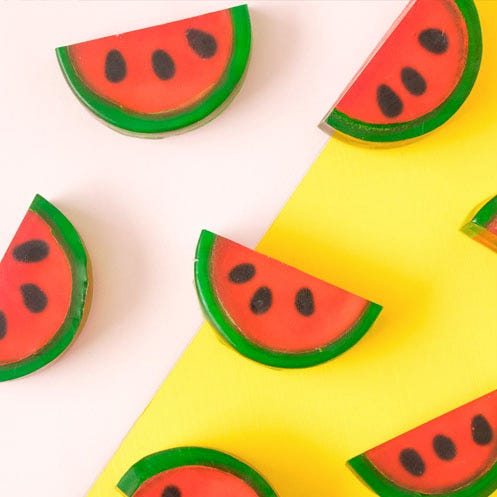 Club Crafted / Handmade Charlotte
You covered the patio with sidewalk chalk, made your own ice cream and played 50 lawn games in the backyard … so now what? One of the hardest parts of summer is figuring out summer activities to keep your family occupied — and happy — without spending a fortune. This goes double for days when it's too hot, or too rainy, to go outside, but you don't want to throw up your hands and abandon them to their tablets for the day.
Instead, it's time to bust out the old art-supply bin. These summer crafts for kids are easy enough for elementary schoolers to make, but still pretty enough for adults to leave on display all season long. Think tie dye blankets (because you can never have enough tie dye), painted rock pets, mermaid-inspired hair accessories and more kid-friendly DIY activities to keep them entertained for the afternoon, at the very least. Some of these craft ideas are simple and straightforward for little ones to tackle on their own (paper plate animals, for example), while others require some hands-on help from parents. Either way, they're a win for everyone involved, especially because they don't involve watching screens or eating sweets.
Advertisement – Continue Reading Below
Ice Cream Cone Keychain
Even after summer ends, these felt keychains will add a burst of sweetness to any backpack or purse. But to keep it in tip-top shape, skip the keychain altogether and turn them into decorative magnets.
Get the tutorial at A Kailo Chic Life »
Scented Rainbow Bubbles
With essential oils and food dye, you can give homemade bubbles the rainbow treatment. Choose scents that you like best, or try to match it to the color — yellow bubbles scented with lemon, for example.
Stamped Dish Towels
Use fruit, flowers, leaves or any other natural object that strikes your fancy to dress up your kitchen. These are also perfect as DIY gifts.
Unicorn Planter
This summer's golden rule? If you can turn something into a unicorn, do it. Fill these magical planters with succulents, so you don't have to worry about regular upkeep.
Salt Dough Starfish Garland
These starfish might fool a visitor or two into thinking they're actually real, but they're DIY ornaments made from salt dough. It'll keep those beach vibes going in a bedroom or a backyard.
Woven Popsicle Stick Baskets
Bind craft sticks with layers of color-coordinated yarn to create multi-purpose baskets for pencils, craft supplies, and other small trinkets. Or stick a real or faux plant (herbs work best!) inside for a pop of greenery.
Recycled Windsock
This windsock looks so happy, with all its colored ribbons, it might take you a minute to figure out that it's made from an old soda bottle. Add your ribbon scraps, and you've got a trash-to-treasure creation.
Sand Art Candles
Get more use out of your kid's sand art kit by transforming basic white candles into these rainbow-inspired beauties. Talk about a '90s throwback.
Tie-Dye Picnic Blanket
ICYMI, tie-dye is all the rage this summer. If you've already dipped and dyed sweatshirts, t-shirts and sweatpants, then consider giving any ol' picnic blanket or beach towel a watercolor effect.
Fruit Fans
The "I'm hot" complaints will end as soon as you craft these fruity paper fans. Leave 'em scattered around your house, so everyone can stay refreshed once the warm weather hits.
Ice Cream Cone Garland
Come summertime, we all scream for ice cream — all day, every day. There's no better way to celebrate the reason for the season than with a festive DIY garland.
Luggage Tags
Getting ready to jet set? Keep your kid's energy at bay by crafting personalized luggage tags with a mix of yarn, beads and charms. Even if you're not going on a big trip, they'd look cute on a backpack.
DIY Bunny Jars
Let the kids paint 'em any color they like and then draw on a cute little bunny face. You can even add ears and a tail if you'd like, but even without these are perfect for all those picked summer flowers.
This content is created and maintained by a third party, and imported onto this page to help users provide their email addresses. You may be able to find more information about this and similar content at piano.io
Advertisement – Continue Reading Below