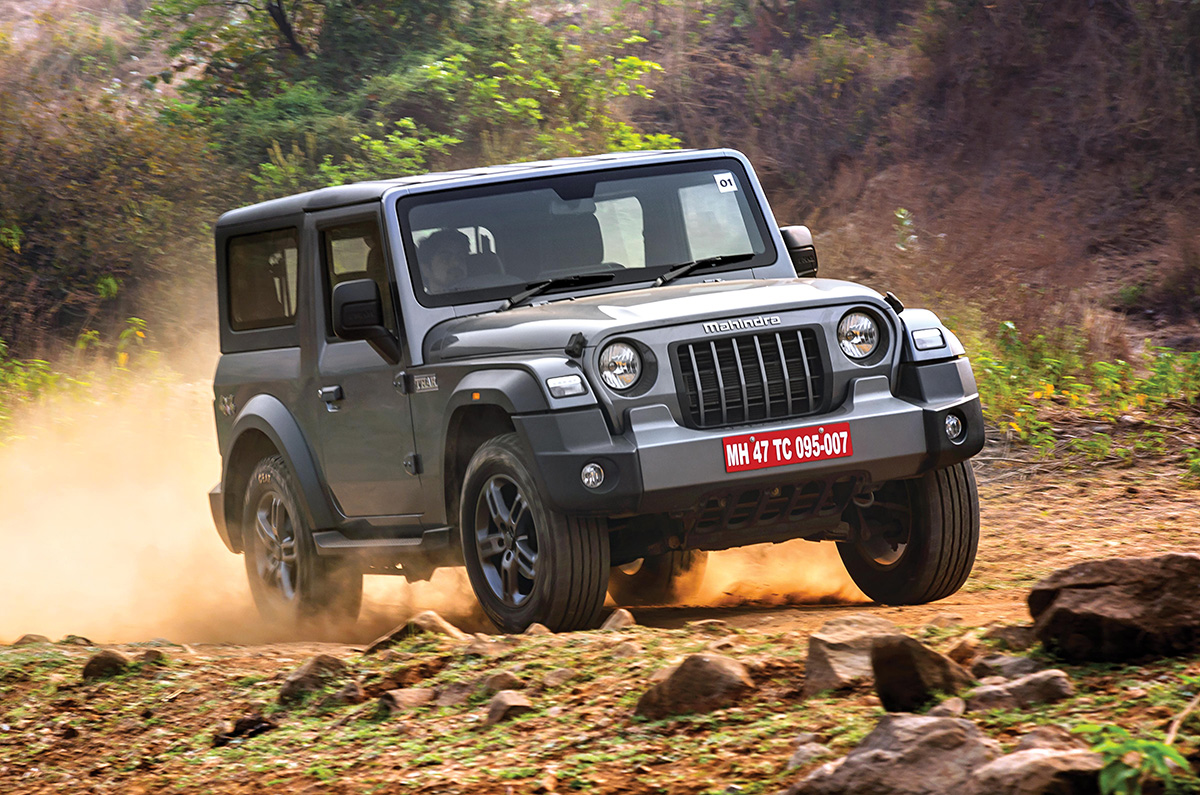 Powering the new Thar is a second-generation 2.2-litre mHawk diesel engine that makes 130hp and 300Nm of torque. What impresses right off the bat is its refinement and smoothness. The diesel clatter is really well controlled and even when this motor is spun faster, it doesn't come across as loud or coarse. This engine is responsive from the get-go and it will pick up speed from idling revs in a very linear manner without any spike in power delivery. Not only does it generate 53Nm more torque than before, it delivers max torque from just 1,600rpm, and extends till 2,800rpm, which is a 1,200rpm band, compared to the narrow 200rpm (1,800-2,000rpm) band of the first-gen. As a result, the diesel feels extremely drivable and effortless in its operation. Drop engine speeds to 1,000rpm and it will easily gain momentum without any hesitation or judder, not demanding a downshift to move on either. This low-speed drivability works great on-road, and is equally essential in off-road scenarios. Its mid-range performance is strong too, so it can effortlessly reach highway speeds or make overtakes without any need to work the gearbox. While the revs max out at around 4,800rpm in the lower gears, it isn't rewarding to spin this motor past 3,800rpm in any case, as the build-up of speed is quite slow at higher revs.
On-road ride is bumpy and you'll always be aware of the road condition.
The 6-speed manual has rather long throws, but with well-defined gates and a smooth-shifting nature, the effort required to slot it in is really low. That, along with the relatively light clutch, makes driving around this manual quite easy. To put the diesel-manual's performance into perspective, 0-100kph is dispatched in just 13.36sec, and rolling acceleration from 20-80kph in third and 40-100kph in fourth gear takes merely 10.28sec and 13.69sec, respectively.
Transmission duties in the automatic are carried out by an Aisin-sourced 6-speeder. Overall, shifts are smooth and seamless, and this sophisticated torque converter works well in sync with the diesel engine. In fact, the masses of torque on offer hide the slightly lazy responses of this transmission, especially while downshifting. In terms of performance, this one sprints from 0-100kph in 13.52sec, almost as quick as the diesel-manual. The automatic also gets a manual mode, and it will hold onto the first two gears (only) in this mode, which comes handy while off-roading. Because of the sheer convenience this diesel-automatic brings to the table, it is the combination that gets our vote.
New turbo-petrol is smooth, refined and offers strong performance.
Making its debut in the new Thar is a brand-new 2.0-litre, turbo-charged direct-injection petrol engine, the first from the mStallion family. With power and torque figures of 150hp and 320Nm, this engine certainly makes a strong case for itself. It's even more refined and stronger than the diesel and feels surreally smooth for a Thar. It isn't a particularly high-revving engine and the revs max out at 5,500rpm. However, the mid-range performance in particular – with max torque being served over a thicker powerband, ranging from 1,500- 3,000rpm (300rpm more than the diesel) – and an additional 20Nm of pulling power on tap make the petrol a very potent offering. What's interesting is that the 6-speed automatic in the petrol is identical to the one in the diesel, down to the gear ratios; although, shift points have been altered to work best with the engine's powerband. So, just like in the diesel, here too it performs seamlessly. And when it comes to sheer performance, the petrol-automatic sprints to 100kph from a standstill in just 10.20sec, so not only is it faster than the diesel, but it is also a quicker sprinter than most turbo-petrol cars under Rs 20 lakh. Rolling acceleration times from 20-80kph and 40-100kph in kickdown are 1.20sec and 2.81sec, respectively, better than the diesel-automatic.
Sound insulation has improved by leaps and bounds in this new-gen Thar, and the hard-top version, in particular, does the best job (among the three options) to cut out ambient and wind noises to a great extent. That said, there's simply no shying away from the excessive wind noise, which still creeps through at speeds above 100kph. In the convertible and soft-top versions, the tornado-like buffeting will force you to maintain lower cruising speeds for a quieter drive experience.