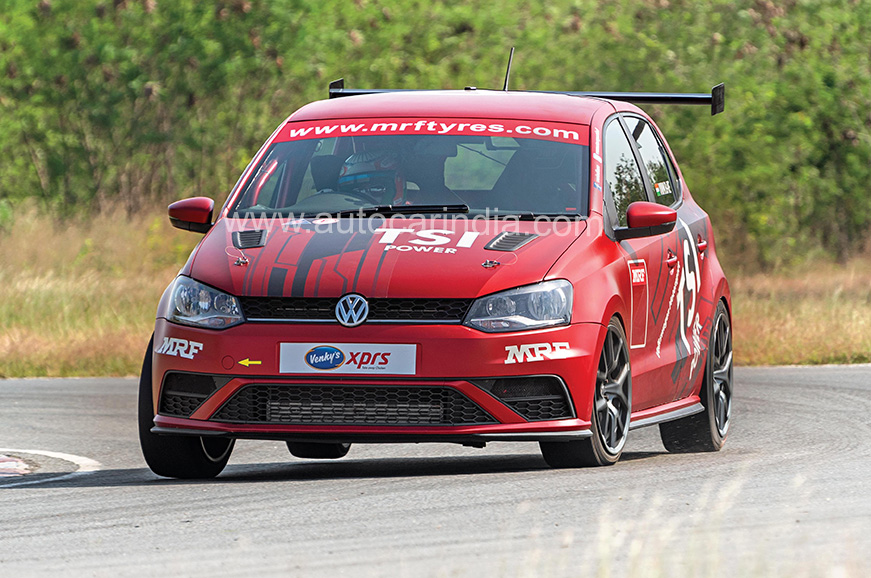 A little over a decade ago, Volkswagen Motorsport introduced their single-make racing series in India. Since then, the Motorsport team has constantly developed and fine-tuned their purpose-built race cars to offer something faster and more exciting for each season of the championship. This time around, we get a taste of the 2021 iteration of the Volkswagen Polo Championship car.
Parked alongside the pit lane in a stunning shade of matte red, the 2021 Polo race car looks the part. It sits much lower to the ground than the road-going version, flaunts lightweight multi-spoke wheels wrapped in slick MRF racing tyres, and gets a functional, oversized spoiler bolted on its roof. These aside, pretty much all other body panels are lifted off the standard Polo on sale today. Interestingly, this Polo (including the driver) tips the scales at 1,220kg, which is a bit more than the Vento Touring car that weighs approximately 1,150kg. Sirish Vissa, head of Volkswagen Motorsport, explains that his team could opt for different materials to reduce its weight, but that would only escalate costs, hence they've decided to use as many locally sourced parts as possible to keep a check on actual and replacement costs. The team, however, has no option but to import certain components like the engine, gearbox, driveshaft, brakes and electrical components, to name a few. As a result, each car costs VW a jaw-dropping figure that ranges from Rs 45-50 lakh to build.
Maximum locally-sourced parts used to keep costs in check.
Like all other race cars, the interiors are barebones and have just the basics. So, what's available is a half-cut dashboard, with the controls placed on the fascia, a sporty steering with paddle shifters, a race display, three pedals, a fire extinguisher, and a race seat with a racing harness. The car in focus had a passenger seat, but the competition version won't have one, "so that's about 10 kilos knocked off there," chuckles Sirish. Compared to the outgoing Ameo cup car, this also features different damper settings, new springs, a different brake pad compound, as well as a stiffer roll cage.
1.8-litre turbo-petrol makes a total of 230hp.
We got a chance to experience how it drives, and the way this 210hp, 1.8-litre, turbo-petrol EA888 engine performs is astonishing. This is the same engine that does duty in the Ameo race car and the Vento touring car, but this one feels a bit more potent. Power delivery is brutal and it catapults you ahead each time you squeeze the accelerator pedal. Transmitting power to the front wheels is a 6-speed sequential manual transmission, which incidentally also gets an automatic mode. Each gear change is instantaneous and really aggressive. The unassisted steering offers a truly raw experience, and with leech-like grip and zero body roll, this car goes around corners like a hot knife through butter. As is also the case with the Ameo, this one uses upgraded brakes from the Golf in the front and the road-going Polo's front discs at the rear. So, braking performance is top notch, and it infuses enough confidence in the driver to brake much later and much harder.
But the real talking point of this iteration is that this one is available with a 'Push to Pass' function, which offers the driver an additional 20hp boost for a short burst of 10sec, bumping up the power to 230hp. The VW Motorsport team is incorporating this 'Push to Pass' feature in their championship cars, wherein the trailing driver can bump up the boost pressure for an additional burst of power at the press of a button, in order to make an overtake after exiting a corner or on a straight section of road during a race. In theory, it is a concept similar to DRS (drag reduction system) in F1. Sirish says that a driver can avail this feature a maximum of five times in a 10-lap race, and each time a driver is using this over-boost function, the car's hazard lights turn on to intimate other race drivers.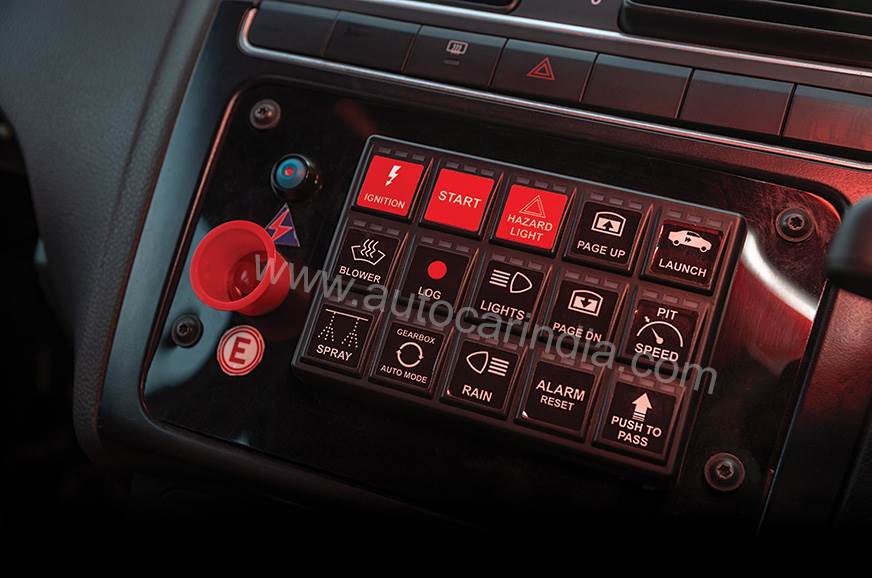 The Polo Championship car has come a long way in terms of speed, handling balance, braking and driver aids. Features like 'Push to Pass' will certainly make this single-make racing series a lot more exciting, and it will be very interesting to see its application in the races going forward.
Narain's Drive Impressions
Narain Karthikeyan lapped the MMRT in 1m54.59s in the 2021 race Polo, beating the 2018 Ameo cup car's time of 1m54.88s. "This car has a bit more horsepower than the Ameo race car, and it's quite evident in the way the Polo builds speed," says Narain. This particular car was running higher boost pressures than normal, hence Narain had access to all of its 230hp on the track.
"There's a fair bit of understeer dialled in, but I suppose when setting it up for an individual's preference, it can be tuned differently. For an entry-level professional motorsport series, this single-make championship spells phenomenal value, and serves as a great learning platform for drivers who aspire to take the touring car racing route."
Also see:
Tata Altroz iTurbo vs Hyundai i20 Turbo vs Volkswagen Polo TSI comparison video
Volkswagen Polo TSI, Vento TSI now priced from Rs 6.99 lakh, Rs 8.69 lakh
Volkswagen Tiguan Allspace long term review, second report