When presented with a long road journey and the choice of a few cars in which to do it, it's easy to see why a big SUV gets preference. You want space for passengers and luggage, you want big power to cruise effortlessly down the highway, and you want ground clearance in the very likely chance that said highway has eroded away in places. So, for my first outstation holiday since the lockdown, I was okay with releasing the vise-like grip I previously held on my long-term Hyundai Aura in exchange for the big Tig' that Shapur had been using. Mumbai to Goa? Bring it on!
HIGHWAY STAR: Silent, with good poise at three-digit speeds.
We wouldn't be travelling seven-up on this journey; no, it would be just me and three passengers, which is just as well, because though the Tiguan Allspace's big differentiator from its predecessor is a third row of seats, they are nominal at best. There's much greater utility in folding down the last two seats and freeing up a huge luggage area. This worked out well too, because while I pack like a sensible person, my companions seemed to think they were on a year-long scientific expedition to discover a new continent. In 5-seat mode, the Allspace's capacious boot swallowed it all – suitcases, supplies, guitar, office equipment (work from holiday) and all.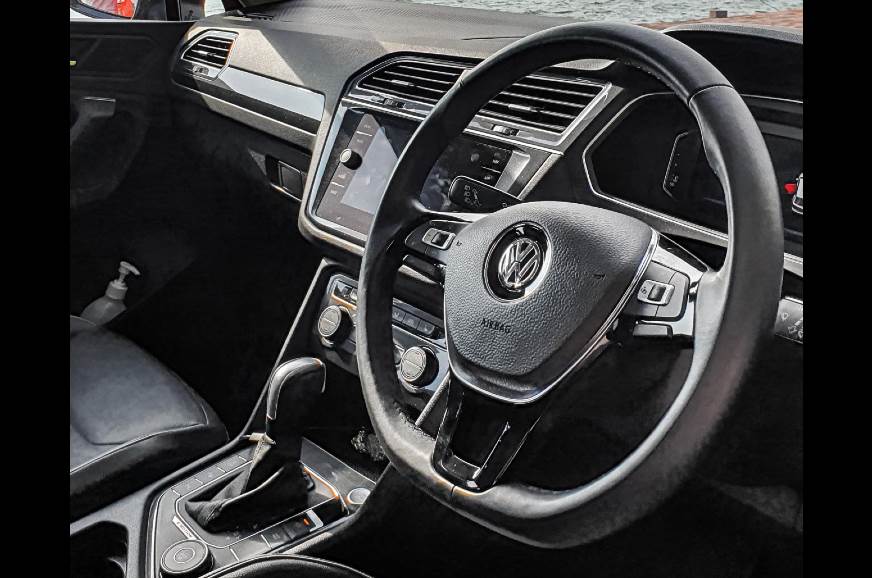 SHRINK WRAP: Doesn't feel huge from behind the wheel.
What this did, however, was add quite a bit of weight, and here's where I missed the VW Group's indomitable TDI diesel engine. Though the new 190hp, 2.0-litre TSI petrol engine is brilliantly refined and more than powerful enough, you simply don't get that characteristic effortlessness you would get with a diesel, and that's especially true when the car is loaded up. The weight does no favours to fuel economy either, and even on the highway, the big VW's petrol engine wasn't able to register double-digit KPL figures on our admittedly brisk drive. Thank goodness, Goa's petrol prices were a full Rs 10 lower than those in Mumbai at the time.
That aside, however, the Tiguan is just superb at closing down long distances. It's just so comfortable on a highway, with every manner of road imperfection smothered into oblivion by its 18-inch wheels and thick, 55-profile tyres. The suspension may be a little firm at low speeds, but it shines on the open road, letting almost none of the outside world into the cabin. Just ask my passengers, who, after I forced them out of their homes at 4:30am, slept through a huge chunk of the journey.
DRINKING HABIT: Fuel bills can be expensive, unless you drive with a light foot.
Excited by the prospect of driving the Allspace down, and subsequently buoyed by the relaxed journey itself, upon reaching Goa, I realised there was something that completely slipped my mind – the tiny roads. Perhaps this tall, wide SUV wasn't the best choice for this particular road trip after all. Once again, however, it pleasantly surprised, as from the helm, the Tiguan Allspace shrinks around you and is supremely easy to plot on even the narrowest and most winding roads, thanks to its light steering, clear all-round visibility and general composure. Let's just say I've driven these roads in a ladder-frame SUV that's of this same price bracket and it was no walk in the park.
THIRD-ROW WOE: Not a lot of space; best folded to expand the luggage area.
The next thing you know, a week went by in a flurry of beach days, barbecues, hikes and sojourns to parts of Goa I didn't know existed, the big VW hauling us back and forth in utmost comfort, its bright orange colour contrasting brilliantly with the sand and the sea. It's after a trip like this that you learn to appreciate the little things, like how black upholstery (you can also opt for white with the Allspace) doesn't pick up grime as easily, or how brilliantly effective active LED cornering lamps are on a set of narrow, unfamiliar roads at night.
The drive back was equally relaxed, even though we chose a different route via a very broken Chorla Ghat, as the Tiguan simply sailed over it. Sleepy passengers and all their luggage ejected, it was time for one last fun blast with an empty car before letting it (and me) get some much-deserved rest for the night. A Tiguan Allspace still won't be my pick for a daily runabout in Mumbai; it's simply too large. But for a road trip, provided you grit your teeth for the fuel bills, it truly is something special. Hmm, now where can I drive off to next?
Also see: