I've been a closet Imperiale 400 admirer since the BS4 version came around. While it was not quite on the mark in many aspects, it came with a pleasant degree of a 'classical motoring' factor that set it apart from the too-familiar Classic 350 and the too-eager Jawa. I didn't mind that it was heavy, rather long, and that it was styled by two different people – or at least that's how it appeared. So, when our BS6 long-term test bike was looking for an enthusiastic suitor, it hardly took much convincing for me to snap up its Swiss Army knife-styled key.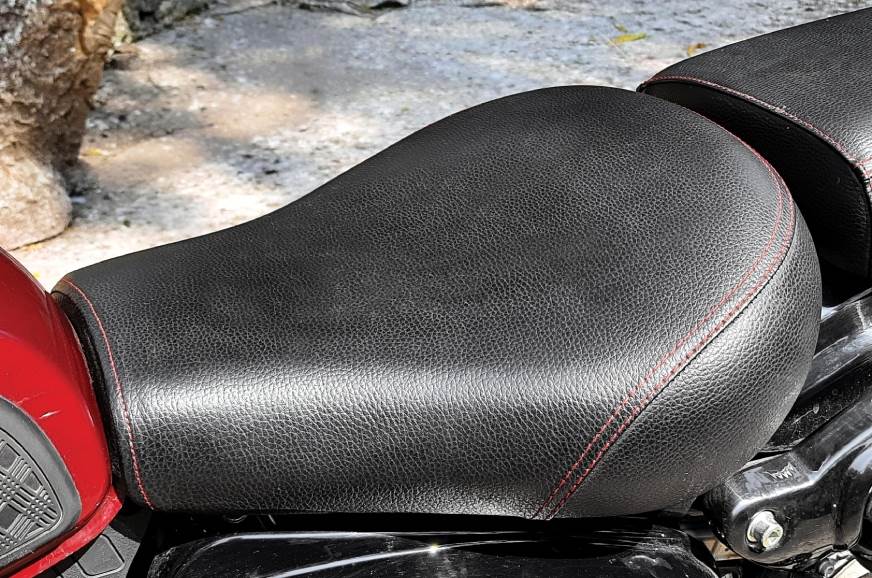 Firm, wide seats great for long distances.
With a moderately relaxed commute, rounding off to about 30km a day, the Imperiale fit into my daily routine exceptionally well, with its ample torque, tall gearing and effortless ergos. The metal fuel tank meant my indispensable magnetic tank bag was comfortably accommodated, crammed with all my worldly possessions, which I choose to bring to the office everyday, for some unfathomable reason. Over the first few trips, I did mind the rigid-mounted and somewhat outwardly positioned foot pegs – they can blow a tough knock on your shins, more so for riders below 5ft 10in. With time, though, I figured how to work around them, but I'm still not quite a fan. At the time, the Imperiale also had a service overdue, so I was gentler than I'd have liked – it does have a rather racy thump to it when you whack open the throttle – which resulted in an acceptable 25.4 kpl in a purely urban cycle.
Outwardly positioned rigid foot pegs can hurt, especially for those under 5'10".
It's another story that I nearly ran the Imperiale dry before its first tank-up in my possession, thanks to its previous rider (Grr! You know who you are) for not having reset the tripmeter but also because that digital fuel gauge is quite unreliable! Now that I do have an estimate of the Imperiale's range, I prefer referring to the trip reading to plan my next refuel; so far, 260km is the farthest I've managed to stretch a tankful, with two litres to spare in the 12-litre fuel tank. A larger fuel tank would have been nicer, come to think of it. While we're on the subject of niggles, I must bring up the front brake which, while sufficient, feels quite wooden. Even the brake lever adjustability bears no consequence on the feel, and as a result, while the engine is happy being ridden fast, I haven't yet established enough faith in it to be able to enjoy more than just very short bursts.
And then there's the existential, first-world problem the Benelli suffers from – that of having other nice motorcycles to share garage space with. Not fair, I agree, but at the time of filing this report, I did manage a short spin on the Imperiale and I think the month of March will see it clock some decent distances. Let's hope I haven't jinxed it!
Also see: