It's been over 2,000km since the last 790 report and after having put some miles on the thing, here's the verdict: I'm madly in love, and also slightly afraid – exactly what I want from the bikes I own!
Having ridden every other competitor available in India today, I can tell you, there may be faster rivals, but nothing offers the immediate, aggressive and exciting responses of the 790 Duke. Best of all, you can rip through two or three gears without the speedometer showing three digits, and that means plenty of fun can be had without hitting stupid speeds. Nevertheless, this sort of a pit bull-on-a leash demeanour certainly isn't for everyone, but I find the violence addictive, although it does require a lot of self-control on the public road.
In fact, this reminds me that the 790 has, by far, the best electronic assists I've experienced on any bike this side of Rs 15 lakh. Dialling the nine-level traction control down to smaller numbers allows big power slides without harsh interference, but also stops the bike from high-siding you clean off. That's extremely helpful on Mumbai's ridiculously slippery roads, especially after the installation of a smaller front sprocket, and the 790 now spins up under just half throttle in third gear.
Quickshifter has gotten smooth again after a software update.
The engine is addictive enough that I'm willing to overlook the occasionally clunky gearbox, and the up-down quickshifter only adds to the drama with loud bangs from the exhaust. The quickshifter did start feeling hard after the 2,000km mark, but a quick software reflash fixed that.
The chassis feels wonderfully light and reactive, but sometimes, that's not a good thing. I'm guessing most European riders don't face this, but the front-end does not like acceleration over bumpy or broken sections. It took one massive tank slapper to get me to switch the stock 5W oil in the non-adjustable steering damper to 20w, and that really helped.
As for the disappointingly dull brakes, better pads help, but I think big improvements will only come with larger discs and a better master cylinder. However, the one aspect I really want to improve is the suspension. Surprisingly, on track I didn't mind it, but bumpy Indian roads highlight the weaknesses of this non-adjustable setup. A big part of the project plan for this bike is aftermarket suspension with better damping control and composure.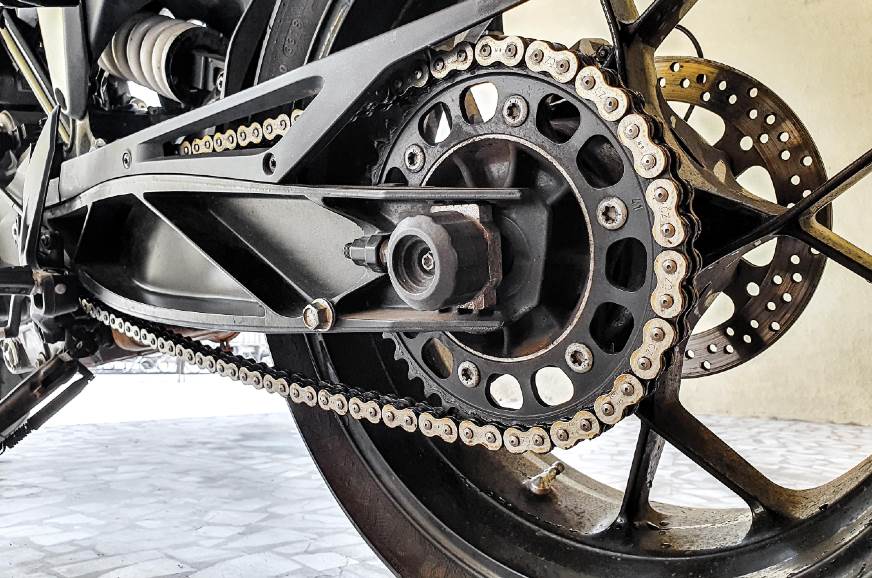 Chain slap against the swingarm is a way of life with the 790.
Now, let's talk about the living-with aspect. Numerous KTM owners, both Indian and international, have faced the issue of leaking oil gaskets. Fortunately, my bike hasn't thrown up that issue, but I did have to get the radiator changed under warranty. There wasn't any noticeable problem, but apparently it was releasing some residue into the coolant and the service centre folks suggested I have it changed.
Honestly, my biggest issue right now is that the stock Maxxis rear tyre is being eaten up at an alarming rate. Normally I'd be okay with that, but the illogical restriction on tyre imports is worrying. Until that gets sorted out, I'll be riding with the traction control set high and with a very measured right hand. Well, at least, I'm going to try!
Also see:
KTM 790 Duke long term review, first report