Freeing up space and organizing closets, drawers and other cluttered rooms and spaces can sometimes be so overwhelming, especially in today's busy world. Even if you're able to put in the extra effort it takes to clean your home, spaces that are disorganized rarely feel clean. And it's no secret that a more organized home improves the wellbeing of everyone who lives there. That's why organizing tips, ideas, inspirations, and stories are among Good Housekeeping's most popular, and with that in mind, we set out to find the best, most useful, most innovative, and most well-designed organizing products, tools and devices.
Meet the Experts
How We Tested
To select these 34 top-performing products for our first Good Housekeeping Storage Awards, our experts sorted, stacked and sifted through over 140 submissions from the world of organizing products to assess performance, durability, flexibility, versatility, ease of use, aesthetics, size and other criteria. We looked at organizers both big and small — for closets, garages, home office, kids' supplies and artwork, shoes and accessories, photos, travel, kitchen supplies and food storage and beyond. With over 60 combined years of testing experience in the Good Housekeeping Institute and organizing know-how, you can trust that we can spot a great organizer when we see it!
---
Super-Streamlined Kitchen

---
Fridge All-Stars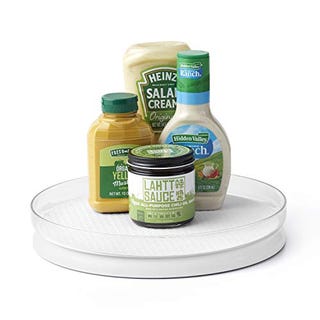 Stellar Spinner
FridgeView Turntable with Non-Slip Mat
YouCopia
amazon.com
$19.09
YouCopia's turntable keeps sauces, snacks and fridge and pantry items within reach. Or use it under a bathroom sink for toiletries or on a desk for supplies.
LAB RESULTS: Its removable nonslip mat and its rim keep everything in place as it turns, and at 11 inches wide, it holds a lot.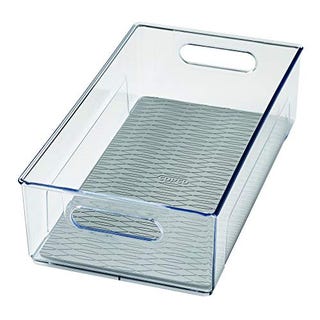 Better Bin
Storage Organizer Bin
Clear bins are an organizing must-have, and this Copco one is a winner. Use it in — or on top of —the fridge, in a pantry, in a closet or wherever you need order.
LAB RESULTS: Seeing inside it is effortless; a nonslip mat adds stability; handles make it grabbable.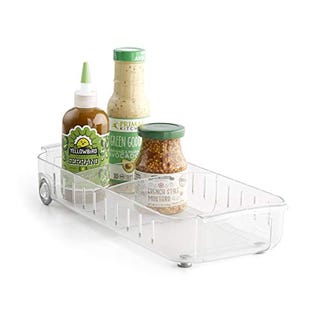 Slim and Trim Caddy
RollOut Fridge Caddy
YouCopia
amazon.com
$14.99
At only six inches wide, YouCopia's wheeled caddy brings items from the back of the fridge (or in deep, narrow cabinets) front and center.
LAB RESULTS: The adjustable dividers keep things organized and in place. There are handles for lifting the entire container and non-slip feet up front for stability.
---
Smart & Sustainable Food Fixers

---
Wow-Worthy Closet Tools

---
Under-Sink Space Savers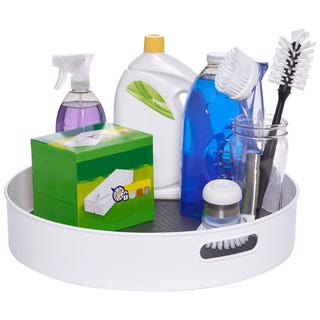 Versatile Turntable
Non-Skid Under Sink Organizer
Under-sink cabinets can feel like black holes: Who knows what's back there? Copco's 18-inch turntable puts frequently used cleaners and tools within reach.
LAB RESULTS: Its nonslip liner and high sides mean things stay put while you spin it. Side handles make it quick to lift out.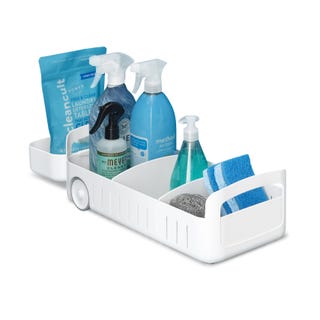 Convenient Caddy
RollOut Under Sink Caddy
YouCopia
amazon.com
$29.99
Reaching deep into a cabinet can be challenging, especially under a sink. With items on wheels, you won't lose anything again.
LAB RESULTS: YouCopia's dividers are adjustable for a custom fit, and the high sides add stability. The extra basket on the back is removable.
---
Sensational Family Gear

---
Multitasking Marvels

---
Genius Gadgets