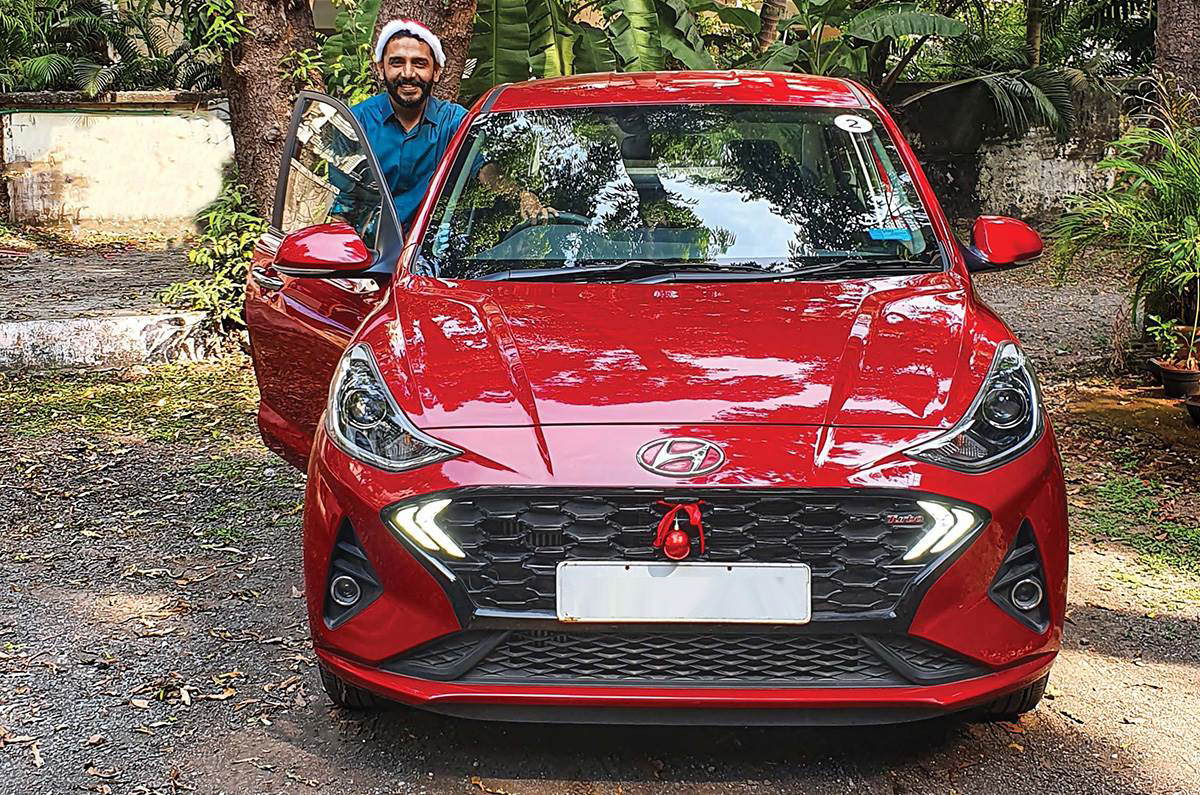 You can tell you're past the honeymoon period and well-worn into your relationship with your car when what once amazed you about it is now taken for granted. The novelty has worn off a bit and things have now settled into a bit of a routine. It's been nine months and 2,700km since I first gleefully pocketed the key fob of Autocar India's long-term Hyundai Aura Turbo, and though it spent a few months doing… not a whole lot during lockdown at Sergius' house (Autocar India, August 2020), it's now back with me and helping me get through a far more unlocked grind.
FUEL ECONOMY: Surprisingly good for a turbo-petrol car.
The thing is, if it's a good relationship – yes, even with your car – after the initial excitement has died, you find new ways to keep things interesting. For instance, the powerful 100hp, 1.0-litre turbo-petrol engine, which is the single biggest highlight of our long-term Aura. Many a colleague has taken it out for a spirited spurt over a lunch break, returning much too late, claiming he'd 'gotten lost' on the way back to the office. For the first few months, I'll admit it resurrected a bit of the boy racer in me. No gap in traffic was too small or distant for this little rocket to plug all too easily. I'd work around the lightness and disconnection of the steering, as well as the looseness of the suspension and lack of grip from the tyres, because the brief but strong hit of power from the little engine in the little car was just too addictive.
RIDE QUALITY: A bit firm-edged on those shiny 15-inch wheels.
But, like I said, novelty can wear off. These days, as business has returned to normal, driving around has once again turned into a drudge, and usually involves crawling from one traffic light to the next. The focus has shifted to driving smoothly, and getting the most out of every litre of petrol, what with it costing more than Rs 90 in Mumbai. The first part takes a bit of practice, as power delivery can be a little jerky at low revs, off boost, and this is particularly noticeable with each upshift. Once you find the sweet spot in the rev band, however, the second part takes care of itself, even in bumper-to-bumper traffic, it's possible to keep the Aura Turbo's average fuel economy readout above the 10kpl mark, and a more prudent driver could even see 12 without an issue. It's not quite as thrilling as just gunning it, but unlocking this smooth, frugal, yet responsive zone of a small-capacity turbo-petrol engine is a fun game on its own.
PERFORMANCE: Turbo power and light weight are a heady mix.
The occasional commute aside, the Aura has been pressed into a couple of unexpected airport runs, where its 402-litre boot held up admirably, and over Christmas, I even dressed it up with a 'red nosed' bauble on its massive grille. Unfortunately, this little festive accessory was quickly lost to a brisk blast down Mumbai's Bandra-Worli Sea Link bridge. What can I say – it's hard to keep the boy racer completely at bay; especially with a peppy little car like this.
HANDLING: For all that power, wish it didn't feel so loose.
Also see:
Hyundai Aura long term review, second report
Hyundai Aura long term review, first report