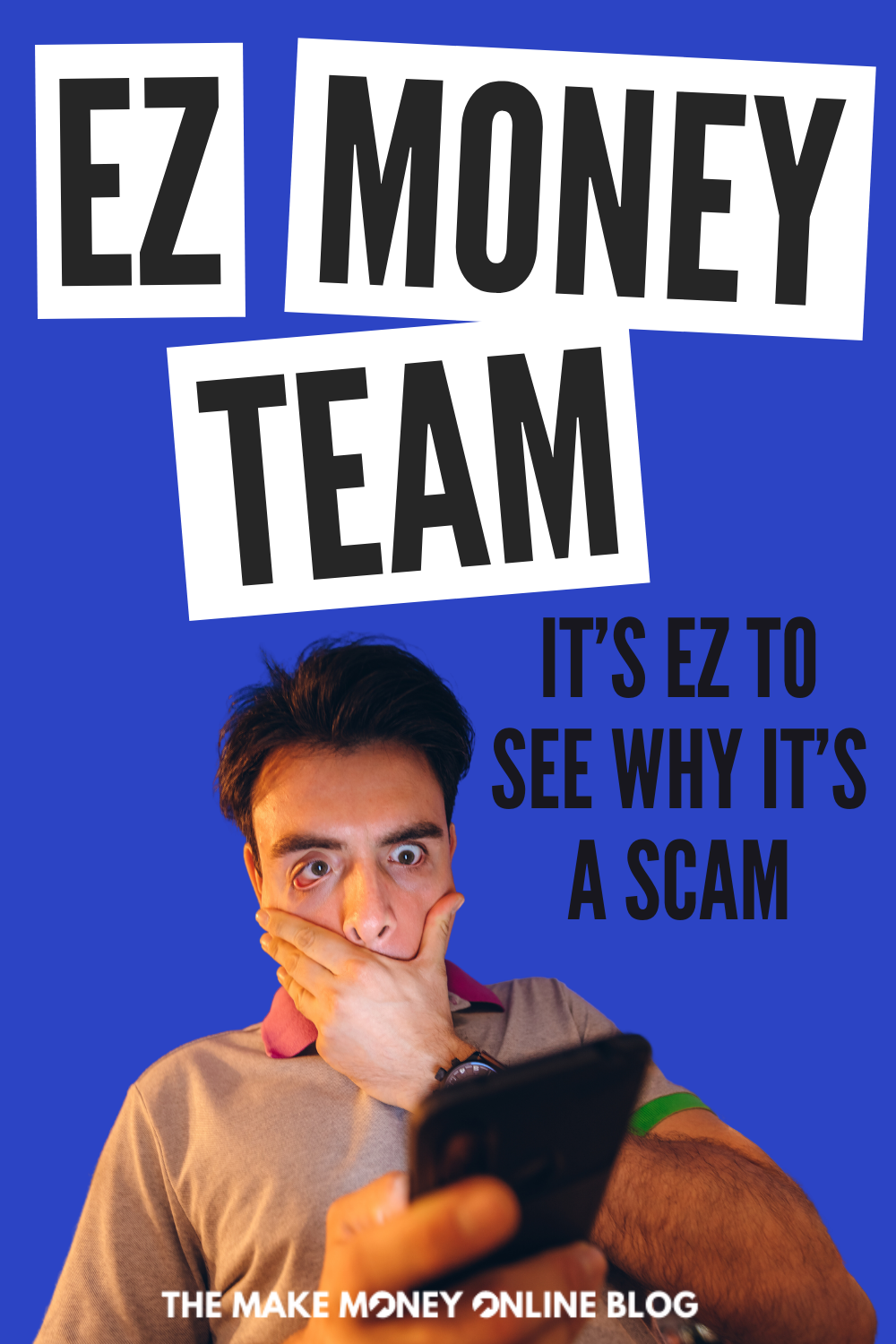 First thought when I landed on the EZ Money Team website was this smells like yet another get-rich-quick scam.
I could be wrong though (it does happen on occasion!) so I decided to sit down and write this review for anyone else thinking of signing up.
The EZ Money Team (or The EZMT System) creators claim they've come up with the way to bank up to $5K a week… but as you and I both know, it's always worth taking a few minutes to do your research before diving in headfirst.
This is by far the single best way to avoid scams and ensure you only invest your time, energy and money into legitimate training programs that actually get results.
Is EZ Money Team a scam or the real deal?
Let's find out!
Scam victims, lured in by crazy earnings claims, happily pay $9 thinking they're getting access to a complete system, only to find out later they need to pay $1,000's in additional costs and upgrades just to implement the training.
I'm not surprised Oscar Ortiz chose the name 'EZ Money Team' – this is clearly a program designed to generate easy money for him while everyone else ends up worse off.
Feel free to skip the whole getting scammed part and get your free beginners course here to learn a real way to make money online.
What We'll Cover In This Review:
What Is EZ Money Team?
I've reviewed hundreds of making money courses; there are those 'guru' courses like YTA Method and Nine University that cost $1,000's, MLMs like Heal Worldwide and Nikken that promise miracle-working health drinks and a sure-fire way to work from home.
Then there are those courses that actually deliver, like Wealthy Affiliate and Project 24. They give you cutting-edge step-by-step training on how to build a real business online.
Finally, there are get-rich-quick scams like Secret Millionaire Bot and Big Profit System that pull you in with promises of fast and easy money before screwing you over.
EZ Money Team falls into the last category.
EZMoneyTeam's website is RIFE with deception.
There's a video of a news report of with a work from home mum who 'barely' works 1-3 hours a day… but notice they never mention EZ Money Team by name.
They tell us they've been featured on CNBC, Fox News and ABC – this is an outright lie.
We're told some pretty bold claims like "EZ Money Team is foolproof, easy-to-use system", trying to lure you into their trap with promises of $500, $1,000 or $5,000 a week for doing next to nothing.

They want you to think this is an amazing life-changing done-for-you system and you're lucky to have stumbled across their website.
They show a countdown timer expecting you to believe the site's shutting down in 12 hours so you 'better sign up quick!'. The problem is they've been saying that for weeks….
Hit refresh and you'll see the timer reset itself… they have no intention of closing the site. Why would they when they suck more people in and extract more cash?
Can we trust anything these guys say?
There's a sign up form on the homepage saying I can get instant access to the system in exchange for my name and email.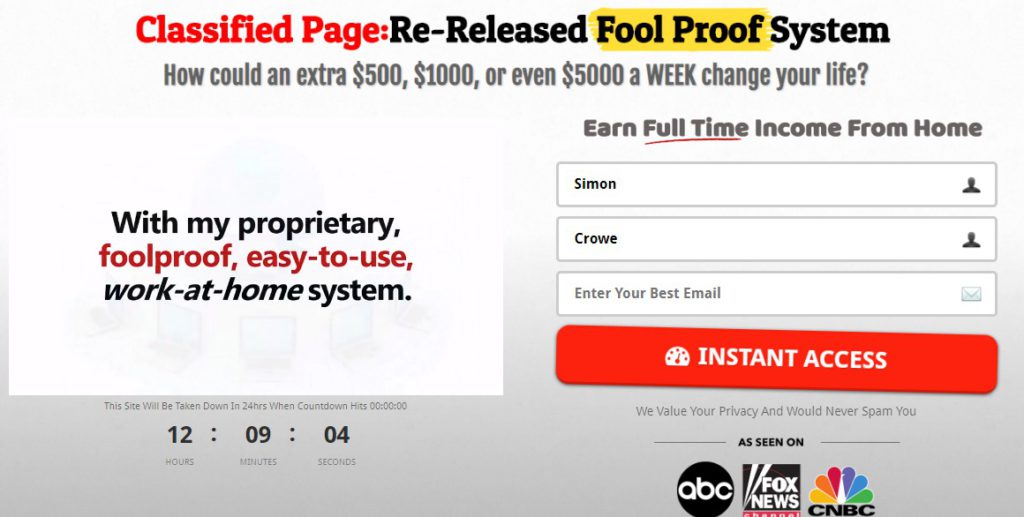 Going against my better instincts I enter my details and hit the red button. Then I'm taken to a second page telling me my 'spot is confirmed' and the EZ Money Team is actively working to create my commission account now – whatever that means.
There's a second video telling me to keep this system is 'classified' and I should, under no circumstances, tell anyone else about it.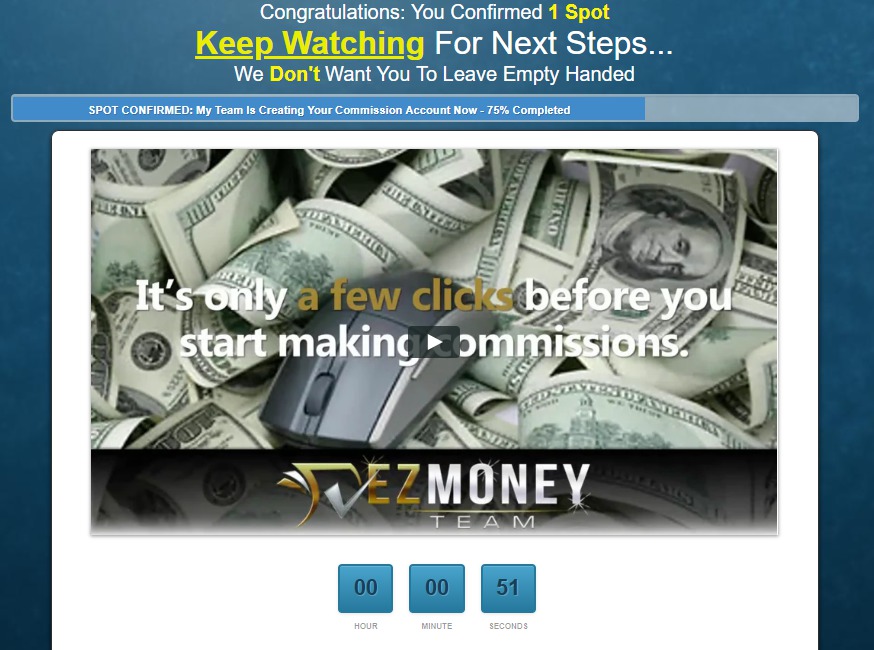 You're told that by the end of the video you'll have access to everything you need to quit your job and live the life of your dreams.
What is this foolproof, top-secret money making method?
Copying and pasting…
Seriously!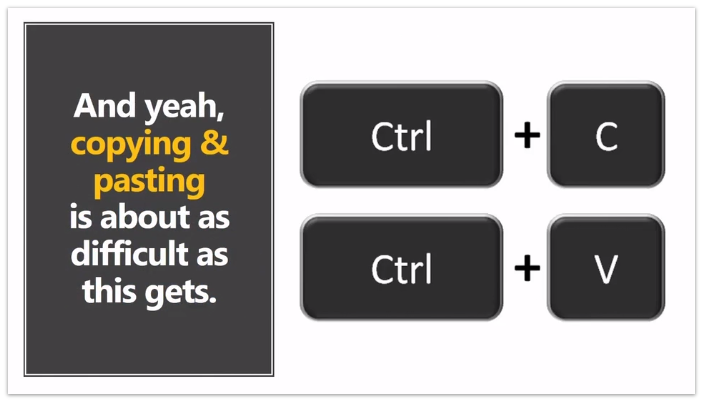 The EZ Money Team owner calls himself Jeffery Hart in the video, but he's lying about that too. His real name is Oscar T. Ortiz.
He goes on to show us 'real proof' his system works by telling us some success stories of people who have already signed up.
This is Sarah, a woman whose life has apparently completely changed after earning $37,000 in her first 3 months of using the system…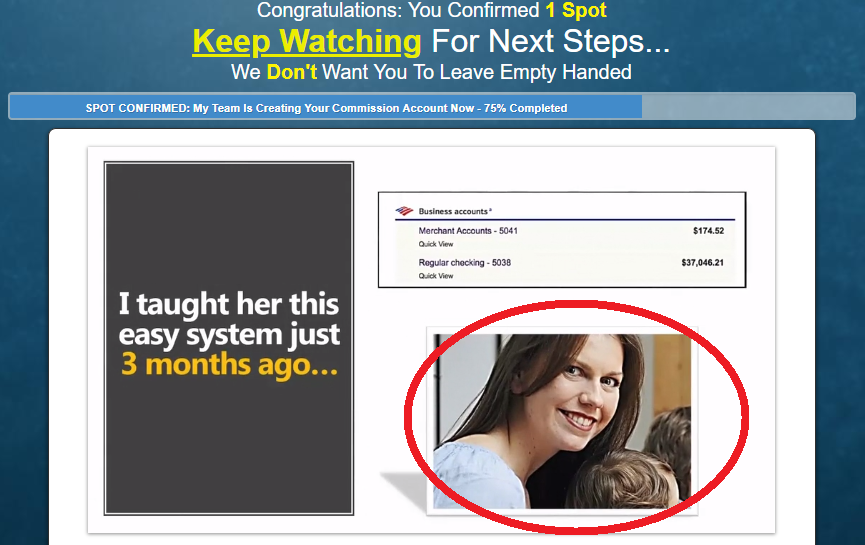 But it seems even though she's raking in all this cash, she still earns a bit of extra money on the side posing as a Getty Images model: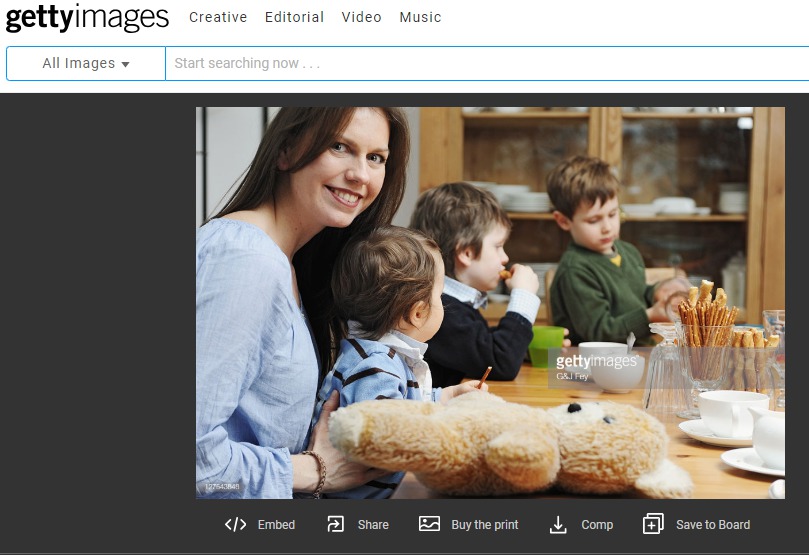 Even the testimonials aren't real! I'm afraid my initial suspicions have been confirmed…
There's nothing of substance here. All we get are hyped-up sales tactics, fake earnings proof and phoney testimonials – all classic hallmarks of an online scam.
Why They're So Desperate To Sign You Up
So how much is this revolutionary copy and paste income-generating method? Well, that really depends on how many times you try to exit their site…
The price starts off at $37, but try and leave the site and you'll see a pop-up with a knocked down price of $27…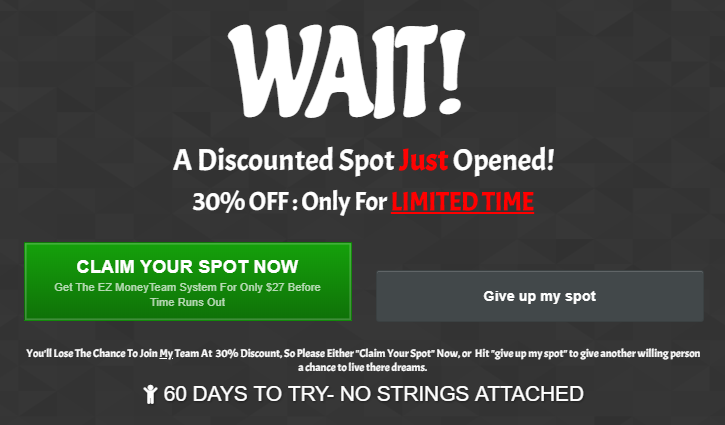 Hit the 'Give up my spot' button and you'll be offered a whopping 75% discount at just $9 for lifetime access.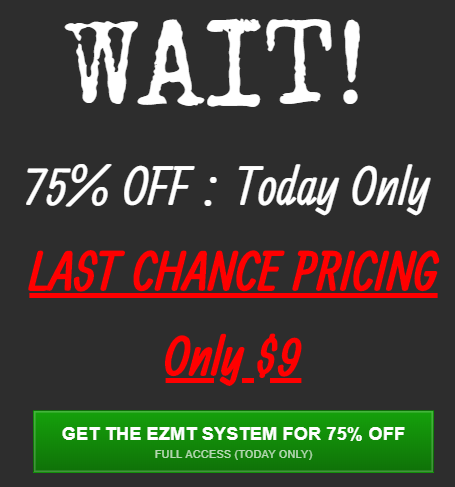 The question we need to be asking ourselves is this:
Why are they trying so hard to sell you the $5,000/week EZMT System for a measly $9?
I'll tell you why:
Because they only really start making money out of you once you've signed up.
EZ Money Team Upsells: $476.88/Year
They know once you're already invested, with the help of their 'VIP coaches' and training videos, you'll be more likely to buy into their many upsells.
You'll hear things like "If you really want to take your earnings to the next level…" or "You need this if you are seriously committed…" and so on.
Upsell 1: EZ Money Team Platinum Membership Access – $117
Upsell 2: EZ Money Team Gold Membership – $29.99/month
Costs To Implement The Training: $3,873
As you can see in the image below, 4 out of the 5 training modules are based around getting you to sign up for other products and services. This is no accident.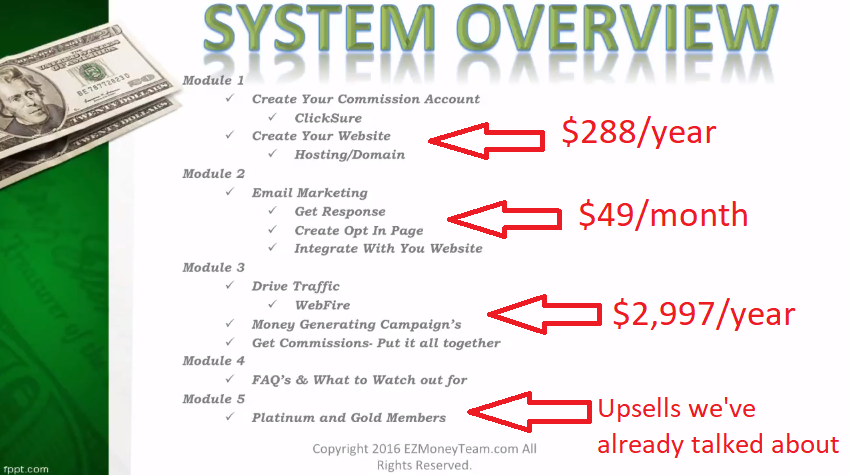 EZMT owner Oscar Ortiz (who wants us to think his name is Jeffery Hart) gets a percentage of whatever you pay so he's making even more money from you.
Here's a quick breakdown of the tools and services you'll need to sign up for to make the training work:
CoolHandle domain registration and web hosting: $288/year
GetResponse email autoresponder: $49/month
WebFire lead generation and analytics: $2,997/year
5 Reasons You Won't Make Money With EZ Money Team
1. The Training Is Outdated And Ineffective
Get into the training area and it looks a little something like this: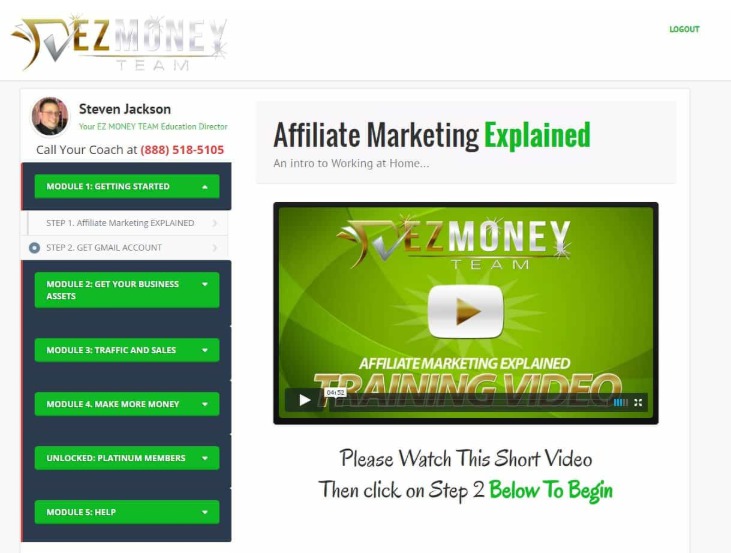 Not only is each training module designed to help the trainer instead of helping you, but all of the training videos are also available to watch on YouTube for free.
I've just given you completely free access to the complete EZ Money Team training and yet I still don't recommend you watch them.
Why? Because the methods he's teaching only set you up for failure!
Follow the training and you end up spending $100's to set up a scammy-looking landing page to promote half-baked Clickbank products in the hope of making a sale. This isn't the long-term strategy you want to base your future financial success on!
You'd be much better off taking my top rated affiliate marketing course complete with more than 50 step-by-step video training lessons.
2. You'll Pay For Low-Quality Traffic That Doesn't Convert
It's ok paying out for landing page and email marketing software, but without traffic (i.e. people actually landing on your landing pages) you'll have no-one to spam and no way of making money.
So what revolutionary and new traffic generating method does the EZ Money Team training teach you?
Solo ads. Yep, you'll need to pay some unknown solo ad vendor with 1,000's of emails addresses to send your low-quality offer out to his list. Not only is this expensive, but any traffic you do get will also be untargeted and will not convert.
Using solo ads is the worst possible traffic method anyone can give to someone starting out because it's costly, high risk and completely ineffective.
3. EZ Money Team Turns You Into A Spamming Scammer
After you've spent your entire advertising budget you'll be forced to turn to social sites like Facebook to try and get some free traffic.
Module 4 of the training recommends using hyped-up clickbait headlines like "Make $1million in the next 3 days doing next to nothing!" to lure people in.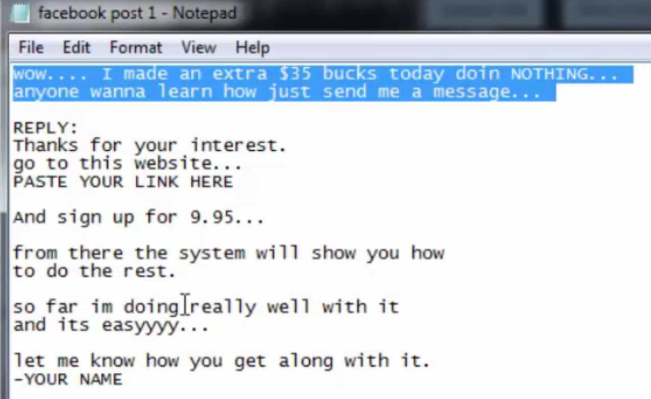 Not only is this unethical, it doesn't work. When was the last time you clicked on a spammy link in Facebook and handed over your credit card details? Exactly my point.
Plus, promoting scams on Facebook, really that's what you want to do?
I didn't think so.
4. Those 'VIP Coaches' Are Nothing But Pushy Salesmen
Sign up to EZ Money Team and you're assigned a 'personal success coach' who's supposed to guide you along the right path. It sounds great right?
In truth, their sole purpose is to gauge your commitment level, find out your credit limits then milk you for all you're worth.
Taking advice from them is like asking a thief which mat you should hide your door keys under. The more you trust them, the easier it will be for them to extract money from you.
5. EZ Money Team Is Easy Money For The EZ Money Team
It's a bit of a mouthful but it also happens to be true.
With numerous upsells and an entire training course centered around getting you to sign up for more products, this is a system solely designed to take money out of your pockets and put it into the pockets of the EZ Money Team scam owners.
Prolific scammers like Oscar T. Ortiz are also behind scams like Million Dollar Replicator, The Pay It Forward System and 6 Steps To Freedom. They prefer to use aliases to remain anonymous so their con artistry doesn't catch up with them.
More EZ Money Team System Reviews
Is EZ Money Team A Scam?
With crazy promises of easy money, fake news endorsements and fabricated testimonials, I will lose no sleep for saying EZ Money Team is a total scam.
Whether it's available for $37, $27 or even $9, this will only turn out to be a waste of your time, money and energy and I do not recommend it.
To be fair, I did find ONE truthful statement on the EZ Money Team website:

Start Making EZ REAL Money Online
There are so many better options to succeed online where you can get started for free.
If you're ready to build a serious website business that attracts streams of free, daily and targeted traffic without the hype and upsells then check out this free beginners course. You'll be glad you did.
Take action and apply the lessons and you'll learn exactly how to generate a real and substantial income online for many years to come.
Have Your Say
If you've found this review of EZ Money Team insightful, scroll down and let us know in the comments!
If you have any questions at all about this review or anything else, feel free to get in touch and we'll be more than happy to help you out.
Simon Crowe is the founder of The Make Money Online Blog and is on a mission to help as many people as possible kiss their bosses goodbye.
Get his free Affiliate Marketing Guide For Newbies to learn exactly how to build a real income online and make your dream business a reality.