The original coupé-SUV, BMW's X6 was radical for its time. Launched in 2008, it split opinion right down the middle, with some even questioning its very existence. Today, however, the X6 is more widely accepted and is largely credited with having kick-started an all-new segment. It's also been a success for BMW, which to date has sold approximately 4,50,000 X6s.
The X6 class, as it should be called in deference, is quite popular in India too. Rivals include Audi's Q8, the successful Mercedes GLE Coupé and now even Porsche's Cayenne Coupé. Does the new BMW X6 have enough muscle to take on its rivals?
SCIENCE FRICTION
Designed to shock, like the original, with a distinct variation on BMW's current SUV design language, the 2020 model is sharp-cut, forward-looking, and in detail, distinctly of the future. This is most apparent from the square-rigged rear, which looks hewn from a solid block of granite. Adding definition are the long, L-shaped tail-lamps, and various layers that catch the light.
Blue inserts in headlight indicate long-range laser lights.
Around the side, the low roof gets your attention, and then up front, again, the interplay between the large stand-up grille, the wide-eyed headlamps and various surfaces and angles works well. It's not for everyone, but it clearly has its fair share of fans out there. BMW's signature grille can now also be had with illumination, if you like that sort of thing.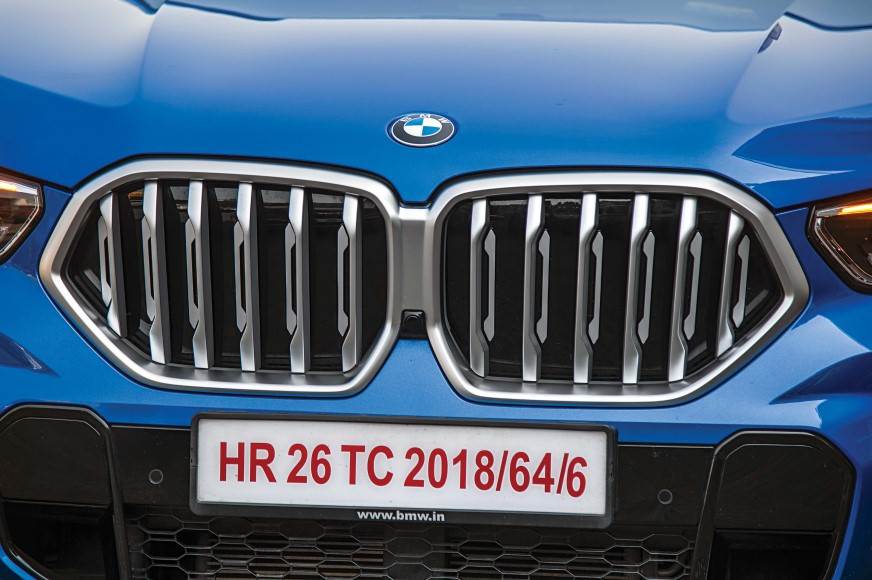 Larger and more upright kidney grille can be illuminated.
When it comes to size, with a length of 4,935mm, the new X6 is 26mm longer than the previous one. The wheelbase is stretched by 42mm, at 2,975mm, and it's also 15mm wider and 6mm lower. While the X-Line version gets air suspension, this M Sport version has conventional coil springs for a sportier drive.
A QUESTION OF SPORT
The X6 xDrive40i is powered by BMW's 3.0-litre, in-line, six-cylinder turbocharged petrol unit. Delivering 340hp, it comes mated to an 8-speed torque-converter automatic and sends power to all four wheels via BMW's electronically controlled xDrive all-wheel-drive system.
Power delivery of the straight-six engine is very linear.
Despite its bulk, the X6 makes light work of traffic. The 40i engine is particularly smooth in operation. It responds positively when you tap the accelerator, and ZF's 8-speed gearbox is both, silky smooth and super quick. Put your foot down and the BMW even accelerates in an impressive manner, winding up the powerband with all the energy of a naturally aspirated engine, and pulling it all the way to the redline feels a real treat.
While performance is more than adequate, that thrilling and immediate spike you get on some big turbo engines in the mid range when you mash put your foot down is missing. Merc's 435hp AMG GLE 53, for example, responds in a more emotive manner when you hit the gas for sure, some of the punch down to the electric torque fill. It's not that the X6 feels relaxed or laid back, it's just that the power delivery is so linear and progressive, you miss the sharp ramp up in performance you get with a spikier power delivery.
340hp six is smooth and likes to rev.
The X6 is quick against the clock when you compare claimed times. It's half-a-second quicker to 100kph than Porsche's Cayenne Coupé and only 0.2sec slower than Merc's considerably more powerful AMG 53; and the BMW is 60kg heavier too, at 2,310kg.
When we tested it on our fuel, and in our warmer conditions, the X6 even ran the 0-100kph in 5.89sec, with 150kph coming up in 12.6sec and 180kph in 19.3sec. It will sure make for a crushingly effective long-distance companion, one that can take our poor roads in its stride.
The big SUV does the 0-100kph sprint in 5.89sec.
There is a bit of a stiff edge to the ride, however, especially at low speed. On its M-Spec coil springs and adjustable dampers, it feels a bit heavy footed too when riding through bumps. Still, as you go a bit faster, up from walking speeds, comfort levels improve and the springs absorb more and more of the road underneath. And then the bumps don't quite upset the composure quite as much. There's also a bit of tyre noise in the X6 at higher speeds.
We've always been impressed by how well the X6 corners for all its bulk, and this is true of the new one as well. There's a meaty directness to the steering that impresses straight off the bat. It turns into corners positively and though there is some body roll as you pile on the speed, the X6 always feels agile and responsive. In fact, dive harder into corners, carry more speed past the apex, and rather than the handling falling apart and getting sloppy, the X6 seems to tighten up and feel even more agile. The superbly setup electronically assisted differential at the rear does a lot to goad you on. While handling and driver enjoyment are clearly a step up on other coupé-SUVs in this class, it must be said that Porsche's Cayenne Coupé feels more agile, lithe and more car-like to drive.
The ride is a bit stiff on the 20-inch wheels at low speeds.
UNDER THE ARC
Climb up to the cabin of the new X6 and it's the massive width that gets your attention; the far-side door pad seems a mile away. And then, predictably, what you get immersed in next is the high-quality cabin; the acres of double-stitched leather, the precision-built cool metallic inserts, the well-finished plastics buttons and the classy chrome. In fact, there isn't a badly built bit of trim visible anywhere, save for the area of plastic that surrounds the gear lever. The 12.3- inch touchscreen gets gesture control, which is great for swapping to the next track or altering the volume by just waving your hand around, and doesn't that M Sport steering wheel with its metallic spokes and thick leather rim hit the spot? You even get heated or cooled cup holders, a large elbow box and arch-like door handles that mirror the design of the centre console. Even the massive front seats have the right combination of support and suppleness, which makes them perfect for day-long journeys.
Screen is sharp; gets gesture control.
Those in the second row now also benefit from added leg and shoulder room, thanks to the increased space. The rear seat, placed low due to the tight-fitting roof, however, isn't quite as comfortable. There's loads of legroom, the supportive backrest is nicely reclined and visibility from the rear seat is also decent, but you are sat a bit knees-up, and that is less than ideal. Despite the space-saver spare under the floor of the boot, capacity remains at 580 litres (65 litres fewer than the X5), increasing to 1,530 litres with the 40/20/20 seats folded.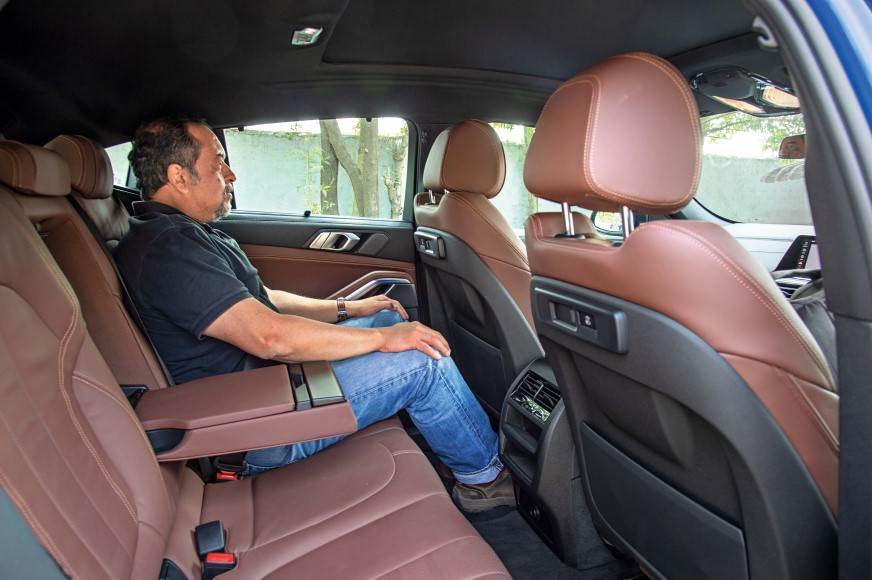 There's plenty of shoulder and leg room in the back, but you are sat low due to the low roofline.
With the M Sport spec, you also get M-specific metal pedals, a fruitier M Sport exhaust system, auto high-beam switching, a panoramic sunroof, blinds on the rear windows, wireless Apple Car Play (but no Android Auto), a 32GB hard drive and a grille that opens and closes on the fly, among many, many other things.
SINISTER SIX
Targeted at buyers looking for a luxury SUV that has more than a bit of sporting flair, the X6 hits the spot. BMW's third-gen coupé- SUV has its own individual look, the cabin is superbly built and put together, it is well equipped and, for all its bulk, it even drives in an extremely sporty manner. What places it towards the top of its class, however, is the Rs 96.9 lakh price tag. While that's a big pile of cash by any standard, its rivals are much dearer. Mercedes' GLE 53 costs Rs 1.20 crore, Porsche's Cayenne Coupé goes for Rs 1.32 crore and even the price-revised Audi Q8 costs Rs 99 lakh. We can't tell for sure until we do a full-blown comparison, but BMW's new X6 certainly seems to be an odds-on favourite. Those interested in a luxury coupé-SUV with a sporty edge, make sure you give it a long, hard look.
Also see:
BMW 3 Series long-wheelbase launch on January 21
BMW 2 Series Gran Coupe Black Shadow edition launched at Rs 42.30 lakh