Kia shares its engines and gearboxes with the Hyundai Venue, so it gets an 83hp, 1.2-litre, four-cylinder petrol engine with a five-speed manual gearbox in the entry-level models, a 120hp, 1.0-litre, three-cylinder turbo-petrol engine with either a six-speed iMT or a seven-speed dual-clutch automatic, and a 1.5-litre, four-cylinder diesel with 100hp and a six-speed manual, or 115hp and a six-speed automatic. We've sampled all but the 1.2-litre petrol engine.
Digital speedo is nice; instrument cluster design quite unique.
The 1.5-litre diesel-manual makes 15hp and 10Nm less than the automatic because it uses a less-expensive wastegate turbocharger. This engine is very refined, be it at idle or on the move, and it only begins to rattle past the 3,500rpm mark. But you'd seldom be revving beyond that as power delivery drastically tapers off in the last 1,500 revs. What's nice is that all the performance is available low down in the rev range, making this one light on its feet and responsive to any accelerator input. It offers the flexibility to amble in a higher gear at lower revs without the need to downshift too often to get moving. Despite being a bit down on power, the manual sprints to 100kph in just 11.73sec, a bit quicker than the more powerful automatic. However, beyond that, it begins to run out of steam and trails the automatic to 160kph by nearly 7.0sec. So, while pedal-to-the-metal driving isn't its forte, its strength lies in its easy-to-drive character, complemented by a light clutch, slick gearbox and ample low-end pulling power.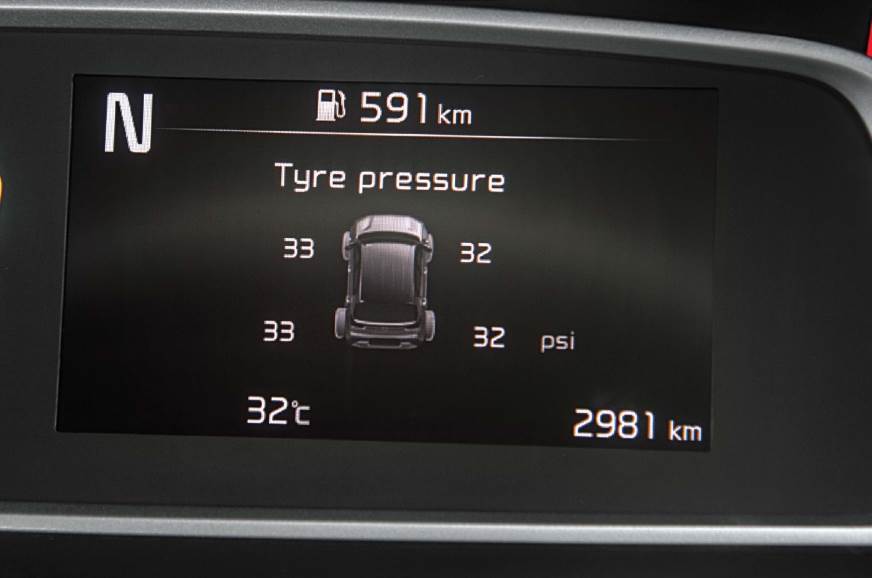 MID is easy to read, is info-laden and includes a tyre pressure monitor.
But for a truly effortless experience, the diesel-automatic is the one to go for. This one uses a variable-geometry turbocharger and is available in the same 115hp tune as the larger Seltos, paired to the same six-speed torque-converter automatic. With a lighter kerb weight, performance is bound to be strong, but it is actually the ease with which this car goes about its duty that really impresses. The transmission is very intuitive and remains in the right gear at all times, and this torque converter feels perfectly in sync with this engine's tune. The well-judged gear ratios keep the revs smack in the powerband, which only adds to the overall drive experience. There are drive modes too – Eco, Normal and Sport – which alter the responsiveness of this motor. However, the difference between the drive modes is only prominent when driving with a light foot; when driven flat-out, it clocked identical timings in all the different modes.
Only the driver's power window switch is illuminated; others aren't.
The turbo-petrol engine in the line-up is a familiar unit, which we've experienced in the Venue. What's nice is that this small-capacity engine has a very broad powerband and performance from 2,000-5,000rpm is particularly strong, although power delivery isn't as smooth as Volkswagen's three-cylinder TSI engine. The dual-clutch transmission does a nice job of masking this engine's turbo lag. With short ratios, this gearbox reaches 100kph in fourth gear, but the shifts are so quick, and performance is so strong, that it reaches 100kph from a standstill in just 11.42sec. While this transmission shifts quite seamlessly for the most part, it isn't the smoothest when driving at low speeds in traffic. Also, you'll often be left reaching for the tip-tronic mode to take manual control of the transmission, and that's when you'd feel the absence of the paddle shifters. Like the diesel-automatic, this one gets driving modes too, but there's a greater difference between the modes here. As expected, Sport mode delivers the strongest performance, but what is surprising is that it is actually the Eco mode that is quicker than the Normal mode when driven flat out.
Performance from 0-100kph, 20-80kph and 40-100kph takes 11.42sec, 6.36sec and 8.28sec, respectively, in Sport mode, 12.65sec, 6.79sec and 9.08sec, respectively, in Normal mode, and 12.29sec, 6.69sec and 8.79sec, respectively, in Eco mode.
Cleverly designed areas all across the cabin to stow your phone and other knick-knacks.
Kia hasn't offered a conventional manual transmission with the turbo-petrol engine to begin with (it could join the range later), instead it gets an iMT or intelligent manual transmission, in Kia speak. It is basically a manual transmission minus a clutch pedal. It is very easy to get accustomed to this concept of shifting gears without using a clutch. If anything, it makes the driving experience a lot less cumbersome, especially in bumper-to-bumper traffic. The shift action is very smooth and the gears slot into their well-defined gates rather effortlessly. You do need to be conscious of being in the right gear, but there is a prompt on the MID that suggests an upshift or a downshift, and it will even beep in case you have come to a complete halt or are trying to start off in a gear higher than second. What's nice is that the gear ratios are much taller than in the DCT, and the third gear is so flexible, it can be used from 20kph all the way till 137kph without breaking a sweat. 0-100kph is over 1.7sec slower than the DCT, and this one doesn't support aggressive launches or quick shifts either. So, while this transmission isn't for those seeking an engaging drive, it will surely appeal to those who enjoy rowing through gears manually but have certain knee or leg-related ailments.