KnowHowToEarn.Com/Amazon | KnowHowToEarn.Com/Money
The KnowHowToEarn.Com Researched And Selected
Make Money Motivation Quote Or Phrase Of The Day
[There are millions of Quotes, And/Or Phrases, available online today, but there
is only one chosen, analyzed, and posted here often @ Know How To Earn. So,
Tune In Each Day to get your mind-set and focused to gain money knowledge.]
*[Today's Featured Quote Or Phrase]*
"A Bank Is A Place That Will Lend You Money,
If You Can Prove That You Don't Need It."
–Bob Hope
(Thoughtful Or Funny Variations Below)
"Work until your bank account balance
looks like a phone number."
-Author Unknown

*Opinion, History, Or Definition Of Today's Featured Quote/Phrase -Admin
"In my opinion, the Bob Hope phrase is the ultimate Catch-22… For example, right now,
at this time, you might need a bank loan to Grow Your Business, to Purchase A Car, to
Consolidate Your Debt, and/or to Pay Off Your Mortgage… However, in order to qualify
for a bank loan; you must first prove that you actually don't need the loan, because you
have more than enough Qualifying Assets [retirement savings, stock investments, etc],
plus an Excellent Credit History… In other words, the bank wants to know that you do
not desperately need the loan, although you do, and that you can easily pay it back…"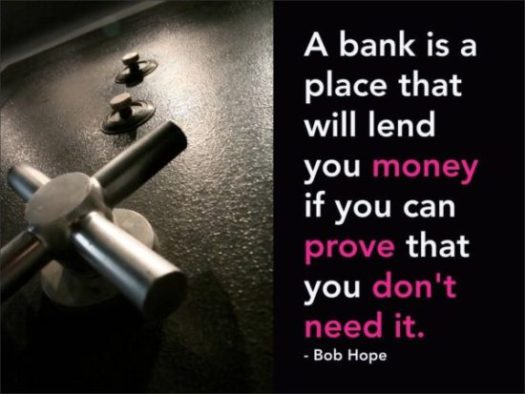 PS Do you agree or disagree with the Bob Hope, or Author Unknown, quotes above?
[Please understand that a quote and/or phrase may, or may not, be posted every day.]
Note: Submit any related quote, phrase, news, or opinion in the comment form below.
[Your Support Of KnowHowToEarn.Com Is Valuable]: (1) COMMENT On Any Post, And Some Pages. Your link will appear on our home page. (2) SHARE This Informative Site On All Your Social Media. Your followers will appreciate you for that. (3) If You Enjoyed This Post; let us know below. We will then do our best to create more of these same type future posts for you. (4) SUBSCRIBE TO OUR NEWSLETTER @ (https://knowhowtoearn.com/subscribe), so we can always keep you informed and updated. (5) The About-Us Page (https://knowhowtoearn.com/about-us/) has the complete support info. (6) FYI: Every post and page on this site was either written, proofread, and/or edited (mildly/heavily) by: [Andre/Admin].