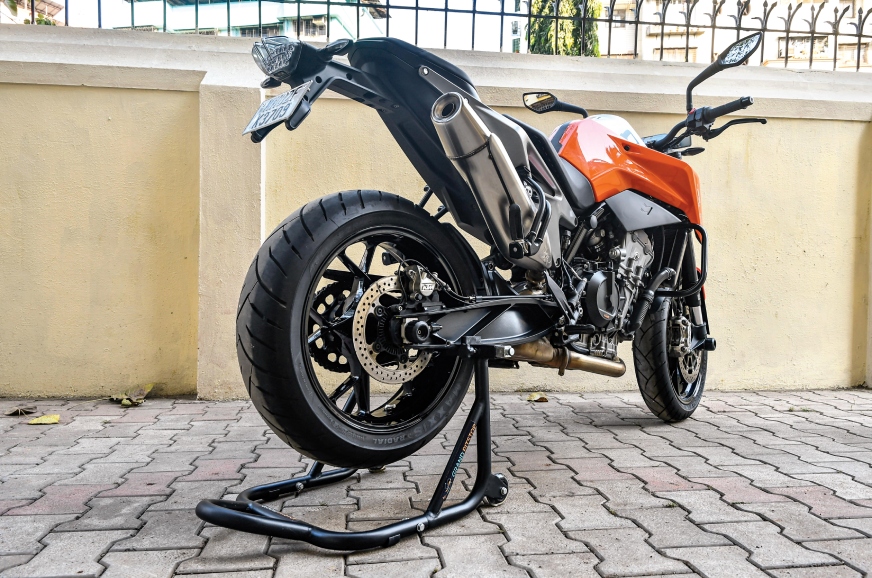 A paddock stand is a helpful accessory if your motorcycle doesn't have a centre stand. It helps raise the rear wheel off the ground and hold the bike up vertically, making it easy to clean or work on chain maintenance. There are plenty of options out there, but this one by GrandPitstop appeals because it can be easily dismantled.
Putting it together is a simple affair and takes just a couple of minutes. The stand dismantles into five pieces – the central handle section that rests on the floor, the two arms that reach up towards the swingarm and the two rubber pads that rest against the swingarm. The arms connect via an easily removable bolt (hand tightening is sufficient) and the same applies for the rubber pads. GrandPitstop also includes two separate metal mounts that can be used if your bike already has the necessary spools installed on the swingarm.
Once put together, the stand feels secure with no loose or wobbly connections. The quality of materials is quite good and the metal has a neat black finish, but you can also get it in orange. The wheels run smoothly, while the bottom of the centre section uses plastic pads to prevent the metal from getting scuffed.
This paddock stand has adjustable rubber mounts that can be moved in and out to fit most motorcycles. As long as your bike weighs less than 280kg and doesn't have a single sided swingarm, it should work. Using it is pretty straight forward and you basically line the two rubber pads underneath the swingarm, have someone else hold the bike upright and then push down on the raised loop of metal tubing at the back of the stand. To remove the stand, you simply pull upwards from the same area.
GrandPitstop's paddock stands are a little more expensive than what you'll find on e-commerce websites, but the quality is in place. The regular stand costs Rs 2,999 while the dismantlable unit we have here is at Rs 3,999. For someone living in an apartment with a scarcity of storage space for a bulky paddock stand, this dismantlable one is worth the extra expense.
Where: www.grandpitstop.com
Price: Rs 3,999