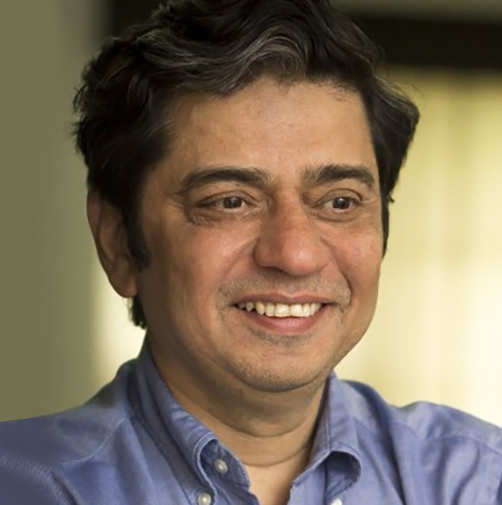 <!–

Uday Deb

–>
Thank God for OTT platforms. Navigating the pandemic without having these options would have been exceedingly difficult. The OTT format is ideally suited for these WFH times. Our days have lost shape, and time has come unstuck from its otherwise predictable and orderly routine. We can create little pockets of time in the middle of the day in between Zoom calls and household chores. We can sneak in a program or two at times otherwise considered impossible. The anytime access to a wide range of programming provides back-up to a day that lacks its previous definition, and serves to fill gaps that might pop up.
For socially inept people like the author, OTT channels are above all, a conversational boon. Whenever one is racking one's brain to figure out how exactly to make 'small talk', that mysterious skill that some possess effortlessly and others regard as bafflingly arcane, now there is a universal answer. When in doubt, talk Netflix. What are you watching nowadays? And then conversation has a set script that unspools itself without any additional effort.
The interesting thing about streaming sites is that there is a sense of a common pool of content that virtually everyone can have an opinion on but equally the range of options is so wide that the prospect of making new discoveries is always present. Conversation is possible on both fronts- what one thinks of the shows one has seen as well as what shows is one missing.
There are cloudbursts of interest around some new happening series- Queen's Gambit, Tiger King, Indian Matchmaking, Wild Wild Country, Paatal Lok, Sacred Games to name just a few. These become common reference points for a period of time, that attract a blizzard of opinions. Articles are written about these, counterpoints are mounted; some are watched with admiration and awe and others to cringe deliciously at.
Discovering new options, finding treasure troves in cultures beyond the Hollywood-inspired networks that we are otherwise used to is a special delight- Nordic noir, Malayali cinema, K-dramas, Turkish Fantasy extravaganzas, true crime documentaries, Australian sleeper hits, morose British police procedurals- one's viewing portfolio can be diverse and rewarding.
Quite a journey from the days when TV channels were our only options. TV viewing had its own grammar. For one, programming was fixed in time and place. You could watch a movie or a serial only at its appointed time, and you could watch on the one TV set that most households owned. It was difficult to keep track of every episode of one's favourite serials for life had a way of intervening. There were re-runs but these were usually at awkward times and could not be relied upon. Of course, some films could not be avoided try as you might – Sooryavansham and Indra- The Tiger are names that will haunt us for the rest of our lives.
The OTT channels give us the power of both stock and flow. Unlike the past, when the only options at our disposal were the ones that were aired on TV; as the numbers of channels increased, we had much more horizontal choice. At any given point in time, there were many options to choose from, but we had to choose from a limited menu of what the channels decided to air at that particular moment. With OTT channels, we have a stock of programming options that is more-or-less permanently available to us. Our choice set expands dramatically as we have a library at our disposal, to pick and choose from, at our convenience.
What we get is greater mastery over time. We can luxuriate in it, as we languidly pick viewing options that interest us, we can crunch it up as we binge-watch our way through shows, we can start a series, get bored of it, and pick it up again when the mood strikes. The mode of viewing is a significant change from the passivity of TV, where we had no option but to surrender to what was served to us. There is a new sense of agency in the OTT viewership experience, both in terms of watching what we want when we want to, as also discovering things to watch in the first place.
The kind of programming we see on these platforms strikes a refreshingly new note. The idea of a serial on chess, or a documentary on an unhinged sub-culture that collects big cats, or a feature about Indian arranged marriages would have been no one's idea of riveting television, and yet they have become sensations in the streaming world. The subscription model ensures that while programming is aligned to the market, every show is not a source of independent revenue and hence is allowed breathing room to experiment. Of course, it is important for shows to do well in terms of viewership, but the creators do not suffer the same level of anxiety in their conception because of this relative freedom. This is most noticeable in the kind of content that is being produced in India, which is a big departure from what was dished out on mainstream TV channels.
There is also the confidence that compelling stories will eventually get discovered because word-of-mouth has the power to light up the darkest corners of any catalogue. Unlike cinema, where there is an urgent need to get people to the theatre in the short window available on the movie's release, or even in television where viewers need to tune in at a specific time so as catch the show early enough, content on the OTT platforms can allow viewers to find them. Discovery can be a gradual process.
What is being enabled is for us to feel like a collective as we respond to the same entertainment stimuli in similar ways across the world, as well as individuals as we discover the limits of our own appetite and the contours of our taste. In these constrained times, we are what we watch.
<!–
Disclaimer
Views expressed above are the author's own.
–>
END OF ARTICLE