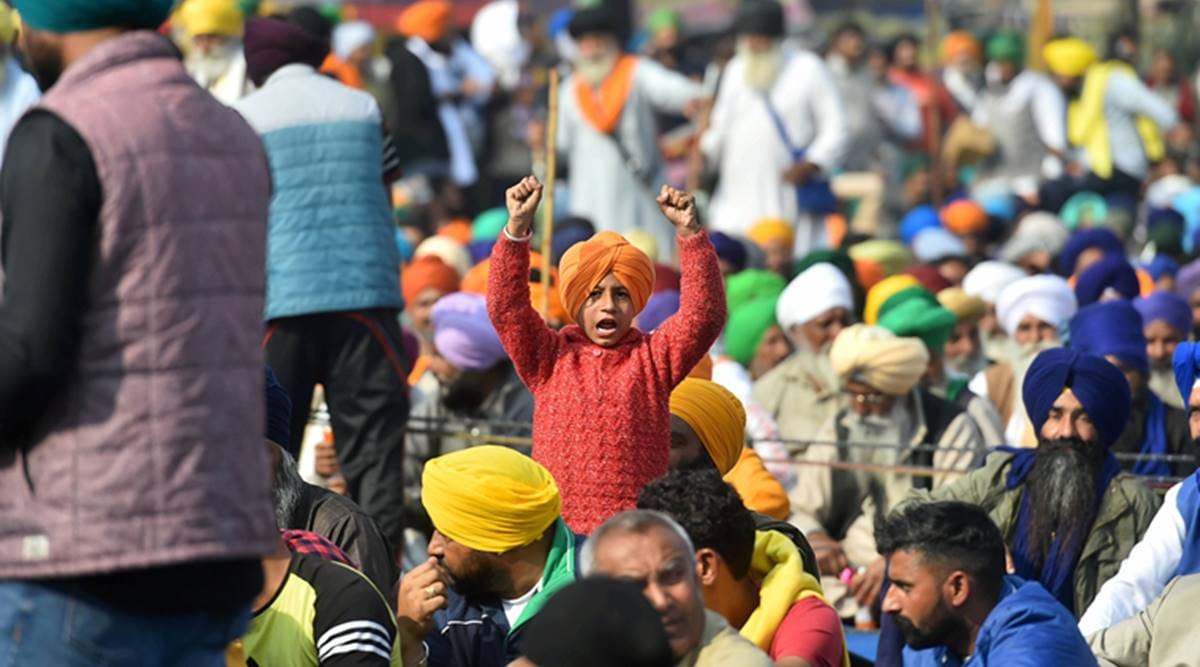 A child shouts slogans at Singhu border during the farmers' protest against the new farm laws, in New Delhi, Thursday, Dec. 10, 2020. (PTI Photo/Arun Sharma)
A DAY after farmers' representatives rejected the Government's offer to amend its new agriculture laws in a bid to resolve the two-week-long faceoff with protesters camped at Delhi's borders, the Centre Thursday issued a fresh call for farmers to end their agitation and join the next round of talks.
Addressing a press conference, Union Agriculture Minister Narendra Singh Tomar said: "I would still urge the unions to find a way through discussions by withdrawing their next phase of agitation."
The appeal from Tomar came after the Centre offered several concessions, including a written assurance on continuation of minimum support price (MSP)-based procurement and parity in transactions inside and outside Agricultural Produce Market Committee (APMC) mandis.
[embedded content]
Having rejected the Centre's proposals, the farm leaders reacted to the new appeal by saying that they will continue their protests for a repeal of the laws. "We are against the three laws. We will block railway tracks if the Prime Minister doesn't listen to us," said Boota Singh, chairperson, BKU (Dakaunda), which is part of the stir.
Also Read | Govt-farmer standoff: Concessions restore powers to states, water down key clauses
Tomar, however, said that "it is not appropriate to announce a further agitation… when the discussion is going on". "Several rounds of talks have taken place. During the discussions, the Government identified some points to which they (farm unions) also agreed that these have come up during deliberations. We have given them the written proposal. If they think that the proposal lacks some of their points, then they should discuss. Even if they have any objection to the language of the proposal, they should discuss it. We are ready for discussions," Tomar said.
A farmer offers tea to security personnel at Ghazipur border during 'Delhi Chalo' protest march against the new farm laws, in New Delhi, Thursday, Dec. 10, 2020. (PTI Photo/Ravi Choudhary)
"The Government has no ego… We are ready to discuss with an open mind. Whenever their proposal comes, we will definitely hold discussions," he said.
Asked about demands to repeal the laws, Tomar said any law cannot be entirely defective. However, he said, the Government is ready to discuss provisions that may adversely affect farmers.
Minister of Consumer Affairs, Food and Public Distribution Piyush Goyal, who was present during the press conference, cited the BJP's strong performance in the local body elections in Congress-led Rajasthan this week to say that the people have welcomed the new Farm laws.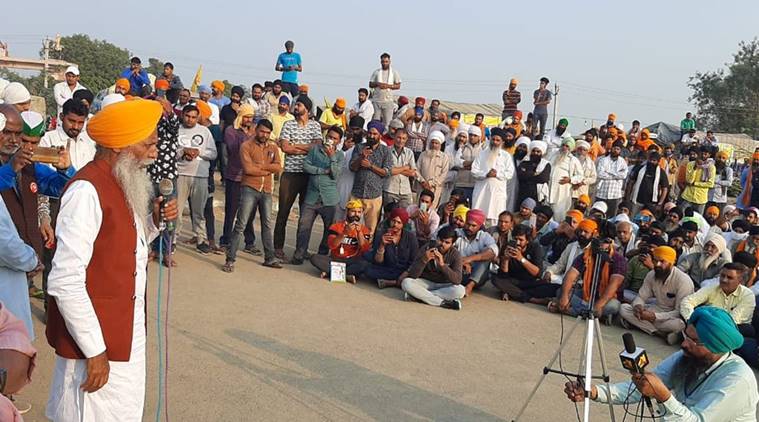 Haryana BKU President Gurnam Singh Chaduni at Singhu border. (Photo source: BKU)
Of the 636 posts of zila parishad members across 21 districts in the state, the BJP won 353 and the Congress 252. The BJP is also expected to claim zila pramukh seats in at least 13 districts where it has a clear majority, followed by the Congress in 5.
"The Rajasthan election results, which are most recent and have happened in the last few days, are evidence of the fact that the people of India, the farmers of India continue to trust Prime Minister Modi, continue to have faith in Prime Minister Modi's government," Goyal said.
Also Read | Protest site draws 'sewa' — medicine stalls, laundry service, temple & library come up
The last five rounds of talks between the Government and farmers have remained inconclusive. The scheduled round of talks, on December 9, was cancelled after a meeting between Union Home Minister Amit Shah and representatives of farm unions. It was then that the Centre extended its new set of proposals to resolve the crisis.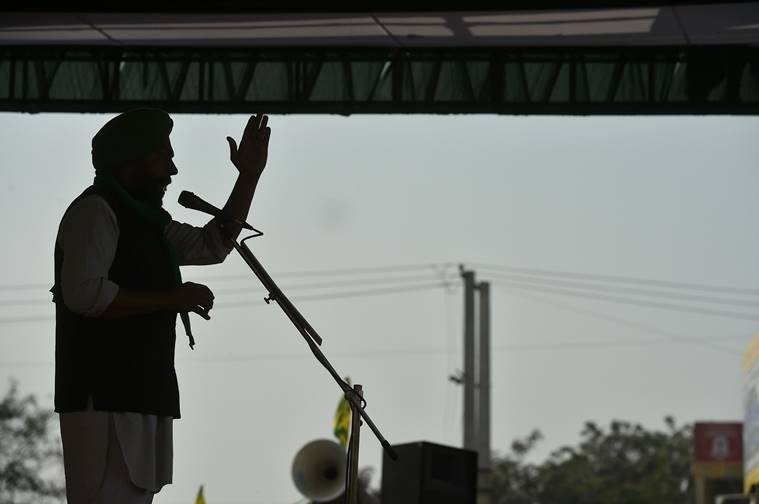 A farmer leader addresses other farmers at Singhu border during their protest against the new farm laws, in New Delhi, Thursday, Dec. 10, 2020. (PTI Photo/Arun Sharma)
Goyal also appealed to farmers to end their agitation. "We believe that the farmers had certain issues. We respect the farmers who have come and discussed with us on several occasions. The issues that came out during the course of discussions, we have tried to address them. If there are any other issues, which need to be discussed or they need any clarification on our current proposal, we are ready to discuss but whether there is any other reason that is holding back them, we leave that on your wise counsel to decide," Goyal said.
📣 The Indian Express is now on Telegram. Click here to join our channel (@indianexpress) and stay updated with the latest headlines
For all the latest India News, download Indian Express App.
© The Indian Express (P) Ltd