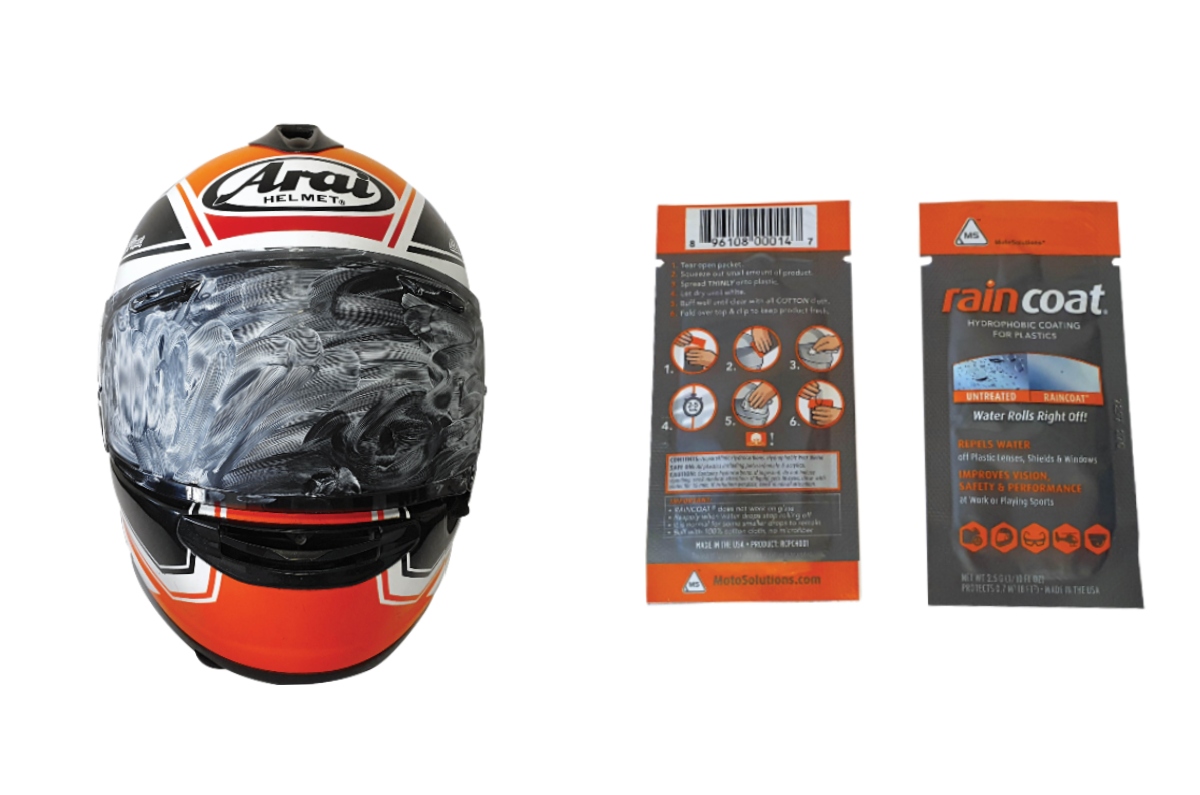 Rain Coat is an American product that promises to give your helmet visor a hydrophobic coating, such that the 'water rolls right off'. The product comes in a small sachet that's good for around four applications – the sachet can be closed with a paper clip and the product lasts for about 30 days once opened.
The instructions are simple – rub a thin layer all over the outer surface of a clean and dry visor, wait for 2-5 minutes and then buff it off with a clean cotton cloth. It's best to follow the instructions closely because it takes some effort to get this stuff off once it dries. Too thick a layer (as in the image above) or too long a wait and you're in for a bit of a workout. Once the thick wax-like substance dries up, it forms a hard, powdery layer that can also be a pain to get out of small crevices like the Pinlock screws or around the built-in vents on Arai visors. But don't worry, all of it does eventually come off.
Water beads up and rolls away easily in the wind.
The effects in the rain are quite noticeable and the coating makes the water bead into small droplets rather than simply letting it dribble down the visor and distorting your vision. Once you cross about 30-40kph, the wind drives nearly all these droplets off your visor, especially if you turn your head to either side. I've used this on days where the rain was at biblical levels, and my visibility remained quite good. It starts to feel normal after a while, but I was reminded of how the product was working on one particular day when Rishabh was riding behind in the pouring rain and later told me he couldn't believe how I could see in those conditions.
It's not magical, but its better than any of the online hacks I've tried so far and has been good enough that I've kept using this product through the rainy season. And that brings us to longevity – I find that a coating lasts for 10 days to two weeks, depending on the conditions. Long hours out in particularly heavy rain or very muddy conditions will have the coating wear off sooner. I also found that keeping a coated spare visor in a visor sleeve tends to reduce the effectiveness of the product.
Available at MotoUsher, single sachet will cost Rs 70, or you can get a pack of 5 for Rs 350, and that should last you for quite a while.
Where: www.shop.motousher.com
Price: Rs 70 per sachet