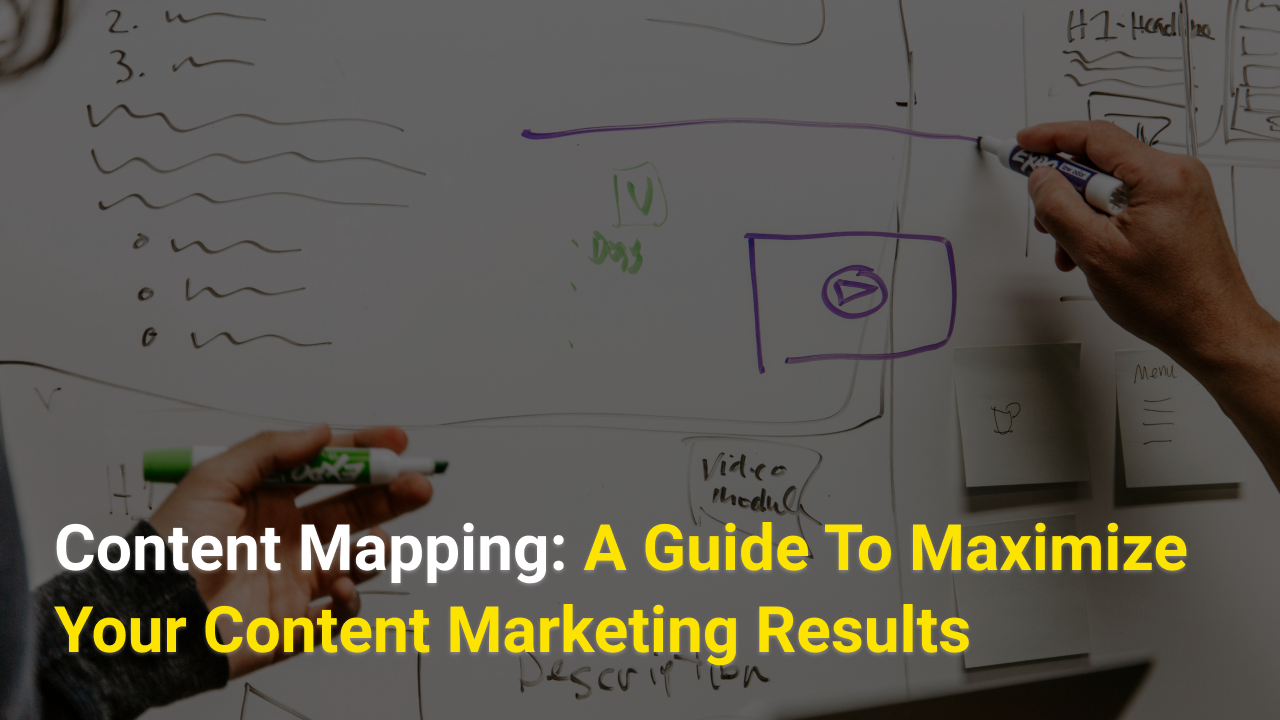 Are you trying to manage your business's content and looking to improve your content mapping strategy?
If so, great idea! You've landed on the right page. Let's discuss ways to improve by sharing methods that will help you reach your target audience and win their business!
We'll start by getting as specific as we can about what content mapping is.
Content mapping is an art and a science. We credit Hubspot with a super succinct definition.
"The process of delivering the right content, to the right people, at the right time."
Yep, that basically covers it! We're not satisfied though. Let's dig deeper.
We'll get more specific on Content Mapping, but in order to do that, we need to answer 2 major questions.
Have you ever heard of a reader persona?
When I was in college I wrote a research paper that highlighted ways that stereotypes are true. The basic outcome was that 70% of common stereotypes are based off of some kind common thread among people in different groups.
I wish it wasn't so, but there were some similarities found. For obvious reasons, it's still wise to stay away from these judgements, but content mapping is one of the few times it can be useful and even polite to generalize.
If you can put into a few sentences the type of people that might read your content, you are more likely to reach them. This generalization can help that group of people. This short summary is known as a Reader Persona.
Ever seen the movie'Being John Malkovich'? A reader persona is like that. You step into a room where you can literally see the computer screen from the eyes of the person reading your content! Seeing things from their perspective allows you to reach them. Makes sense, right?
Having an accurate reader persona really helps your content mapping. It is the foundation of the process, really. You might be asking, "But how do I discover this persona?" Here's a quick template…
A quick template to creating your reader persona
1.Reddit should be your go-to niche community

I've found the best way is to first visit Reddit! It is the largest online forum of "niche-specific communities".
Go to Reddit and search for the category of your focus. Look through the threads and find specific phrases and keywords that pop-up throughout. Incorporate them in your content!
This gives you a good gauge of the type of people in your intended audience and their psychology.
2. Google analytics – where you get actual demographic data of real visitors

Also make use of the data that you can get from your Google Analytics, if you don't have it installed, you really should.
Under audience, there's a demographic tab that you can then click on to access some basic information about your site's visitors such as age, gender, location and more.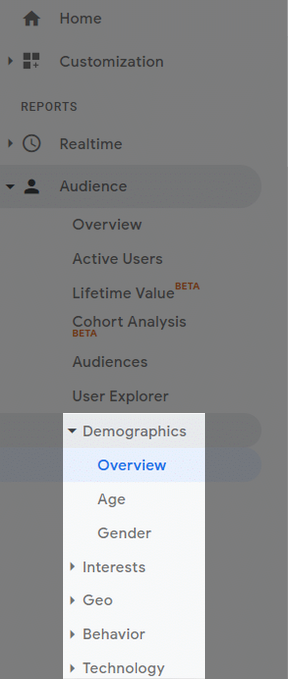 3. What do your buyers want to know? Check out questions posted on Quora.
Quora is a question and answer community, and it is a gold mine for every content creator. That includes you and me.
Like Reddit, there exist smaller communities inside Quora grouped by interest and niche. Which is an excellent place for you to understand who your potential buyers are and what they want to know.
One thing to take note, most of the questions on Quora can be quite trivial and don't show a strong purchasing intent. But people are there to share interesting stories and have a good time, who says that's not something that you can showcase in your own content marketing effort as well?
Look at this example here.
Judging by the number of related questions, you can tell that identifying a fake gemstone is a popular question. And that can be a huge clue to your next blog post content.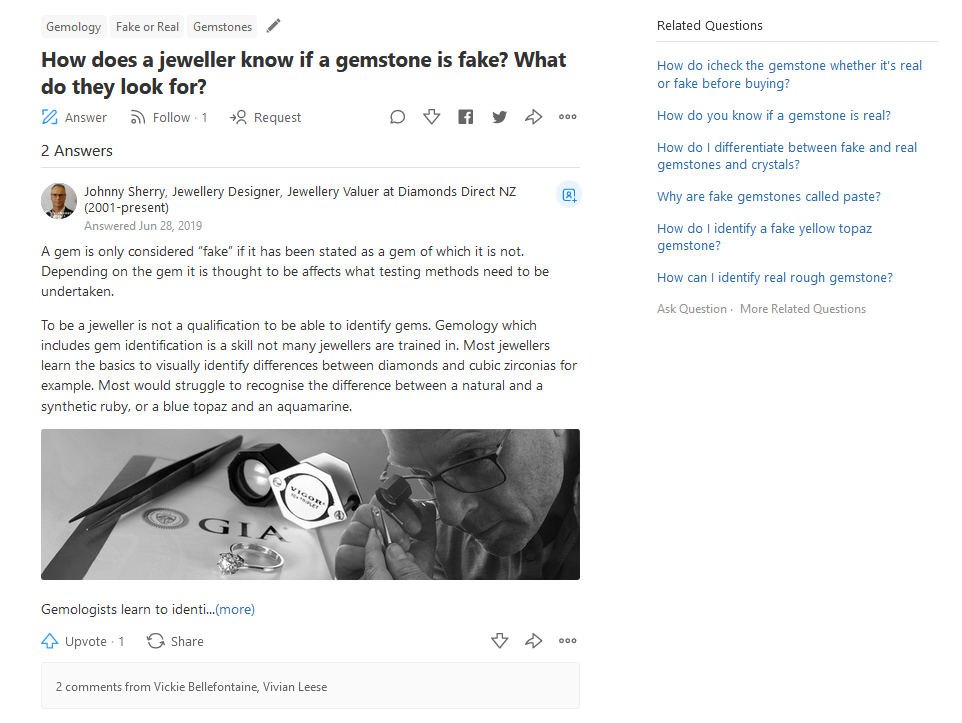 Once you understand Reader Persona you will have a much clearer picture of the next step to successful Content Mapping: Knowing the Buyer's Journey.
What is the Buyer's Journey?
Once again, HubSpot has a way of being crystal clear. "The buyer's journey is the process buyers go through to become aware of, consider, and decide to purchase a new product or service."
Knowing where your reader is in this process is as easy A, B, C, D! Let's break down the steps…
The A, B, C, D of buyer's journey

A is for Awareness Stage
The moment the buyer becomes aware they have a problem or desire that requires them to consider a purchase.
B is for…
…there is no 'B'. Sorry, it fits my narrative.
C is for Consideration Stage
This is where the buyer begins to gather additional information about their problem or desire.
D is for Decision Stage
This is where the buyer has figured out an approach to fixing their problem or satisfying their desire and is prepared to buy from their chosen source.
Let's go one step further. Here is a Biq.Cloud infographic that shows a simple problem a runner has and the process she takes to satisfy the demand:
Content mapping recognizes a problem and offers a solution. Knowing these two facets of the process (readers persona and buyer's journey) will create a more successful campaign within your organization.
Pro Tips: When creating content, focus on benefits over features. People prefer to know how something will benefit them. Also, consider any and all objections a person might have and squash them! Here's a good video from Brian Dean.
Got it? Good. Let's move on.
The second half of this article will zoom in on things to consider when content mapping and effective strategies you can implement right away to streamline.
Things to Consider Throughout the Content Mapping Process:
Do you have an understanding of your business goals? – What do you want to achieve with each content that you're pumping out? A content to get leads and a content to achieve sales can be very different.
Have you clarified your understanding of site users? – Do you know what are the content your users want to see? Make sure to nail their search intent.
Do you understand the requirements and limitations of the content you're sharing? – Put another way, have you honed in on the style type, technical necessities, legal jargon, and more of the content you're producing?
Content Mapping Strategies to Implement
1. Intent Targeting
Knowing a user's intent is a missing link many content creators do not consider. Real SEO professionals take this aspect into serious consideration.
What is user intent?
It is the reason why behind all search inquiries. If someone types into a search engine the word "Time", what do they really want to know?
It could mean anything!
What time it is.
The nature of Time.
Time Magazine.
The definition of Time.
Without context, communication can be muddled and intent can be lost. Figure out context! There are 3 Main Types of User Intent. Another BiQ.Cloud graphic is clutch at a Time like this:
The intent is super important in SEO. If you want to know more about why, check this out. If you want to know what not to do, here are 7 SEO Traps you don't want to fall into.
It's as simple as 1,2,3. Just type in your desired keyword, choose your language and location to get localized results, and voila. The user's intent of searching for that certain keyword will be displayed along with other crucial data such as search volume and competition.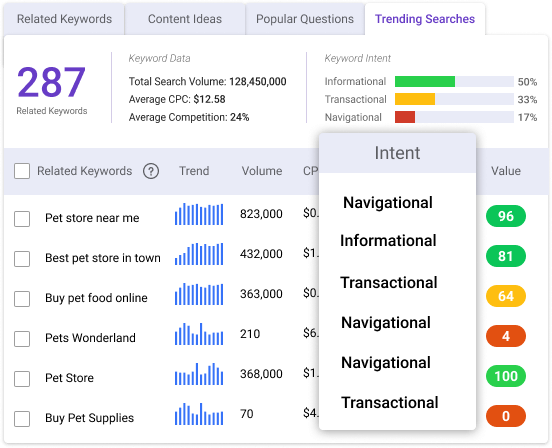 Make sure to take the intent behind each keyword into consideration for content mapping. That will make a huge difference in your content creation.
2. Perform Competitive Analysis
This can give you an understanding of why competitors are performing better than you. Knowing this information will level up your content marketing. The Content Marketing Institute offers an in-depth 3-Step Process. Visit their page for the "How To", but here's the takeaway…
I. Take stock of the content of your competitors.
Visit their sites and look at what they offer and how they offer it.
II. Evaluate the Quality and Quantity of their content.
Notice what they have that you don't. Mimic it.
III. Tag content topics and then analyze them.
Doing this, You'll discover gaps in their marketing and this will open opportunities for you.
I highly recommend you to use this Content Intelligence by BiQ to analyze your content!
What you will need is just the content's keyword and URL. Then, you can immediately see its performance at a glance.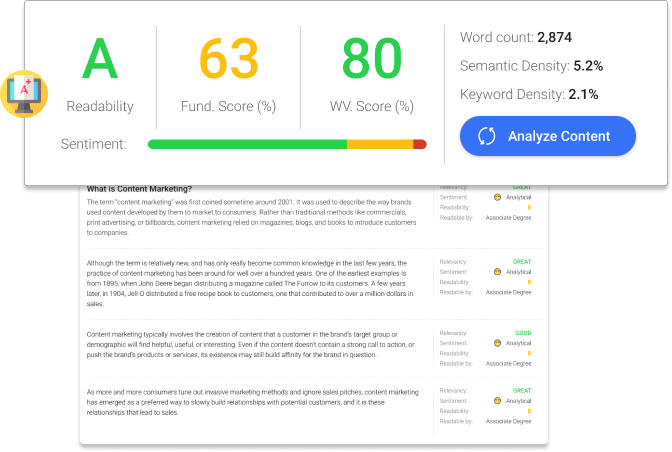 Another feature that you don't want to miss in this content tool is the line-by-line analysis. It will analyze each and every paragraph and tell you their relevancy, type of sentiment, and readability.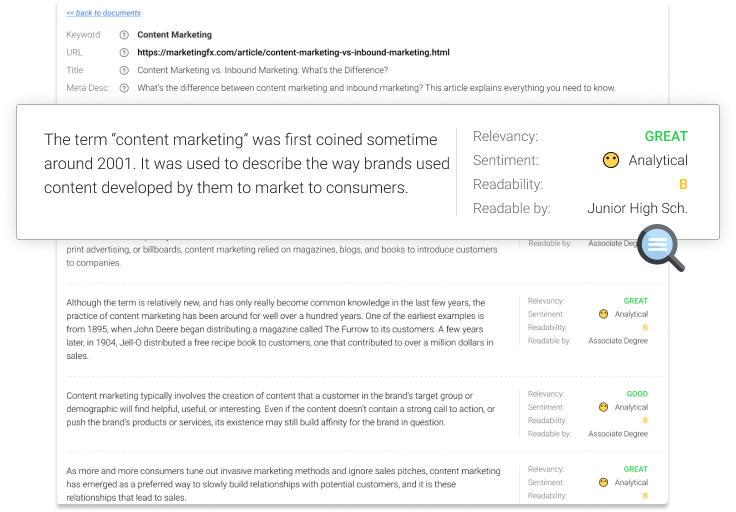 Enter your competitors' content in the Content Intelligence and see what they are excel at. Also, identify what areas you can do better than them.
3. Optimize your Site for Mobile.
Statista, in 2018, 52.2% of all website traffic across the entire world was generated on a mobile phone.
It's safe to assume that many of your readers and buyers are on their phone looking at your content. This means mobile optimization is imperative to your success.
One other consideration is the consumer bounce rate, which is
10% higher on mobile devices than on desktops. A bounce rate represents the number of people who enter a site and then leave instead of continuing to browse other pages within it.
Yet another reason why mobile optimization is a pillar to success. Here you can find 7 suggestions for optimizing your website for mobile devices.
A few essentials to consider when optimizing your site for mobile.

I. Make sure that your site is loading quickly.

II. Make sure that your site is using responsive design.

III. Make sure that there is not crazy amount of pop-ups obscuring your site.
Content Mapping is an advanced step in your content marketing journey. It will completely change the game for you. In conclusion, here is a summary of 7 steps for successful mapping that our friends the Search Engine People have graciously shared…
How to successfully create a content map
List as many possible topics, themes, and industries relevant to your company.
Conduct competitive analysis to understand how you compare to the competition.
Define your reader personas.
Audit existing content and tag it by topic, type, sales cycle step, and persona.
Optimize existing content on your pages.
Create a plan to fill gaps in the content you discover.
Implement your plan like the boss you are.
If you follow these steps, you'll be well on your way to maximizing the results your content marketing produces. What are you waiting for? Go get started. Our references will be here if you need them. In the meantime, you can find some Content Mapping Tools here.
Good luck!
Updated: 10 February 2021