In simpler times, B2C ecommerce was the largest market, with B2B marketing close behind.
Then, with the age of the Internet and the ease of ecommerce, we saw the dawn of the C2C ecommerce, which soon rose to become one of the biggest markets in the world, even forcing businesses to evolve their strategies.
(Read our guide to B2C marketing here for more B2C marketing strategies and examples.)
Now, we are seeing things come full circle. Because believe it or not, we are increasingly seeing a shift towards a C2B ecommerce world.
What Is C2B?
C2B ecommerce is also known as consumer-to-business. This change heralds a complete reversal of the traditional model, with those who would normally be end-users creating products and services that are consumed by the businesses and organizations they themselves buy from.
Instead of a business advertising a service to potential buyers, consumers now demanded a service for a price that they're happy to pay and waited for a business (or freelancer) to fill the gap.
This inversion of the usual way of working is now becoming even more common.
This has come in a large part to the power the Internet has put in the hands of consumers. Customers are now starting to realize the power they wield and are looking to leverage that power for profits.
In much the same way as a brand leverages its prestige, consumers can now leverage their influences. C2B benefits as a new form of currency that has nevertheless proven very effective for both sides.
C2B Examples
To help you better understand the concept, think Upwork.
It was the first business C2B model where consumers can post their services and interested businesses can answer with bid proposals.
How Does C2B Marketing Work?
C2B marketing works because there are three different groups whose relationships are changing. These are broken down as the customer, the business, and the intermediary.
The Customers
The customer is an individual who has something to offer. This can be broken down into goods or services.
For example:
A webmaster or blogger can offer a service by showcasing the latest product.
Someone who is active on social media and has thousands of followers or subscribers can share their use of a product to introduce it to new audiences.
Someone who takes great photographs might sell them as stock photos for businesses.
People who are willing to answer polls can provide valuable market research data.
Those with connections can help refer potential hires to the business.
Throughout these examples, there's one key theme, which is a changing nature of the relationship to customers away from being top-down and toward being back-and-forth. Consumers are now no longer a market, they are a network.
The Business
In this particular transactional relationship, the business is the for-profit institution that purchases goods or services from individuals. This can be for many reasons, and in both direct or indirect ways.
Companies may need to advertise online and seek exposure from those who can give it to them.
Advertising agencies who need to buy stock photos to populate their content.
Businesses who need to make a new hire and want to find the best people through referral hiring sites.
Manufacturers that need consumer feedback on their products to help inform the development of new products.
The C2B Intermediary
In C2B ecommerce, the intermediary is the portal, or the medium that is used by both businesses and individuals, and connect the two.
Traditional advertising like a TV advert cannot do this. But a Facebook page, a Twitter account, an Amazon online store or a modern website can do this.
The portal can also link one buyer with many sellers, such as the Amazon marketplace, or it can be used by both individuals and business, like eBay or Facebook.
Affiliate marketing is an example of a C2B ecommerce model, as a customer can utilize their blog to links back to a product sold on the company's ecommerce website, thereby facilitating the sale and being financially rewarded for doing do.
Sites like imagebazaar.com enable individual photographers to sell stock images to businesses. These kinds of online marketplace allow ordinary people to make money from their hobbies and activities.
Common C2B Ecommerce Examples
1) Customer Reviews
All feedback is valuable.
One of the biggest mistakes people make is thinking negative feedback harms their business. Little did they know, it is the response to negative feedback that can harm a business.
If a customer decides to leave a review on Yelp, Facebook, TrustPilot, or some other online review site, they are offering you a valuable piece of data for improvement.
Besides, this is also an opportunity. Whether you respond to your consumer with a reply, a thank you, or an apology can influence the way other potential buyers will view your business, further building your business reputation.
So if you are a consumer with a profile and influence, you can potentially be a valuable asset to companies who want to improve or establish their online reputation.
The rewards for leaving reviews don't have to be as direct as money. They can be entries into a competition, vouchers for money off a next purchase, and other more creative incentives.
When it comes to understanding customer better, sentiment analysis is an emerging viable tool for any business. Thanks to the advancement of Natural Language Processing (NLP), sentiment analysis does not only work on customer feedbacks.
Sentiment analysis can tell you alot about your copy and content too.
BiQ's Content Intelligence tool is something that we personally use at SEOPressor for sentiment analysis. You can quickly gain an understanding of your audience's or customers' overall feelings when they are going through your article.
What interesting about this is the tool will grade your writing into 9 categories, that helps you to better understand what kind of sentiment your copies are giving off which can really help you to refine it to match your clients.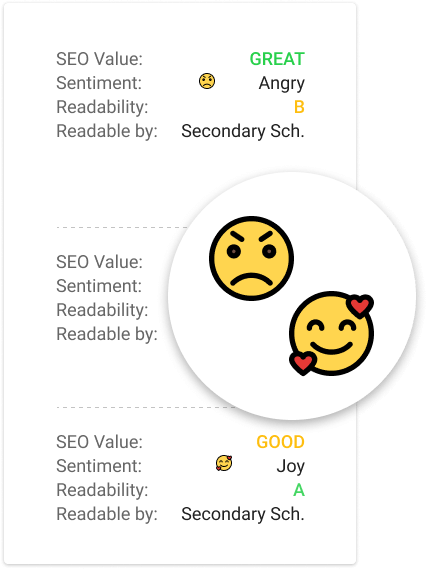 Knowing the right sentiment analysis will help you craft a content that is more relevant and valuable to the reader . This directly helps build a strong customer experience to improve brand awareness.
2) Online Buzz
Another useful way from a C2B relationship is for business to have consumers help create online buzz.
Traditionally, one of the best methods for creating online buzz has come from press coverage highlighting new product launches, key developments and more.
Writing a press release, or better, getting a press release written by a professional can help you expand your reach considerably.
That said, individuals are also growing their influence through the impact in word-of-mouth.
Getting consumers directly engaged in events such as product launches is something Apple is now famous for but can be achieved at every level. By doing so, you gain exposure to new potential clients.
You can also cultivate regular mentions of your brand on niche websites, forums, and on social media by activating your current customer base. Identifying those who already demonstrate some brand loyalty and turning them into evangelicals through properly incentivizing them can be truly useful.
If you are a brand-loyal consumer, shouting about it while developing the number of followers can be a great way to bag free material from your favorite businesses.
The most common way of C2B ecommerce is sponsored posts and endorsements by Influencers.
Known mostly from Instagram and YouTube, but present everywhere, social media influencers can introduce their loyal following to products and services that are useful to them, or aspirational brands that they can sell through synthesizing them with their exotic lifestyles.
3) Focus and Test Groups
Another valuable asset consumers have for c2b ecommerce is insight. A consumer is the target market, and why they decided to buy or not buy a product could have huge implications for the business manufacturing and selling said product.
Getting audience opinion on specific features and an idea of what audiences want most is still largely standard, despite mavericks like Steve Jobs famously claiming that consumers don't know what they want until they see it.
For businesses, this amount to making the most of a captive audience and allowing an open-ended discussion to inform innovation. Market research ahead of launching a new product can help drastically improve the chances of success.
As a customer to business, you know your frustrations very well, and you know what limitations your products entail and how you would like to overcome them. Sharing this information for free is charitable, but you can look for opportunities to be rewarded for your feedback.
How To Make C2B Ecommerce Work For Business
If you're a business, you can consider using marketing tools that rely more on consumer interaction, including market research to inform co-creative innovation, customer feedback channels that allow for endorsement and recommendation, a dialogue with customers through social media that establishes relationships with influencers, and having a healthy mix of positive and constructive reviews, which help both endorse and optimize the business.
As a consumer in this C2B business model, you can start to think of yourself as wielding more power than you ever have before. You can directly affect the sales of a company with your review, which means you have a responsibility to treat them seriously.
If you do so, and your quality of feedback across multiple touchpoints is useful and informative, you can start to see yourself become an influencer.
The ideal channels for such influence are Instagram and Yelp, where such behavior is actively encouraged by the format. If you do, you may find your influence becomes a form of currency.
With this, I'll leave you with a final thought from Facebook's Ad VP, who said that C2B messaging is a 'tremendous opportunity' for business. Why?
Unique visits to Pages have grown 40% year over year, Messenger is being integrated to allow a direct line of communication to a business.
Ecommerce is becoming more interactional than ever, and all of these evolutions are consumer-led.
Consumers are being put first, time and time again, by businesses. While C2B marketing does increase consumer power and leverage over a business, it also increases the success a business can experience, by making purchases easier and more instinctive than ever before.
The oldest adage in marketing is arguably "people sell to people".
We can now see how that is a lucrative business model in itself and how businesses are having to adapt – everything about C2B marketing suggests businesses have to become more like a person to succeed in the modern environment.
Have you leveraged C2B ecommerce practices for your business? Tell us in the comments below! Equally, if you've discovered new opportunities for C2B ecommerce we haven't listed here, then don't let your fellow readers miss out!
Related Links:
Updated: 12 December 2020